Immediately follow Trump's impeachment "trial", the President admitted to the entire Ukraine scheme with Giuliani but here we are, Senate Republicans carry on the President's plan to smear his political opponent.
Cross posting

Letter sent to FBI Head Chris Wray from Democrat portion of the Intelligence Committee and Democratic part of the Gang of 8 to discuss in front of all of Congress. Like now or at least in August.
Democratic leaders in the Congress asked the FBI for an all-lawmaker briefing on Monday about foreign election interference efforts that may be targeting the legislature this year.

House Speaker Nancy Pelosi, D-Calif., and the chairman of the House Intelligence Committee, Rep. Adam Schiff, D-Calif., signed the request along with Senate Minority Leader Chuck Schumer, D-N.Y., and Senate Intelligence Committee Vice Chairman Mark Warner, D-Va.,

"We are gravely concerned, in particular, that Congress appears to be the target of a concerted foreign interference campaign, which seeks to launder and amplify disinformation in order to influence congressional activity, public debate, and the presidential election in November," the members wrote to FBI Director Christopher Wray.
The lawmakers included a classified appendix to their public letter. Its contents weren't known.

A congressional official said the material was based on reporting and intelligence from within the government.

"To ensure a clear and unambiguous record of the counterintelligence threats of concern, the four enclosed with the letter a classified addendum that draws, in large part, from the executive branch's own reporting and analysis," the official said. "The counterintelligence experts at the FBI must provide the full Congress with a defensive counterintelligence briefing on these threats before the August recess."

No Republicans signed the letter and it wasn't immediately clear whether they would join with the Democrats in asking for a presentation.
House Democrats press U.S. Postal Service on plans to delay mail
Senior Democrats on a House of Representatives oversight committee wrote to the new postmaster general on Monday to press him on reports the service was prepared to delay mail delivery if needed to cut costs, a move that could affect mail-in ballot results.

The U.S. Postal Service's losses have soared even as it has become more critical to the U.S. economy as consumers, confined to their homes because of the coronavirus, shop online. A determination to avoid crowds will also mean that voting by mail will be more popular this November.

Postmaster General Louis DeJoy, a Trump appointee who took office in June, has detailed changes to the service that include eliminating overtime, even if it means that mail delivery is delayed.

"While these changes in a normal year would be drastic, in a presidential election year when many states are relying heavily on absentee mail-in ballots, increases in mail delivery timing would impair the ability of ballots to be received and counted in a timely manner — an unacceptable outcome for a free and fair election," wrote Representative Carolyn Maloney, chair of a government operations subcommittee of the Committee on Oversight and Reform.

The letter was also signed by Representative Gerald Connolly, chair of a national security subcommittee, and Representatives Stephen Lynch and Brenda Lawrence.

In a statement, Postal Service spokesman Dave Partenheimer said the agency was working on a plan to ensure it was financially stable. "It will certainly include new and creative ways for us to fulfill our mission," he said.

The Postal Service has been struggling as email and social media have replaced letters and after a 2006 law required it to pre-fund employee pension and retirement health care costs for the next 75 years. It is funded through services and postage.
Republicans and Democrats want Mueller to testify again. They may regret it.
Now, 100 days out from Election Day, the South Carolina Republican and Senate Judiciary Committee chairman is teasing a blockbuster hearing with the former special counsel, joining Democrats' months long push for Mueller to appear before the panel.

But hauling Mueller back to the Capitol won't be easy. And some doubt it will even happen so close to the election, in part because of the political land mines such an event would create for both Republicans and Democrats.

"I'll believe it when I see it," Sen. Richard Blumenthal (D-Conn.), a Judiciary Committee member, said in a brief interview. "I have seen nothing since that leads me to think [Graham] is actually going to call Mueller."

Despite the public bipartisan agreement, there are real obstacles and risks to securing Mueller's testimony. For Republicans, a strong defense by Mueller could shed unwelcome light on President Donald Trump's previous statements and conduct in the final stretch of the election. For Democrats, another halting performance by the ex-FBI chief could give Trump and his allies more ammunition for their attacks on the investigations that have dogged Trump and his associates for years.
Senator Graham wants to call Mueller to try to embarrass Democrats? I've read the Mueller Report, it's embarrassing to the President, not Democrats. It accuses his campaign of coordinating with the Russian FSB officers through Roger Stone to disseminate the stolen materials to Wikileaks and then trying to cover it up while in office. Go a head call Mueller.

He'll tell you.
So many questions for Ag Bill Barr Tuesday AM. Barr has the ability to bluster through his questions, but I hope he can be pinned on how he came to these pro-T decisions - ie,
Flynn & Stone trials and changing sentencing
Berman firing
Excess force to Lafayette Sq, Portland, Seattle etc.
Response to George Floyd murder
Digging up Ukrainian Anti-Biden information, and against Mueller's report or Steele Dossier
Mueller Report
For Mr. Barr, a seasoned attorney general who does not hesitate to speak his mind, the hearing before the House Judiciary Committee will offer the highest-profile platform to date to explain his rationale for the protest response and other issues, like voter fraud and the special counsel's Russia investigation.
But lawmakers on both sides who have already made up their minds on his tenure plan to use the hearing to advance divergent arguments about the Trump administration aimed as much at voters in the presidential election in November as at Mr. Barr.

Democrats who run the House Judiciary Committee intend to advance a case against the Trump administration's response to the nationwide protests that grew out of the killing of George Floyd while he was in police custody in Minneapolis.

They also plan to portray Mr. Barr as wielding his power as the nation's top law enforcement officer to serve the president's personal interests. Democrats will ask about his intervention to recommend a shorter prison sentence for Mr. Trump's longtime friend Roger J. Stone Jr. on seven felony crimes — a sentence that Mr. Trump has since commuted — and to drop a charge against the former national security adviser Michael T. Flynn even though he had pleaded guilty.

"Are you the A.G. for the country, or are you the A.G. for the president?" said Representative Karen Bass, Democrat of California and the author of a sweeping policing overhaul bill that passed the House last month and that Mr. Barr opposes. "Do you represent the American people, or is it your job to protect, to cover up and to facilitate corruption?"
…
Republicans are also likely to press for details about the investigation of a criminal prosecutor, John H. Durham, appointed to scrutinize the Trump-Russia inquiry that could shape voters' views of Mr. Trump this fall.
…
House Democrats have long wanted to question him on his handling of the Mueller report. A federal judge has said that in summarizing it himself before releasing it, Mr. Barr put forward a "distorted" and "misleading" account that torqued public understanding of it in a way that favored Mr. Trump.

The House Judiciary Committee voted to recommend holding Mr. Barr in contempt over his defiance of a subpoena for grand jury evidence gathered by the special counsel's investigation shortly thereafter, though the full House later decided to instead fight him in court for those materials, and, more recently, some of its members have said he should be impeached.

But many other flash points have come and gone since then, and more recent fights may dominate the hearing. For example, Democrats are expected to try to press him on the Trump administration's aggressive use of federal agents at protests after the police killings of Mr. Floyd and a Kentucky woman, Breonna Taylor.
Watch LIVE On July 28 | 10am ET | C-SPAN 1
AG Barr sends out his position paper on where he stands on various situations. And he above all supports T with ignoring any Russian interference.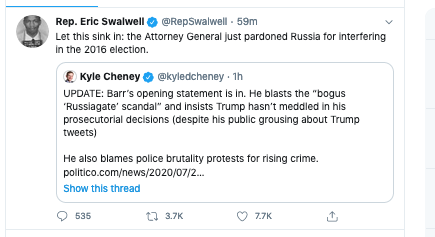 It's a hearing whose importance has been magnified not least because it's taken more than a year to arrange. Democrats first sought Barr's testimony in May 2019, on the heels of the release of special counsel Robert Mueller's report on the Trump campaign's contacts with Russia. But Barr called it off after Chairman Jerry Nadler unveiled plans to allow staff counsel to question him. A subsequent effort for his testimony fell apart in March, after the Covid-19 pandemic overtook the agenda. Finally, Nadler threatened to subpoena Barr last month before the two sides at last agreed to the Tuesday hearing.

For Barr, the hearing will largely consist of parrying the torrent of attacks from Democrats who have been eager to upbraid him on national TV — and then catching his breath during what is likelier to be friendlier questions from the committee's Republicans.

In his prepared opening statement released by the Justice Department, Barr also waded into the national reckoning on race and police, saying that "every instance of excessive force is unacceptable and must be addressed, as is happening now in Minneapolis."

But Barr's testimony also appeared to blame nationwide protests against police brutality on rising crime rates in some cities.

"When a community turns on and pillories its own police, officers naturally become more risk averse and crime rates soar," he said. "Unfortunately, we are seeing that now in many of our major cities."

Democrats practiced for the hearing on Sunday, paring down a list of concerns they acknowledge is too unwieldy to cover completely.

But the still-lengthy list is expected to include: Barr's intervention in the prosecutions of former national security adviser Michael Flynn and longtime Trump confidant Roger Stone; his orchestration of a security crackdown against a peaceful protest in Washington D.C. last month and subsequent crackdowns in other American cities; efforts to retool the Census; lawsuits against state and local governments for their management of the coronavirus pandemic; and Barr's removal of Manhattan's top federal prosecutor along with similar efforts to uproot the leaders of other U.S. attorney offices handling politically sensitive cases.

Barr signaled he was ready for a clash with Democrats by slamming "the grave abuses involved in the bogus 'Russiagate' scandal" in his opening remarks. He also accused committee Democrats of trying to "discredit me by conjuring up a narrative that I am simply the President's factotum who disposes of criminal cases according to his instructions."

"My decisions on criminal matters before the Department have been my own, and they have been made because I believed they were right under the law and principles of justice," he added.

Despite his defense of Trump as a hands-off president, Barr has previously bristled at Trump's repeated efforts to lean on the department via Twitter and once said it was making it "impossible" to do his job.

Though the confrontation is likely to be fierce, committee aides say it's unlikely to escalate to the rarely used step of on-the-spot subpoenas if Barr declines to answer questions, even if he suggests some answers might be subject to executive privilege.

"At the end of the day, a subpoena on the spot, although a dramatic tool, is not likely to resolve that situation," said a Democratic committee counsel.

The 10:00 a.m. hearing is expected to last close to five hours, factoring in five minutes of questioning for each of its 41 members.
There's more, CBS highlights his position for the use of federal agents.
Barr to tell House Judiciary Committee that Portland protests are "an assault on the government of the United States"
Attorney General William Barr plans to tell the House Judiciary Committee that the violent unrest in Portland is "an assault on the Government of the United States," according to a copy of his prepared remarks obtained by CBS News. In the remarks, Barr also accuses Democratic members of the House Judiciary committee of trying to "discredit" him.

"To state what should be obvious, peaceful protesters do not throw explosives into federal courthouses, tear down plywood with crowbars, or launch fecal matter at federal officers. Such acts are in fact federal crimes under statutes enacted by this Congress," Barr says.

Barr will appear in front of the committee on Tuesday for an oversight hearing. In his opening remarks, he discusses the unrest that has followed George Floyd's death — but while he acknowledges that "every instance of excessive force is unacceptable and must be addressed," he decries calls to defund the police, saying "the demonization of police is not only unfair and inconsistent with the principle that all people should be treated as individuals, but gravely injurious to our inner city communities."

"I think it would be an oversimplification to treat the problem as rooted in some deep-seated racism generally infecting our police departments," Barr says of the treatment of African Americans by police. "It seems far more likely that the problem stems from a complex mix of factors, which can be addressed with focused attention over time. We in law enforcement must be conscious of the concerns and ensure that we do not have two different systems of justice."

But while the department's civil rights division is investigating the circumstances of Floyd's death, Barr uses the remarks to denounce the acts of "senseless havoc and destruction" that he says have drowned out the call to address police violence against the African American community.

"Largely absent from these scenes of destruction are even superficial attempts by the rioters to connect their actions to George Floyd's death or any legitimate call for reform. Nor could such brazen acts of lawlessness plausibly be justified by a concern that police officers in Minnesota or elsewhere defied the law," Barr says in the remarks.

He also specifically asks members of Congress to not encourage "violent rioters and anarchists" in Portland, where protests have morphed into a violent clash with federal agents sent to the city.

"As elected officials of the federal government, every Member of this Committee – regardless of your political views or your feelings about the Trump administration – should condemn violence against federal officers and destruction of federal property," Barr says. "To tacitly condone destruction and anarchy is to abandon the basic rule-of-law principles that should unite us even in a politically divisive time."
He's a real piece of work this Bill Barr.

They are getting ready for Marshall Law…election night. That is where this is going…right??!
Pundits said tonight that the Dems in the Judiciary Committee are going to ask him about election interference…Are Barr and T planning any?
Portland, OR's protests takes up 1 city block not the whole city…95% is graffiti.
Yes…we need to get back to fair minded practices - free speech and not jacked-up Government retaliatory moves.
AG Barr interview delayed this AM by around 45 mins to then 10:45am EST, due to non-injurious car accident for Nadler.
A car accident involving Jerry Nadler, Democratic chairman of the House judiciary committee, has delayed the start of testimony by William Barr, Donald Trump's attorney general.

A spokesman for the senior Democrat said he was not injured in the accident. The hearing was put back by 45 minutes to 10.45am. No details of the accident were immediately available.
This is going to be some hearing…Nadler was delayed due to car accident, Barr issues pre-buttal, Nadler gives a powerful opener, Rep Jordan speaks to the Committee about 'spying' and shows a HARSH long, video about BLM protests and the memorial of a policeman who was killed.
And AG's opening remarks…which will need to be parsed and deeply questioned.
A Thread from Jennifer Taub - Law professor is worth watching below.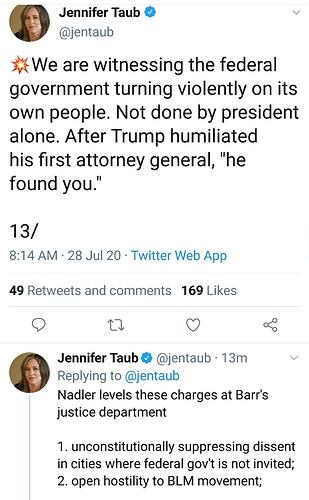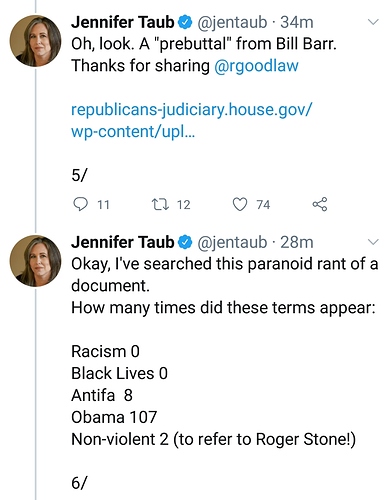 Ongoing commentary from AG Barr's interview during the Justice Dept Oversight Committee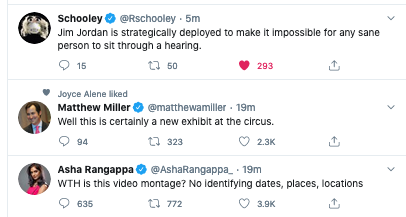 Adding Rep Swalwell are the Q's worth watching (had to stop earlier…taped it)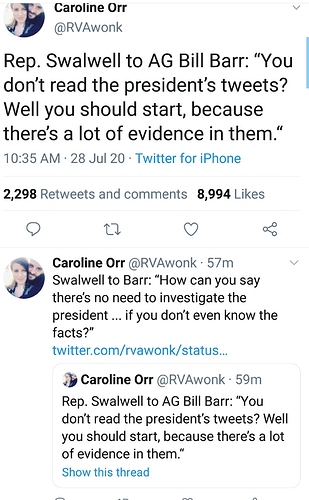 Video of Rep Swalwell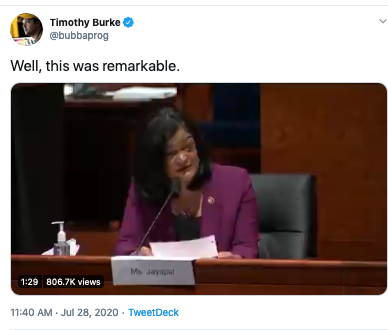 Remarkable inquiry of Rep Jayapal on how Barr sees White Supremecists vs. 'Terrorists' in Portland, etc.
video

@Windthin we need your gaslighting intensifies gif for this hearing. Barr is gaslighting the American people.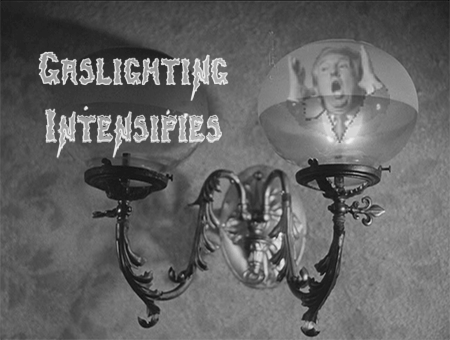 He is. And the GOP reps are blatantly aiding him.
It's basically, once again, two separate worlds.
Democrats taking him to task.
And Republicans colluding with him to gaslight, most of them clearly with pre-arranged talking points and questions.
Have to go do some stuff, posting this as a placeholder until I can't put together a round up of the coverage of today's hearing.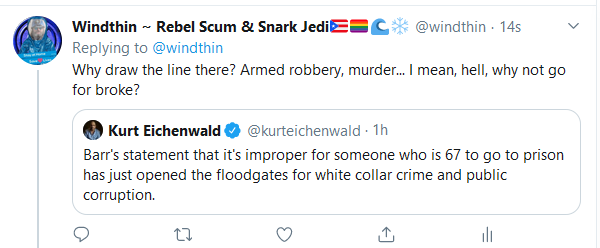 Barr testimony: Democrats press defiant attorney general on response to protests, intervention in high-profile cases