music is sorcery, nothing can convince me otherwise. there is such a huge hole whenever a beloved musician leaves us. i'm raising a glass to her return to the stars, and sending love your way.
AMA is teeing up another case which would test the courts on their views from barring clinics to give abortions. This is another measure at preserving the right to get an abortion.
The American Medical Association (AMA), the nation's largest doctors' group, filed a petition to the Supreme Court Thursday asking it to strike down a rule from the Trump administration barring clinics funded by taxpayers from referring women for abortions.

The petition, which was also filed in conjunction with the ACLU, Planned Parenthood and the National Family Planning & Reproductive Health Association, comes after two seemingly contradictory rulings from two federal appeals courts on the administration's restriction.

The petition also tees up an abortion battle that could be heard by the Supreme Court, which is expected to have a more conservative 6-3 majority if the Senate, as expected, confirms Amy Coney Barrett to be a justice for the court. President Trump nominated Barrett to replace liberal Justice Ruth Bader Ginsburg, who died in September.

The AMA in a statement called Title X, as the federal family planning program is commonly referred to, "a vital public health program."

"The AMA strongly believes that our nation's highest court must step in to remove government overreach and interference in the patient-physician relationship. Restricting the information that physicians can provide to their Title X patients blocks honest, informed conversations about all health care options — an unconscionable violation that is essentially a gag rule," said AMA President Susan R. Bailey.

"As physicians and leaders in medicine, we are fighting against the government's intrusion in the exam room while protecting open communication between patients and physicians, which is the foundation of high-quality medical care."

The Trump administration in 2019 finalized a policy that mandates that taxpayer-funded clinics not refer pregnant women for abortions, leading thousands of clinics to leave the Title X program. The development impacted women, mostly women of color, who get birth control and receive routine health care from the clinics, and the AMA said the number of annual patients at the sites affected fell by 21 percent in 2019.

While the Department of Health and Human Services has said it would work to prevent any lapses in coverage, the AMA wrote in its petition that the policy "warps and decimates" Title X.
British investigative reporter Carole Cadwalladr for The Guardian commenting on the net effect of Boris Johnson's Covid diagnosis was viewed by citizens (more Patriotism) and the press and Parliament (less snarky.) Could be a similar outcome here. Hmmm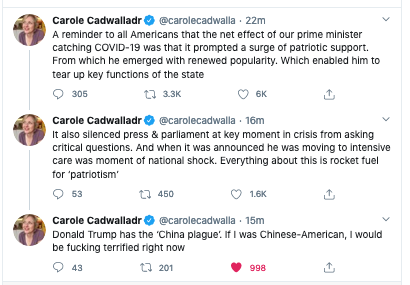 Our stupidity is infecting the rest of the world.
Asylum seekers: UK considered floating barriers in Channel
The Home Office looked at the idea to deter asylum seekers crossing, according to latest leaks.
Big review on all the rollbacks on environmental protection.
NYTimes: What Trump's Environmental Rollbacks Mean for Global Warming
What Trump's Environmental Rollbacks Mean for Global Warming https://nyti.ms/3hDmYc9
President Trump has made dismantling federal climate policies a centerpiece of his administration. A new analysis from the Rhodium Group finds those rollbacks add up to a lot more planet-warming emissions.
A St. Louis couple who pointed guns at protesters and appeared at the Republican convention are indicted by a grand jury.
WTAF. This is obscene!















Most Americans have no idea how deeply embedded white-supremacist groups are in the military
Links between white-nationalist groups and the military date to the 1990s, but most Americans remain unaware of those connections.
White nationalist groups, who are some of the country's most serious terror threats, are finding new members and support in the US military.
Those links date to the 1990s, but most Americans remain unaware of the connections these groups have to the military.
White nationalist groups, who make up some of the most serious terror threats in the country, find new members and support in the US military. These groups believe that white people are under attack in America.

In their effort to create an all-white country where nonwhites do not have civil rights protections, these groups often instigate violent confrontations that target racial and religious minorities. Since 2018, white supremacists have conducted more lethal attacks in the United States than any other domestic extremist movement.

The Proud Boys group, for example, whom President Donald Trump addressed in the first presidential debate of 2020, includes veterans and active duty service members. The group's members, who are required to engage in physical violence before joining, celebrated Trump's statement to "stand back and stand by," considering his call an endorsement of their extremist ideology.

While many Americans were appalled at the president's statement, our research shows that most Americans remain unaware of the connections these groups have to the military.

The links between the US military and white nationalists date back to the 1990s, with many believers seeing military service as an opportunity to hone their fighting skills and recruit others.

Our research has found that most Americans don't know much about the level of white nationalism in the military — though when they find out, they're worried about it.
White nationalists active in the military
White supremacists pass a militia member as they arrive for a rally in Charlottesville, Virginia, August 12, 2017.
Researchers do not have reliable data on how many active duty or veteran service members belong to white nationalist groups. But current military members are increasingly aware of the influence of far-right groups in the ranks.

In the most recent poll by Military Times, an independent media organization covering the military, about one-fifth of service members have reported seeing signs of white nationalism or racist ideology in the military community. Those include the casual use of racial slurs and anti-Semitic language, and even explosives deliberately arranged in the shape of a swastika.

More than one-third of service members surveyed in 2018 said white nationalism is a significant threat to the country — which is more than were seriously concerned about threats from Syria, Afghanistan or immigration.

White nationalists with military experience have committed acts of violence, usually after leaving the service — like the 1994 Oklahoma City bombing and the 2012 mass shooting at a Wisconsin Sikh temple.

But active duty personnel have also been involved in white nationalist activity. In July 2018, a white nationalist was dismissed from the Marine Corps for his involvement in hate groups, including attending the 2017 "Unite the Right" protest in Charlottesville, Virginia.

In February 2019, a Coast Guard officer stationed at the agency's headquarters was arrested and accused of stockpiling weapons as part of a plan to start a race war.

In April 2019, a Huffington Post investigation revealed that at least 11 members of various military branches were under investigation for involvement in a white nationalist group.

In September 2019, an Army soldier who had expressed support for right-wing extremism was arrested after sharing bomb-making instructions with undercover agents. That same month, an Air Force master sergeant who had been involved with a white supremacist group was demoted but allowed to continue serving.

In June 2020, an Army private was charged with terrorism offenses after he leaked sensitive information about his unit to two white supremacist groups, including one that promotes rape and murder as part of its quest for a race war.
Congressional concern
A white supremacist stands behind militia members in Charlottesville, Virginia.
Lawmakers have been paying attention to the problem. In 2019, the House of Representatives approved a requirement to screen potential military enlistees for signs of white nationalism, as part of the Pentagon's annual budget allocation. But the Senate removed that provision before sending the bill to the White House for the president's signature.

Military and academic experts agree that violent ideologies in the ranks make it harder for soldiers to form the bonds of trust with one another that they rely on in combat.

If Congress did ban white nationalists from serving in the military, members of white nationalist groups would have a harder time receiving military training. They would also be cut off from an important recruitment network.
When Americans learn about white nationalism in the military, they get more concerned about it
Before learning about a Military Times poll finding that "22% of service members … have seen evidence of white nationalism or racist ideology within the armed forces," fewer than one-third of Americans polled thought of it as "a serious problem." When they did find out the poll results, many more thought of it that way – and far fewer considered it "not a problem."
American views of white nationalism
President Donald Trump, Secretary of Defense Mark Esper, left, and Chairman of the Joint Chiefs Army Gen. Mark Milley at the White House, October 7, 2019.
We wanted to find out how much the public knew about white nationalism in the military, and what they think about it. So in early May 2019, we conducted a demographically representative survey of 1,702 American adults.

First, we asked respondents how prevalent they thought white nationalism was in the military. Most — 70% — said there were "some" white nationalists on active duty. Another 20% said there were "many." Just 10% thought there were none.

Then we sought to find out whether people thought it was a problem. To answer that question, we split our respondents into two groups. We asked one half of them whether "white nationalism in the military" is "not a problem," a "somewhat serious problem" or a "serious problem." Only 30% of them thought it was a "serious" problem; 47% thought it was "somewhat serious" and 23% thought it was "not a problem."

The other half of the respondents got the same question — but before we asked, we gave them the results of a 2018 Military Times poll finding that "22% of service members … have seen evidence of white nationalism or racist ideology within the armed forces." Having learned that information, 35% of this group said the problem is "serious" — a statistically significant increase of five percentage points.

After that, we returned to the first group, and gave them the information from the Military Times poll — and found that 39% of them considered the problem "serious." This nine-point increase was also statistically significant.

We did see an initial political divide among our respondents. People who identified as strong conservatives were less concerned about white nationalism in the military than were strong liberals. But respondents across the political spectrum were willing to update their views, and considered white nationalism a serious problem, once we gave them additional, factual information.
The military is a trusted institution
Soldiers from the US Army's 1st Cavalry Division prepare to head to Europe for the Defender-Europe 20 exercise.
The American public is deferential to the military, and trusts it as an institution. White nationalist groups and ideologies get a boost of credibility and legitimacy through their links to the US military. Civilians often take cues from the statements and actions of those who served.

Our work suggests that informing the public about service members' worries about white nationalism in the military could increase concern among both liberals and conservatives about the growing power of these groups.

Increased public concern could create an incentive for policymakers to try to combat white nationalist groups, in the military and in society at large.
Respect. Nicely done Jacinda Ardern.
@macro You must be very proud.
Yes very pleased with the result. We were expecting good support for a very popular and competent leader. Also very pleased that my own Party (NZ Greens), who have been in a confidence and supply arrangement with NZ Labour have also increased the number of MPs in Parliament, also winning a very contestable seat. Chloe Swarbrick a young woman MP triumphed over two other women candidates to take the Auckland Central seat.

BTW "blue" in NZ translates to "red" in America.

The Greens are the more progressive faction in politics in NZ and have many policies not only wrt environment, and climate change. ATM, we are still not sure if Jacinda will be offering any role in government to the Green MPs. She has enough of a mandate for Labour to Govern alone.
However we are hoping that she will be seeking some support in such areas as Climate Change (for which she has said this is her generations "nuclear moment"), and in which one of our co-leaders, James Shaw, has been instrumental in bringing in the Zero-Carbon Act with cross-party endorsement. Other areas where the Greens would love to be actively involved are the Environment, Agricultural reform including regenerative agricultural practices. Social justice issues are also important policies such as poverty reduction and eliminating homelessness.
The Treaty of Waitangi (one of the founding documents of NZ as it is today) is a central platform for all Green Policy.

This was a very good result, and she is so embraced for her true leadership skills, as well as compassionate responses to her nation. And it sounds wise to incorporate more of the Green NZ platform too.
We need to take a page out of this example as an appreciative nation and well run country.
Ghislaine Maxwell loses fight to keep Epstein testimony sealed | Miami Herald
Scary microwave attack on Former CIA official, and his travails within our government …in this recommended article
Former CIA official Marc Polymeropoulos visiting Moscow in late 2017, where he says he was attacked by a microwave weapon.
Marc Polymeropoulos awoke with a start. The feeling of nausea was overwhelming. Food poisoning, he thought, and decided to head for the bathroom. But when he tried to get out of bed, he fell over. He tried to stand up and fell again. It was the early morning hours of December 5, 2017, and his Moscow hotel room was spinning around him. His ears were ringing. He felt, he recalled, "like I was going to both throw up and pass out at the same time."

Polymeropoulos was a covert CIA operative, a jovial, burly man who likes to refer to himself as "grizzled." Moscow was not the first time he had been on enemy territory. He had spent most of his career in the Middle East, fighting America's long war on terrorism. He had hunted terrorists in Pakistan and Yemen. He did the same in Iraq and Afghanistan. He had been shot at, ducked under rocket fire, and had shrapnel whiz by uncomfortably close to his head. But that night, paralyzed with seasickness in the landlocked Russian capital, Polymeropoulos felt terrified and utterly helpless for the first time.

Struggling to regain control over his body, Polymeropoulos couldn't have imagined that this incident would upend his life. It would end a promising career that had just catapulted him into the ranks of senior CIA leadership, and threw him into the middle of a growing international mystery that has puzzled diplomats and scientists, and raised concerns on Capitol Hill. In the months ahead, he would come to realize that it wasn't a spoiled sandwich that had mowed him down. Rather, it was his macabre initiation into a growing club of dozens of American diplomats, spies, and government employees posted abroad who were suffering in much the same way he was—targets of what some experts and doctors now believe were attacks perpetrated by unknown assailants wielding novel directed energy weapons. Though many of these apparent attacks have been publicized, including those that took place in Cuba and China, others have not been revealed until now, including at least three incidents that officials from the CIA and Capitol Hill say targeted American citizens on American soil.

Polymeropoulos arrived in Moscow at the end of Donald Trump's first, chaotic year in the White House. Shortly before Trump was inaugurated, the intelligence community released its conclusions that the Russian government had successfully meddled in the 2016 presidential election. It was the kind of high-confidence, public assessment that rarely came out of the fractious world of U.S. intelligence. Yet the new president dismissed their findings and denigrated intelligence officers as the "deep state" who wanted nothing more than to thwart his agenda. He also seemed determined to make nice with the Kremlin, even going so far as inviting the Russian foreign minister into the Oval Office in May 2017, and using the occasion to mock ousted FBI director James Comey and to share highly classified Israeli intelligence with the Russians—without Jerusalem's sign-off. "I remember thinking this is like George W. Bush inviting bin Laden after 9/11 and saying, 'Eh, we're good,' " Polymeropoulos told me. "Stuff like that that really alarmed us considerably." Some of it, he added, made his "head explode."

Not only were the president's overtures to Vladimir Putin concerning, they were also in direct contradiction to the work Polymeropoulos was doing at CIA headquarters in Langley, Virginia. In late January 2017, Polymeropoulos had been transferred from the CIA's counterterrorism division and promoted to a new role: deputy chief of operations for the Europe and Eurasia Mission Center, the EEMC. The CIA's leadership, along with then director Mike Pompeo, decided that it was time to start pushing back on Russian active-measures campaigns more aggressively and that the best way to show the Kremlin that the Americans were serious was to bring in the tough guys who had spent the past 15 years in the Middle East. These people, like Polymeropoulos, didn't know much about Russia, its history, or its culture. "We knew nothing on Russia," Polymeropoulos admits. But, like his Russian counterparts, he and his counterterrorism comrades were fluent in the language of force.

Polymeropoulos's new job was to run clandestine operations across the Center's approximately 50 stations, which dotted the landscape from Ireland to Azerbaijan. As far as the Agency and Polymeropoulos saw it, the area in between—Europe, Ukraine, Turkey, the Caucasus—was now a battleground between the United States and Russia. Polymeropoulos issued what he refers to as "a call to arms." "Every station was directed to refocus its efforts on Russia," he explained. "It goes back to the old days where, in every station around the world, there was a Soviet branch. We wanted to reconstitute that because Russia can't be ignored anymore." Though Polymeropoulos and the other counterterrorism officers brought in for this new mission were mostly skilled at tracking suspected terrorists, they had to rely on a different skill set in dealing with the Russians. "The best way you do covert influence traditionally is with the truth," Polymeropoulos told me. "And Russian operations and covert influence is so easy because we never have to say, like, you know, Putin likes little boys in the back of his car. You don't make stuff up to embarrass him. You just say what they do." This involved exposing Russian operations across the continent—like the efforts to stop Macedonia from changing its name and to sponsor a coup in Montenegro—by working with local intelligence services to make sure that the European public knew that the Kremlin was trying to manipulate them. (The Russian government has denied its involvement in these events.)

To this day, Polymeropoulos doesn't know how much President Trump knew of the work he was doing at the EEMC. "Did he go down and brief the president?" Polymeropoulos said of Pompeo. "I don't know, and it doesn't even matter because we were given kind of the green light to go ahead and do it… It was simply a matter of us deciding internally in the CIA, this is what we're going to do. We don't need any kind of approval on that. It's not like we were killing Russians." (That would require high-level permission because physically targeting the officers of a sovereign country creates a different level of political risk. Polymeropoulos, along with other sources familiar with the CIA's counterintelligence efforts, insists that at no point did these efforts involve physically harming Russian operatives.)
Twitter is temporarily throttling how you retweet posts. The changes will be in place until "at least" the end of election week, to "help prevent abuse and the spread of misinformation."
Oct 20, 2020
From Disclose TV
Purdue Pharma and the Sackler family are being forced to pay upwards of $8.3 billion dollars on their malfeasance with OxyContin which has ravaged a huge swath of the country and resulted in 450,000 deaths since 1999. This is a big settlement, but probably a lot less considering the Sacklers have dispersed funds amongst themselves before the lawsuit.
DOJ is putting this one on the books and is showing that it has brought down another big one.
WASHINGTON (AP) — Purdue Pharma, the company that makes OxyContin, the powerful prescription painkiller that experts say helped touch off an opioid epidemic, will plead guilty to three federal criminal charges as part of a settlement of more than $8 billion, Justice Department officials announced Wednesday.

The company will plead guilty to three counts, including conspiracy to defraud the United States and violating federal anti-kickback laws, the officials said. The resolution will be detailed in a bankruptcy court filing in federal court.

The deal does not release any of the company's executives or owners — members of the wealthy Sackler family — from criminal liability, and a criminal investigation is ongoing. But one state attorney general said the agreement fails to hold the Sacklers accountable.

The settlement is the highest-profile display yet of the federal government seeking to hold a major drugmaker responsible for an opioid addiction and overdose crisis linked to more than 470,000 deaths in the country since 2000.
"Purdue deeply regrets and accepts responsibility for the misconduct detailed by the Department of Justice in the agreed statement of facts," Steve Miller, who became chairman of the company's board in 2018, said in a statement. No members of the Sackler family remain on that board, though they still own the company.

The deal comes less than two weeks before a presidential election where the opioid epidemic has taken a political back seat to the coronavirus pandemic and other issues. But it does give President Donald Trump's administration an example of action on the addiction crisis, which he promised early in his term.

To Massachusetts Attorney General Maura Healey, the Justice Department "failed" and she said in a statement that she was not done with either Purdue or the Sacklers. "Justice in this case requires exposing the truth and holding the perpetrators accountable, not rushing a settlement to beat an election," she said.

As part of the resolution, Purdue is admitting that it impeded the Drug Enforcement Administration by falsely representing that it had maintained an effective program to avoid drug diversion and by reporting misleading information to the agency to boost the company's manufacturing quotas, the officials said.

A Justice Department official said Purdue had been representing to the DEA that it had "robust controls" to avoid opioid diversion but instead had been "disregarding red flags their own systems were sending up."

Purdue is also admitting to violating federal anti-kickback laws by paying doctors, through a speaking program, to induce them to write more prescriptions for the company's opioids and for using electronic health records software to influence the prescription of pain medication, according to the officials.

Purdue will make a direct payment to the government of $225 million, which is part of a larger $2 billion criminal forfeiture. In addition to that forfeiture, Purdue also faces a $3.54 billion criminal fine, though that money probably will not be fully collected because it will be taken through a bankruptcy, which includes a large number of other creditors. Purdue will also agree to $2.8 billion in damages to resolve its civil liability.
Purdue Pharma, the maker of OxyContin, has agreed to plead guilty to criminal charges of defrauding federal health agencies and violating anti-kickback laws, and faces penalties of roughly $8.3 billion, the Justice Department announced on Wednesday.

The company's owners, members of the wealthy Sackler family, will pay $225 million in civil penalties.

Wednesday's announcement does not conclude the extensive litigation against Purdue, but it does represent a significant advance in the long legal march by states, cities and counties to compel the most prominent defendant in the opioid epidemic to help pay for the public health crisis that has resulted in the deaths of more than 450,000 Americans since 1999, according to the Centers for Disease Control and Prevention.
Still, it is unlikely the company will end up paying anything close to the $8 billion negotiated in the settlement deal. That is because it is in bankruptcy court and the federal government will have to take its place in a long line of creditors. Typically, creditors end up collecting pennies on the dollar.