Big S-storm coming out of ex DNI acting head Richard Grennell -
and various Dems - Rep Swalwell, lawyers who worked on the Mueller report or the questioning
@Windthin adding to your Twitter recounts…
Is T trying to get taken off social media so he can blame them for no free speech? Is he pushing the limits and provoking violence, so to enrage the Dems?
What is the motive here…?
Divert attention from the 100K dead.
President Trump has retweeted a video where a supporter declares "the only good Democrat is a dead Democrat" — and the man's explanation behind the comment is even more violent.

Trump retweeted a video from the account Cowboys for Trump at midnight Thursday, in which the leader of the group Couy Griffin declares "the only good Democrat is a dead Democrat." Griffin then explains he doesn't mean it "in the physical sense," but rather "in the political sense" because "the Democrat policy and agenda is anti-American right now." A generous interpretation of the video would suggest Griffin is trying to compliment Democrats of the past, but he never quite makes that point.

Thank you Cowboys. See you in New Mexico! https://twitter.com/ridewithc4t/status/1265797359906091008

— Donald J. Trump (@realDonaldTrump) May 28, 2020

The Cowboys for Trump tweet comes in response to a Daily Beast article covering Griffin's rally at a New Mexico church, which he held to defy the state's COVID-19 social distancing orders. The Daily Beast asked Griffin to clarify his "dead Democrat" comment in an interview after the Tuesday rally, but he only repeated the statement and suggested that top Democrats enforcing social distancing will "get to pick your poison: you either go before a firing squad, or you get the end of the rope." Kathryn Krawczyk
Interesting question. Along those lines, how about his trying to take action against twitter for calling him out on his lies?
Personally, I really don't think he gives a rip about the 100k dead, he's just trying to divert attention from all the other crap he's doing, some of which is stretching what the limits of his authority really are.
Cross-posting for discussion
Questions on Flynn and his conversations with Russian Ambassador Kislyak - I am just following the leads of various journalists who are culling out certain aspects to the significance of Flynn's early calls to Kislyak.
While Flynn is up for a possible dropping of the case, per Barr's DOJ, there is a bunch of reveals in the notes, which others are talking about tonight.
Remember when Judge Sullivan said he'd delay on Flynn's sentencing because he said there could be treason involved. This is a big issue obviously. Did Flynn parlay his position within the upcoming T administration to help influence a next-level Russian alliance which has been kept under wraps for a long time. #NoNotesT'sMtgsWithPutin.
Just going to list a bunch of articles which is addressing the Flynn issue tonight, because the USA is majorly occupied with murderous police activity in MN, a pandemic and a truly corrupt and obfuscating Administration who keeps hiding and rearranging the facts on what kinds of connections T 'n Co has with the Russians and other 'helpers.'
Suggests the Middle East was at the core of Flynn's calls…let's help Russian alliances, ie Iran, Syria oh, and yeah, Ukraine.
When Donald Trump's national security adviser-designate made his fateful phone calls with the Russian ambassador, the conversations that set in motion his downfall had a goal behind them. Drawing closer to the rival power that interfered in the 2016 election didn't occur for its own sake, transcripts declassified on Friday show, but to create a new Mideast partnership against what retired Lt. Gen. Mike Flynn saw as "radical Islam."

"You know that the strategic goal is stability in the Middle East," the transcripts show Flynn pressing upon Sergey Kislyak on Dec. 23, 2016. "We will not achieve stability in the Middle East without working with each other against this radical Islamist crowd. Period. I am very adamant about that."

Flynn would later plead guilty – and, later still, seek to reverse his plea – for lying to the FBI in January 2017 about the discussions of U.S. sanctions on Russia that he had with Kislyak on that day and others. But the calls, declassified by former acting Director of National Intelligence Richard Grenell and released under the auspices of confirmed successor John Ratcliffe, confirm an overlooked aspect of the Trump team's early outreach to Moscow.

The reason why Flynn was keen for Moscow to tamp down its response to the Obama administration's final round of sanctions was to advance a longstanding desire on Flynn's behalf to unite the two nations against a dark vision of Islam that Flynn had come to hold. First on the agenda would be to come to terms on Syria, where both nations had deployed their militaries. It was something Flynn wanted the Pentagon to explore – and something that would lead to an encounter in the Seychelles between an infamous mercenary and the head of a sanctioned Russian fund.
Flynn has never particularly hid that he saw Russia as a means to the end of confronting what he variously refers to as "radical Islam," "radical Islamist terror," and "radical Islamic terror." This was Flynn's takeaway after his post-9/11 tenure as the intelligence chief for the Joint Special Operations Command, which made him an instrumental figure in the war on terror. To many of Flynn's military and intelligence contemporaries, that is a hysterical and dangerous view of one of the world's major religions.

At the Republican National Convention in 2016, he told Dana Priest of the Washington Post, "That's really where I'm at with Russia. We have a problem with radical Islamism and I actually think that we could work together with them against this enemy. They have a worse problem than we do." He would later put it in harsher terms, comparing Islam to a "malignant cancer" and calling it a "political ideology" that "hides behind this notion of being a religion."

On the phone with Flynn in December 2016 – something surreptitiously intercepted by the FBI as a matter of course for the Russian ambassador's conversations – Kislyak saw the leverage Flynn's perspective provided.

Talking about Obama's sanctions, which included the expulsion of Russian diplomatic and intelligence personnel, Kislyak told Flynn that the sanctions seemed to indicate the U.S. was unwilling to work together against "terrorist threats." Kislyak added that he viewed Obama sanctions as aimed "not only against Russia, but also against the president elect."

Flynn, urging Kislyak to convince Vladimir Putin to take a restrained approach to the sanctions, reiterated: "We definitely have a common enemy. You have a problem with it. We have a problem with it in this country and we definitely have a problem with it in the Middle East."

But Flynn's vision of the U.S. and Russia as natural allies against "Islam" overlooked much. Russia was aligned with Iran, to which it had sold powerful anti-aircraft defenses, while Flynn's brief tenure famously put Iran "on notice" that the Trump administration would be aggressive against Tehran. Nor were the Russians concerned about ISIS in Syria. Their concerns were the survival of their client, Bashar Assad, and the transcripts indicate that Kislyak saw in Flynn's outreach an opportunity to get Washington to acquiesce to Assad's continued rule.

Their plan came to a head in a Dec. 29, 2016 call. According to the newly declassified transcripts, Kislyak tells Flynn that although Russia wants to work with the new administration on coordinating in the Middle East, it would stand back to wait and see what the Trump team proposed as policy.

"We had … significant reservations about the idea of adopting now the principles for the Middle East … that our American colleagues are pushing for. So we are not going to support it to - in the quartet, or in the Security Council. And we have conveyed to our American colleagues," Kislyak tells Flynn on the call. "So in the spirit of full transparency I was asked to inform you as well."
---
Some more comments from NYT's article on Flynn's calls. See [The Impeachment of President Donald J. Trump]
To be continued…
Adding the views of Marcy Wheeler of Emptywheel.net, who always seem to get to the very core of what is significant…and the details which are damning.
Will leave this here for you to read…and also read their comments section…multi-layer chess.
2 articles from today.
#1

John Ratcliffe has released the transcripts of Flynn's calls with Sergey Kislyak. They're utterly damning. I'm sure I'll be writing about them for some time, but this is the key bit. Flynn raised sanctions himself — even interrupted Kislyak to do so.

And he pitched sanctions against the Russians not just for tampering in our election, but also for abusing our diplomats in Russia, as an attack on Trump.

KISL YAK: Is by security video. Secure video line.

FLYNN: Yeah. Yeah, yeah. I understand. Okay, um, okay. Listen, uh, a couple of things. Number one, what I would ask you guys to do – and make sure you, make sure that you convey this, okay? – do not, do not uh, allow this administration to box us in, right now, okay? Um –

KISLYAK: We have conveyed it. And –

FLYNN: Yeah.

KISL YAK: It's, uh, ifs uh, very very specifically and transparently, openly.

FLYNN: So, you know, depending on, depending on what uh, actions they take over this current issue of the cyber stuff, you know, where they're looking like they're gonna, they're gonna dismiss some number of Russians out of the country, I understand all that and I understand that~that, you know, the information that they have and all that, but what I would ask Russia to do is to not – is – is – if anything – because I know you have to have some sort of action – to, to only make it reciprocal. Make it reciprocal. Don't – don't make it- don't go any further than you have to. Because I don't want us to get into something that has to escalate, on a, you know, on a tit for tat. You follow me, Ambassador?

KISLYAK: I understand what you're saying~ but you know, you might appreciate the sentiments that are raging now in Moscow.

Then, when Kislyak calls back to tell Flynn that they didn't respond because of his ask, Kislyak emphasizes that, asserting that the sanctions were targeted at Trump as well as Russia (note, it's possible Russia intercepted the calls between Trump Transition officials where they said just this, because they weren't using secure lines precisely to avoid detection by the US government).

KIS LY AK: And I just wanted to tel I you that we found that these actions have targeted not only against Russia, but also against the president elect.

FLYNN: yeah, yeah

KISL YAK: and and with all our rights to responds we have decided not to act now because, its because people are dissatisfied with the lost of elections and, and its very deplorable. So, so I just wanted to let you know that our conversation was taken with weight. And also …

Thus, from the very start of this Administration, Flynn willingly set up the relationship with Russia such that Russia and Trump's Administration were allied against Democrats — and anyone else who believed it was wrong for Russia to tamper in our election.
#2

As I noted, John Ratcliffe has released the transcripts of at least some of the Flynn-Kislyak calls (Ric Grenell said that he didn't have all transcripts, and there are certainly other transcripts, at least setting up the meeting at which Jared Kushner asked for a back channel). As I also noted, from the very beginning, Kislyak set up the calls with Flynn such that Russian and Trump were unified against the Democrats (though the common enemy referenced in the calls was ISIS).

But that's not the most damning part of the transcripts.

As I have repeatedly noted, the Mueller Report is very coy about whether Mueller obtained evidence that Flynn spoke directly with Trump about his calls with Kislyak, going so far as to withhold details of the timeline of events on December 29 (Mueller cites Flynn's call records, but we know from the Stone trial that he also got Trump's call records, at least for the campaign period). According to the narrative Mueller laid out, the first time that Flynn claimed to remember discussing the conversation with Trump was on January 3, 2017.

On January 3, 2017, Flynn saw the President-Elect in person and thought they discussed the Russian reaction to the sanctions, but Flynn did not have a specific recollection of telling the President-Elect about the substance of his calls with Kislyak. 102

Flynn even claimed that he and Trump didn't speak about the substance of the calls until February 6.

The week of February 6, Flynn had a one-on-one conversation with the President in the Oval Office about the negative media coverage of his contacts with Kislyak. I93 Flynn recalled that the President was upset and asked him for information on the conversations. 194 Flynn listed the specific dates on which he remembered speaking with Kislyak, but the President corrected one of the dates he listed. I95 The President asked Flynn what he and Kislyak discussed and Flynn responded that he might have talked about sanctions.I96

Flynn's claimed uncertainty about whether he had discussed the sanctions call with Trump was a key part of Mueller's analysis of whether Trump fired Jim Comey because Flynn had derogatory information on him.

As part of our investigation, we examined whether the President had a personal stake in the outcome of an investigation into Flynn-for example, whether the President was aware of Flynn's communications with Kislyak close in time to when they occurred, such that the President knew that Flynn had lied to senior White House officials and that those lies had been passed on to the public. Some evidence suggests that the President knew about the existence and content of Flynn's calls when they occurred, but the evidence is inconclusive and could not be relied upon to establish the President's knowledge . In advance of Flynn's initial call with Kislyak, the President attended a meeting where the sanctions were discussed and an advisor may have mentioned that Flynn was scheduled to talk to Kislyak. Flynn told McFarland about the substance of his calls with Kislyak and said they may have made a difference in Russia's response, and Flynn recalled talking to Bannon in early January 2017 about how they had successfully "stopped the train on Russia's response" to the sanctions. It would have been reasonable for Flynn to have wanted the President to know of his communications with Kislyak because Kislyak told Flynn his request had been received at the highest levels in Russia and that Russia had chosen not to retaliate in response to the request, and the President was pleased by the Russian response, calling it a " [g]reat move." And the President never said publicly or internally that Flynn had lied to him about the calls with Kislyak.

But McFarland did not recall providing the President-Elect with Flynn's read-out of his calls with Kislyak, and Flynn does not have a specific recollection of telling the President-Elect directly about the calls . Bannon also said he did not recall hearing about the calls from Flynn. And in February 2017, the President asked Flynn what was discussed on the calls and whether he had lied to the Vice President, suggesting that he did not already know. Our investigation accordingly did not produce evidence that established that the President knew about Flynn's discussions of sanctions before the Department of Justice notified the White House of those discussions in late January 2017.

But the transcript of Flynn's December 31, 2016 call makes it clear that Mueller had proof that Flynn had talked with Trump about the Kislyak call, because Flynn told Kislyak that the "boss is aware" of the secure video conference that Kislyak wanted to set up immediately after Trump was inaugurated.

FLYNN: and, you know, we are not going to agree on everything, you know that, but, but I think that we have a lot of things in common. A lot. And we have to figure out how, how to achieve those things, you know and, and be smart about it and, uh, uh, keep the temperature down globally, as well as not just, you know, here, here in the United States and also over in, in Russia.

KISLYAK: yeah.

FLYNN: But globally l want to keep the temperature down and we can do this ifwe are smart about it.

KISLYAK: You're absolutely right.

FLYNN: I haven't gotten, I haven't gotten a, uh, confirmation on the, on the, uh, secure VTC yet, but the, but the boss is aware and so please convey that. [my emphasis]

Flynn might claim that he only told Trump about the video conference and not sanctions (which wouldn't be remotely credible, given that Flynn was the one who raised the sanctions, not Kislyak). He might claim that any conveyance of the details of the call went to Trump second-hand, perhaps through KT McFarland.

But whatever excuse Flynn would offer (remember, he has been asking for these transcripts since August, so it's unclear how much of their content John Eisenberg, Reince Priebus, and Mike Pence shared with him in real time), his assurances to Kislyak, offered on December 31, that Trump knew of the request Kislyak had made on the December 29 call makes it quite clear that Flynn knew Trump had learned of the substance of the call via some means within 48 hours of that call.

And then told Mueller he had no idea whether he had shared that information.
---
Flynn urged Russian ambassador to take 'reciprocal' actions, transcripts show

Incoming national security adviser Michael Flynn told Russia's ambassador to Washington in late 2016 to take "reciprocal" actions in response to Obama administration sanctions for election interference, rather than escalating the situation into a "tit for tat."

"You might appreciate the sentiments that are raging in Moscow," the ambassador, Sergey Kislyak, replied to Flynn's request on the Dec, 29, 2016 call.

"I know, I - believe me, I do appreciate it, I very much appreciate it," Flynn responded. "But I really don't want us to get into a situation where we're going, you know, where we do this and then you do something bigger, and then you know, everybody's got to go back and forth and everybody's got to be the tough guy here, you know?"

The next day, the president-elect praised his Russian counterpart for declining to retaliate, "Great move on delay (by V. Putin) - I always knew he was very smart!" he tweeted.

When Flynn and Kislyak followed up on Dec. 31, 2016, Kislyak emphasized that Russian President Vladimir Putin opted not to escalate the sanctions battle because of his talk with Flynn — despite "raging" feelings in Moscow. And Kisylak argued that the Obama administration sanctions were aimed at damaging the incoming Trump administration just as much as they were the Kremlin.

"I just wanted to tell you that we found that these actions have targeted not only against Russia, but also against the president elect," Kisylak said.

The exchanges are at the heart of the controversy over the FBI's investigation of Russian interference in the 2016 election and Trump campaign aides' contacts with Russian officials throughout. They were released Friday as part of a batch of declassified transcripts to Congress and obtained by POLITICO, detailing conversations between Flynn, the retired lieutenant general, and Kisylak in the weeks before President Donald Trump took office.

The documents at one point show Flynn engaged in a prolonged discussion with Kislyak over the sanctions the outgoing administration had slapped on Russia hours earlier for its campaign meddling, an apparent effort to convince Moscow not to retaliate and to embrace a new relationship with the incoming Trump team. They show no sign that he condemned Russia's interference in the 2016 election to Kislyak.

Flynn's conversations with the ambassador were a key concern to FBI investigators probing Russian interference in the 2016 election and the contacts between Russia and figures in Trump's orbit during that period. Flynn later pleaded guilty to lying to the FBI about the details of those contacts and spent more than a year cooperating with special counsel Robert Mueller, though he's since moved to withdraw his plea.

The new materials involve calls on January 5, 2016; December 22, 2016; December 23, 2016; and a voicemail and subsequent phone call on December 29, 2016.

DOCUMENT

One transcript appears to detail a conversation between Flynn and Kislyak about a U.N. Security Council vote on condemning Israeli settlement moves in the West Bank. "[Y]ou know that the strategic goal is stability in the Middle East," Flynn told Kislyak. "That's the strategic goal. And, and, you know, between you and I, and you know this, and we know this, you know between Moscow and Washington. We will not achieve stability in the Middle East without working with each other against this radical Islamist crowd. Period."

Kislyak replied that Russia would vote to condemn the settlements, but said Russia would "try to help ah… to give additional time for the conversation on this issue."

"[W]e will try to help to postpone the vote and to allow for consultations," he added.

"OK, OK, that's good," Flynn replied. "That's great ambassador. That's all we can ask for it at this point and time."

During the Dec. 29 call with Kislyak, the pair discussed sanctions at length, despite Flynn's denials later.

"[T]he idea is, be — if you — if you have to do something, do something on a reciprocal basis, meaning you know, on a sort of an even basis," Flynn said later in the call. "Then that, then that is a good message and we'll understand that message. And, and then, we know that we're not going to escalate this thing, where we — where because if we put out — if we send out 30 guys and you send out 60, you know, or you shut down every Embassy, I mean we have to get this to a — let's, let's keep this at a level that uh is, is even-keeled, okay?"

DOCUMENT

The transcripts also predate the 2016 election, briefly describing a call Flynn made to Kislyak on January 5, 2016, to express his condolences to Kislyak about the death of Igor Sergun. Sergun was the director of Russia's military intelligence service, the GRU.

Richard Grenell, who was acting director of national intelligence until Rep. John Ratcliffe (R-Texas) was sworn into the role on Monday, declassified the call transcripts before leaving the administration but left it to Ratcliffe to release them. The transcripts are of calls between Flynn––who was then a member of the Trump transition team, and the incoming national security advisor––and Kislyak, Russia's envoy to the U.S. at the time.

Before he left office, Grenell emphasized that he didn't have access to all the call transcripts, which were products of the FBI, but had moved to declassify the ones he had received.

"I declassified the ones we had. There's a process - they are coming," Grenell said Thursday on Twitter.

The move is the latest in a series of Flynn-related declassifications from ODNI. Earlier this month, the agency declassified a list of U.S. officials who made so-called "unmasking" requests that revealed Flynn's name. Biden, who was vice president at the time, made one of the requests. The National Security Agency (NSA) produced the list, and noted that all the unmasking requests came from people with the authority to make them and were handled according to legal protocols. Despite that, the Trump administration cited the news to claim the Obama administration illegally spied on the campaign. When asked at a press conference what law Biden had broken, Trump declined to say.

ODNI also declassified the full text of an email then-national security adviser Susan Rice sent to herself and to an aide memorializing an Oval Office conversation about Flynn and Kislyak. According to Rice's email, then-FBI Director James Comey told Obama that he was worried about sharing classified material with Flynn, given Flynn's numerous conversations with Kislyak. Comey added that he had no evidence the incoming Trump advisor had shared classified material with the Russian diplomat. Rice had called for the full declassification of the email, and since called for declassification of the call transcripts.

Obama, according to the email, told Comey to conduct the investigation "by the book." But Trump has seized on the episode to allege, without evidence, that Obama committed an unspecific crime against his incoming administration.

Trump was asked about the Flynn-Kislyak calls in detailed written questions from Mueller's team but ignored them, refusing to answer when he learned that Flynn had discussions with Russia's ambassador to the United States or whether he was ever informed that the calls were the reason Russia didn't retaliate against the Obama administration sanctions.

Trump has used the Flynn case to fire up his allies in his 2020 reelection campaign, fundraising off Obama and Biden's involvement.

The FBI opened a counterintelligence operation into several Trump campaign aides in the summer of 2016. Flynn was eyed for his visit to Moscow in 2015, part of a Russian-funded dinner at which he was seated next to President Vladimir Putin.

But by early 2017, after Trump had designated him as his national security adviser, the FBI was prepare to close its case against Flynn, according to recently disclosed documents. That changed when top FBI brass learned of Flynn's calls with Kislyak, which came just as the outgoing Obama administration imposed sanctions on Russian officials for their interference in the election.

Leaked details of the calls suggested that Flynn urged the Russian government not to retaliate against the Obama sanctions, avoiding a tit-for-tat ahead of the inauguration of Trump, who had promised warmer relations with Russia. But Flynn denied that he discussed sanctions with Kislyak at all.

The existence of the calls set off a debate between the Obama Justice Department — which wanted to inform the incoming Trump administration about the calls — and the FBI, which wanted to keep them secret during its counterintelligence investigation. The debate reached a fever pitch when incoming vice president Mike Pence repeated Flynn's incorrect statement during a TV interview, and flared again after the inauguration, when Press Secretary Sean Spicer reiterated them.

The Justice Department ultimately informed the White House about the calls, but not before the FBI sent two agents to interview Flynn in the West Wing, where he continued to deny discussing sanctions with Kislyak.

Though Flynn maintained for a year and a half that he was guilty of lying to the FBI, he reversed course last year, hiring a new legal team and alleging that his guilty plea was coerced by FBI officials seeking to perpetuate their ongoing Russia investigation.

He moved earlier this year to withdraw his guilty plea, and last month, the Justice Department moved to drop the case against him, following a review initiated by Attorney General William Barr. Some FBI and DOJ officials involved in the matter accused Barr of twisting their words to justify dropping the case.
Good reading. Thanks for following this story through tonight. So much is happening!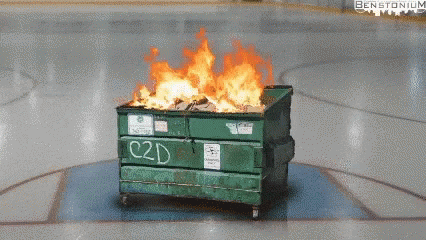 Any idea if this is related to Flynn or something else? There's no context, but apparently he's watching CNN, which he claims he never watches.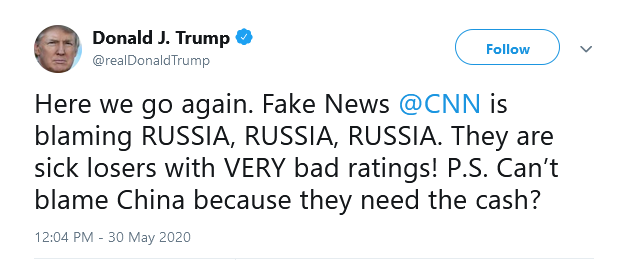 Not sure…this would have been Friday's story, with the amount of Flynn info…so probably. Unfortunately the MN, and 21 cities has been so dire a lot of coverage on that. Haven't watched CNN today…
However, there are rumblings about most of the protesters are coming from out of state and could be part a planned Russian influenced campaign to mess with American Politics. That is what I am seeing on Twitter re: Cnn/Russia.
Example (Maga lover)
Did you or someone post about what Joy Reid has been talking about - (MSNBC) - out of the state Rabble Rousers.
ProPublica always digs into the details of corruption within the government, and this is another example of someone who works for the Treasury, Justin Muzinich under Mnunchin who is financially having a windfall due to the bailouts. Read for more details, but knowing who Mnunchin is, former investment banker and someone who profited as well from the 2008 bailout, and left many mortgage holders losing everything, it is not surprising.
Federal Reserve Chairman Jerome Powell and Treasury Secretary Steven Mnuchin have become the public faces of the $3 trillion federal coronavirus bailout. Behind the scenes, however, the Treasury's responsibilities have fallen largely to the 42-year-old deputy secretary, Justin Muzinich.

A major beneficiary of that bailout so far: Muzinich & Co., the asset manager founded by his father where Justin served as president before joining the administration. He reported owning a stake worth at least $60 million when he entered government in 2017.

Today, Muzinich retains financial ties to the firm through an opaque transaction in which he transferred his shares in the privately held company to his father. Ethics experts say the arrangement is troubling because his father received the shares for no money up front, and it appears possible that Muzinich can simply get his stake back after leaving government.

When lockdowns crippled the economy in March, the Treasury and the Fed launched an unprecedented effort to buy up corporate debt to avert a freeze in lending at the exact moment businesses needed to borrow to keep running. That effort has succeeded, at least temporarily, with credit continuing to flow to companies over the last several weeks. This policy also allowed those who were heavily invested in corporate loans to recoup huge losses.

Muzinich & Co. has long specialized in precisely this market, managing approximately $38 billion of clients' money, including in riskier instruments known as junk, or high-yield, bonds. Since the Fed and the Treasury's actions in late March, the bond market has roared back. Muzinich & Co. has reversed billions in losses, according to a review of its holdings, with 28 of the 29 funds tracked by the investor research service Morningstar Direct rising in that period. The firm doesn't publicly detail all of its holdings, so a precise figure can't be calculated.

---

Untangling the Financial Relationship

When Treasury Secretary Steven Mnuchin hired Justin Muzinich as counselor in early 2017, in many ways he was selecting a younger version of himself.
Cross-posting for discussion
Grassley to hold up on T's nominees for IG replacements. Would make a bigger statement if he requested a hold on all the Judges being nominated and rammed through.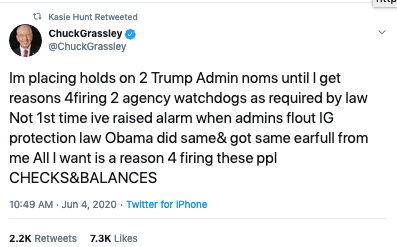 https://twitter.com/kylegriffin1/status/1268610983037001728?s=20
https://www.dropbox.com/s/0o22h3ne9qmsutw/Screenshot%202020-06-04%2011.37.17.png?dl=0
@emptywheel
Mind you, if Grassley put a hold on judges he'd actually get a response.
John Kelly speaks…and defends General Mattis. Maybe Kelly would enlighten us on more stuff that happened in the WH…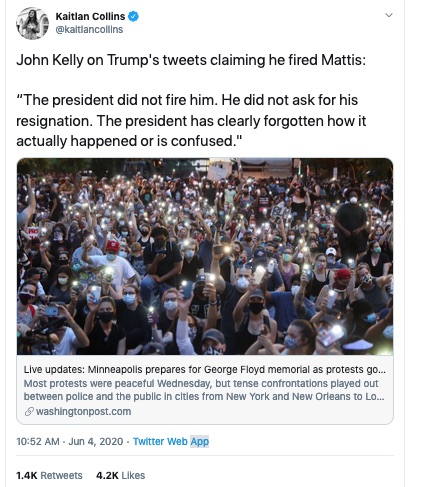 @kaitlancollins

John Kelly on Trump's tweets claiming he fired Mattis: "The president did not fire him. He did not ask for his resignation. The president has clearly forgotten how it actually happened or is confused."
President Trump's former chief of staff John F. Kelly defended former defense secretary Jim Mattis on Thursday over Mattis's criticism of the president's handling of nationwide protests. Kelly also dismissed Trump's assertion that the president fired the retired general in 2018.
"The president did not fire him. He did not ask for his resignation," Kelly, a retired Marine Corps general, said in an interview. "The president has clearly forgotten how it actually happened or is confused. The president tweeted a very positive tweet about Jim until he started to see on Fox News their interpretation of his letter. Then he got nasty. Jim Mattis is a honorable man."
Mattis tendered his resignation in 2018, citing his disagreement with Trump's decision to pull U.S. forces out of Syria.
On Wednesday, he released a statement criticizing Trump's handling of protests that have erupted across the country following the killing of George Floyd in police custody last week.
Mattis accused Trump of deliberately trying to divide Americans, taking exception to his threats of military force on U.S. streets, and praising those demanding justice following death of Floyd, an African American man living in Minneapolis.
"Donald Trump is the first president in my lifetime who does not try to unite the American people — does not even pretend to try. Instead, he tries to divide us," Mattis wrote in a statement first published by the Atlantic. Trump later criticized Mattis in a tweet.
"Probably the only thing Barack Obama and I have in common is that we both had the honor of firing Jim Mattis, the world's most overrated General. I asked for his letter of resignation, & felt great about. His nickname was 'Chaos', which I didn't like, & changed it to 'Mad Dog'," Trump tweeted. "His primary strength was not military, but rather personal public relations. I gave him a new life, things to do, and battles to win, but he seldom 'brought home the bacon'. I didn't like his 'leadership' style or much else about him, and many others agree. Glad he is gone!"
Justice Dept is trying an end-run around Judge Sullivan's testing of the Flynn case, and wants to simply drop the case. As these lawyers argue, it is another nail driving towards authoritarian rule.
Simply put…DOJ is putting the screws on not letting the Flynn information to get out.
Among all the other horrors, this is one case which AG Barr and T want very badly to go away so they can rewrite the Flynn story.
When the Justice Department moved abruptly to drop the Flynn case — after he pleaded guilty (twice) and as he was awaiting sentencing — U.S. District Judge Emmet G. Sullivan took two steps. He appointed a "friend of the court" to argue the position that the Justice Department had suddenly abandoned; and he called a hearing to scrutinize the department's about-face.

The Justice Department told the appeals court that it should take the extraordinary step of intervening in the case — before Sullivan has ruled or even held a hearing — to stop him from doing so. "Simply put, the district court has no authority to reject the Executive's conclusion," the department said.

In other words: " None of your business, Judge Sullivan." The Justice Department wants the case dropped, and so that's it — the case should just go away, no questions asked, before the American people learned what happened.

Remember that this is no run-of-the-mill appeal — the department is demanding emergency relief, relief that the department itself acknowledges is a "drastic and extraordinary remedy." It's revealing, in the midst of a pandemic and a national criminal-justice crisis, what the Trump administration sees as an emergency: a federal court hearing legal arguments and discovering the facts. All of that is not merely forbidden, the Justice Department argues — it must be stopped now , before it can take place. And that, for the Trump administration, is the emergency: a court uncovering the facts of what happened and laying them out for the public to learn.

If the goings-on at the federal courthouse seem a world away from protesters facing down rubber bullets and military helicopters, think again: This is the other side of the same coin, if less vicious in form. Courts — real courts, where every legitimate party gets to make every legitimate argument — are the last bastion against authoritarianism.
Destabilize Nato…very much part of the plan. Some suggest that 'they' are staging a crisis…
something like what Michael McFaul is suggesting. He's the ex-Ambassador to Russia, under Obama.
That and retaliation against Angela Merkel, and her canceling out of the G-7 due to Coronavirus she is saying, but also because T wants to bring Putin along.
https://www.dropbox.com/s/m62gkcwydgjsj7b/Screenshot%202020-06-05%2023.17.07.png?dl=0
President Trump has directed the Pentagon to remove thousands of American troops from Germany by September, a move that would dramatically reshape the U.S. military posture in Europe and reflects growing tensions between Washington and Berlin over military spending and other security issues, U.S. government officials said Friday.

The removal order would reduce the U.S. troop presence in Germany by 9,500 from the 34,500 service members who are permanently assigned there. It would also cap at 25,000 the number of American troops in Germany at any one time. Under current practice, overall troop levels can rise to as high as 52,000 as units rotate in and out or take part in training exercises.

The Trump administration ordered the change in a memorandum signed recently by White House national security adviser Robert O'Brien, the officials said Friday.

The decision drew criticism from some former senior defense officials and lawmakers concerned that it would further weaken a key alliance and empower U.S. adversaries. Moscow is likely to welcome the open display of differences between two key North Atlantic Treaty Organization allies, U.S. experts said, though Russia didn't comment publicly on the development.

One senior U.S. official said that the administration has been discussing the move since September and that it isn't linked to German Chancellor Angela Merkel's decision not to attend a G-7 meeting Mr. Trump was to host in Washington at the end of June.

But the official acknowledged that it reflected the Trump administration's long frustration with German policy, especially the nation's level of military spending and its insistence on completing the controversial Nord Stream 2 pipeline that will channel Russian gas directly to Germany under the Baltic Sea.
Judge Reggie Walton is continuing the 'conversation' with DOJ about what parts of the Mueller Report which continue to be redacted. He's asking for a potential 3 day discussion with some DOJ lawyers to discuss.
I don't pretend to ever get all the legal nuances, but this continues to be more digging about what was unrevealed by the Mueller Report. Judge Walton had been asked to drop the Flynn case, and the he turned around and said he wanted more review of the case, as well as more as more explanations. Judge Walton is not giving an inch.
Also posting a Marcy Wheeler piece who does further analysis as to what it could be.
A federal judge who previously said that Attorney General William Barr "distorted" the findings of the redacted Mueller Report confirmed on Monday that he has finally read the unredacted version. U.S. District Judge Reggie Walton then ordered the Department of Justice to answer his questions "regarding certain redactions of the Mueller Report" at an ex parte (one party only) hearing next month.

The much-anticipated development in the lawsuit filed by the Electronic Privacy Information Center (EPIC), BuzzFeed and BuzzFeed News reporter Jason Leopold comes months after the judge expressed his skepticism about the DOJ's decision-making in no uncertain terms. The pandemic, as Judge Walton noted, more than threw a wrench in the matter and continues to do so. But Judge Walton, having reviewed the full Mueller Report in his chambers, made clear that he has some questions that the DOJ cannot answer remotely:

Having reviewed the unredacted version of the Mueller Report, the Court cannot assess the merits of certain redactions without further representations from the Department. However, because the Court must discuss the substance of the redactions with the Department, and because such a discussion cannot occur remotely due to the lack of a secure connection between the Court and the Department necessary to avoid disclosure of the redacted information, and in light of Chief Judge Howell's May 26, 2020 Order, In re: Further Extension of Postponed Court Proceedings in Standing Order 20-9 and Limiting Court Operations in Exigent Circumstances Created by the COVID-19 Pandemic, Standing Order No. 20-29 (BAH), it is hereby ORDERED that the status conference currently scheduled for June 18, 2020, is VACATED.

Judge Walton, a George W. Bush appointee, ordered the DOJ to appear at a hearing on July 20 at 9:30 a.m. in order to "address the Court's questions regarding certain redactions of the Mueller Report." In a footnote, the judge said the DOJ should be prepared, "if necessary," for a continuation of the hearing on July 21 and July 22.

Finally, Walton said he would at a later date let the DOJ know which topics the Department "should be prepared to discuss."
Emptywheel.net Marcy Wheeler
Judge Reggie Walton appears to have questions about the non-Roger Stone redactions in the Mueller Report — but we won't learn what they are for another six weeks or more.

I say that because of two orders he has recently issued in the BuzzFeed/EPIC FOIA lawsuit to liberate the document. Back in May, the plaintiffs pointed to a number of developments in the Roger Stone case, arguing that DOJ can no longer rely on any of the FOIA exemptions previously used to hide such information.

abuse of power. says the reviewing Judge.
https://www.newsadvance.com/news/national/govt-and-politics/ex-judge-appointed-to-review-michael-flynn-case-says-justice-department-request-to-dismiss-charges/article_064b32a2-04ec-55a6-9c3d-edad1b3edc79.html
WASHINGTON (AP) — Ex-judge appointed to review Michael Flynn case says Justice Department request to dismiss charges is 'abuse of power.'
A former federal judge blasted the U.S. Justice Department for what he called "a gross abuse of prosecutorial power" in seeking to drop its criminal case against Michael Flynn, President Donald Trump's first national security advisor.
Flynn "has indeed committed perjury" in his statements to a federal judge in the case "for which he deserves punishment," ex-judge John Gleeson wrote.
Flynn has twice admitted to lying to FBI agents about his talks with a Russian diplomat before Trump's inauguration. Attorney General William Barr is seeking to have the case dismissed.
A former federal judge on Wednesday blasted the U.S. Justice Department for what he called "a gross abuse of prosecutorial power" in seeking to drop its criminal case against Michael Flynn, President Donald Trump's first national security advisor.

"The Government has engaged in highly irregular conduct to benefit a political ally of the President," the ex-judge, John Gleeson, wrote in a scathing legal filing opposing the proposed dismissal. Trump has strongly criticized the prosecution of Flynn.

Gleeson, who was assigned by the judge in Flynn's case to advise him on several questions, also wrote that the retired Army lieutenant general "has indeed committed perjury" in his statements to the case judge during proceedings in the case, "for which he deserves punishment."

But Gleeson added that while federal Judge Emmet Sullivan has the power to hold Flynn in criminal contempt for perjuring himself during a plea hearing and another hearing conducted by Sullivan, the judge should "not exercise that authority."

"Rather, [Sullivan] should take Flynn's perjury into account in sentencing him on the offense to which he has already admitted guilt," Gleeson wrote in a filing in U.S. District Court in Washington, D.C.

Flynn in that same court twice admitted under oath to Sullivan that he lied to FBI agents about his discussions with Russia's ambassador to the United States in the weeks leading up to Trump's inauguration. He has yet to be sentenced in the case.

The Justice Department had no immediate comment on Gleeson's court filing.

Flynn's lawyer, Sidney Powell, in an email said that the filing was "predictable and wrong. Clearly result-driven to achieve the maximum possible punishment of an innocent man."

Gleeson was appointed by Sullivan to provide legal arguments against the Justice Department's highly unusual request last month that the case be dismissed.

Sullivan also asked Gleeson to address whether Flynn should be punished for committing perjury by lying to Sullivan in his guilty pleas.