Attorney who was found dead named as primary suspect in fatal shooting at federal judge's home
The FBI identified Roy Den Hollander as the "primary subject," and said that he is dead, the US Attorney's office said in a statement. Den Hollander was a lawyer who once argued a case before Salas, according to court records.
In a lawsuit, Den Hollander represented a woman and her daughter who sought to register for the military's selective service, according to federal court records. Den Hollander's clients claimed the draft was unconstitutional because it barred women from registering.

Salas sided against a part of Den Hollander's arguments last spring, but also agreed with some of his claims and allowed the lawsuit to continue.

Hollander exited the case in June 2019, handing it over to a team of lawyers at the large New York-based law firm Boies Schiller Flexner.

Hollander said he "would not be able to see the case through" because he was terminally ill, Nick Gravante, a managing partner at the firm, told CNN.
This is looking like it has nothing to do with Trump or Epstein or anything and more to do with a dying man apparently going nuts for unknown reasons. There was also a package found in his vehicle addressed to the judge.
Lawyer Sues Basically All Mainstream Media For RICO Violations For How They Report On Donald Trump
Then again, I may be wrong. This guy filed some crazy lawsuits it seems. I just don't know any longer.
Roy Den Hollander, 72, was discovered by a cleaning crew in the upstate New York town of Rockland, the sources said. He had a case—a challenge to the military's male-only draft—pending before U.S. District Court of New Jersey Judge Esther Salas, according to court documents. In an essay posted online last year about his battle with melanoma, he made clear his animus toward Salas, referring to her as "a lazy and incompetent Latina judge."

Den Hollander described himself on his website as an anti-feminist. "Now is the time for all good men to fight for their rights before they have no rights left," it said. The site also contained a list of his many media appearances and a compilation of misogynistic comments under the heading "Jokes."
Suspect in federal judge's home ambush railed against her in misogynistic book
The writings are littered with language common among the most extreme anti-feminist communities on the web, some of which the man was a member of.
Divisions within in the GOP Conference, calling out Rep Liz Cheney who is making waves about her distaste for T, and the handling of Fauci's role during the Pandemic.
#FileUnderSellYourFellowGOPsAndCountryDownTheRiver
Members of the conservative House Freedom Caucus tore into Rep. Liz Cheney (R-Wyo.) during a heated GOP conference meeting on Tuesday, lobbing attacks at her for breaking with President Donald Trump, supporting Dr. Anthony Fauci and backing a primary opponent to one of their colleagues.

Rep. Jim Jordan of Ohio, a Freedom Caucus co-founder and one of Trump's top allies, called out Cheney, the GOP conference chair, for all the times she has opposed Trump and began ticking off some recent high-profile examples, according to two sources in the room. While Jordan praised her defense of Trump during impeachment, he also said Cheney's recent rebukes of Trump — which have focused on Trump's handling of the coronavirus, his Twitter rhetoric, and his foreign policy — were not helpful.
Michael Cohen is writing a tell-all, and was returned to jail (during the Covid-19) outbreak because he is writing such a book. Cohen is bringing a lawsuit with help from ACLU to counter the government.
And the Government is subjecting Cohen to a restraining order. (see document cloud below)
Michael D. Cohen says it was no secret that he was writing a jailhouse tell-all book about his former boss, President Trump. He spent hours at a stretch working on his manuscript in a prison library before he was released on furlough in May because of the coronavirus.

Then, earlier this month, federal officials abruptly sent Mr. Cohen back to prison because he balked at signing an agreement that would have let him stay at home with a key restriction: He would not have been allowed to publish his book before the November elections.

Now Mr. Cohen has responded with a lawsuit claiming that the government has violated his First Amendment rights by returning him to custody and interrupting his writing.

The lawsuit, filed in federal court in Manhattan on Monday night, asked a judge to once again release Mr. Cohen and let him to serve the remainder of his three-year sentence back in home confinement.

The complaint, filed on Mr. Cohen's behalf by private lawyers and the American Civil Liberties Union, accuses Attorney General William P. Barr and federal prison officials of using his return to prison as a way to stop the publication of the book, which, court papers say, paints the president as a racist.

"The government cannot imprison Michael Cohen for writing a book about President Trump," said Ben Wizner, director of the A.C.L.U.'s Speech, Privacy and Technology Project.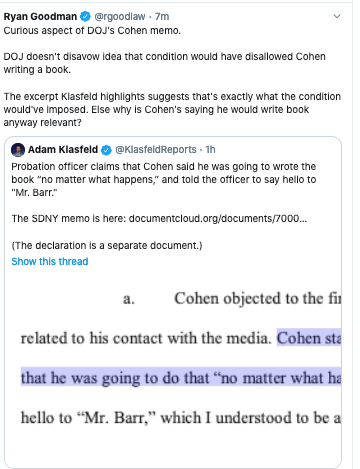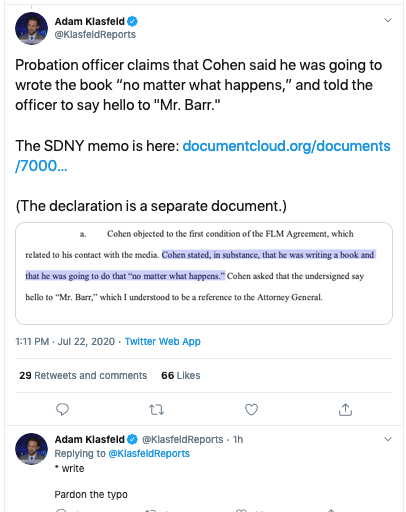 AG Barr wants to sound like their Operation Legend is doing a super job with the arrests, but got caught in a lie concerning the number of arrests in Kansas City. Barr says the Feds had 200 arrests in a 2 week period, and then DOJ had to backtrack to say that number reflected both State and Federal arrests since Dec. 2019.
https://www.kansascity.com/news/local/crime/article244421027.html
A senior Department of Justice official on Wednesday corrected comments by Attorney General William Barr, who minutes earlier had said 200 arrests had been made within two weeks in Kansas City as part of Operation Legend, a federal anti-crime effort.

Barr's comments had come during a news conference Wednesday about the operation, which is said to be sending hundreds of federal agents into the metro area to stop a surge of violent crime in the city.

"Just to give you an idea of what's possible, the FBI went in very strong into Kansas City and within two weeks we've had 200 arrests," Barr had said.

The number baffled many in Kansas City, including local officials who said they could not vouch for it.

Speaking with McClatchy after the Wednesday event, the senior Justice Department official clarified that the 200 figure included arrests dating back to December 2019.

It also included, the official said, both state and FBI arrests in joint operations.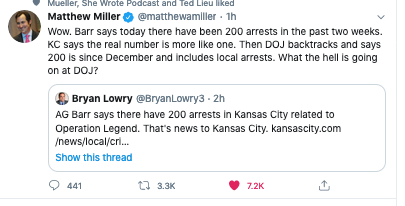 AG Barr under more attack for his underhanded ways of handling the cases and making false statements in favor of the President and not for the United States. The DC Bar has written a letter complaining about his work for DOJ and ultimately this could lead to disbarment.
Four former presidents of the D.C. Bar Association have signed a letter calling on the group to investigate whether Attorney General William Barr has violated its rules. The District of Columbia Bar authorizes lawyers to practice in the city and has the power to punish them for breaking its rules and to revoke their law licenses.

The complaint argues that Barr has broken Washington's ethics rules by being dishonest and violating his oath to uphold the Constitution, along with other charges. And it highlights four episodes in Barr's time as attorney general to make the case: his characterization of special counsel Robert Mueller's report on Russia's 2016 election interference, his criticism of an inspector general report on the Russia probe, his criticism of FBI officials in a TV interview, and his role in the disbursement of peaceful protesters from Lafayette Square, outside the White House. A spokesperson for the Justice Department declined to comment.
"Mr. Barr's client is the United States, and not the president," the letter says. "Yet, Mr. Barr has consistently made decisions and taken action to serve the personal and political self-interests of President Donald Trump, rather than the interest of the United States."

Barr's early description of the Mueller report and his handling of protesters in Lafayette Square have long drawn pointed criticism. But his comments on the inspector general report on the FBI's Russia probe hasn't drawn as much attention. In an NBC News interview after the report's release, Barr called the FBI's basis for opening the Russia probe "very flimsy." The letter argues that the criticism was dishonest.

"Indeed, the notion that the legitimacy of an FBI investigation's initiation should be judged by its end, if applied broadly, could easily chill the initiation of wholly legitimate inquiries for fear of being second-guessed," the letter adds.

The letter also argues that Barr broke the D.C. Bar's rules when he criticized former FBI officials' decisions regarding the Russia probe and suggested they could be prosecuted. The letter focused on a comment Barr made in a CBS News interview: "Just because something may even stink to high heaven and … appear [to] everyone to be bad, we still have to apply the right standard and be convinced that there's a violation of a criminal statute."

The letter argued the statement could unfairly influence potential criminal proceedings against those officials and that Barr should have followed the standard DOJ practice of declining to comment on ongoing investigations. John Durham, the U.S. attorney for Connecticut, is investigating the Russia probe's origins. Some Trump allies, including White House chief of staff Mark Meadows, have intimated that he will bring criminal charges against officials who worked on the probe.

Justice Department spokesperson Kerri Kupec recently told Fox News that Durham is expected to issue a report by summer's end. "There are no guarantees in life, but we certainly hope to see one by the end of the summer. I think it's important," she said.

The complaint's signatories include a host of legal ethics experts and former government lawyers. Andrea Ferster, Philip Allen Lacovara, Marna S. Tucker, and Melvin White — all former presidents of the D.C. Bar — also signed on.

Bar associations can take years to review disciplinary complaints, and their processes are kept confidential. The letter comes as Barr faces sharp criticism from leaders in the legal profession. Late last month, the president of the New York City Bar Association and chair of its task force on the rule of law sent a letter to top members of Congress calling him "unfit" for his job and raising some of the same concerns raised in this letter.
@Pet_Proletariat @MissJava Can you move to Questionable please? Thanks!
Satirical "Protest Jobs" Website Was Source of Official Warnings About Leftist Violence
A Situational Information Report by the FBI's San Antonio Division, dated June 3, states: "unidentified individuals discussed various websites for payment to agitate and commit violent acts." Payments to "violent agitators" were made "anonymously via Bitcoin" and "were rumored to be managed by members of Antifa." The report claims "targets and locations were also discussed on the websites."

The two sites cited in the report are crowdsondemand.com and protestjobs.com.

Crowds on Demand is a legitimate public-relations business, based in Beverly Hills, that provides paid participants primarily for corporate and media events.

Protest Jobs, however, is entirely satirical. The site's creator, who spoke to Mainer on condition of anonymity due to online threats, designed it in 2017 as a joke to mock right-wing conspiracies about paid leftist protesters. He even included a jab at the newly elected president, offering a "Free National Parks [Service] tweet comparing the size of your protest to the inauguration" as a perk included in the priciest protest package.
Calling this intelligence would be an oxymoron.
More proof positive that Trump supporters don't understand subtle humor. Or even blatant.
Also, it seems this is a general issue:
Judge orders release of former Trump lawyer Michael Cohen by Friday, says book publication ban was retaliation
We have some federal buildings but no monuments.
An excellent thread analyzing Operation Legend, Bill Barr's attempt to normalize the fascist undermining of American rights and cities with Trump's gestapo: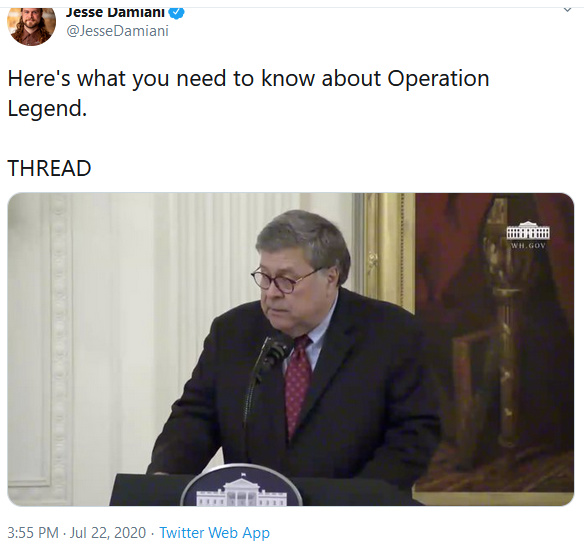 A Guide to Emergency Powers and Their Use
The 136 statutory powers that may become available to the president upon declaration of a national emergency.
Uncertain, forming story: This is former General Russel L. Honoré IDing the use of private mercenaries in Portland.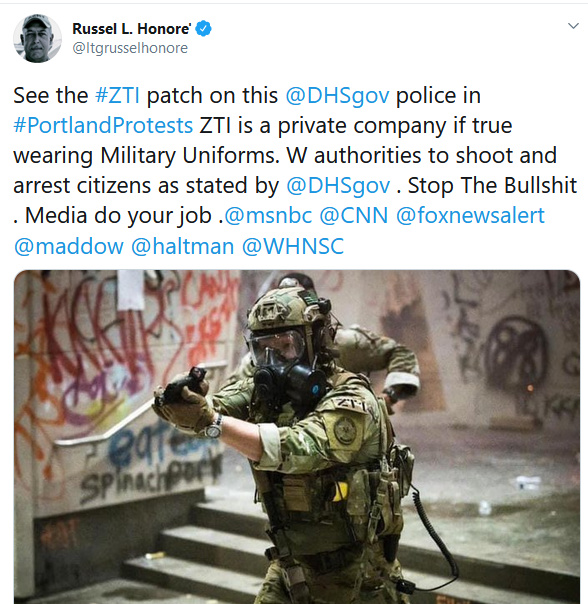 EDIT: The general took that post down and has this up now: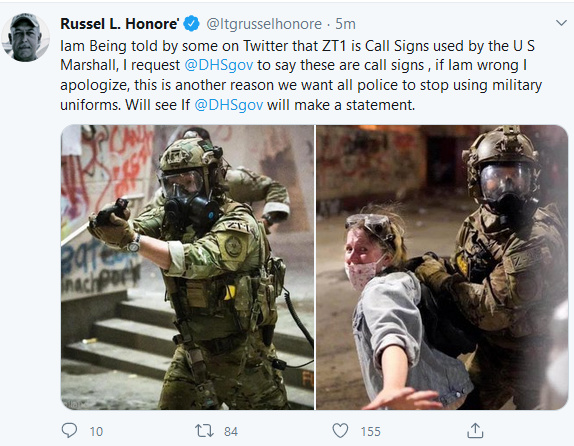 'What Kind of Bullsh*t Is This?!': Retired General Who Led Katrina Response GOES OFF on Trump's Militarized Portland Crackdown
Trump Bragged About Gassing Portland's Mayor: 'They Knocked the Hell Out of Him'
He also threatened to send tens of thousands of federal troops to cities, whether mayors wanted them there or not.
Trump Gloats After Portland Mayor Gets Jeered, Tear-Gassed: 'That Was The End Of Him'

This is why we say Trump doesn't have any master plan; bragging about this openly confirms that he is attacking political rivals and can be used against him in court.
Well, maybe there's still SOME parts of our government that aren't hopelessly tainted.
The IG reports only have weight if there's proper Congressional oversight. The courts will rule on this one faster than the IG can conduct his investigation. Still worth pursuing to examine the rules and laws governing this issue.
After Trump, there really needs to be special committees to examine all the damage this administration has done to our political norms and institutions. Some norms need to become law.
And I feel like all Presidential Candidates should have to pass a simple background check with the details made public. We the people deserve to know who we are hiring.
Well, you've got a point there. Like, he can be impeached (and HAS been), but it still takes Congress to act on it to remove him from office.
And also agreed that what I guess has been up to now accepted as 'Standard Social Norms' should probably be revisited and better defined in our (hopefully soon to be realized) After Trump Experience.
LIke for one, I can't believe how many people are just fine with Trump promising to release his taxes one elected, and then refusing to. I mean, if THAT isn't evidence that he's hiding something, I don't know what is.
Bingo! It's terrible because of polarization of both Houses. Oversight is being left to the courts because Republicans in Congress would rather confirm judges and give speeches during hearings. The House Democrats impeached him because of only one of the many impeachable offenses he has committed while in office.
Unfortunately for Impeachment and removal you would need a two-thirds majority in the Senate. That's never going to happen even if we win back the majority in the upper house. We'd need a supermajority.
We have to vote him out.
The checks and balances are too slow to keep up with the power of the presidency. The powers are far too vast.
Read

But will they? Unknown to most Americans, a parallel legal regime allows the president to sidestep many of the constraints that normally apply. The moment the president declares a "national emergency"—a decision that is entirely within his discretion—more than 100 special provisions become available to him. While many of these tee up reasonable responses to genuine emergencies, some appear dangerously suited to a leader bent on amassing or retaining power. For instance, the president can, with the flick of his pen, activate laws allowing him to shut down many kinds of electronic communications inside the United States or freeze Americans' bank accounts. Other powers are available even without a declaration of emergency, including laws that allow the president to deploy troops inside the country to subdue domestic unrest.
`