Bait and switch. Remove tough prosecutor for an SEC lawyer with no prosecution experience and previous banking clients which include Deutsche Bank. . Hmmmm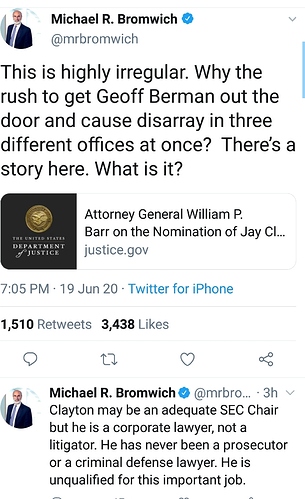 https://twitter.com/mrbromwich/status/1274161525981417472?s=19
Attorney General William P. Barr on the Nomination of Jay Clayton to Serve as U.S. Attorney for the Southern District of New York | OPA | Department of Justice
https://www.justice.gov/opa/pr/attorney-general-william-p-barr-nomination-jay-clayton-serve-us-attorney-southern-district
Adding this
the proposed replacement for Berman SEC litigator Clayton has had Deutsche Bank as a client. T's taxes are being decided upon by SCOTUs soon…and no one (from the administration) wanted them released.
Senate Grills SEC Nominee Clayton on Conflicts of Interest
https://www.newsweek.com/jay-clayton-wall-street-sec-senate-senate-panel-573221
Some clients have included Barclays, Deutsche Bank, Bill Ackman's hedge fund Pershing Square Capital Management and former Ocwen Financial Corp executive chairman William Erbey

…
Throughout the hearing, Democrats including Sherrod Brown of Ohio and Elizabeth Warren of Massachusetts, repeatedly said Clayton's Wall Street relationships are a worry.

"In today's confirmation hearing for Jay Clayton, the matter of conflicts of interests was the skunk at the party," said Lisa Gilbert, a vice president of legislative affairs for Public Citizen, which has criticized Clayton's Wall Street ties.