Michael Cohen is writing a tell-all, and was returned to jail (during the Covid-19) outbreak because he is writing such a book. Cohen is bringing a lawsuit with help from ACLU to counter the government.
And the Government is subjecting Cohen to a restraining order. (see document cloud below)
Michael D. Cohen says it was no secret that he was writing a jailhouse tell-all book about his former boss, President Trump. He spent hours at a stretch working on his manuscript in a prison library before he was released on furlough in May because of the coronavirus.

Then, earlier this month, federal officials abruptly sent Mr. Cohen back to prison because he balked at signing an agreement that would have let him stay at home with a key restriction: He would not have been allowed to publish his book before the November elections.

Now Mr. Cohen has responded with a lawsuit claiming that the government has violated his First Amendment rights by returning him to custody and interrupting his writing.

The lawsuit, filed in federal court in Manhattan on Monday night, asked a judge to once again release Mr. Cohen and let him to serve the remainder of his three-year sentence back in home confinement.

The complaint, filed on Mr. Cohen's behalf by private lawyers and the American Civil Liberties Union, accuses Attorney General William P. Barr and federal prison officials of using his return to prison as a way to stop the publication of the book, which, court papers say, paints the president as a racist.

"The government cannot imprison Michael Cohen for writing a book about President Trump," said Ben Wizner, director of the A.C.L.U.'s Speech, Privacy and Technology Project.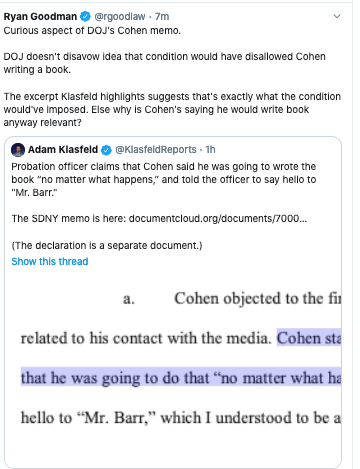 https://twitter.com/rgoodlaw/status/1286054486319009792?s=20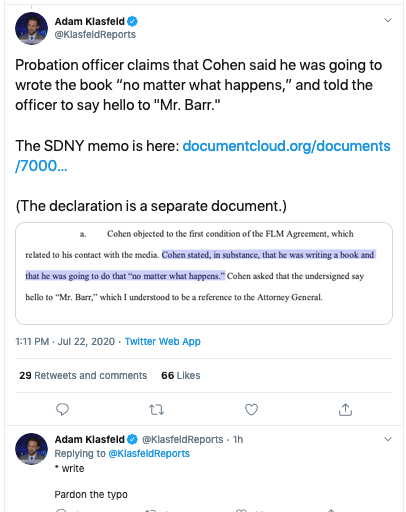 https://twitter.com/KlasfeldReports/status/1286031074821312523?s=20