Steve Bannon refuses the subpoena- claiming Executive Privilege. WTF…he was not an employee of US government.
Tracking the T cases…one by one. A list below under Just Security.
The Steele Dossier was floating around early in T's early years as President, and a lot of it still remains true, but some of it's claims were shot down by Mueller. The man who put it together, Christopher Steele speaks out on it now…
Something big is going down.
FBI agents swarm Washington home of Russian oligarch Oleg Deripaska
Deripaska was among two dozen Russian oligarchs and officials who were sanctioned by the Treasury Department in April 2018.
PS: My computer's OS drive fried, so I was away for a bit while I was waiting for them to figure out the issue and then get my computer back to me so I could re-install. Good to be back.
Amazing how utterly immoral the new GQP is. Jim Banks has sent letters to government agencies claiming he is the ranking member of the 1/6 committee even though he is not on the committee because Speaker Pelosi refused to deal with him & Jim Jordan's BS.
Oh geez. TFG's new Truth Social thing stole its code from Mastodon apparently, an open-source alternative social network known for its focus on user privacy and autonomy, Thing is, while lots of other companies use its code, it does actually LEASE that code, and of course Trump couldn't even be bothered to meet those stipulations and just stole it. Because fuck rules.
Not an auspicious start.

Trump's social network has 30 days to stop breaking the rules of its software license
Truth Social ripped off open-source platform Mastodon
The Software Freedom Conservancy (SFC) says former President Donald Trump's new social network violated a free and open-source software licensing agreement by ripping off decentralized social network Mastodon. The Trump Media and Technology Group (TMTG) has 30 days to comply with the terms of the license before its access is terminated — forcing it to rebuild the platform or face legal action.

TMTG launched a special purpose acquisition company fundraising effort yesterday with promises to build a sweeping media empire. Its only product so far is a social network called Truth Social that appears strongly to be forked from Mastodon. While anyone can freely reuse Mastodon's code (and groups like right-wing social network Gab have already done so), they still have to comply with the Affero General Public License (or AGPLv3) that governs that code, and its conditions include offering their own source code to all users.

Truth Social doesn't comply with that license and, in fact, refers to its service as "proprietary." Its developers apparently attempted to scrub references that would make the Mastodon connection clear — at one point listing a "sighting" of the Mastodon logo as a bug — but included direct references to Mastodon in the site's underlying HTML alongside obvious visual similarities.

TMTG's strategy hasn't sat well with the SFC, an organization that enforces free and open-source software licenses. "The license purposefully treats everyone equally (even people we don't like or agree with), but they must operate under the same rules of the copyleft licenses that apply to everyone else," SFC policy fellow Bradley Kuhn wrote in a blog post. "Today, we saw the Trump Media and Technology Group ignoring those important rules — which were designed for the social good."

Truth Social hasn't officially launched. But users could access a test version of the platform, where many of them created prank accounts that flooded the service with false company announcements and even fake Donald Trump posts. (The platform has since been replaced by a waitlist.) The SFC demands that TMTG offer all these users access to the Truth Social source code. "If they fail to do this within 30 days, their rights and permissions in the software are automatically and permanently terminated," Kuhn says.

If Truth Social fails to make the source code available, the SFC could sue it for violating the terms of the license it used. Earlier this year, the group sued electronics maker Vizio for "repeated failures to fulfill even the basic requirements" of free software licensing. "We will be following this issue very closely and demanding that Trump's Group give the corresponding source to all who use the site," Kuhn writes.

Mastodon founder Eugen Rochko also said yesterday that he intended to seek legal counsel about the situation, although he didn't discuss a specific course of action. "Compliance with our AGPLv3 license is very important to me as that is the sole basis upon which I and other developers are willing to give away years of work for free," he told Talking Points Memo .
Why Trump's pathetic social media platform is probably doomed
https://www.washingtonpost.com/opinions/2021/10/21/trump-social-media-political/
What if Donald Trump was never the media genius he appeared to be? What if despite all his ability to commandeer our attention and get everyone to talk about his tweets, he never really understood the nature of that success or of his own supporters' relationship to the media?

Those are among the questions raised by the former president's latest doomed media venture.

Seven months ago, an adviser announced that Trump would launch a social media platform in "two or three months." Though it's a bit late, the product has arrived (though it has apparently been temporarily pulled for a quick retooling). The good news is that it's comically stupid in almost every way imaginable.

Going by the name Truth Social, the new Trump platform is billed as a way for him (and all of us) to "stand up to the tyranny of Big Tech," most especially Twitter and Facebook, which have banned him for repeatedly violating their terms of service. Speaking of terms of service, Truth Social's terms forbid users from saying anything to "disparage, tarnish, or otherwise harm, in our opinion, us and/or the Site." At last, free speech has been restored to the Internet!

Even more amusingly, Truth Social users must agree to avoid "excessive use of capital letters," something of which Trump himself is quite fond. And the terms themselves contain extended passages in, yes, all capital letters.

This is just the latest of many recent attempts to create a Trumpist Twitter, all supposedly devoted to free speech. There was Gab, then Parler, then Gettr — none of which exactly set the world on fire — and now Truth Social.

The problem the first two encountered, and this one will as well, is that a safe space where they can converse free of engagement with liberals isn't just not what devoted Trumpists want. It's the opposite of what they want.

As a political style, Trumpism isn't about avoiding the libs, it's about triggering the libs, owning the libs, enraging the libs. If you're a liberal, have you ever found your blood boiling because of something someone said on Parler? Of course not, because you've never even heard about anything anyone said on Parler. It might as well be a social media platform on Mars.

That highlights the essence of Trump's success on Twitter: He wielded so much influence there because that's where the journalists are , and they provided the conduit for Trump to speak to a broad audience.

Political reporters are obsessed with Twitter. So every time Trump launched some offensive new tweet, the reporters were bound to see it, amplify it and write stories about it in their own publications, which enabled Trump to dominate the mainstream political conversation. It was the engagement with the mainstream that created the conflict that fueled Trump's rise.

In that way, Trump's social media presence was fundamentally focused on the elite, not the millions of conservative followers who were retweeting him and cheering him on. Whether he understood it, it was a top-down strategy.

The most successful conservative media, especially Fox News and right-wing talk radio, is likewise in a constant conversation with the mainstream media. The supposed sins of those media were the founding raison d'etre of Fox and conservative talk, and remain one of their primary themes. Their power comes in no small part from their ability to engage with, and influence, reporters at traditional news outlets.

For years, people speculated that once out of office, Trump would create his own TV network to compete with Fox News. That might have a better shot at success than Truth Social, because it would be harder to ignore. So why won't he try? The simple reason is probably that creating a news network is extremely difficult and requires an enormous upfront investment — studios, equipment, reporters, anchors, technicians. By comparison, starting a social media platform is easy. I'd be surprised if Truth Social has more than a dozen employees.

That suggests another interpretation of what Trump is up to. Perhaps this isn't really a political project at all. Perhaps he knows this will do nothing to make it more likely that he becomes president again.

It could be that it's nothing more than one in a long line of small-time business schemes, akin to Trump Steaks and Trump Vodka. The general public can no longer be a target for Trump to earn a few bucks as he tries to shore up his failing business; if he started a scam like Trump University today, no one would be naive enough to sign up.

So who are Trump's potential customers? His most devoted political supporters, who can be lured in with the promise of participating in the project of Trumpism, then be targeted with ads for MyPillow, gold coins or whatever other bottom-feeding enterprises can be persuaded to advertise on Truth Social.

But there's only so much revenue to be had from those sources. And after an initial wave of loyalists signing up for Truth Social, the number of subscribers will probably wither away. Sooner or later, they will probably realize that yelling about liberals who have no idea you exist isn't nearly as much fun as yelling at liberals.
Cowboys for Trump Founder Turns on Trump in Conference Speech Over Capitol Riot Charges
Far-Right Congressman Tricked Jan. 6 Planners With 'Blanket Pardon' Promise, Says Report
Hours after a pro-Trump mob stormed the Capitol, Rep. Paul Gosar (R-AZ) baselessly accused antifa protesters of being behind the insurrection. But, according to an exclusive report from Rolling Stone, Gosar knew exactly who was to blame—and even offered them a pardon ahead of the events of Jan. 6. An unnamed organizer of the Stop the Steal rally that preceded the riot told the magazine that Gosar offered planners a "blanket pardon" in an unrelated investigation to incentivize them to organize the pro-Trump protests on Jan. 6. "Our impression was that it was a done deal… that he'd spoken to the president about it in the Oval … in a meeting about pardons and that our names came up," said the organizer. The source claimed Gosar told them: "I was just going over the list of pardons and we just wanted to tell you guys how much we appreciate all the hard work you've been doing." Rolling Stone also reports that at least three rally organizers are cooperating with the House panel probing the riot, and have alleged several members of Congress were "intimately involved" in the plans.
Jan. 6 Protest Organizers Say They Participated in 'Dozens' of Planning Meetings With Members of Congress and White House Staff
Pushing election lies, TPUSA audience member asks Charlie Kirk when they can "use the guns" and "kill these people"
Audience member to Charlie Kirk: "When do we get to use the guns? … That's not a joke. I'm not saying it like that. I mean, literally, where's the line? How many elections are they going to steal before we kill these people?"
Burr's Brother-in-Law Called Stock Broker, One Minute After Getting Off Phone With Senator
According to the SEC, Sen. Richard Burr of North Carolina, then chairman of the Senate Intelligence Committee, had material nonpublic information about coronavirus impact. He and his brother-in-law dumped stock before the market dropped in March 2020.
After Sen. Richard Burr of North Carolina dumped more than $1.6 million in stocks in February 2020 a week before the coronavirus market crash, he called his brother-in-law, according to a new Securities and Exchange Commission filing.

They talked for 50 seconds.

Burr, according to the SEC, had material nonpublic information regarding the incoming economic impact of coronavirus.

The very next minute, Burr's brother-in-law, Gerald Fauth, called his broker.

ProPublica previously reported that Fauth, a member of the National Mediation Board, had dumped stock the same day Burr did. But it was previously unknown that Burr and Fauth spoke that day, and that their contact came just before Fauth began the process of dumping stock himself.

The revelations come as part of an effort by the SEC to force Fauth to comply with a subpoena that the agency said he has stonewalled for more than a year, and which was filed not long after ProPublica's story.

In the filings, the SEC also revealed that there is an ongoing insider trading investigation into both Burr and Fauth's trades.

It had previously been reported that federal prosecutors had decided not to charge Burr.

Burr's spokesperson did not immediately respond to questions. Fauth's lawyer and the SEC did not respond to questions. Fauth hung up on a ProPublica reporter.

According to the SEC, Fauth has cited a medical condition for why he cannot comply with the subpoena, even as he has been healthy enough to continue his duties at the National Mediation Board. In its filings, the SEC accuses Fauth of engaging in "a relentless battle" to dodge the subpoena.

In 2017, President Donald Trump appointed Fauth to the three-person board, a federal agency that facilitates labor-management relations within the nation's railroad and airline industries. President Joe Biden reappointed him to the board.

On the day he received the call from Burr, Fauth sold between $97,000 and $280,000 worth of shares in six companies — including several that were hit particularly hard in the market swoon and economic downturn. According to the SEC, the first broker he called after hearing from Burr was out of the office, so he immediately called another broker to execute the trades.

In its filings, the SEC also alleges, for the first time, that Burr had material nonpublic information about the economic impact of the coming coronavirus crisis, based on his role at the time as chairman of the intelligence committee, as a member of the health committee and through former staffers who were directing key aspects of the government response to the virus.

The week after the trades, the market began its crash, falling by more than 30% in the subsequent month.

Burr came under scrutiny after ProPublica reported that he sold off a significant percentage of his stocks shortly before the market tanked, unloading between $628,000 and $1.72 million of his holdings on Feb. 13 in 33 separate transactions. The precise amount of his stock sales, more than $1.6 million, is also a new detail from this week's SEC filings. In his roles on the intelligence and health committees, Burr had access to the government's most highly classified information about threats to America's security and public health concerns.

Before his sell-off, Burr had assured the public that the federal government was well prepared to handle the virus. In a Feb. 7 op-ed that he co-authored with another senator, he said "the United States today is better prepared than ever before to face emerging public health threats, like the coronavirus."

That month, however, according to a recording obtained by NPR, Burr had given a VIP group at an exclusive social club a much more dire preview of the economic impact of the coronavirus, warning it could curtail business travel, cause schools to be closed and result in the military mobilizing to compensate for overwhelmed hospitals.

Burr defended his actions, saying he relied solely on public information, including CNBC reports, to inform his trades and did not rely on information he obtained as a senator.

Alice Fisher, Burr's attorney, told ProPublica at the time that "Sen. Burr participated in the stock market based on public information and he did not coordinate his decision to trade on Feb. 13 with Mr. Fauth."
Gun dealers sell parts, ammo using anti-Biden meme 'Let's go, Brandon'
The phrase "Let's Go Brandon" has become right-wing code for profanity directed at the president. It arose from a crowd chant at the NASCAR racetrack in Talladega, Ala.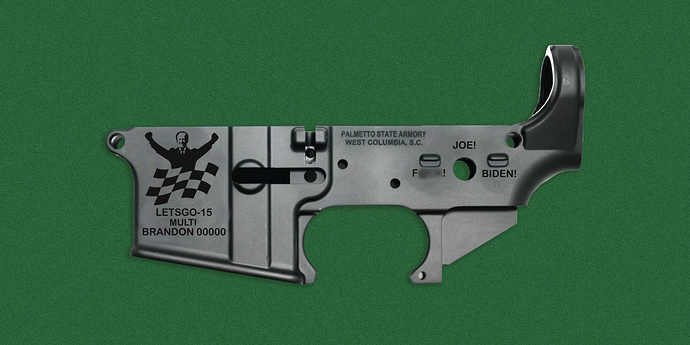 This seems to be a revelation as to where the investigations are going…
WASHINGTON — Federal authorities on Thursday arrested an analyst who in 2016 gathered leads about possible links between Donald J. Trump and Russia for what turned out to be Democratic-funded opposition research, according to people familiar with the matter.

The arrest of the analyst, Igor Danchenko, is part of the special counsel inquiry led by John H. Durham, who was appointed by the Trump administration to scrutinize the Russia investigation for any wrongdoing, the people said.

Mr. Danchenko, was the primary researcher of the so-called Steele dossier, a compendium of rumors and unproven assertions suggesting that Mr. Trump and his 2016 campaign were compromised by and conspiring with Russian intelligence officials in Moscow's covert operation to help him defeat Hillary Clinton.

The people familiar with the matter spoke on condition of anonymity because the indictment of Mr. Danchenko had yet to be unsealed. A spokesman for Mr. Durham did not respond to a request for comment.

Some claims from the Steele dossier made their way into an F.B.I. wiretap application targeting a former Trump campaign adviser in October 2016. Other portions of it — particularly a salacious claim about a purported sex tape — caused a political and media firestorm when Buzzfeed published the materials in January 2017, shortly before Mr. Trump was sworn in.

But most of the important claims in the dossier — which was written by Mr. Danchenko's employer, Christopher Steele, a former British intelligence agent — have not been proven, and some have been refuted. F.B.I. agents interviewed Mr. Danchenko in 2017 when they were seeking to run down the claims in the dossier.

The interview suggested that aspects of the dossier were misleading: Mr. Steele left unclear that much of the material was thirdhand information, and some of what Mr. Danchenko — who was born in Russia but lives in the United States — had relayed was more speculative than the dossier implied.

A 2019 investigation by the Justice Department's inspector general sharply criticized the F.B.I. for continuing to cite material from the dossier after the bureau interviewed Mr. Danchenko without alerting judges that some of what he said had cast doubt on the contents of the dossier.

The inspector general report also said that a decade earlier, when Mr. Danchenko worked for the Brookings Institution, a prominent Washington think-tank, he had been the subject of a counterintelligence investigation into whether he was a Russian agent.
In an interview with The New York Times in 2020, Mr. Danchenko defended the integrity of his work, saying he had been tasked to gather "raw intelligence" and was simply passing it on to Mr. Steele. Mr. Danchenko — who made his name as a Russia analyst by exposing indications that the dissertation of President Vladimir V. Putin of Russia contained plagiarized material — also denied being a Russian agent.

"I've never been a Russian agent," Mr. Danchenko said. "It is ridiculous to suggest that. This, I think, it's slander."

Mr. Steele's efforts were part of opposition research that Democrats were indirectly funding by the time the 2016 general election took shape. Mr. Steele's business intelligence firm was a subcontractor to another research firm, Fusion GPS, which in turn had been hired by the Perkins Coie law firm, which was working for the Hillary Clinton campaign.

Mr. Danchenko said he did not know who Mr. Steele's client was at the time and considered himself a nonpartisan analyst and researcher.

Mr. Durham has been known to be interested in Mr. Danchenko and the Steele dossier saga. In February, he used a subpoena to obtain old personnel files and other documents related to Mr. Danchenko from the Brookings Institution, where Mr. Danchenko had worked from 2005 until 2010.

The charges against Mr. Danchenko follow Mr. Durham's indictment in September of a cybersecurity lawyer, Michael Sussmann, which accused him of lying to the F.B.I. about who he was working for when he brought concerns about possible Trump-Russia links to the bureau in September 2016.

Mr. Sussmann, who then also worked for Perkins Coie, was relaying concerns developed by data scientists about odd internet logs they said suggested the possibility of a covert communications channel between the Trump Organization and Alfa Bank, a Kremlin-linked financial institution. He has denied lying to the F.B.I. about who he was working for.
William K. Rashbaum contributed reporting.
Steve Bannon has been indicted.

Jan. 6 Planners Spoke Directly to Eric Trump Using Cash-Bought Burner Phones, Says Report
A few days before Trump supporters stormed the Capitol building, one of the top organizers for the rally that preceded the riot reportedly issued an unusual request to some underlings. According to Rolling Stone , Jan. 6 planners were ordered to use cash to purchase burner phones that were used to communicate directly with the Trump family and White House officials. The request reportedly came from Kylie Kremer from the "March for Trump" group that helped plan the D.C. rally that later turned into the Capitol riot. According to the report, the phones were used to talk to figures including Donald Trump's son Eric, his wife Lara Trump, and Mark Meadows, the former White House chief of staff. An anonymous "March for Trump" team member said: "[Kremer] needed burner phones in order to communicate with high level people is how she put it." Kremer didn't respond to a request for comment on Rolling Stone's report, nor did any Trump family members or Meadows.
Jan. 6 Organizers Used Anonymous Burner Phones to Communicate with White House and Trump Family, Sources Say
A key planner of the Jan. 6 rally near the White House insisted the burner phones be purchased with cash, a source says
Some of the organizers who planned the rally that took place on the White House Ellipse on Jan. 6 allegedly used difficult-to-trace burner phones for their most "high level" communications with former President Trump's team.

Kylie Kremer, a top official in the March for Trump group that helped plan the Ellipse rally, directed an aide to pick up three burner phones days before Jan. 6, according to three sources who were involved in the event. One of the sources, a member of the March for Trump team, says Kremer insisted the phones be purchased using cash and described this as being "of the utmost importance."

The three sources say Kylie Kremer took one of the phones and used it to communicate with top White House and Trump campaign officials, including Eric Trump, the president's second-oldest son, who leads the family's real-estate business; Lara Trump, Eric's wife and a former senior Trump campaign consultant; Mark Meadows, the former White House chief of staff; and Katrina Pierson, a Trump surrogate and campaign consultant.

The member says a second phone was given to Amy Kremer, Kylie Kremer's mother and another key rally organizer. The team member says they did not know who the third phone was purchased for.

"That was when the planning for the event on the Ellipse was happening, she needed burner phones in order to communicate with high-level people is how she put it," the March for Trump team member tells Rolling Stone, referencing Kylie Kremer.

Kylie and Amy Kremer did not immediately respond to a request for comment on record.

According to the three sources, some of the most crucial planning conversations between top rally organizers and Trump's inner circle took place on those burner phones. "They were planning all kinds of stuff, marches and rallies. Any conversation she had with the White House or Trump family took place on those phones," the team member says of Kylie Kremer.

Representatives for Donald Trump and Meadows also did not respond to a request for comment. Eric Trump, Lara Trump, and Pierson did not respond to requests for comment.

Burner phones — cheap, prepaid cells designed for temporary usage — do not require users to have an account. This makes them hard to trace and ideal for those who are seeking anonymity — particularly if they are purchased with cash. The use of burner phones could make it more difficult for congressional investigators to find evidence of coordination between Trump's team and rally planners.

The House select committee on the Jan. 6 attack has been examining what role Trump and his allies played in what the committee has described as "efforts to subvert the rule of law, overturn the results of the Nov. 3, 2020, election, or otherwise impede the peaceful transfer of power." As part of that effort, the committee has subpoenaed documents from the Kremers, other March for Trump organizers, rally planners, and top Trump advisers, including members of his White House staff and campaign team. The committee has received "thousands of pages of records" and, according to an attorney familiar with the investigation, that includes "tons" of group-text conversations. (The committee declined to comment.) Rolling Stone reviewed group texts from the rally planners that show the Kremers claiming they worked with the White House Trump team to plan the Ellipse event.

Kylie and Amy Kremer helped lead the nationwide March for Trump bus tour, where speakers promoted false conspiracy theories about last November's election and called for the results to be overturned. That tour culminated on Jan. 6, with the large "Save America" rally on the White House Ellipse, which took place as Trump's loss was being certified at the U.S. Capitol. The Kremers also lead an organization called Women for America First, which obtained the permit for the Ellipse rally.

Trump spoke at the Ellipse rally on Jan. 6 and said they should "walk down Pennsylvania Avenue" to the Capitol, which is located about 1.5 miles away from the Ellipse. In his remarks, the former president told the crowd to both "fight like hell" and to "peacefully and patriotically make your voices heard." As the speech concluded, crowds of Trump supporters breached barricades at the Capitol complex. Some supporters proceeded to break into the building and spend hours attacking Capitol police and threatening violence against lawmakers, an attack that delayed the certification of President Biden's victory in the 2020 election.

There was no evidence the Kremers and the other rally organizers encouraged or planned violence in the group-text messages reviewed by Rolling Stone. However, critics have argued that Trump and the leaders who encouraged thousands of his supporters to come to Washington as the vote was certified deserve some blame for the violence because of their pre-Jan. 6 rhetoric and the fiery content of the former president's speech at the Ellipse rally.

The three sources, who spoke on the condition of anonymity due to the ongoing investigation into the Jan. 6 Capitol attack, say Kylie asked the aide to buy the three burner phones as the group passed through Palm Springs, California, about a week before the Ellipse event. Based on the group's website, which has since been deleted, the tour began on Dec. 27, 2020, in Las Vegas before moving on to California.

There could still be some evidence of direct communications between Kylie Kremer and the White House in more traditional phone records. The team member says that there were rare exceptions in which Kylie Kremer used her regular phone to communicate with Trump officials. "She talked with Mark Meadows on her personal phone once, but mainly on the burner phone," the team member says.

The sources who spoke to Rolling Stone about the phones also describe an incident that occurred around last Christmastime as the March for Trump bus tour kicked off in Las Vegas — just before the phones were allegedly purchased. According to the sources, the group stayed at the Trump International Hotel Las Vegas, which is co-owned and managed by the former president's real-estate company. The team member says the group hoped to park its bus, which was emblazoned with logos, a picture of Trump, and a message declaring "PROTECT ELECTION INTEGRITY," in front of the hotel. However, the team member says hotel management initially declined due to political sensitivities and a lack of space in front of the building.

"The hotel manager said, 'There's no way in hell you can have that here unless you can have a member of the Trump family on the phone,' " the team member recalls.

Photos reviewed by Rolling Stone showed the bus parked prominently in front of the hotel's main entrance. According to the team member, it was able to park because of calls from the Kremers to the Trump family.

"Amy and Kylie," the team member says, "got Eric and Lara on the phone right away."
Ex-Trump chief of staff Meadows cooperating with Jan. 6 panel - for now