This is from Sondland's own attorney!
Gordon Sondland, the U.S. ambassador to the European Union, told House committees during his impeachment inquiry testimony last week that he believes President Trump's actions with regards to Ukraine amounted to a quid pro quo, The Wall Street Journal reports. According to Sondland's attorney, Robert Luskin, the top diplomat told lawmakers that a meeting with Trump was contingent upon the Ukrainian president agreeing to open an investigation into Burisma—the gas company that Hunter Biden once sat on the board of. When asked by a lawmaker during his testimony if this exchange amounted to a quid pro quo, Sondland qualified that he is not an attorney, but that he believed it was a quid pro quo, according to Luskin.
Remember the recent reporting below? Earlier it was leaked that Sondland said Trump dictated to him over the phone the one (and only one) text that seemed to support Trump's defense that there was no quid pro quo. Trump spoon fed that to Sondland just like he spoon fed to his son the statement that the Trump Tower meeting was all about adoptions.
President Trump's ambassador to the European Union, Gordon Sondland, plans to tell Congress this week that a text he sent denying a quid pro quo between Trump and Ukrainian President Volodymyr Zelensky in a July phone call was dictated by Trump himself.
So that reported leak was true. Sondland sent that text, which was dictated to him by Trump, even though he knew it was a lie.
Here's the lying text that Sondland planted at Trump's request in a ruse to "exonerate" him: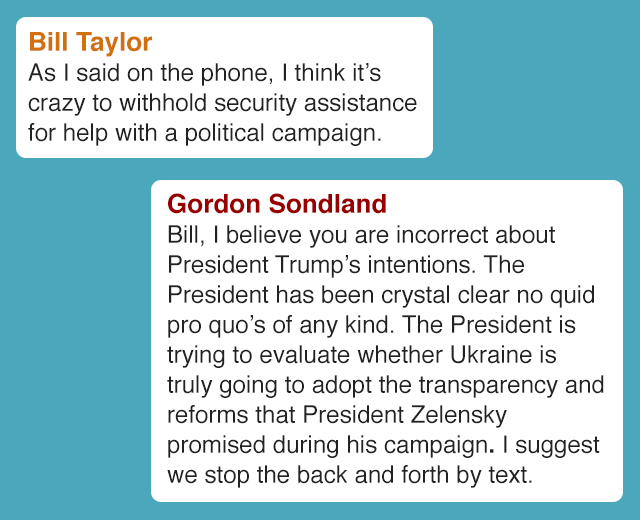 And now watch this. Here's Trump on the White House lawn singling out that one text that he himself planted. Crowing that it "nullifies" all the allegations against him. Liar, liar, liar. Obstructing justice in plain sight.