Trump's Defense: A Simple Fact Check Reveals It Is Based on Lies
Since the link is to a live feed (at about 3:10pm ET, 2020-01-27) it may not take you to the relevant section, so I've reproduced the text in full.
The Trump legal team is going all in on just 6 points of defense. The team introduced the 6 points on Saturday and then repeated them again today. I'm actually glad they're being very specific about this because now we have a clearly defined battlefield. When we demolish those 6 points, we will have destroyed Trump's case. We need to memorize those points and hammer at them over and over.
It's immediately apparent how weak this 6-point defense plan is. Most of the points defy the test of common sense, but I'm setting that aside here and just focusing on fact checking. Are these points based on the truth or lies? Here they are as reiterated by Sekulow today:
Trump's legal team is centering its case around these 6 arguments

From CNN staff


Senate TV

President Trump's legal team is centering its case against impeachment around six key facts they say "have not and will not change."

Deputy White House counsel Mike Purpura introduced them on Saturday and the President's attorney Jay Sekulow repeated them on Monday.

"The transcript shows that the President did not condition either security assistance or a meeting on anything. The paused security assistance funds aren't even mentioned on the call," Sekulow said.

"President Zelensky and other Ukrainian officials repeatedly said there was no quid pro quo and no pressure on them to review anything."

"President Zelensky and high-ranking Ukrainian officials did not even know the security assistance was paused until the end of August, over a month after the July 25 call."

"Not a single witness testified that the President himself said that that there was any connection between any investigation and security assistance, a presidential meeting or anything else."

"The security assistance flowed on September 11 and a presidential meeting took place on September 25th without the Ukrainian government, without Ukrainian government announcing any investigations.

"In the blind drive to impeach the president, President Trump, in reality, strategically has been the best friend and supporter of Ukraine certainly in our recent history. These are the facts."

CNN's fact-check team went through each of these claims on Saturday. You can read the full break down here .
And here's CNN's in-depth fact checking. I've added my own assessments which I've labeled so it will be clear they are my words, not CNN's.
President Donald Trump's legal team kicked off their opening arguments in the Senate impeachment trial Saturday morning. In defending the President, Deputy White House Counsel Mike Purpura said the case is based on "six key facts that have not and will not change."

Here's a break-down of these six "facts" and other claims made by Trump's legal team Saturday.

1. The transcript doesn't show a quid pro quo

Purpura said "the transcript shows that the President did not condition either security assistance or a meeting on anything. The paused security assistance funds aren't even mentioned on the call."

Facts First: While no specific conditions for a quid pro quo were mentioned on the call, the exchange Trump had with Zelenksy raised eyebrows among some officials who listened to the phone conversation – because the US was withholding military aid from Ukraine at the time.

In the memo of the call, Trump discusses US aid to Ukraine and how the relationship between the two countries was "not reciprocal necessarily because things are happening that are not good but the United States has been very very good to Ukraine." He then says he would like Zelensky "to do us a favor though." Trump goes on to discusses a conspiracy theory related to the 2016 election and later, a potential Ukrainian investigation into the Bidens.

The Trump administration has argued that the military aid was entirely separate and being held because of concerns about corruption in Ukraine. Purpura's point holds, as the transcript does not specifically outline an exchange of one for another, but Democrats argue a quid pro quo was implicit given Ukraine's dependence on the US.
@Keaton_James Point 1 is an outright lie. The transcript does show a quid pro quo. Trump uses "mob speak" to clearly convey his extortion threat. The Business Insider lays it out:
"We are ready to continue to cooperate for the next steps, specifically we are almost ready to buy more Javelins from the United States for defense purposes," Zelensky went on to say.

Trump immediately replied, "I would like you to do us a favor though because our country has been through a lot and Ukraine knows a lot about it."

He then went on to push Zelensky to open an inquiry into the debunked conspiracy theory on the origins of the FBI's Russia probe before urging his Ukrainian counterpart to investigate the Bidens.

Barbara McQuade, law professor at the University of Michigan Law School and former US attorney, said in a recent Washington Post op-ed what's revealed in the White House summary on the call is "precisely a quid pro quo, or 'this for that,' and it alone is sufficient to form the basis of a charge of bribery, one of the specified grounds for impeachment in the Constitution."
Returning to the CNN article…
2. Zelensky and Ukrainian officials say there was no pressure

Purpura said "President Zelensky and other Ukrainian officials have repeatedly said there was no quid pro quo or no pressure on them to review anything."

Facts First: Ukraine's president and foreign minister have made comments that bolster Trump's argument that he did not pressure Ukraine to investigate his opponents in order to receive US military aid .

President Zelensky in particular has said, on several occasions, that he felt no pressure from Trump to investigate the Bidens or the 2016 election. In a joint press conference with Trump in late September, after the memo of the phone call was released by the White House, Zelensky first said "nobody pushed me" while Trump was also saying "there was no pressure."

During an interview with Time magazine, Zelensky was asked to "clarify this issue of quid pro quo." "Look, I never talked to the President from the position of a quid pro quo. That's not my thing," Zelensky said.

Ukraine's foreign minister, Vadym Prystaiko, has also said Trump's July phone call with Zelensky was "friendly" and that "I think there was no pressure."

Republicans have used these comments to support their argument that the President didn't pressure Zelensky into doing anything he didn't want to do. However, Democrats have claimed Zelensky's assertions may indicate the opposite.

House Judiciary Committee chairman Jerry Nadler described Zelensky's situation as "he has a gun to his head. The gun is the fact that the President of the United States, upon whom he depends for military aid, for help in many different ways, has shown himself willing to withhold that aid based on what he says, based on what he's willing to play along with the President for his own personal political goals."

Zelensky and his team also discussed the pressure they were already feeling to publicly launch investigations that would benefit Trump, according to a source familiar with discussions at the meeting which occurred two weeks after Zelensky and Trump spoke for the first time in April.
@Keaton_James Point 2 has no merit since victims of extortion are strongly motivated to deny they are being extorted. Mobster: "Nice little grocery store you have here. Too bad if it should burn to the ground. Do us a favor and pay us $100 every month and I'm sure that won't happen. Oh, and by the way if you mention this conversation to the police, your house may also burn down."
As Nadler said, Zelensky basically has a gun to his head. Just as in the mob example above, Zelensky desperately needs Trump's "protection" (in the form of aid) to save his country (in this case from Russian attacks). If Zelensky rats on Trump he knows that he is putting all future aid at risk. What would Zelensky gain from admitting that Trump is extorting him? Nothing. What could he lose? Everything. So we really cannot give any credence to his statement that he didn't feel under pressure.
I addition, there are other sources maintaining that Ukrainians did feel pressure. AP report from November:
In early May, staff at the U.S. Embassy in Kyiv, including then-Ambassador Marie Yovanovitch, were briefed on a meeting Zelensky held in which he sought advice on how to navigate the difficult position he was in, according to two people with knowledge of the briefings.

He was concerned that Trump and associates were pressing him to take action that could affect the 2020 U.S. presidential race, the people said. They spoke only on condition of anonymity because of the diplomatic and political sensitivity of the issue.

The briefings show that U.S. officials knew early that Zelensky was feeling pressure to investigate Biden, even though the Ukrainian leader later denied it in a joint news conference with Trump in September. The officials said in their notes circulated internally at the State Department that Zelenskiy tried to mask the real purpose of the May 7 meeting–which was to talk about political problems with the White House–by saying it was about energy, the two people said.
Returning to the CNN article…
3. Ukraine did not know about the hold on military aid

Purpura claimed Ukraine did not know military aid was being withheld at the time of the phone call, so there could effectively be no quid pro quo between the parties. "President Zelensky and high-ranking Ukrainian officials did not even know," Purpura argued, "the security assistance was paused until the end of August, over a month after the July 25 call."

Facts First: It's unclear when exactly top Ukrainian government officials knew that nearly $400 million in military and security aid was being withheld. But there is evidence that some of them suspected there was an issue with the funding as early as July 25, the same day as President Trump's phone call with Zelensky.

According to testimony from Laura Cooper, the deputy assistant secretary of defense for Russia, some members of her staff told her that they had received queries about the aid from Ukrainian officials on July 25.

Cooper did not, however, know if the Ukrainian officials were aware of a hold on the aid or were just checking in.

The New York Times reported that, according to Olena Zerkal, an ex-top official in Kiev, members of the Ukrainian government knew the aid was being held up at some point in late July, but Zerkal could not recall the exact date.

As Purpura noted, the withholding of military aid was not brought up in meetings between Ukraine and US officials. It wasn't until Politico reported in late August that Trump was withholding military aid to Ukraine that top Zelensky adviser, Andrey Yermak, texted Kurt Volker, Trump's special envoy for Ukraine, with a link to the article and a message "we need to talk."

This could be due to the unusual process of how the aid was withheld.

The Office of Management and Budget has declined to turn over documents to investigators related to the withholding of the aid.
@Keaton_James Point 3 must be thrown out because it can never be proven. It is possible to know what someone does know (e.g., we told them, we see a text where they discuss the subject, etc.). However, it is absolutely impossible to know what someone doesn't know. Maybe we can show that Person A or Person B did not tell them, but Person C could have – or for that matter any one of billions of other people on earth could have told them. Unless we know every document Zelensky read and every conversation he had, we cannot be sure that he didn't know the aid was being held up.
Here's just one of many examples of how Zelensky could have found out. On June 4, 2019, 6 weeks before the call, Zelensky sat next to Jared Kushner at a dinner in Brussels. It would only take Kushner a few seconds to confidentially relate this information to Zelensky. I'm not saying Kushner did relate it, but the fact that he could have (and the fact that many, many other people also could have informed Zelensky), destroys point 3 of Trump's defense.
I wish Democrats would show this photo on the Senate floor when rebutting point 3.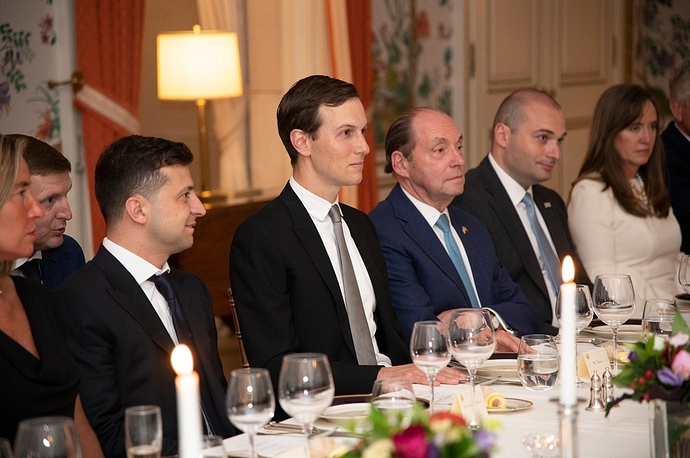 Zelensky and Kushner, Brussels – June 4, 2019
Returning to the CNN article…
4. No witness testified the President acknowledged [he would not release the aid to Ukraine until they announced an investigation of the Bidens]

The fourth key fact Purpura claimed was that "not a single witness testified that the President himself said that there was any connection between any investigations and security assistance, a presidential meeting or anything else."

Facts First: It's true witnesses did not testify the President said anything about a quid pro quo, but other administration officials have testified to the existence of one.

Gordon Sondland, the Trump-appointed US Ambassador to the European Union, made things even more explicit during his public testimony in November before the House Intelligence Committee.

"I know that members of this committee frequently frame these complicated issues in the form of a simple question," Sondland said. "Was there a quid pro quo? As I testified previously, with regard to the requested White House call and the White House meeting, the answer is yes."

Acting White House Chief of Staff Mick Mulvaney confirmed the existence of a quid pro quo but hours later denied he had admitted such a thing.
@Keaton_James Point 4 is an outright lie. The Bolton revelations have completely blown it out of the water. And "Bolton's bombshell" on Sunday comes on top of the other facts that have already debunked this point – as CNN described a day earlier on Saturday (above).
Intriguing question: In the face of Bolton's Bombshell, will Trump's defense team actually drop this point altogether? After all, it's now downright embarrassing to keep trotting it out when it has so thoroughly been shown to be a lie. And, far more importantly, this just provides Democrats with powerful ammunition to demand that Bolton testify, along with other witnesses that he has implicated. The simple and irrefutable argument from Democrats is now: "Hey, Republicans, if you're going to claim that no witness ever tied Trump to the extortion scheme, then you must allow Bolton to testify because he is contradicting your claim – otherwise, you must drop the claim."
Returning to the CNN article…
5. Ukraine never announced an investigation into Biden or the 2016 election

Aiming to make the case that Trump did not engage in a quid pro quo because the Ukrainians got what they wanted without ever announcing an investigation into the 2016 election or the Bidens, Purpura argued "a presidential meeting took place on September 25 without the Ukrainian government announcing any investigations."

Facts First: This is misleading. While an announcement of investigations never took place, it was planned and discussed between representatives of both the US and Ukraine. The plan was only halted after the withheld aid was released.

In November, the New York Times reported that Ukrainian President Zelensky had planned to announce an investigation into Trump's political rivals during a September interview on CNN. The Ukrainians canceled the interview and announcement once Trump released the promised security aid on September 12.

During the July 25 call, Trump also suggested his personal attorney, former New York City mayor Rudy Giuliani, be a point of contact, given that Giuliani had previously lobbied Ukraine to investigate Biden's call in 2016 to remove the country's top prosecutor.

During the conversation, Zelensky appeared to agree with the President's request. Zelensky said, "The issue of the investigation of the case is actually the issue of making sure to restore the honesty so we will take care of that and will work on the investigation of the case."
@Keaton_James Point 5 has no merit. Of course the investigation was never announced – that's because Trump's extortion scheme was exposed before it could be carried out. Once Trump was caught in the act he had no choice but to cancel his extortion demand – had he followed through with it, it would have compounded the evidence against him. He's like a bank robber who throws the bags of stolen loot over the wall when cornered by the police. "What robbery? I don't have any stolen money." Same as: "What extortion? I don't have any extorted investigation announcement."
And just as important: Extortion is still a crime even if the criminal doing the extorting never got what he was demanding.
Returning to the CNN article…
6. Trump's track record on support for Ukraine

Purpura argued that Trump has "been a better friend and stronger supporter of Ukraine then his predecessor" while Trump's lawyer Jay Sekulow noted that Trump, not Obama, took the "concrete step" of "actually providing Ukraine with lethal weapons, including javelin missiles."

Facts First: This is true, the Trump administration did provide lethal aide to Ukraine while the Obama administration did not. President Barack Obama was criticized for his refusal to provide lethal assistance to Ukraine – though it did provide more than $100 million in security assistance, as well as defense and military equipment.

By March 2015, the US had committed more than $120 million in security assistance for Ukraine and had pledged an additional $75 million worth of equipment including UAVs, counter-mortar radars, night vision devices and medical supplies and armored Humvees according to the Pentagon's Defense Security Cooperation Agency.

While it never provided lethal aid, some of the items that the Obama administration did provide were seen as critical to Ukraine's military. Part of the $250 million assistance package that the Trump administration announced (then froze and later unfroze) included many of the same items that were provided under Obama, including medical equipment, night vision gear and counter-artillery radar.

The Trump administration, however, did approve the provision of arms to Ukraine, including sniper rifles, rocket launchers and Javelin anti-tank missiles, something long sought by Kiev.
@Keaton_James Point 6 is a lie. I realize CNN doesn't actually call this a lie, but I believe they are way off the mark here. First, whether or not you've been a "friend" to someone is an entirely subjective judgement: you, your "friend," and other witnesses will likely have very different opinions on the matter. Obama, unlike Trump, never extorted Ukraine. Are you a friend to someone if you're extorting them? I don't think so.
Plus: Trump's defenders have wildly exaggerated his support for Ukraine. Once and for all, everyone should understand that the Javelin missiles Trump sent were basically just for show – they came with restrictions that prevented Ukraine from actually using them to stop Russian aggression. @Windthin posted on this.
And finally there's this: From the WaPo, Nov. 20:
The president "doesn't give a s— about Ukraine," E.U. Ambassador Gordon Sondland told colleagues in Kyiv after getting off a July 26 phone call with Trump, according to closed-door testimony given to Congress last week by diplomat David Holmes. Sondland added that the president only cared about politically motivated investigations, like having Zelensky launch a probe into former vice president Joe Biden and his son Hunter Biden, according to ­Holmes.

Four former administration officials, who spoke on the condition of anonymity to describe private conversations, shared Sondland's view and said Trump's main contention was that Ukrainians had "tried to take me down," in the words of one former senior administration official.