(question in subject is rhetorical of course) But, I had a bit of a back/forth with a journalist on twitter today and I wanted to put it out there for debate/discussion here to get people's feedback. The conversation started over the debate of someone pointing out the lack of policy coverage and a journalist came back with proof that there are many stories with "A1/prominent placement" that covered policy. This was the discussion (edited a little bit for flow and the ability to have more than 140 characters).
What's the A1 story equivalent for web/mobile? I haven't seen a printed NYT or WaPo in…years. Whatever the first push notification is for day? If their isn't a A1 equivalent & 85% of ppl get their news via mobile, why does content of A1 stories matter? I asked these questions more so to provoke the thought process.
(argument is made that homepage placement matters and places the argument that it's up to the publishers)
65% ppl prefer mobile over web for getting their news - so homepage placement is rarely relevant (TBH, the ads suck on the web, that's probably why).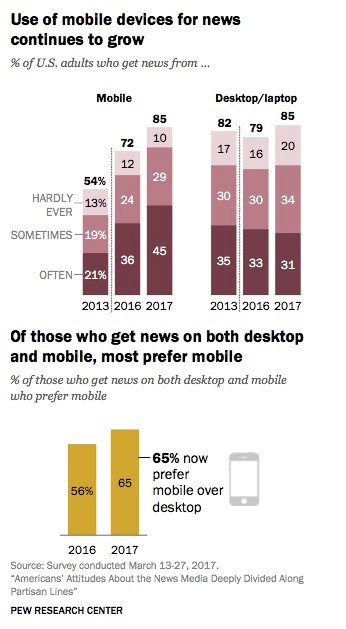 (argument is made that "many, many" people still get their news via print and "see" cover page print copies – even if they don't consume)
Only 2 in 10 people (as of early 2016) get their news from print.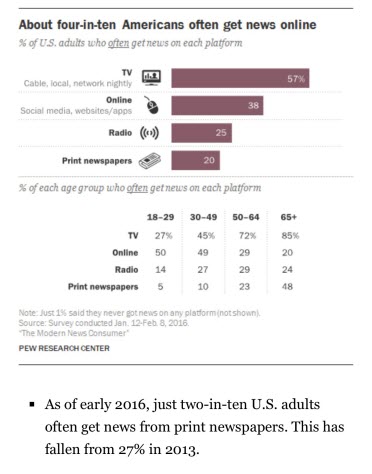 Many people don't see the covers - maybe in NY bc of newsstands. (Unless it's mentioned on Twitter.) The most I've seen is NYT at Starbucks, where the stack sat largely untouched (many times) in both LA & Philadelphia. Near me, they only sell local papers (if they do at all) and those are widely untouched.
As a avid news reader who goes out of my way to be informed and NYT & WaPo digital subscriber - I couldn't tell you on any day (or ever) what the A1 story was, how should we expect an average/casual reader to? (Meaning not the fact of knowing, but more the fact of whether they read it)
I asked these questions more so to provoke the thought process. If we don't have a mobile A1 equivalent & most of the people consume via mobile, then the argument of A1 placement or even webpage placement is mute. With everyone slamming the "mainstream media", it think it's important to look at what's seen/consumed by the "average" reader vs where the publisher/editor thought it would be seen the most. The whole debate started bc someone was arguing that NYT doesn't cover policy (which they do) and it's not the first time I've heard that argument.
It also brings up the debate of some journalists print, TV or other not owning their influence in the election. People tend to forget that readers don't just read the articles, they also follow many of the journalists on twitter, etc. Many of them want the readers to only focus on their produced work (whether they say that or not) and it's just not a reality anymore. Media consumption is not just articles, placement & push notifications anymore.
This just my POV as a old(er) millennial, whose background is in interdisciplinary study with large focus on media and culture.