This is downright ghoulish.
Made all the worse by its accuracy.
See, I can't even with this
If she says shit like that to her son, that constitutes emotional abuse.
I just realized we're talking about two different stories. I was referring to the video, but I now realize @celena meant the woman who racially profiled her own son, based on the context of your response. In which, yeah, that is very ghoulish.
Watch: 2020 Republican National Convention, Day 3
(

)
https://youtu.be/6SVFWxmKXt8?list=PLU12uITxBEPF_hZYOFSij6UvfenJ63HsE
Highlights for those who missed Day 2
Thanks @matt
Some recaps which are from NBC reporter…and links to Factcheck.org and a few other
articles.
Just mind boggling always to hear the truth from the false assertions. Par for the course.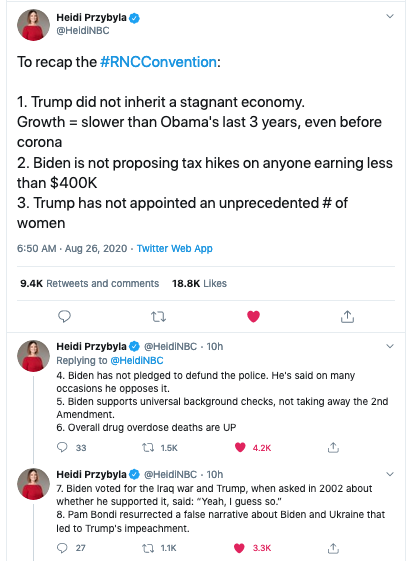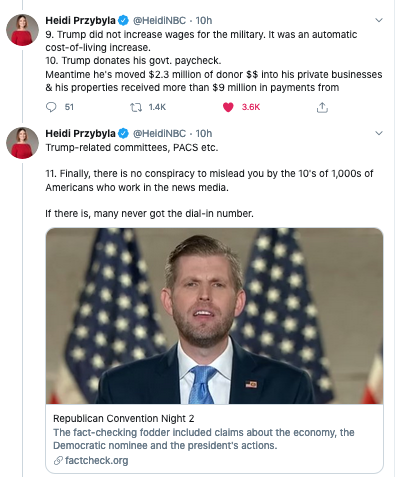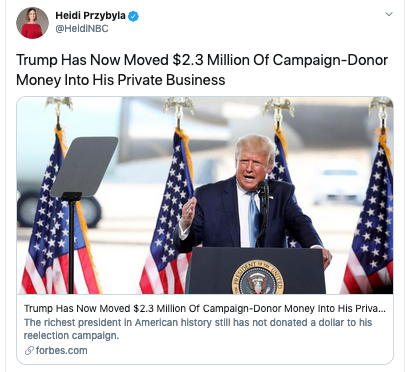 Donald Trump continued to shift money from his donors to his business last month, as his reelection campaign paid his private companies for rent, food, lodging and other expenses, according to a review of the latest Federal Election Commission filings. The richest president in American history, who has yet to donate to his 2020 campaign, has now moved $2.3 million of contributions from other people into his private companies.

The most recent expenses look familiar. The president accepted $38,000 in rent last month through Trump Tower Commercial LLC, the entity that owns his Fifth Avenue skyscraper. Since Trump took office, his campaign has paid that company $1.5 million, more than any other property in the Trump empire, according to an analysis of federal filings. The Republican National Committee also coordinated with the campaign to pay Trump Tower Commercial LLC an additional $225,000.

Trump got another $8,000 in July via the Trump Corporation, a management company that he owns. The precise reason for those payments is unclear. Campaign filings describe the rationale as "legal & IT consulting" but it's still a mystery why Trump's management company is providing such services. The Trump Corporation has now taken in $281,000 from the campaign since the president entered the Oval Office.

More money went to Trump Restaurants LLC, another company the president owns outright. Those payments may be connected to a kiosk in the basement of Trump Tower that sells campaign memorabilia. It's hard to imagine that the kiosk has been doing much business amid the coronavirus crisis, but the campaign has continued to pay its rent, $3,000 per month. Trump Restaurants LLC has gotten $117,000 since its owner became president.

Trump Hotel Collection, in which Trump also owns a 100% interest, received another $1,000 in July. The campaign has paid Trump's hotel properties $226,000 since Inauguration Day, according to the analysis of federal filings.

Not every company cashed in last month. Forbes found no payments to Mar-a-Lago, the president's golf clubs, or Trump Plaza LLC—an entity that controls property on Third Avenue in Manhattan and previously collected regular rent from the reelection effort.

Trump's machinations have been going on for years now. Forbes first reported on money moving from his reelection campaign to his business in 2018. The amount has more than doubled since then.

The Trump Organization did not respond to a request for comment. A representative for the Trump campaign ignored a series of questions about the payments and instead issued a broad statement. "The campaign complies with all campaign finance laws and FEC regulations," the statement said. "The campaign pays fair market value under negotiated rental agreements and other service agreements in compliance with the law. The campaign works closely with campaign counsel to ensure strict compliance in this regard."
This is Elizabeth Neumann, Former Asst Secy of Counterintelligence/Threat Protection from DHS who is coming out against T. Looks like she may be part of the REPAIR group that was banded together recently, and creating materials for ads. (Republicans Against Trump)
Yes, her words are powerful. T should not be re-ecected. Period.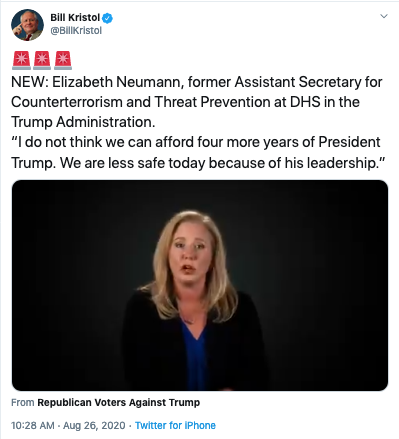 video
Yeah I was slightly confused
#8 At least they cancelled it I guess? I honestly did not expect that they would. I figured they would just embrace it like every other horrible thing they say is fine and good.
This is all just so very beyond the pale but she's just another banana in the basket with this bunch. Is it good sign that the GOP still frowns at open anti semitism? I hope so because so far there is no bottom. At least that would be some kind of moral objection to all this hate speech coming out the GOP base.
Ultimately it doesn't matter though. This conspiracy thing that Trump seems to have decided to embrace is rife with antisemitism, leaning heavily on some of its oldest tropes, and some of its most dangerous. It is truly dangerous to Jewish people in a way that many, many people just don't care about. I guess that's why I'm surprised they pulled her from the schedule; by and large, people in their demographic are much more likely to justify or openly condone this sort of thing, and they must be aware of the fact that it probably wouldn't hurt their bottom line.
This one infuriates me. I followed that story. Steven Carrillo was a US Air Force counter-terrorism expert who murdered TWO Americans in two separate incidents, one a federal officer, another a police officer.
For Pence to use that this way is unconscionable.
The most shocking line in Vice President Pence's 2020 RNC speech
Pence blames right-wing violence on a vague leftist enemy.
Oh for sure and other kinds bigotry, we know this because they all to support family separation at the border. Q Anon only exists to supports Trump. It's not about human rights or saving children.
This is a blast from Sen Harris, who will pick apart Trump, and his response to the pandemic,
and she takes a stance for the ugly murders of black men by the police, and supports all the peaceful protestors. She says T is guilty of negligence… and not protecting the American people.
She is the voice we need to knock T off his message/game. She's a tough VP nominee.
Points
Democratic vice presidential nominee Sen. Kamala Harris blasted President Donald Trump for failing to protect Americans from the coronavirus pandemic.
Harris charged that Trump "caved" when he needed "to be tough" with the Chinese government over its refusal to share information about the virus.
Nearly 6 million Americans have been diagnosed with Covid-19 this year, and more than 180,000 Americans have died from the virus.

"Donald Trump stood idly by and, folks, it was a deadly decision," Harris said in a blistering speech in advance of Trump's own address to the Republican National Convention on Thursday evening.

"All we needed was a competent president. One who was willing to listen, willing to lead, take responsibility, have a plan, do their job," the California senator said.

But "Donald Trump has failed at the most basic and important job of a president of the United States," Harris said. "It's his obligation to protect us. Yet, he has failed miserably."
Highlights from Day 3 of the 2020 RNC Convention
Thanks @matt
TONIGHT!!! -
Mary Trump on with Rachel Maddow/Joy Reid/Nicolle Wallace for GOP coverage …5pm PST/8pm EST
How's that for counter programming/narrative?
https://wsiltv.com/2020/08/27/msnbc-tweaks-trump-by-inviting-niece-mary-to-convention-show/
The final night of GOP convention coverage will be a family night for President Donald Trump, although not one that he will entirely like. MSNBC says a guest on its coverage will be Mary Trump, the president's niece, who wrote an unflattering book about her uncle that came out this summer. The Nielsen company estimates that 17.3 million people watched the third night of the convention Wednesday. President Trump won't like that either, since 22.8 million watched the same night of the Democratic convention last week. Democrats have outdrawn Republicans on two of the three nights so far.