Pro T Super Pac ad blitz in these states Florida, Georgia, Michigan, North Carolina, Ohio and Pennsylvania - going after Sanders, Bloomberg, Buttigieg, Warren. Here come some more attack ads… They see Sanders and Bloomberg as the likely candidates to beat - buckle up.
Pro-Trump super PAC America First Action is preparing to unleash a series of targeted, swing-state attacks on the Democrat most likely to face President Trump after Super Tuesday, people familiar with the group's plans tell me in an exclusive preview of its strategy.

The state of play: The group has been tracking favorable/unfavorable ratings in Florida, Georgia, Michigan, North Carolina, Ohio and Pennsylvania for 2020 candidates Joe Biden, Bernie Sanders, Elizabeth Warren, Pete Buttigieg and Michael Bloomberg — under the theory that if Trump wins each of these six states he would win re-election.

The spending isn't expected to begin until it's clear who the Democratic nominee will be, whether that's after next week's Super Tuesday or in July at the Democratic National Convention.
It sees Sanders or Bloomberg as the most likely nominees — as of now.
The attacks will be targeted to specific audiences in each state, based on rich data gathered beginning last August. The super PAC has pulled together about 500 pages of research on four of the five candidates, with about 300 pages on Buttigieg, given his shorter record.
Their onslaught will come in the form of high-dollar digital and TV ad buys and mailers, one of the people familiar with the strategy said.

Details: Axios reviewed overall and state-by-state data the group provided on each of the candidates. (The group did not poll Trump favorability numbers as part of this effort, the person said.)

Biden still enjoyed the most favorable numbers of those Democrats in each of the six states, but slid underwater between last August and this January, from 46%-48%- favorable/unfavorable to a 44%-50%.
By January, Sanders' favorability was highest in Michigan (44%) and lowest in Ohio (38%). His unfavorable numbers in Florida (54%) led America First officials to believe that could take that key state off the table if Sanders becomes the nominee, and allow them to shift their resources to Michigan and other places where his message seemed to resonate with blue-collar, union workers.
Bloomberg's six-state average was 34%-45% favorable/unfavorable. The strategists said they expect him to struggle more in culturally conservative states with strong pro-gun cultures, and perform stronger in states like Pennsylvania that have "the northwestern mentality."
Warren's average slid between August and January, from 39%-45% favorable/unfavorable to 38%-51%.
Buttigieg, who only polled by the group in January during its second wave of surveys, had an average of 32%-36% favorable/unfavorable across the six states.

Methodology: The super PAC conducted live-caller surveys of likely voters in the six states in August 2019 and the second half of January 2020, with sample sizes ranging from 800-1,000 per survey. The likely voters were on average slightly more Democrat, 40.2% to 37.5%. The margins of error in these surveys ranged from 3.1%-3.5%, according to the group.
And here are Trump supporters putting out videos asking SC Republicans to vote for Bernie to help Trump.

One of the 2020 Primary thread – I have too many there.
The era of 'whites-only' elections in America has returned | Carol Anderson
As we head back to South Carolina, the state that fought to protect the white primary until the 1950s, it's as if black voters don't matter – again
This is what is stirring within the Democratic party…and Pelosi has said today she will support a Sanders ticket. So it is a lot of controversy and opposing views.
Some national and state Democratic party leaders concerned about Sen. Bernie Sanders' candidacy are willing to risk a messy, brokered national convention this summer, which could be potentially damaging to the party, to prevent the self-described Democratic socialist from becoming the nominee, The New York Times reported.

Of the 93 superdelegates the Times interviewed, a majority expressed an "overwhelming opposition" to naming Sanders the party's nominee if he wins a plurality of pledged delegates before the Democratic National Convention in July.

The vast majority also predicted that no candidate would secure the party's nomination during the primaries and that there will be a brokered convention, the Times reported.

Only nine superdelegates the Times spoke to supported Sanders becoming the nominee if he's short of a majority at the convention but holds the most delegate votes.
I've been thinking strongly about your query above P_P over the past week and I'm aware that my previous reply really didn't answer your question all that fully. Today however I came across an opinion piece that truly summed up my feelings, and says it far better than I ever could, so I will link to it now. Where it refers to Denmark - you could well replace with my country NZ.
The biggest problem facing US democracy did not come up at the Democratic debate in Charleston this week. It hasn't really been discussed in the election at all. But it lurks behind all the more specific issues, an unwelcome presence no one quite wants to acknowledge.

It is simply this: The US is in a period of declining social and political trust. Americans increasingly think the system is rigged and that their fellow citizens don't necessarily share their basic values and presumptions. This makes them strongly disinclined to invest their hopes in political promises of common good.

Everything progressives want — from getting humane policies passed to executing on them effectively — requires a foundation of social and political trust. The erosion of that foundation must be reversed if the left ever hopes to lead the country through big, transformative changes.

All the candidates sense the distrust and disengagement on some level. But the candidate most preoccupied with it, with the most developed plans to address it, is Elizabeth Warren.
Trump trounced in latest Fox 2020 poll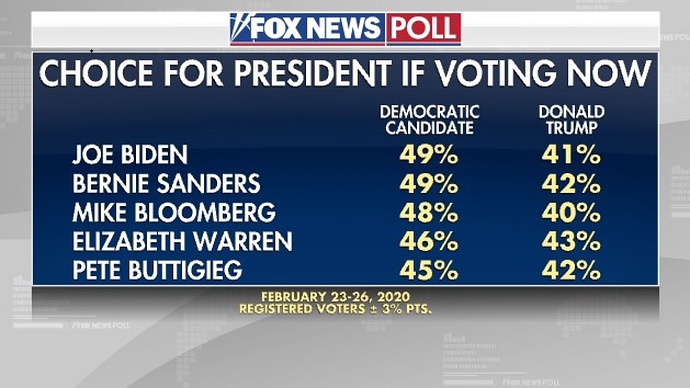 Donald Trump's favorite cable news network released their latest poll numbers on Thursday, and it was a disaster for the president as he seeks a second term in the White House.

According to the survey, just 32 percent of voters will "definitely" support Trump in the November general election, while 45 percent will "definitely" back his eventual opponent.

In other words, there are more diehard opponents of the president than there are supporters, regardless of how many folks in red caps show up to his campaign rallies.

The poll also found that, when matched up against any of the top Democratic candidates, Trump would lose. In fact, he can't even crack 43 percent.
…
The breakdown:

Biden 49% (+8)
Trump 41%

Bloomberg 48% (+8)
Trump 40%

Sanders 49% (+7)
Trump 42%

Warren 46% (+3)
Trump 43%

Buttigieg 45% (+3)
Trump 42%

Klobuchar 44% (+1)
Trump 43%

Trump is getting trounced in the midst of a heated Democratic primary

It's important to note that the Democratic Party is in the midst of a heated primary battle. Just three states have weighed in so far, and each of the remaining candidates still has passionate supporters.

In other words, the party isn't even close to uniting behind a single Democratic nominee, yet Donald Trump is already getting trounced by the leading Democrats in head-to-head matchups.

It should concern Trump's campaign that a party currently divided by a chaotic and heated primary battle is pretty easily beating him before they have even coalesced behind a single candidate.
Remember when the Trump regime stole the #BlueWave movement for their failed #RedWave?
Or WinRed, their knockoff of ActBlue?
Well, now they're trying to steal "Woke" in a shameless appeal to black voters.
Really.


Behold S. Carolina's Senate seat contender Jaime Harrison's first ad to take out Sen Lindsay Graham.
Hit 'em where it hurts - name calling.
https://twitter.com/JoyAnnReid/status/1233458622937604097?s=19
Video

(https://twitter.com/harrisonjaime/status/1233429202814275585?s=03)
Yeah…it IS a factor. And there is a number that Bernie is not releasing relating to his 'left ventricular ejection fraction' which gives us a window into his heart's health.

https://twitter.com/KBAndersen/status/1233895912721801218?s=19
A longtime reader who was a senior official government in a previous Democratic administration sent me this:

I'm sorry if this question strikes people as impolite. A 78-year old man who had a heart attack less than five months ago and refuses to release his complete medical records is the frontrunner for the Democratic presidential nomination. If Bernie Sanders is nominated and elected president, what are the odds he can complete a full term? The answer is about 50-50.

A team of nine cardiologists recently published a study in the Journal of the American Heart Association that can help answer that question.Their study tracked the expected mortality and life expectancy of people who survive a first heart attack (myocardial infarction) at ages 65 and older. The scientists' data are comprehensive, covering what happened to 22,295 heart attack patients admitted to U.S. hospitals from October 2004 to December 2006.

Their analysis provides two ways to estimate a person's expected mortality and life-expectancy based on age and cardiac history. Both methods produced nearly identical results. The likelihood that a person of Senator Sanders' age and heart history will die within one year – that takes us through September 2020 – is 25 percent. Further, the median period of survival for those patients is about five years, so the likelihood that someone of Senator Sanders' age and heart history will survive through the next presidential term is about 50-50.

This is far from typical. According to the CDC, the odds that a 78-year old American will die within one year are just over 4 percent, and the odds over five years are less than 23 percent. Moreover, 45 people have served as President of the United States, and four of them died in office from natural causes. The historical likelihood that a president will die in office for medical reasons, therefore, is less than 9 percent.

The analysis of Senator Sanders' prospects could be more precise than 50-50, if we knew a common indicator of his current cardiac status, called the "the left ventricular ejection fraction." This measures the blood volume a person's heart pushes out with each heartbeat. According to an interview by NBC News with the president of the American College of Cardiology, Dr. Richard Kovacs, the results are closely associated with a patient's expected mortality rate. By this measure, the normal blood volume level is 60 percent. At 40 to 50 percent, the functioning of the heart's left ventricle is said to be mildly impaired; at 30 percent to 40 percent, moderately impaired; and at 30 percent or less, severely impaired.

It is certainly reasonable that voters know those results for a 78-year old potential nominee with a heart condition. Thus far, Senator Sanders has refused. If he persists and is nominated, voters will have to consider very carefully his choice for vice president, since the odds that a vice president would succeed a President Sanders for medical reasons during his first term will jump from an average 9 percent to 50 percent.

The inferences the writer draws from the sources he links to seem sound to me. But I'm not a physician, and neither is the writer. So I'd be curious to get feedback from readers who are medical doctors—especially from cardiologists.
The South Carolina primary is already being called for Joe Biden, with exit polls showing him up nearly 25 points. Primaries are almost never called so early unless such an immense lead is shown.


Tom Steyer drops out. Maybe now he can focus on helping other candidates win.
Biden says he'll contest the Democratic nomination if no one gets a majority of delegates
If Sanders leads in delegates but doesn't have a majority, Biden said he'll fight for the nomination.
I actually believe a Battle Royale at the convention will be good for the party. It's going to generate a colossal amount of buzz and increase Democratic voter interest and turnout come November.
Coming off a resounding victory in South Carolina, former Vice President Joe Biden addressed the possibility of a contested convention, sending a clear message to Vermont Sen. Bernie Sanders, who currently leads in the delegate count, and who has argued a candidate ought to only need a plurality — not a majority, as party rules dictate — of pledged delegates to become the nominee.

Speaking on CNN's State of the Union on Sunday, Biden said that he would fight for the presidential nomination at the Democratic National Convention in Milwaukee in July if Sanders leads in the delegate count but does not have at least 1,991 pledged delegates, a number that constitutes a majority.

"The rules have been set," Biden said. "You don't change the rules in the middle of the game."

With analysts beginning to argue that it is unlikely any candidate will have a majority of delegates before the convention, Sanders has begun to challenge these rules.

At a CNN town hall in late February, for instance, Sanders said, "If I or anybody else goes into the Democratic convention with a substantial plurality, I believe that individual, me or anyone else, should be the candidate of the Democratic Party."

I'm voting Blue, no matter who.