I suspect this is not the kind of lobby you meant, but it's what came to mind.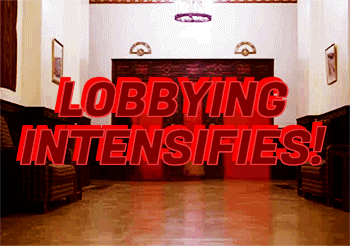 Omg, this made my day! So funny, thank you!

Adding another layer of chaos to a pending election, the Quanon factor looms large.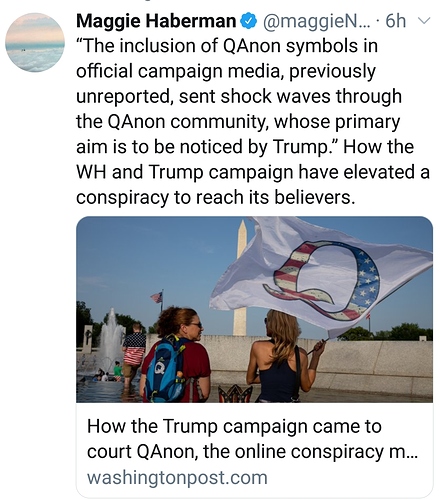 The Washington Post: How the Trump campaign came to court QAnon, the online conspiracy movement identified by the FBI as a violent threat
"Who is Q?" he replied, inquiring about the mysterious online figure behind the baseless theory. McEnany smiled and said, "Okay, well, I will pass all of this along."

The little-noticed exchange — captured in a video posted to YouTube — illustrates how Trump and his campaign have courted and legitimized QAnon adherents.

The viral online movement, which took root on Internet message boards in the fall of 2017 with posts from a self-proclaimed government insider identified as "Q," has triggered violent acts and occasional criminal cases.

Its effects were catalogued last year in an FBI intelligence bulletin listing QAnon among the "anti-government, identity based, and fringe political conspiracy theories" that "very likely motivate some domestic extremists to commit criminal, sometimes violent activity."
Trump campaign nears point of no return
Voters will begin receiving ballots in key swing states as early as next month. In North Carolina, elections officials will start sending ballots to voters on Sept. 4. Four more battleground states — Pennsylvania, Michigan, Florida and Minnesota — will begin mailing ballots or start early voting by the end of September.

All of that will happen before the first presidential debate, on Sept. 29. Arizona, Ohio and Iowa will start early voting right after, in the first seven days of October.

"If I were running the Trump campaign, I would want to see a marked uptick by the beginning of October," said Charlie Gerow, a Pennsylvania-based Republican strategist.
Early voting starts next month.

As Trump leans into attacks on mail voting, GOP officials confront signs of Republican turnout crisis
https://www.washingtonpost.com/politics/republicans-race-to-promote-mail-voting-as-trumps-attacks-discourage-his-own-supporters-from-embracing-the-practice/2020/08/03/9dd1d988-d1d9-11ea-9038-af089b63ac21_story.html
Multiple public surveys show a growing divide between Democrats and Republicans about the security of voting by mail, with Republicans saying they are far less likely to trust it in November. In addition, party leaders in several states said they are encountering resistance among GOP voters who are being encouraged to vote absentee while also seeing the president describe mail voting as "rigged" and "fraudulent."

As a result, state and local Republicans across the country fear they are falling dramatically behind in a practice that is expected to be key to voter turnout this year. Through mailers and Facebook ads, they are racing to promote absentee balloting among their own.

In the process, some Republican officials have tried to draw a distinction between "absentee ballots," which Trump claims are secure, and "mail ballots," which he has repeatedly attacked. The terms are typically used interchangeably.

Alabama Secretary of State John Merrill, describing a recent meeting with a group of Republican voters in Fort Payne, said he felt compelled to explain that there is only one kind of mail-in voting in Alabama, and that it is safe and secure.

"They were confused about two different kinds of mail-in balloting," he said, "where one is 'good' and one is not."
Bless their little hearts
Lincoln Project
Watch "Care" on YouTube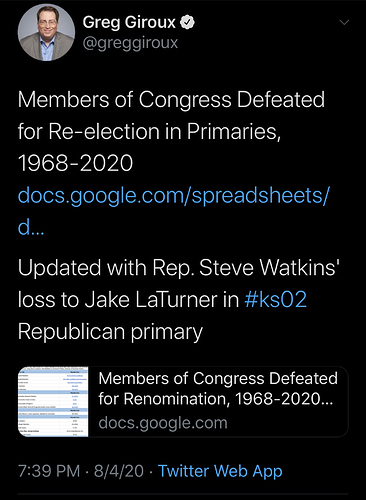 https://docs.google.com/spreadsheets/d/1X97S6hUby6PPHAMoEwvAxkAUo8EUwLk8xMosx4hVd8c/htmlview?pru=AAABc-DVJrI*qiN7TQEUFJJIcZVXlkFXbg#gid=638845180

PBS reporting that Dem nominee Biden will not go to Milwaukee to accept the nomination, and will instead be in Delaware.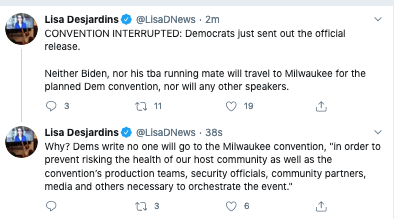 Presidential predictor who has been correct in his choices for President since Ronald Reagan based on these 13 factors…but there are OUTSIDE factors (Foreign governments, social media, vote counts)
In the video Op-Ed above, Professor Lichtman walks us through his system, which identifies 13 "keys" to winning the White House. Each key is a binary statement: true or false. And if six or more keys are false, the party in the White House is on its way out.
Video
Close but there is a winner he says.
Over the past four decades, his system has accurately called presidential victors, from Ronald Reagan in '84 to, well, Mr. Trump in 2016.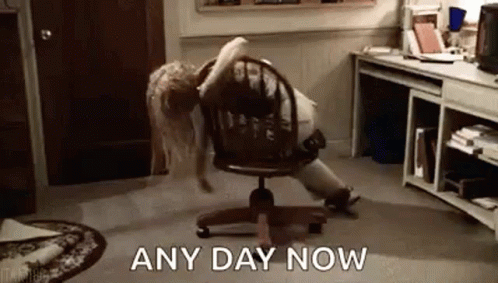 BIDEN/HARRIS IS A REALITY!