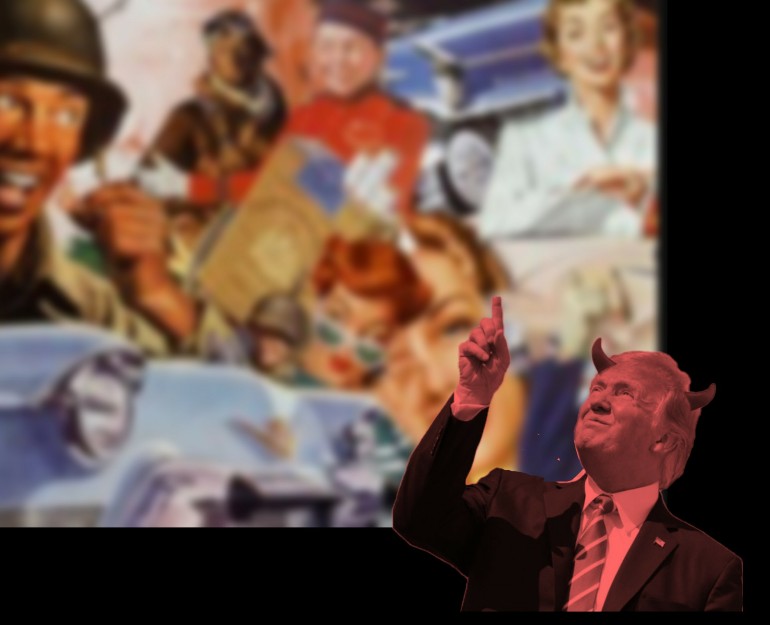 I can't fathom why nobody seems to have noticed this: The era conservatives hearken back to, when America basked in economic prosperity, was the most subsidized period in American history.
For the first time, a generation could look to the security of Medicare, Medicaid, Disability and Social Security. An extraordinarily high tax rate on the wealthy promoted investment into business, apparently without turning all the rich people into poor people.
New students were attending college on Pell Grants, and so many veterans were able to purchase homes on the GI Bill an entire housing boom was created. (So was the Baby Boom.)
The Government was pouring money into new highways and biways, and into the unlikely concept that men could actually walk on the moon.
At the height of the Red Scare, when Communism was actually a threat and WWII was still visible in the rearview mirror, Americans were okay with all of this.
They didn't demand a Conservative Libertarian utopia, where the sick and the poor would simply die in the streets. They didn't complain that social programs caused people to quit their jobs and stay home to eat Velveeta on Ritz while watching Howdy Doody.
Now here is Trump and the whole GOP, claiming that undoing all of this will spark a return to The Good Life ™. Half the people alive today benefited from living during this very era. Nobody seems to be noticing that America is heading in the very opposite direction than it did the first time.
I'm not a historian, nor an economist. What am I missing?