Pelosi weighs bringing House back early to address Postal Service crisis
Democrats are looking to address organizational issues at the Postal Service in the coming weeks, not to provide additional funding at this time, according to sources familiar with the discussion.

One option would be to vote on a modified version of a bill introduced by House Oversight Chair Carolyn Maloney (D-N.Y.) earlier this week that would prohibit USPS from implementing a planned organizational overhaul that critics maintain would handicap mail-in voting.

Other top Democrats also floated addressing other issues, including expired federal unemployment benefits and voting rights. But Democratic sources said the immediate focus — at least for now — is preserving the Postal Service ahead of the election.

On Friday, Pelosi and Senate Minority Leader Chuck Schumer (D-N.Y.) issued a scathing statement accusing President Donald Trump and Republicans of waging an "all-out assault on the Postal Service and its role in ensuring the integrity of the 2020 election." Their statement came after Trump said he opposes a federal infusion of funds to save the flailing postal service because he doesn't support mail-in voting.

"The President made plain that he will manipulate the operations of the Post Office to deny eligible voters the ballot in pursuit of his own re-election," Pelosi and Schumer said. "The President's own words confirm: he needs to cheat to win."

Trump has suggested that he's opposed to giving more money to the Postal Service because of the expected wave of millions of mail-in ballots in November due to the coronavirus pandemic.
Oh!

The Senate Intelligence Committee has sent a bipartisan letter to the Justice Department asking federal prosecutors to investigate Stephen K. Bannon, a former Trump confidant, for potentially lying to lawmakers during its investigation of Russian interference in the 2016 presidential election.

The letter, a copy of which was reviewed by The Times, was signed by the panel's then-chairman, Republican Sen. Richard M. Burr, and its ranking Democrat, Sen. Mark Warner.

It also raised concerns about testimony provided by family members and confidants of President Trump that appeared to contradict information provided by a former deputy campaign chairman to Special Counsel Robert S. Mueller III. Those it identified as providing such conflicting testimony were the president's son Donald Trump Jr., his son-in-law Jared Kushner, former Trump campaign chairman Paul Manafort and former White House Communications Director Hope Hicks.
Press Release: Oversight Committee Calls Postmaster General to Testify at "Urgent" Hearing on Sweeping Operational and Organizational Changes
Washington, D.C. (Aug. 16, 2020)—Today, Rep. Carolyn B. Maloney, the Chairwoman of the Committee on Oversight and Reform, invited Postmaster General Louis DeJoy to testify at an urgent hearing on Monday, August 24, 2020, on his sweeping operational and organizational changes at the Postal Service, which experts warn could degrade delivery standards, slow the mail, and potentially impair the rights of eligible Americans to cast their votes through the mail.

"Over the past several weeks, there have been startling new revelations about the scope and gravity of operational changes you are implementing at hundreds of postal facilities without consulting adequately with Congress, the Postal Regulatory Commission, or the Board of Governors," Chairwoman Maloney wrote. "Your testimony is particularly urgent given the troubling influx of reports of widespread delays at postal facilities across the country—as well as President Trump's explicit admission last week that he has been blocking critical coronavirus funding for the Postal Service in order to impair mail-in voting efforts for the upcoming elections in November."

The hearing on Monday, August 24 will follow a deadline this coming Friday, August 21 for the Postmaster General to produce documents and information in response to a detailed, ten-page letter sent last week by Chairwoman Maloney, House Speaker Nancy Pelosi, Senate Democratic Leader Chuck Schumer, and the other Chairs and Ranking Members of the Committees with jurisdiction over the Postal Service and federal elections, Chairperson Zoe Lofgren of the Committee on House Administration, Ranking Member Amy Klobuchar of the Senate Committee on Rules and Administration, and Ranking Member Gary C. Peters of the Senate Committee on Homeland Security and Governmental Affairs.

Chairwoman Maloney also requested the testimony of Robert M. Duncan, the Chairman of the U.S. Postal Service Board of Governors, which "directs the exercise of the powers of the Postal Service, directs and controls its expenditures, reviews its practices, conducts long-range planning, approves officer compensation and sets policies on all postal matters."

The hearing is scheduled for 10:00 a.m. on Monday, August 24, 2020, in room 2154 Rayburn and will be livestreamed.

Click here to read the invitation to Postmaster General DeJoy.

Click here to read the invitation to Chairman Duncan.
Pelosi to Recall House for Postal Service Vote as Democrats Press for DeJoy to Testify
Speaker Nancy Pelosi of California announced on Sunday that she will call the House back from its annual summer recess for a vote this week on legislation that will block the Postal Service from enforcing any changes to policy that was in place at the start of the year.

The House was not scheduled to return for votes until Sept. 14, but the vote will most likely be on Saturday, according to a senior Democratic aide familiar with the plans. Representative Steny H. Hoyer of Maryland, the majority leader, is expected to announce the final schedule on Monday.

"Lives, livelihoods and the life of our American democracy are under threat from the president," Ms. Pelosi said in a letter to Democratic lawmakers. "That is why I am calling upon the House to return to session later this week."
Cross-posting

Read: Report of the Select Committee on Intelligence United States Senate on Russian Active Measures Campaigns and Interference in the 2016 U.s. Election Volume 5: Counterintelligence Threats and Vulnerabilities
---
More damning and conclusive information which Rs and Dem's put together in the Senate Intel committee - And Sen Burr was all-in, until he was forced to resign.
Kilimnik - definitely part of Russian intelligence
Manafort, Don Jr, Jared - had "significant connections to Russian government."
Natalia Veselnitskaya - (set up 'adoption' meeting) - had many more suspicious ties that were concering.
Will this get any traction??? It is damning

The report drew to a close one of the highest-profile congressional inquiries in recent memory, one that the president and his allies have long tried to discredit as part of a "witch hunt" designed to undermine the legitimacy of Mr. Trump's stunning election nearly four years ago.

Like the investigation led by the special counsel, Robert S. Mueller III, who released his findings in April 2019, the Senate report did not conclude that the Trump campaign engaged in a coordinated conspiracy with the Russian government — a fact that Republicans seized on to argue that there was "no collusion."

But the report showed extensive evidence of contacts between Trump campaign advisers and people tied to the Kremlin — including a longstanding associate of the onetime Trump campaign chairman Paul Manafort, Konstantin V. Kilimnik, whom the report identifies as a "Russian intelligence officer."

The Senate report for the first time identified Mr. Kilimnik as an intelligence officer. Mr. Mueller's report had labeled him as someone with ties to Russian intelligence.

Democrats highlighted those ties in their own appendix to the report, noting that Mr. Manafort discussed campaign strategy and shared internal campaign polling data with Mr. Kilimnik, and later lied to federal investigators about his actions.

Democrats also laid out a potentially explosive detail: that investigators had uncovered information possibly tying Mr. Kilimnik to Russia's major election interference operations conducted by the intelligence service known as the G.R.U.

"The committee obtained some information suggesting that the Russian intelligence officer, with whom Manafort had a longstanding relationship, may have been connected to the G.R.U.'s hack-and-leak operation targeting the 2016 U.S. election," Democrats wrote. "This is what collusion looks like."

The assertion was a sign that even though the investigation was carried out in bipartisan fashion, and Republican and Democratic senators reached broad agreement on its most significant conclusions, a partisan divide remained on some of the most politically sensitive issues.

The Senate report said that the unusual nature of the Trump campaign — staffed by Mr. Trump's longtime associates, friends and other businessmen with no government experience — "presented attractive targets for foreign influence, creating notable counterintelligence vulnerabilities."

The Senate investigation found that two other people who met at Trump Tower in 2016 with senior members of the Trump campaign — including Mr. Manafort, Jared Kushner and Donald Trump Jr., the president's eldest son — have "significant connections to Russian government, including the Russian intelligence services."

The report said that the connections between the Russian government and one of the individuals, Natalia Veselnitskaya, "were far more extensive and concerning than what had been publicly known."
Trump's 2016 campaign chair was a 'grave counterintelligence threat,' had contact with Russian intelligence, Senate panel finds
https://www.washingtonpost.com/national-security/senate-intelligence-trump-russia-report/2020/08/18/62a7573e-e093-11ea-b69b-64f7b0477ed4_story.html
The volume, released Tuesday, states that former Trump campaign manager Paul Manafort worked with a Russian intelligence officer "on narratives that sought to undermine evidence that Russia interfered in the 2016 U.S. election," including the idea that Ukrainian election interference was of greater concern.

The report also states that Russian attorney Natalia Veselnitskaya, who met with Manafort, the president's son, Donald Trump Jr., and his son-in-law Jared Kushner at Trump Tower in 2016, had "significant connections" to the Kremlin. The information she offered to them was also "part of a broader influence operation targeting the United States that was coordinated, at least in part with elements of the Russian government," the report states.

But the panel also found that the FBI's handling of Russian threats to the election were "flawed," and that the FBI gave "unjustified credence" to other allegations regarding Trump's Russia ties that were made in a dossier compiled by former British spy Christopher Steele, "based on an incomplete understanding of Steele's past reporting record."

The Senate Intelligence Committee's three and a half year investigation stands as Congress's only bipartisan examination of Russian interference in the 2016 election. But the panel's leaders were noticeably divided along party lines in how they interpreted the significance of the report — particularly concerning Trump's Russia contacts — a sign that their tome will likely not put to rest the political fights over its substance.
Senator Rubio's comments are absolutely ridiculous here, they will not be repeated. Seeing how Giuliani was working with Manafort from jail to continue the Russian disinformation campaign about Ukraine interference and trying to smear Vice President Joe Biden during Trump's tenure in office for which the President was Impeached but not removed. Do people not remember impeachment?
---
Read:
Comments from Rep Speier (D-CA)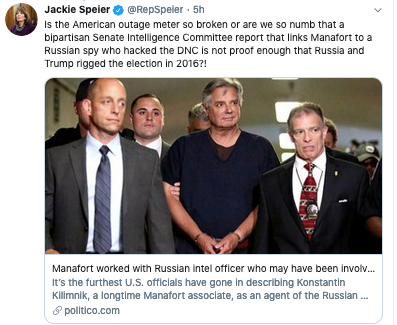 Donald Trump's 2016 presidential campaign chairman Paul Manafort worked closely with a Russian intelligence officer who may have been involved in the hack and release of Democratic emails during the election, the Senate Intelligence Committee concluded in a bipartisan report released Tuesday.

It's the furthest U.S. officials have gone in describing Konstantin Kilimnik, a longtime Manafort business associate, as an agent of the Russian government. The disclosure was part of the committee's fifth and final installment of its investigation of the Kremlin's interference in the 2016 presidential election.

In particular, the committee's investigation found that Manafort "represented a grave counterintelligence threat" due to his relationship with Kilimnik and other Russians connected to the country's intelligence services — a bombshell conclusion that underscores how Russia developed a direct pipeline to the upper echelons of a U.S. presidential campaign.

"Kilimnik quickly became an integral part of Manafort's operations in Ukraine and Russia," the report states, adding that the pair "formed a close and lasting relationship that would endure to the 2016 U.S. elections and beyond."
Sen. Warner (D-VA) co-chair of Intel committee describes the final Intel report as " A most comprehensive examination and …a breathtaking level of contacts between T officials and Russian government operatives…and a threat to our elections."
And the other Co-Head of Senate Intel Committee Sen Rubio (R-FL) is less convincing that T's actions with Russia were inconsequential.

Aug 18 2020

WASHINGTON – U.S. Sen. Mark R. Warner (D-VA), Vice Chairman of the Senate Select Committee on Intelligence, released the below statement on the release of the fifth and final volume of the Committee's bipartisan Russia investigation titled, " Volume 5: Counterintelligence Threats and Vulnerabilities ":

"After more than three and a half years of work, millions of documents, and hundreds of witness interviews, I'm proud that the Committee's report speaks for itself.

"At nearly 1,000 pages, Volume 5 stands as the most comprehensive examination of ties between Russia and the 2016 Trump campaign to date – a breathtaking level of contacts between Trump officials and Russian government operatives that is a very real counterintelligence threat to our elections. I encourage all Americans to carefully review the documented evidence of the unprecedented and massive intervention campaign waged on behalf of then-candidate Donald Trump by Russians and their operatives and to reach their own independent conclusions.

"This cannot happen again. As we head into the heat of the 2020 campaign season, I strongly urge campaigns, the executive branch, Congress and the American people to heed the lessons of this report in order to protect our democracy."
Less than three months out from another presidential election, Warner added: "This cannot happen again."

However, Acting Senate Intelligence Chairman Sen. Marco Rubio (R-FL) said the committee found "absolutely no evidence that then-candidate Donald Trump or his campaign colluded with the Russian government to meddle in the 2016 election."
Peter Strzok raises some important points as to what the Senate Committee's investigation does - it says perhaps the FBI did not go deeper enough into a CounterIntelligence search, and comments on Barr's constant debunking of Mueller's report and FBI's report as a 'a very thin, slender reed.' of evidence.
He points to this Senate report as having uncovered a whole lot more, and knowing T's penchant for all things Russian, should we feel safe with T wanting to go to Putin again anytime soon.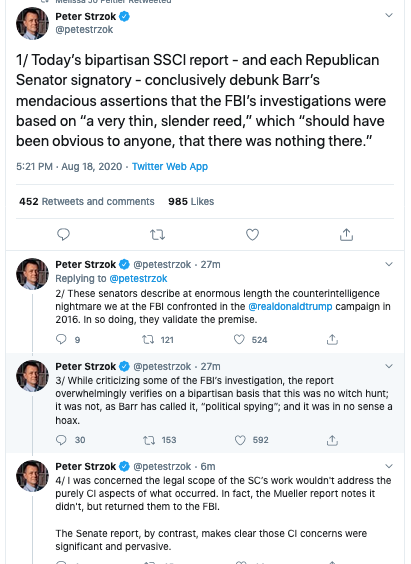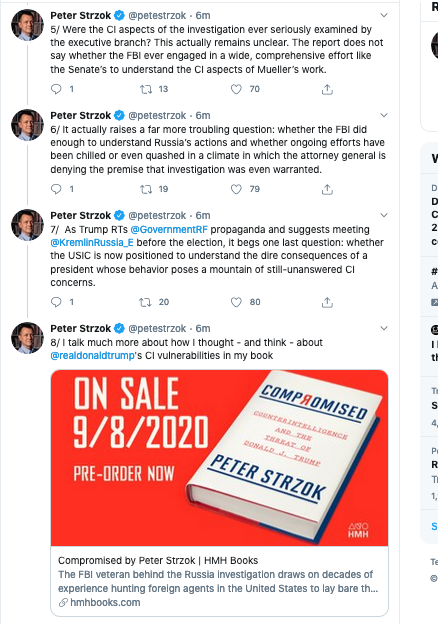 And Strzok does have a book coming out AND he's been demonized by T,and I believe all of what Strzok has to say…he was and is a leading expert on Russia.
Can you move to Congressional Committees please? @Pet_Proletariat @MissJava Thanks!
Such a split screen - Sen Marcc Rubio's explanation for this Senate Committee Intel report is slippery at best.
A WTFery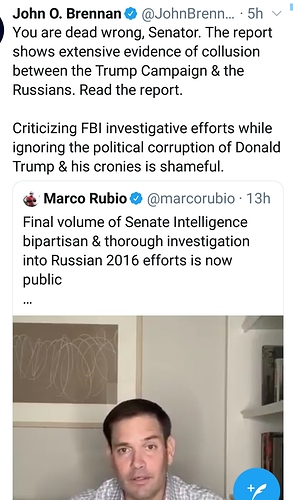 Video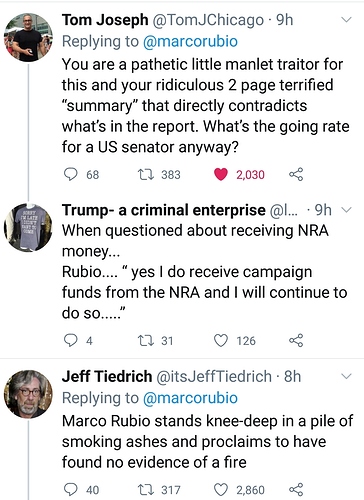 Commentary

Can u plz move to Congressional Committees please? Thx @Pet_Proletariat @MissJava
NBC confirms, Senate Intel committee made a referral to the justice department in 2019 for Donald Trump Jr., Jared Kushner, Steve Bannon, Erik Prince and Sam Clovis.
Senate report finds Manafort passed campaign data to Russian intelligence officer
The Senate Intelligence Committee on Tuesday released the fifth and final volume of its report on Russian interference in the 2016 election, which details "counterintelligence threats and vulnerabilities."

Why it matters: The bipartisan, 996-page report goes further than the Mueller report in showing the extent of Russia's connections to members of the Trump campaign, and how the Kremlin was able to take advantage of the transition team's inexperience to gain access to sensitive information.

Highlights

Paul Manafort: The report found that the former Trump campaign chairman began working on influence operations for the Russian oligarch Oleg Deripaska and other pro-Russia Ukrainian oligarchs in 2004.

Manafort hired and worked closely with Russian national Konstantin Kilimnik, whom the committee definitively calls a "Russian intelligence officer" that served as a liaison between him and Deripaska.
On numerous occasions, Manafort sought to pass sensitive internal polling data and campaign strategy to Kilimnik. The committee was unable to determine why or what Kilimnik did with that information, in part due to the pair's use of encrypted messaging apps.
The committee did, however, obtain "some information" suggesting Kilimnik "may have been connected" to Russia's hacking and leaking of Democratic emails. The section detailing these findings is largely redacted.
The bottom line: "Taken as a whole, Manafort's high level access and willingness to share information with individuals closely affiliated with the Russian intelligence services, particularly Kilimnik and associates of Oleg Deripaska, represented a grave counterintelligence threat," the committee wrote.

Roger Stone/WikiLeaks: The committee found that then-candidate Trump and senior campaign officials attempted to obtain advance information about WikiLeaks' release of damaging emails from Roger Stone, who they believed had inside information.

It also assessed that Trump spoke with Stone about WikiLeaks on "multiple occasions," despite the fact that the president said he did not recall doing so in written answers to special counsel Robert Mueller.
In July 2016, Stone drafted tweets for Trump — at his request — that "attacked Clinton for her adversarial posture toward Russia and mentioned a new peace deal with Putin."
The committee also found "significant evidence" to suggest that WikiLeaks was "knowingly collaborating with Russian government officials." WikiLeaks founder Julian Assange has long denied that the source of the hacked emails was Russia.

2016 Trump Tower meeting: The committee found that Donald Trump Jr. expected to receive "derogatory information" that would benefit the campaign from a person he knew was connected to the Russian government, but that no information was ultimately transmitted.

Two participants at the meeting, Natalia Veselnitskaya and Rinat Akhmetshin, had far more "extensive and concerning" ties to the the Russian government, including to Russian intelligence, than publicly known.

Michael Cohen/Russia business deal: The report found that by the end of 2015, Trump's former personal lawyer had "reached out to the Kremlin directly to solicit the Russian government's assistance" about building a Trump Tower in Moscow.

"Cohen kept Trump updated on the progress of the deal. While these negotiations were ongoing, Trump made positive public comments about Putin in connection with his presidential campaign." The report found Cohen and Felix Sater, a longtime business associate of Trump, "sought to leverage Trump's comments, and subsequent comments about Trump by Putin, to advance the deal."
Cohen made contact in January 2016 with a Russian aide to Putin spokesman Dmitri Peskov and reported to Trump that he had done so. Attempts to advance the deal stopped in the summer of 2016.

Trump transition: Russia "took advantage" of members of the Trump transition team's "relative inexperience in government, opposition to Obama administration policies, and Trump's desire to deepen ties with Russia to pursue unofficial channels through which Russia could conduct diplomacy," the committee determined.

The transition team "repeatedly took actions that had the potential, and sometimes the effect," of interfering with the Obama administration's diplomatic efforts, including former national security adviser Michael Flynn's conversations with the former Russian ambassador.

FBI investigation: The report concluded that "certain FBI procedures and actions in response to the Russian threat to the 2016 elections were flawed," specifically with respect to the bureau's interactions with the DNC about the email hacks and its treatment of the Steele Dossier.

Methodology: Together, the five volumes of the report represent "three years of investigative activity, hundreds of witness interviews and engagements, millions of pages of document review, and open and closed hearings."

The committee conducted "follow-up interviews" with Michael Cohen, Jared Kushner, Donald Trump Jr., John Podesta, and State Department official Jonathan Winer — which were necessary after the committee "developed additional information since the initial interview that required clarification from the witnesses."
The committee said it was limited in some aspects of its investigation by assertions of executive privilege, including by members of the Trump transition team. "The committee was surprised by these assertions because they were made inconsistently and because they have no basis in law," the report claims.

What they're saying:

Senate Intelligence acting chairman Marco Rubio (R-Fla.): "We can say, without any hesitation, that the Committee found absolutely no evidence that then-candidate Donald Trump or his campaign colluded with the Russian government to meddle in the 2016 election. …
Senate Intelligence ranking member Mark Warner (D-Va.) : "At nearly 1,000 pages, Volume 5 stands as the most comprehensive examination of ties between Russia and the 2016 Trump campaign to date – a breathtaking level of contacts between Trump officials and Russian government operatives that is a very real counterintelligence threat to our elections. … This cannot happen again."
Watch: Senate Hearing on U.S. Postal Service
Postmaster General DeJoy testified before the Senate Homeland Security & Governmental Affairs Committee on the U.S. Postal Service operations during COVID-19 pandemic and the 2020 election.
That would be GREAT if the first class mail (ballots are first class mail) will be processed as such, as DeJoy is indicating, but some are skeptical as to whether this will really happen.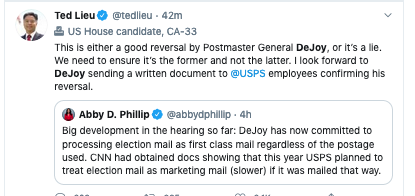 Louis DeJoy, the embattled postmaster general whose cost-cutting and operational changes have prompted widespread concern about mail-in voting, said on Friday he was "extremely highly confident" the Postal Service could facilitate the largest vote-by-mail program in American history and called suggestions that he might intentionally slow ballot delivery to help President Trump "outrageous."

Testifying before Congress for the first time amid a political firestorm, Mr. DeJoy, a major donor to Mr. Trump, defended many of the changes put in place as necessary to help the Postal Service get its financial house in order. He acknowledged that the moves have slowed some mail delivery and reiterated that he would suspend his cost-cutting measures until after the election.

"There has been no changes to any policies with regard to election mail," Mr. DeJoy said, adding, "The Postal Service is fully capable and committed to delivering the nation's election mail fully and on time."

Under questioning from Democrats, however, he refused to unwind other steps, like removing hundreds of blue mailboxes and mail sorting machines, that he said were initiated by his predecessors in response to a steady decline in mail volume. He denied knowledge of the machine removal when it first began, telling senators it was "not a critical issue within the Postal Service."

And he was unable to offer many specifics about how the Postal Service would ensure on-time delivery of ballots, telling Senator Maggie Hassan, Democrat of New Hampshire, that he would be unable to provide a detailed plan by Sunday because it was still being drafted.

Mr. DeJoy said he would continue the agency's practice of prioritizing election mail, regardless of what postage is used, and "deploy processes and procedures that advance any election mail, in some cases ahead of first-class mail."
Press Release: New Postal Service Documents Show Nationwide Delays Far Worse Than Postal Service Has Acknowledged
Aug 22, 2020
Internal "PMG Briefing" Shows Alarming Delays Across the Board— First-Class, Marketing, Periodicals, and Priority Mail

Washington, D.C. (Aug. 22, 2020)—Today, Rep. Carolyn B. Maloney, the Chairwoman of the Committee on Oversight and Reform, released new internal Postal Service documentswarning Postmaster General Louis DeJoy about steep declines and increasing delays nationwide over the last two months as a result of his drastic operational and organizational changes.

"After being confronted on Friday with first-hand reports of delays across the country, the Postmaster General finally acknowledged a 'dip' in service, but he has never publicly disclosed the full extent of the alarming nationwide delays caused by his actions and described in these new documents," said Chairwoman Maloney. "To those who still claim there are 'no delays' and that these reports are just 'conspiracy theories,' I hope this new data causes them to re-think their position and support our urgent legislation today. We have all seen the headlines from every corner of our country, we have read the stories and seen pictures, we have heard directly from our constituents, and these new documents show that the delays are far worse than we were told."

The new documents being released by the Committee today are part of a "PMG Briefing"—a presentation prepared directly for the Postmaster General last week, on August 12, 2020. They provide a detailed assessment of service performance trends over the past year.

According to these documents, there has been a significant drop in service standards across the board since the beginning of July—including in First-Class, Marketing, Periodicals, and Priority Mail.

The Postmaster General and his top aides have never admitted to the sweeping delays and reductions in service caused by his actions and detailed in these new documents.

Instead, the Postmaster General acknowledged in testimony on Friday before the Senate only: "We all feel bad about what the dip in the level of service has been." DeJoy and Postal Service leadership have also downplayed the delays as "temporary service impacts" and "unintended consequences."

On Friday, the top Republican on the Oversight Committee, Rep. James Comer, testified repeatedly before the House Rules Committee that there are "no delays" with the mail and "no data" proving the delays are real.

Two days earlier, Comer and House Republican leaders Kevin McCarthy and Steve Scalise sent a letter to Chairwoman Maloney and Speaker Nancy Pelosi arguing that nationwide reports of delays are nothing but "conspiracy theories" being "manufactured" by Democrats to "undermine President Trump" and support "an unnecessary bailout plan."

Click here to read the new documents released by the Committee today.