Trump administration to cut funds from health programs to pay for coronavirus response
This is a good graphic…with comparisons of various influenza - Swine, Ebola, SARS etc. Spanish Flu. Might just put it in perspective…it is linked to WHO but not created by it…
https://www.youtube.com/watch?v=6dDD2tHWWnU&t=
Not a T related intersection, but informative.
T backers are sure this is a conspiracy against T to bring him down. WTF
Trump backers see a coronavirus conspiracy

CDC official who raised fears turns out to be Rod Rosenstein's sister, setting off MAGA-world alarms._

Some supporters of President Donald Trump see a threat bigger than the spread of a highly contagious novel coronavirus: a conspiracy by "deep state" actors to use the virus against the president.

One key piece of evidence fueling their theory: A Centers for Disease Control official making public statements on the outbreak is the sister of Rod Rosenstein, the former deputy attorney general who oversaw the Mueller probe and, according to a disputed report, once discussed removing Trump from office.

Dr. Nancy Messonnier, head of the CDC's National Center for Immunization and Respiratory Diseases — who got a shoutout from her brother for attending his 2017 confirmation hearing – warned Americans in a Tuesday media briefing that an outbreak in the U.S. is inevitable.

Messonnier's comments got widespread attention, sparking calls for further actions by the administration, which had long struck a more reassuring note. The furor appeared to catch Trump flat-footed while en route back from his summit with the Indian prime minister, where he had declared the outbreak "very well under control."

The likes of conservative radio host Rush Limbaugh and Jim Hoft, publisher of the Gateway Pundit, a conspiratorial, pro-Trump site, have seized on the sibling connection, as have a large number of anonymous Twitter accounts.

"Rod Rosenstein as we all know definitely worked to undermine the Trump administration, which is oddly exactly what his sister is doing by undermining the more logical and calm message the president's team has issued on the virus," charged conservative pundit Wayne Dupree in a Wednesday blog post.

Global financial markets have been sliding for several days over concerns about the fallout from the virus, a trend that threatens Trump's rosy economic message as well as his political future.

Yet there is no evidence that federal health authorities are over-stating the threat of coronavirus to prosecute a political vendetta against Trump, and some conservatives – even as they praised the administration's response – rushed to defend Messonier.

"I've heard people jumping on Nancy Messonnier because she told us the truth: that it's not a matter of if but when,"Rep. Tom Cole (R-Okla.) told reporters on Wednesday. "Isn't that what you want to hear instead of some pie in the sky?"

Trump himself – who rose to political prominence by promoting the false idea that Barack Obama was not born in the United States – has aired his own suspicions that mainstream media outlets are sensationalizing the virus and contributing to a plunging stock market. "Low Ratings Fake News MSDNC (Comcast) & @CNN are doing everything possible to make the Caronavirus look as bad as possible, including panicking markets, if possible," he tweeted on Wednesday morning.

The tweet came after Limbaugh aired fears that the virus was being "weaponized" against Trump on his Monday radio program. He accused the "Drive-By Media" of over-hyping the threat posed by the virus in order to tank financial markets.

"There's nothing unusual about the coronavirus," opined Limbaugh, who was awarded the Presidential Medal of Freedom by Trump earlier this month. Limbaugh, who also compared the virus to the "common cold," followed up on Tuesday by seizing on the Messonnier-Rosenstein connection.

Low Ratings Fake News MSDNC (Comcast) & @CNN are doing everything possible to make the Caronavirus look as bad as possible, including panicking markets, if possible. Likewise their incompetent Do Nothing Democrat comrades are all talk, no action. USA in great shape! @CDCgov…

— Donald J. Trump (@realDonaldTrump) February 26, 2020

Other Trump supporters, meanwhile, have seized on the crisis to deflect blame to some of the president's favorite targets: foreign governments and powerful global organizations.

In a January 29 blog post, America First Policies, a pro-Trump nonprofit co-founded by Trump campaign manager Brad Parscale, criticized the Chinese Communist Party and the World Health Organization for not doing enough to raise the alarm about the outbreak.

The World Health Organization," the group wrote, "is a case study of how the Chinese Communist Party infects supposedly apolitical institutions."
[
Yup, I posted a thing about that earlier from that moron Chuck Woolery. I didn't realize it was this widespread, though!
Is it wrong to hope that someone infected goes to a t rally?
Okay, first, there IS no vaccine any time in the near future.
But even if there was? HOW THE BLOODY BLUE BLAZES IS THIS EVEN CLOSE TO OKAY?
The Trump administration says the coronavirus vaccine might not be affordable for all Americans
Coronavirus lays bare all the pathologies of the Trump administration
Acting deputy secretary of DHS, arch-nativist Ken Cuccinell, a top member of Trump's coronavirus task force, asked Twitter for help accessing map of the virus
Trump's DHS head has a brutal exchange on coronavirus — courtesy of a GOP senator
The Department of Homeland Security is coordinating the U.S. government's response to the increasing threat of the novel coronavirus. The agency has also been under the control of acting head Chad Wolf for more than four months, with no full-time replacement selected.

And Wolf's testimony Tuesday morning wasn't exactly confidence-inspiring — particularly for one GOP senator.

Appearing in front of a Senate appropriations subcommittee, Wolf was on the receiving end of a brutal line of questioning from Sen. John Neely Kennedy (R-La.). Throughout the exchange, Wolf struggled to produce basic facts and projections about the disease. Perhaps most strikingly, the hearing came at a time of heightened fears about the disease, with the stock market plunging over new estimates about its spread into the United States. It's a moment in which you'd expect such things to be top of mind for someone in Wolf's position.

Wolf got started on the wrong foot almost immediately, when Kennedy asked him how many cases of the coronavirus there were in the United States. Wolf stated there were 14 but was uncertain about how many cases had been repatriated back to the United States from cruise ships, placing the number at "20- or 30-some-odd."

Asked how many DHS was anticipating, Wolf didn't have an answer and suggested this was the Department of Health and Human Services' territory. "We do anticipate the number will grow; I don't have an exact figure for you, though," Wolf said.

"You're head of Homeland Security, and your job is to keep us safe," Kennedy responded, asking him again what the estimates might be. Wolf talked around the question, which led Kennedy to say, "Don't you think you ought to check on that, as the head of Homeland Security?"

"We will," Wolf responded. He referred to a task force that is working on that issue.

"I'm all for committees and task forces," Kennedy said. "I think you ought to know that answer."

Things didn't get much better from there.

Kennedy then asked Wolf how the coronavirus was transmitted, to which Wolf responded that there were "a variety of ways" including "human to human." That, though, wasn't what Kennedy was asking; he was asking how it was transmitted between humans.

"How is it transmitted?" Kennedy cut in, making clear he wanted specifics.

"A variety of different ways," Wolf again responded.

"Tell me what they are," Kennedy quizzed him, clearly skeptical that Wolf knew the answer.

When Wolf again referred to "human-to-human" transmissions, Kennedy cut in. "Well, obviously human to human," Kennedy said. "How?"

Wolf could muster only that it was "being in the same vicinity" and "physical contact."

Kennedy then sought to compare mortality rates for the coronavirus — which is about 2 percent — and for influenza "over the last 10 years in America." Wolf, who was clearly on his heels, responded somewhat haltingly that the flu was "also right around that percentage, as well" — referring to the 2 percent.

"You sure of that?" Kennedy asked.

"Yes, sir," Wolf said.

The mortality rate for influenza in the United States is significantly lower than that — only around 0.1 percent, according to the CDC, with some differences depending on how you define an influenza-related death. In other words, while about 1 in 50 people are dying from the coronavirus, only about 1 in 1,000 Americans die of the flu. Wolf may have been referring to the worldwide flu mortality rate, which is indeed significantly higher than in the United States. He began answering the question as Kennedy was saying "America."

It was more of the same from there. Kennedy asked whether we have enough respirators, and Wolf again wasn't totally sure. "To my knowledge, we do." Kennedy responded the committee had been told that wasn't the case. Wolf seemed to think Kennedy was asking only about equipment for DHS officials and not the broader public.

A similar exchange occurred on masks. Wolf then tried to push back, noting Kennedy was asking him about "a number of medical questions."

"I'm asking you questions because you're the secretary of the Department of Homeland Security," Kennedy shot back, "and you're supposed to keep us safe. And you need to know the answers to these questions."

Kennedy then asked when a vaccine for the disease might be ready, and Wolf said "several months." Kennedy again said that conflicted with what the committee had been told elsewhere.

"Your numbers aren't the same as CDC's," Kennedy said.

Kennedy concluded by again begging Wolf to have answers to these questions. But as Wolf tried to respond, Kennedy was apparently finished with the whole thing, and he instead yielded his time back.

The scene was jarring, but it wasn't without precedent from Kennedy. The Louisiana senator has occasionally sent a message to the Trump administration by lighting into the president's judicial picks — including in 2017 and last year. He also told administration officials during a hearing on the opioid crisis two months ago, "I don't speak B.S."

Tuesday was particularly striking, though, given who Wolf is. President Trump has left acting officials in charge of major departments and in other Cabinet-level jobs for months and months without picking successors that people like Kennedy would vote to confirm. The downside of that is the people in charge haven't been vetted as closely for situations such as a potential outbreak of a disease. (DHS has actually been under acting control for more than 10 months now.)

Whether any one of Kennedy's individual questions was fair or not, Wolf's exchange with Kennedy suggested someone who was wasn't terribly plugged in to what's going on. That's not a great sign.
As coronavirus fear grips Wall Street, the White House moves decisively to protect Trump from germs
https://www.washingtonpost.com/opinions/2020/02/24/trumps-economy-just-caught-coronavirus/
Behind our sluggish response to coronavirus, an unnecessary battle over funding
I wouldn't wish that on anyone but that would really bring new meaning to "where we go one, we go all."
…well, I get your drift. No one really wants to bring harm essentially…BUT we could hope that they see that he is NOT WELL.
Wonder if 'they' think the same for non-MAGA believers???!!!
Of course Azar is behind the "the vaccine may not be affordable for all" statement.
Michael McAuliff takes a look at Alex Azar, pharmaceutical lobbyist, former drug company executive, Secretary of Health and Human Services, and opponent of the ACA, the man who wants to charge for a
#coronavirus

vaccine we don't even have yet.
So the coronavirus might not be "all bad" after all?

Note this key line:
But even when proceeding at an "emergency speed," a vaccine would not be available for use for at least a year or 18 months

Trump makes misleading statement on risk of coronavirus.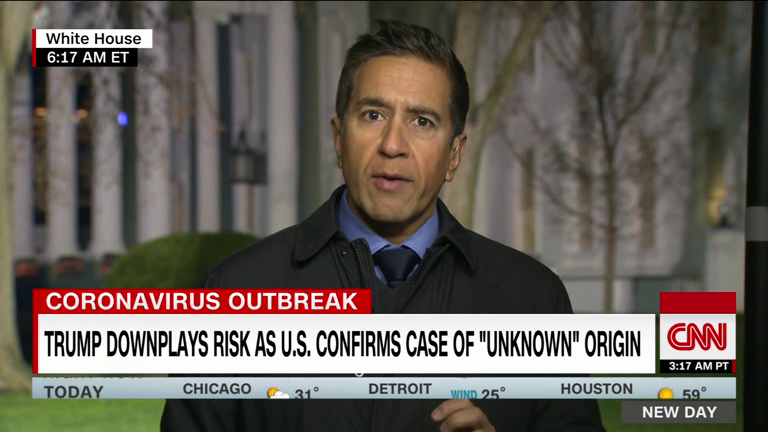 FUCK.
Pence Will Control All Coronavirus Messaging From Health Officials
Government health officials and scientists will have to coordinate statements with the vice president's office, one of three people designated as the administration's primary coronavirus official.