And our coffee & tea will no doubt be next!


(I guess we know who's doing all the drugs these days?)
I'll admit that when I first saw this article in my newspaper, it turned my stomach: (& it's NOT a joke!)
'Donald Trump Highway' proposed in Oklahoma
Carmen Forman The Oklahoman USA TODAY NETWORK
Oklahoma's GOP-led Legislature is pushing to name a stretch of highway in the Panhandle after former President Donald Trump…
But then I remembered that "panhandler" refers to someone who asks for money in a public place, & I thought how freaking appropriate can you get?


Michael Cohen
@MichaelCohen212

As I have said many times…they will all be held responsible for their own #DirtyDeeds!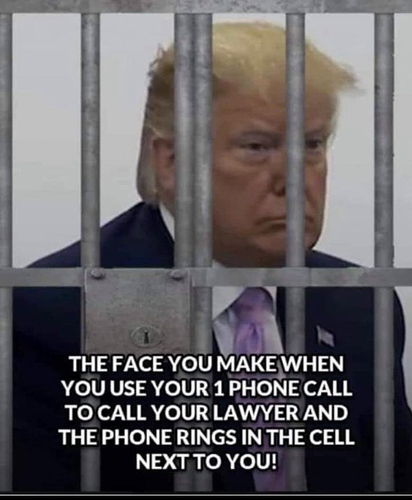 Where's the Cruz-control (ie. alarm clock) ? Does anyone really think he was too exhausted to stay awake for President Biden's speech because he had a hard day of working for his constituents?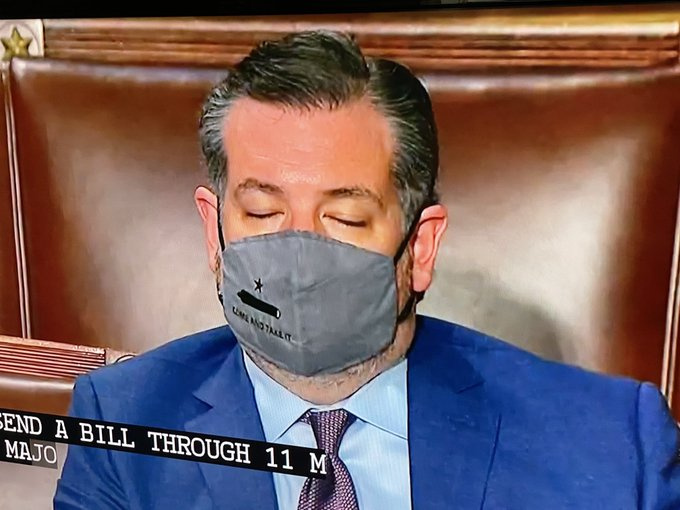 Or this take.

Satire from Andy Borowitz
WASHINGTON (The Borowitz Report)—An explosive video that emerged last night appears to show President Joe Biden plotting to use his power to improve living conditions in the United States.

In the video, in which Biden is flanked by Vice-President Kamala Harris and House Speaker Nancy Pelosi, the President seemingly admits to having a radical scheme to use taxpayers' money for the benefit of taxpayers.

After the video was unearthed, the response from Republicans to Biden's controversial plot was swift and ferocious.
"Joe Biden works hard to project a 'nice guy' image, but this tape reveals the real Joe Biden," said House Minority Leader Kevin McCarthy. "A man who, all along, has been scheming to expand education and child care."

Senator Rand Paul said that the video, if authentic, should prompt an immediate congressional investigation.

"Joe Biden promised the American people that, if elected, he would do nothing," he said. "Joe Biden has broken that promise.
You know your country is way off course when the lead story is whether the world's largest disinformation platform run by an unaccountable mega-billionaire will allow a reality show narcissist who attempted to overthrow democracy to post childish insults of people online.
May I suggest a solution to this vexed question. Facebook allow him to repost 12 days after he commits to no longer tell lies, or insult others, and to stop spreading misinformation, and conspiracy theories.
In other words his ban on Facebook would only last until the 12th of Never.
Except that it doesn't bother him to tell the same lies over & over! As in "sure I'll cooperate…"

There is simply no point in ever taking trump's word for anything, ever again in your lifetime. Let me remind you that "one definition of insanity is doing the same thing over & over again, while still expecting a different result".

New York AG Sues Jacob Wohl for $2.75 Million Over Robocalls
Right-wing think tank led by white nationalist Richard Spencer ordered to pay man hurt at Charlottesville rally $2.4 million
Twitter boots account mimicking Trump's new blog
The account was taken down after tweeting posts identical to former President Donald Trump's messages on the blog.
Just got a robocall from Devin Nunes that immediately ended when I gave it an answer it didn't like; I'm betting it would have asked more than 1 question otherwise. A BS farmer would know how to cherry-pick.
It asked if I thought Big Tech was unfairly censoring conservatives. Strangely enough, I live in Illinois, not California, so I am wondering how this call got to me. Also, telling the robot to "f#$k off" got me added to its do not call list, so, bonus. This means the robot gets told this often enough that it was programmed on how to respond.
PS: The answer I gave that ended the call was "no"; I told it to "f#$k off" when it started urging me to donate to lil Devin, who it described as one of Trump's most loyal followers.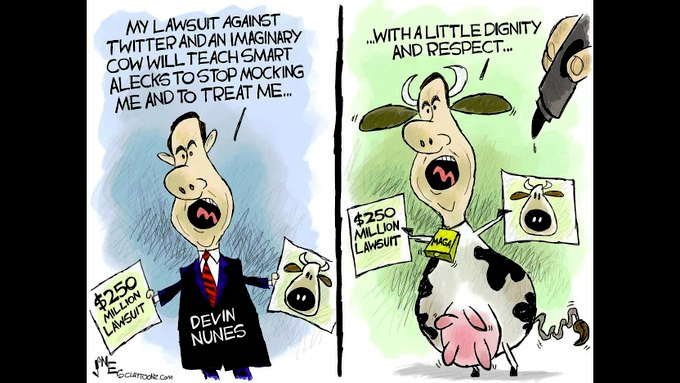 Dark…very dark. Think Sen. Graham - he is the joke.