Judge blocks administration from implementing 'public charge' rule for immigrants during pandemic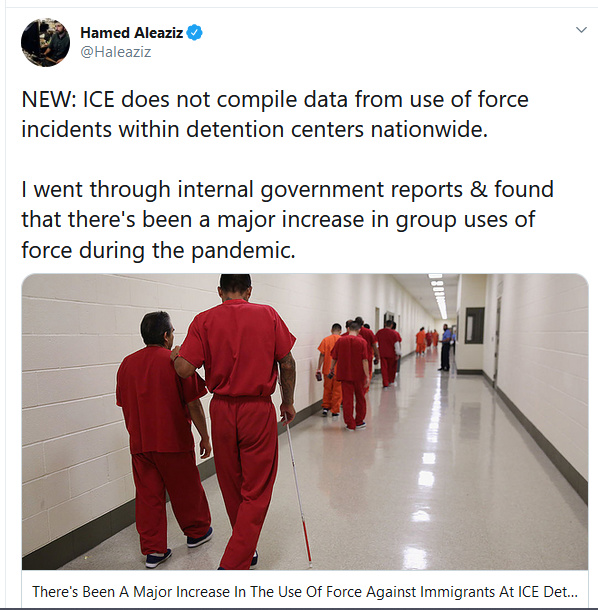 There's Been A Major Increase In The Use Of Force Against Immigrants At ICE Detention Centers During The Pandemic
"We are numbers to them. We are not people."
Jail guards pepper-sprayed the unit as immigrants lay down on the ground, screaming and coughing. The officers shot pepper ball rounds that ricocheted off jail tables, broken pieces striking a detainee's eye. Fumes lingered in the air and made it hard for the detainees to breathe.

Immigrants who spoke with BuzzFeed News described the scene at the Adelanto ICE Processing Facility in Southern California on June 12 when private prison guards contracted by Immigration and Customs Enforcement pepper-sprayed and shot pepper balls against more than 150 detainees following a protest. Four detainees were taken to the hospital afterward.

Alejandro Ramirez said he and fellow immigrants were protesting rolling lockdowns of the jail in advance of a planned demonstration outside the facility by refusing the guards' orders to return to their cells. In the weeks prior, demonstrators had broken a window and injured an Adelanto employee, according to the Victorville Press.

As a result of their protest, the detainees were pepper-sprayed. Another immigrant who spoke with BuzzFeed News said he saw multiple detainees pass out. A Los Angeles Times report described a detainee having a seizure, and another being hit by rubber bullets "as he told them he had leukemia."

One of the pepper balls used struck a table, Ramirez said, and a broken piece cut his eye.

Ramirez told BuzzFeed News in July he couldn't see out of one of his eyes for three days.

"We are numbers to them," he said. "We are not people. They are not going to listen to us. They are going to follow their rules. There is nothing we can do."

He was later deported to Mexico.

The force used in Adelanto, which ICE said was needed to "preserve order" after multiple unsuccessful attempts to de-escalate, is the latest in a series of similar incidents since the beginning of the pandemic.

ICE officials do not proactively report these cases unless media outlets request the information, and the agency does not compile data from use-of-force incidents within detention centers nationwide. BuzzFeed News, however, reviewed internal government reports and has found that there has been a substantial increase in uses of force during the coronavirus pandemic.

Since the end of March through the beginning of July, guards at detention centers across the country deployed force — pepper spray, pepper balls, pepper spray grenades — in incidents involving more than 10 immigrants at a time on a dozen occasions, according to a review of internal reports.

In total, more than 600 detainees have been subjected to these group uses of force. Other reports obtained by BuzzFeed News do not list how many detainees were affected. In one event, detention guards pepper-sprayed underneath a door after some detainees protested being isolated due to potential COVID-19 exposure, according to an internal report.

The recent figures stand in contrast to the period before the pandemic. In the six months prior to the health emergency — from September to March — there were two use-of-force incidents against more than 10 detainees, according to a review of the documents BuzzFeed News obtained.

ICE officials acknowledged the recent uptick, which they attributed to disruptive detainees.

"During the pandemic, US Immigration and Customs Enforcement (ICE) has seen more incidents where groups of detainees become confrontational with staff, sometimes acting in ways that are unsafe for the general population," said Danielle Bennett, a spokesperson for the agency. "When such incidents occur, and staff is unable to deescalate the situation through other means, the use of OC spray is permitted and consistent with agency protocols, as described in the detention standards, to preserve order and maintain a safe environment."

Medical experts, however, said the increased use of pepper spray during the pandemic in a closed space was concerning.

"It's a bad idea. Pepper spray is an irritant of the respiratory system and often causes people to cough, and we know that cough increases the spread of virus," said Marc Stern, a public health expert and faculty member at the University of Washington. "It comes with an additional risk that did not exist in pre-COVID times."

Stern said guards should weigh whether using pepper spray could increase the risk of spreading the disease through the use of pepper spray inside the jails.

The incidents often follow a similar pattern, with force being used after detainees refuse commands from guards. Some incidents have been directly tied to the pandemic: detainees protesting conditions, resisting being quarantined, or being moved within the facility. ICE officials say that detainees involved were disruptive, disregarded orders, and in some cases were violent.

Immigrants and their advocates, however, believe the use of force is unjustified and excessive.

"The lack of transparency into these facilities have allowed guards to use force —including pepper spray, rubber bullets, and physical force — with impunity. Since the start of the COVID-19 pandemic, this has only grown worse, due in part to the fear of people in detention as the virus continues to spread in facilities, sickening and killing people," said Eunice Cho, a senior staff attorney at the ACLU.

Laura Rivera, the director of Southern Poverty Law Center's Southeast Immigrant Freedom Initiative, said that detainees are advocating for "freedom" during the pandemic due to fears they will contract the disease in custody.

"In return, ICE routinely retaliates with ruthless force. Clad in riot gear, guards deploy pepper spray, pepper-ball ammunitions, and physical force," she said.

Medical experts and immigrant advocates have warned that the highly contagious disease puts everyone in detention at risk. They've pointed out that detention centers have a lack of necessary space to accommodate proper social distancing guidelines. ICE has countered that the agency has ramped up testing and released many detainees who are medically vulnerable. As of late July, nearly 1,000 detainees had tested positive for COVID-19 and almost 4,000 had gotten the disease in custody.

In one incident, ICE medical officials held a meeting about COVID-19 at a detention center in Louisiana, according to a government document obtained by BuzzFeed News. During the class, a group of detainees began protesting and ignored the guards' orders. Pepper spray was soon used to keep a group of detainees from escaping an area of the jail, the report stated.

In March, Mother Jones reported that an attorney representing a woman in the detention center said that she was told that "the women were coughing, crying, and that some fainted throughout the approximately one hour that they were locked in the room with tear gas."

Later, in May, the Bristol County Sheriff's Office used pepper spray on 25 detainees after they refused to be tested for COVID-19. Sheriff's officials said that the immigrants "rushed violently" at correctional officers and broke windows in the facility. Advocate groups have denied the allegations. The ACLU has since sued to get video footage from the incident.

Rev. Annie Gonzalez Milliken, a minister at the First Parish in Bedford, said she got a call from one detainee the night the incident occurred.

He told her that the sheriff's officials had grabbed him, and that the detainees had been sprayed in the face and in the mouth.

"They want to take us to the other unit to be tested, we don't want to go on the other unit for cross-contamination, we want to be tested, but not moved," she said the detainee told her.

The most recent incident came on July 1 at the Immigration Center of America in Farmville, Virginia, where more than 40 detainees were pepper-sprayed after they refused to return to their cells for a day population count. The detention center's warden said in a federal court filing that the detainees had congregated in the center's day room instead.

"Several officers and supervisors spoke with them and attempted to persuade them to return to their bunks in Dorm 7 on their own," he said in the affidavit filed in federal court as part of a lawsuit filed by Capital Area Immigrants' Rights (CAIR) Coalition over the conditions in center. "After about thirty minutes, I authorized the use of pepper spray. Four of the detainees picked up chairs and used them as weapons against the officers. A total of 11 detainees became violent and are now isolated from the rest of Dorm 7 for disciplinary and safety reasons."

The incident came as the detention center has seen an uptick in COVID-19 cases. As of early July, there were more than 250 detainees with the disease. Advocates have called the situation an "outbreak" and a "human rights crisis."

In June, the detention center received 74 detainees from Arizona and Florida, 51 of whom tested positive for the disease.

"There's no doubt in my mind this egregious use of force had to do with the erupting COVID-19 outbreak that resulted from the ICE transfers. Our clients described feeling scared and sick, not getting adequate food or medical attention, people passing out in the dorms — they were simply trying to get answers and to be treated with dignity and respect," said Sirine Shebaya, head of the National Immigration Project. "Instead, the guards attacked them with pepper spray and escalated a disastrous situation of their own making."
ICE and GEO can't be bothered with little issues like having to quarantine infected immigrants away from healthy ones, so they've adopted Trump's tactic: just don't test at all. No cases then, right?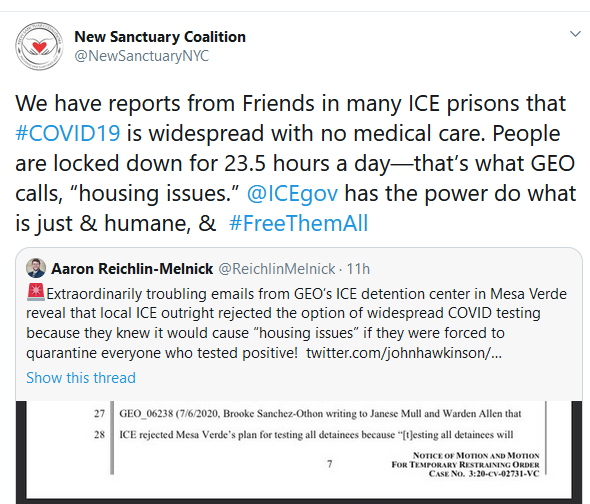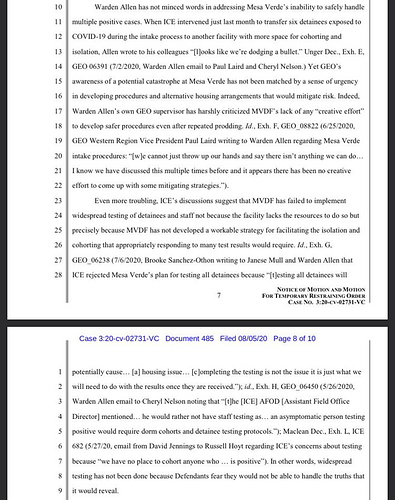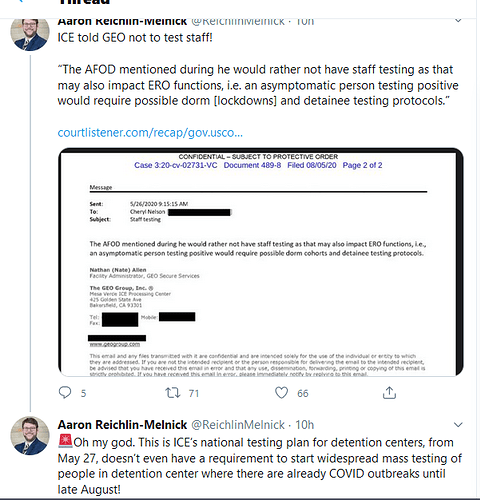 Trump Cabinet officials voted in 2018 White House meeting to separate migrant children, say officials
Miller saw the separation of families not as an unfortunate byproduct but as a tool to deter more immigration. According to three former officials, he had devised plans that would have separated even more children. Miller, with the support of Sessions, advocated for separating all immigrant families, even those going through civil court proceedings, the former officials said.

While zero tolerance ultimately separated nearly 3,000 children from their parents, what Miller proposed would have separated 25,000 more, including those who legally presented themselves at ports of entry seeking asylum, according to Customs and Border Protection data from May and June 2018.
Miller the monster
Cross-posting

The weirdest revelation for me recently is that after learning how she refused to re-instate child separation, refused to use microwave heat rays on immigrants, and other such stands that lead to her eventual removal, we may have misjudged former DHS Sec. Kirstjen Nielsen.
U.S. has expelled 8,800 migrant children under coronavirus rules
The administration implemented new border rules on March 21 that scrapped decades-old practices under laws meant to protect children from human trafficking and offer them a chance to seek asylum in a U.S. immigration court. The administration said the emergency rules were designed to avert coronavirus outbreaks inside migrant holding facilities and among the broader U.S. population.

Since then, U.S. officials have been quickly removing migrants, including unaccompanied minors, without standard immigration proceedings.

this is genocidal policy

'Like an Experimental Concentration Camp': Whistleblower Complaint Alleges Mass Hysterectomies at ICE Detention Center
400,000 Immigrants Can Be Forced to Leave the U.S., Court Rules
A federal appeals court ruled on Monday that the Trump administration acted within its authority in terminating legal protections that have allowed hundreds of thousands of immigrants to live and work legally in the United States, sometimes for decades, after fleeing conflict or natural disasters in their home countries.

The 2-1 ruling by the United States Court of Appeals for the Ninth Circuit effectively strips legal immigration status from some 400,000 people, rendering them deportable if they do not voluntarily leave the country. The decision affects the overwhelming majority of beneficiaries of a program offering what is known as "temporary protected status," which has permitted them to remain in the United States after being uprooted from their unstable homelands.

The Trump administration has argued that the emergency conditions that existed when people were invited to come to the United States — earthquakes, hurricanes, civil war — had occurred long ago. The program, it said, had inadvertently conferred permanent immigration status for people from places like El Salvador, Haiti and Sudan, most of whom it said no longer needed safe haven.

The long-awaited decision does not immediately end the protections. The Trump administration has agreed to maintain them until at least March 5, 2021, for people from five of the affected countries and until November 2021 for people from El Salvador.

If President Trump is not re-elected, a new administration could choose to maintain the program.
ICE Is the New Face of America's Legacy of Forced Sterilization
"What would it mean to give consent to be sterilized in a prison or detention center?"
'At least 17 to 18 women' in ICE detention abused by doctor: Jayapal
Read: Jayapal Statement on New Details Regarding Forced Unnecessary Medical Procedures—Including Hysterectomies—Being Performed on At Least 17 Immigrant Women in Irwin County, Georgia
SEATTLE — United States Representative Pramila Jayapal (WA-07) issued the following statement this morning about new details she has learned regarding forced unnecessary medical procedures—including hysterectomies—being performed on at least 17 immigrant women in Irwin County, Ga.:

"Late yesterday, I was briefed by three attorneys representing women who were detained at the Irwin County Detention Center in Ocilla, Ga. and subjected to forced, invasive procedures by a gynecologist connected with the private, for-profit detention center. It has become painfully clear to me that the initial reports brought to light on Monday by whistleblower Dawn Wooten and Project South are likely part of a pattern of conduct.

"Since the initial story broke, I understand that there are at least five independent attorneys representing women who have found themselves to be part of this horrific pattern, subjected to unnecessary forced sterilization or medical procedures over the last several years. It appears that there may be at minimum 17 to 18 women who were subjected to unnecessary medical gynecological procedures from just this one doctor, often without appropriate consent or knowledge, and with the clear intention of sterilization. Because the majority of immigrants are pro se (unrepresented), it is also possible that there are additional similar cases for individuals who have already been deported or did not have legal representation.

"My conversations with attorneys were stunning and represent the most abhorrent of human rights violations. One woman, Pauline, who was nearly deported this morning, consulted the doctor simply about her menstrual cycle. She was put under for what she was told would be a simple procedure, only to wake up and find that the doctor had removed part of her reproductive organs without her knowledge or consent. Another woman, already deported, apparently went in to see the doctor for a simple condition related to diabetes and ended up having gynecological surgery. Two additional women apparently were shackled to the bed, reported to have had surgical procedures, including one apparent hysterectomy, without any consent.

"I am horrified and outraged to hear these stories, which contain may consistencies and raise serious questions about not only this particular doctor but about the entire detention system—largely for-profit—that is complicit in the abuses of rights and has long run roughshod over and ignored neglected the health, wellbeing and human rights of immigrants.

"Earlier today, I led 172 of my House colleagues in calling for an immediate and full Congressional investigation to get to the bottom of this situation. That requires that Pauline and other women immediately receive a stay of their deportations so that they can participate in this investigation. Similarly, ICE must immediately ensure that any person who may have been subjected to forced medical procedures immediately be assured the ability to remain in the United States so that we can follow all the facts and get to the bottom of these horrific allegations.

"Additionally, this investigation must go well beyond Irwin County. Medical abuses, including poor obstetric care, in ICE custody have been documented for years. Forced sterilization, particularly of women of color, has a long and sordid history in America. To have it occurring in 2020 is beyond unacceptable. Every woman—and man—should be absolutely outraged and immediately call for justice. Everyone—regardless of their immigration status, their language, or whether they are incarcerated—deserves to control their own reproductive choices and make informed choices about their bodies."
Trump's blatant racism was on display in Minnesota, where he claimed to crowds that Biden would turn the state into a "refugee camp" and bragged about deporting Somali nationals in one of the states with the largest Somali-born populations.
Trump at Minnesota rally: Biden will turn state into a 'refugee camp'
"I'm your wall between the American dream and chaos," the president said.
President Donald Trump said his Democratic rival Joe Biden would "turn Minnesota into a refugee camp" and bragged about deporting Somali nationals, sharpening his play for the battleground state during a Friday rally.

"I'm your wall between the American dream and chaos," Trump said.

Speaking in Bemidji, Minn., Trump repeated claims that Biden would dramatically increase the number of refugees in the country. He lauded the deportation of a number of Somali nationals, speaking in a state with one of the largest ethnic Somali populations in the country.

"These hardened criminals are back in their country where they can do all the complaining they want," Trump said. "And your families are safer for it."

The Trump administration has made stonewalling admissions for refugees a cornerstone of its immigration policy.

Seeking to draw a contrast with Biden, Trump said the Democratic nominee would open the doors for refugees from "jihadist regions" like Yemen and Somalia. He also derided Rep. Ilhan Omar (D-Minn.), who came to the United States as a child refugee from Somalia, calling her an "extremist."

Trump last year called for Omar and a number of other high-profile progressive congresswomen to "go back" to "the totally broken and crime infested places from which they came." Supporters also chanted "send her back" during a Trump rally last year — a line that has become a rallying cry among his base.

"Omar, how the hell did she win the election," Trump said Friday.

Trump also directly echoed his law-and-order message in the town a couple of hours to the north of Minneapolis, which was a nexus of protests early this summer after George Floyd was killed by a white police officer. Trump has since derided the protests as violent uprisings, urging federal forces to restore order.

"They're still trying to get rid of your police force in Minneapolis?" Trump said to a jeering crowd. "See they never learn."

Trump has rebranded his rallies as "peaceful protests", mocking municipalities that have allowed protesters to gather in spite of social distancing requirements and crowd-size limits due to the coronavirus pandemic. During his Friday talk, attendees were closely packed together, many not wearing masks.

Conspicuously absent from his address was any mention of Supreme Court Justice Ruth Bader Ginsburg, whose death was announced during his rally. Trump bragged during the speech that he didn't look at the teleprompter when speaking at rallies, and no aides interrupted him on stage.

Just before boarding Air Force One after his rally, Trump said: "She just died? I didn't know that. She led an amazing life, what else can you say?"

Recent polling has shown Biden pulling ahead in Minnesota, but Trump said Friday that what he's read about the area made him confident he was in good standing.

"There's no way that I'm nine points down," Trump said. "This is not the crowd of somebody's who's going to finish second in this state to sleepy Joe."

Trump's appearance comes on the heels of Biden's own trip to the battleground state. The former vice president toured a training center in a suburb of Duluth and uncorked a speech aimed at union members and blue-collar workers in the state.

"Like a lot of you, I spent a lot of my life with guys like Donald Trump looking down on me; looking down on people who make a living with their hands, people who take care of our kids [or] clean our streets," Biden said. "These are the guys who always thought they were better than me, better than us, because they had a lot of money."

Biden also picked up on the "Scranton vs. Park Avenue" theme his campaign has raised in recent days, including at a televised town hall Thursday near the former vice president's birthplace in Pennsylvania. Biden again tore into comments Trump made earlier this week to journalist George Stephanopoulos that "stocks are owned by everybody" as part of a defense of his stewardship of the economy during the pandemic.

"What the hell's he talking about?" Biden said. "People I grew up with in Scranton, Claymont, [Del.], they don't have money in stocks. Every penny we made was to pay the bills and take care of the families, put clothes on the back and a roof overhead."

Shortly before taking the lectern at his Bemidji rally, Trump mocked Biden's "Scranton vs. Park Avenue" line, repeating his common attack as Biden an internationalist who will bend to China's will.

"Joe Biden says this is a race between Scranton and Park Avenue," Trump tweeted. "This is a race between Scranton and China. Joe Biden betrayed Scranton, and America, to China and foreign countries. I will always put America First!"
Trump tells supporters Biden will flood Minnesota with "an influx of refugees"
President Trump on Friday night warned his crowd in Bemidji, Minnesota, that former Vice President Joe Biden would flood the state with refugees from the world's most dangerous countries. Mr. Trump made the remarks in a state that has a large population of Somali refugees.

"One of the most vital issues in this election is the subject of refugees. You know it, perhaps better than almost anybody," Mr. Trump said before questioning how Minnesota Representative Ilhan Omar won her reelection in August.

"How the hell did she win the election? How did she win? It's unbelievable," he said. "Every family in Minnesota needs to know about Sleepy Joe Biden's extreme plan to flood your state with an influx of refugees from Somalia, from other places all over the planet."

Mr. Trump narrowly lost Minnesota in 2016 and polling shows him trailing Biden. The president was in neighboring Wisconsin on Thursday night where he trumpeted his administration's work on the coronavirus and criticized Biden and his running mate, Senator Kamala Harris.

The president announced billions in aid to Puerto Rico right before the election, claimed 100 million doses of coronavirus vaccines would be available by the end of the year and said he thinks he knows better than his own experts much of the time.

"We've done more for Puerto Rico than anybody," Mr. Trump said of an island he once called "one of the most corrupt places on earth." Mr. Trump for years rejected the idea of additional aid for Puerto Rico.

Asked why he's pushing for the aid package now, so close to the election instead of a year ago, the president replied, "because what we're doing is we've been working on it for a long time."

Many Puerto Ricans live in Florida, where polls show Mr. Trump is toe-to-toe with Biden.
yes…T got royally critiqued by Morning Joe (which he watches) and they said T had alienated and acted poorly with Puerto Rico (correct) and low and behold same day a big financial package goes to PR. Just our impulsive, vote-grubbing maniac President.
Oh yes. I was born in Puerto Rico, so I follow that. Reporters at his last press conference hit him hard on that, and pretty much nobody believes the timing is coincidence; it's a blatant attempt to buy votes.

ICE Hysterectomy Doctor Wasn't Even a Board-Certified OB-GYN
On Friday, a spokesperson for the American Board of Obstetrics and Gynecology told The Daily Beast that its records show Amin is not certified by the organization. A spokesperson for the American Board of Medical Specialties, the leading organization for physician board certification in the U.S., said Amin was not certified by any of the 24 ABMS member boards.

Azadeh Shahshahani, an attorney with one of the immigrant rights groups that filed the complaint, said it was "outrageous" that ICE would send detainees to a doctor who had not passed this quality control.

"It shows the lack of care that ICE feels for detained immigrants, for their wellbeing and healthcare," said Shahshahani, the legal and advocacy director for Project South. "It's really disturbing."
ICE Forced Sterilizations Claim Revives America's Sick Eugenics Tradition
The procedures a detainee says are being performed now are of a piece with states' not-so-long ago efforts to sterilize people of color as supposed "morons" and "sex delinquents."
Not long after defenders of Donald Trump's anti-immigration agenda pilloried U.S. Representative Alexandria Ocasio-Cortez for calling Immigration and Customs Enforcement (ICE) prisons "concentration camps on our southern border," an ICE detainee in Georgia is alleging cruel and horrific medical neglect, including forced sterilizations performed by a gynecologist dubbed "the uterus collector."

"When I met all these women who had had surgeries, I thought this was like an experimental concentration camp," the detainee is quoted as saying in a whistleblower complaint, noting that between October and December 2019, she met five different women at the prison who had been given non-consensual hysterectomies. "It was like they're experimenting with our bodies."

The Third Reich's experiments in sterilization, conducted at the Auschwitz and Ravensbrück camps, and ultimately including more 400,000 children and adult victims, looms larger than any other in the world's historical memory. But Germany's eugenics sterilization project—a program of mass genocide—should be recognized as an example of applied learning rooted in lessons taken from the United States, the original world-renowned leader in compulsory sterilization.

"I have studied with interest the laws of several American states concerning prevention of reproduction by people whose progeny would, in all probability, be of no value or be injurious to the racial stock," Hitler reportedly told a Nazi colleague. "I'm sure that occasionally mistakes do occur as a result. But the possibility of excess and error is still no proof of the incorrectness of these laws."

America's sterilization laws, accepted by the Supreme Court, variously targeted Black, Native, Latina, and Puerto Rican women for over a century as more than 60,000 people were forcibly sterilized under legislation originally and broadly dedicated to the eradication of "feeblemindedness," but which ultimately served as a means to racial extermination.

The world's first compulsory sterilization legislation, passed in 1907, was enacted in Indiana, followed in 1909 by the "Asexualization Act" in California. Those two laws heavily informed The Third Reich's 1933 "Law for the Prevention of Offspring with Hereditary Diseases."

California would ultimately perform one-third of all U.S. mandatory sterilizations, more than any other state. Latina women, mostly those of Mexican descent, were sterilized at 59 percent higher rates than non-Latinas. Researchers Nicole L. Novak and Natalie Lira reviewed medical records that showed "doctors who performed sterilizations would label Latinas as "sex delinquents" whose "sterilizations were described as necessary to protect the state from increased crime, poverty and racial degeneracy."

The program was officially terminated under the law in 1979, but unwanted sterilizations would continued to be performed in California, with an estimated 1,400 incarcerated women subjected to unwanted and illegal hysterectomies between 1997 and 2013 by "doctors under contract with the California Department of Corrections and Rehabilitation." The eugenicist reasoning for these human rights violations remained the same as ever, based in social control and the "breeding out" of defective traits. Survivors of the program "maintain that prison medical staff coerced the women, targeting those deemed likely to return to prison in the future."

Between 1929 and 1973, North Carolina forcibly sterilized nearly 7,600 people, a majority of them Black women. (From 1950 to 1966, the sterilization rate for Black women was more than three times that of white women, and over 12 times that of white men.) The state has the dubious distinction of maintaining the only eugenics program where social workers were allowed to file petitions—with a 95 percent approval rate—recommending their clients for hysterectomies. Nonconsensual sterilization of Black women was so common in North Carolina and across the South that it was called a "Mississippi appendectomy," because, as one historian states, doctors "would tell women they needed to get their appendix out, but then sterilize them."

Justifications for forced sterilizations in North Carolina records cited in recent record reviews include a 21-year-old mother of six who showed "no effort to curb her sexual desires and is very promiscuous with numerous suitors"; a 32-year-old childless woman described as "oversexed"; a 1947 note that reads, "she wears men's clothing all [the] time." The youngest person targeted by the state's program was a mere 9 years old. Rutgers historian Johanna Schoen writes that "more than one-third of those sterilized were not even of legal age to buy a drink or vote, let alone give consent to their sterilization."

North Carolina is often cited for its reproductive abuses of Black women because, along with Virginia, it recognized and paid survivors of its forced sterilization program under the 2015 Eugenics Compensation Act. But these violations of Black women's health and bodily autonomy took place across the South. Civil rights icon Fannie Lou Hamer was forcibly sterilized in Mississippi's Sunflower County hospital after checking-in for minor surgery to remove a uterine tumor in 1961.

"In the North Sunflower County Hospital, I would say about six out of the 10 Negro women that go to the hospital are sterilized with the tubes tied," Hamer testified in 1965.

Black women weren't the only targets of these programs. Though the numbers aren't fully clear because of poor record keeping, a 2010 study found that "as many as 25 to 50 percent of Native American women in America were sterilized between 1970 and 1976." Many of those women were coerced into procedures by medical staff working for the Indian Health Service. Between the passage of its forced sterilization law in 1937 and the '70s, roughly one-third of all women of child bearing age in Puerto Rico were forcibly sterilized under a program instituted by federal and local Puerto Rican officials.

These programs heaped systemic violence upon Black and other nonwhite women, demonstrating the U.S.'s consistent violation of reproductive rights in service of racist ends. The ICE project–a literal crime against humanity according to the International Criminal Court at The Hague–is America reapplying itself to an undertaking of aspirational whiteness. It is a continuance of efforts to eradicate perceived assaults on and threats to white supremacy by an administration, led nominally by Donald Trump along with white nationalist Stephen Miller, that has made its intentions clear.

"If you are sterilizing someone," says University of Southern California Historian William Deverell, "you are saying, if not to them directly, 'Your possible progeny are unassimilable, and we choose not to deal with that.'"
'We Need to Take Away Children,' No Matter How Young, Justice Dept. Officials Said
Top department officials were "a driving force" behind President Trump's child separation policy, a draft investigation report said.
Jeff Sessions and Rod Rosenstein were driving forces behind this.
The five U.S. attorneys along the border with Mexico, including three appointed by President Trump, recoiled in May 2018 against an order to prosecute all illegal immigrants even if it meant separating children from their parents. They told top Justice Department officials they were "deeply concerned" about the children's welfare.

But the attorney general at the time, Jeff Sessions, made it clear what Mr. Trump wanted on a conference call later that afternoon, according to a two-year inquiry by the Justice Department's inspector general into Mr. Trump's "zero tolerance" family separation policy.

"We need to take away children," Mr. Sessions told the prosecutors, according to participants' notes. One added in shorthand: "If care about kids, don't bring them in. Won't give amnesty to people with kids."

Rod J. Rosenstein, then the deputy attorney general, went even further in a second call about a week later, telling the five prosecutors that it did not matter how young the children were. He said that government lawyers should not have refused to prosecute two cases simply because the children were barely more than infants.

"Those two cases should not have been declined," John Bash, the departing U.S. attorney in western Texas, wrote to his staff immediately after the call. Mr. Rosenstein "instructed that, per the A.G.'s policy, we should NOT be categorically declining immigration prosecutions of adults in family units because of the age of a child."

The Justice Department's top officials were "a driving force" behind the policy that spurred the separation of thousands of families, many of them fleeing violence in Central America and seeking asylum in the United States, before Mr. Trump abandoned it amid global outrage, according to a draft report of the results of the investigation by Michael E. Horowitz, the department's inspector general.

The separation of migrant children from their parents, sometimes for months, was at the heart of the Trump administration's assault on immigration. But the fierce backlash when the administration struggled to reunite the children turned it into one of the biggest policy debacles of the president's term.

Though Mr. Sessions sought to distance himself from the policy, allowing Mr. Trump and Homeland Security Department officials to largely be blamed, he and other top law enforcement officials understood that "zero tolerance" meant that migrant families would be separated and wanted that to happen because they believed it would deter future illegal immigration, Mr. Horowitz wrote.

"The department's single-minded focus on increasing prosecutions came at the expense of careful and effective implementation of the policy, especially with regard to prosecution of family-unit adults and the resulting child separations," the draft report said.

The draft report, citing more than 45 interviews with key officials, emails and other documents, provides the most complete look at the discussions inside the Justice Department as the family separation policy was developed, pushed and ultimately carried out with little concern for children.

This article is based on a review of the 86-page draft report and interviews with three government officials who read it in recent months and described its conclusions and many of the details in it. The officials, who spoke on the condition of anonymity because they had not been authorized to discuss it publicly, cautioned that the final report could change.

Before publishing the findings of its investigations, the inspector general's office typically provides draft copies to Justice Department leaders and others mentioned in the reports to ensure that they are accurate.

Mr. Horowitz had been preparing to release his report since late summer, according to a person familiar with the investigation, though the process allowing for responses from current and former department officials whose conduct is under scrutiny is likely to delay its release until after the presidential election.

Mr. Sessions refused to be interviewed, the report noted. Mr. Rosenstein, who is now a lawyer in private practice, defended himself in his interview with investigators in response to questioning about his role, according to two of the officials. Mr. Rosenstein's former office submitted a 64-page response to the report.

"If any United States attorney ever charged a defendant they did not personally believe warranted prosecution, they violated their oath of office," Mr. Rosenstein said in a statement. "I never ordered anyone to prosecute a case."

Gene Hamilton, a top lawyer and ally of Stephen Miller, the architect of the president's assault on immigration, argued in a 32-page response that Justice Department officials merely took direction from the president. Mr. Hamilton cited an April 3, 2018, meeting with Mr. Sessions; the homeland security secretary at the time, Kirstjen Nielsen; and others in which the president "ranted" and was on "a tirade," demanding as many prosecutions as possible.

Mr. Hamilton declined to comment for this article, as did Mr. Horowitz's office. Mr. Sessions did not respond to requests for comment. Alexa Vance, a spokeswoman for the Justice Department, disputed the draft report and said the Homeland Security Department referred cases for prosecution.

"The draft report relied on for this article contains numerous factual errors and inaccuracies," she said. "While D.O.J. is responsible for the prosecutions of defendants, it had no role in tracking or providing custodial care to the children of defendants. Finally, both the timing and misleading content of this leak raise troubling questions about the motivations of those responsible for it."

The draft report also documented other revelations that had not previously been known:

Government prosecutors reacted with alarm at the separation of children from their parents during a secret 2017 pilot program along the Mexican border in Texas. "We have now heard of us taking breastfeeding defendant moms away from their infants," one government prosecutor wrote to his superiors. "I did not believe this until I looked at the duty log."

Border Patrol officers missed serious felony cases because they were stretched too thin by the zero-tolerance policy requiring them to detain and prosecute all of the misdemeanor illegal entry cases. One Texas prosecutor warned top Justice Department officials in 2018 that "sex offenders were released" as a result.

Senior Justice Department officials viewed the welfare of the children as the responsibility of other agencies and their duty as tracking the parents. "I just don't see that as a D.O.J. equity," Mr. Rosenstein told the inspector general.

The failure to inform the U.S. Marshals Service before announcing the zero-tolerance policy led to serious overcrowding and budget overruns. The marshals were forced to cut back on serving warrants in other cases, saying that "when you take away manpower, you can't make a safe arrest."

For two years, Ms. Nielsen has taken the brunt of the public criticism for separating migrant families because of her decision to refer adults crossing the border illegally with children for prosecution. A day after the president's retreat, Mr. Sessions distanced his department from the decision, telling CBN News that "we never really intended" to separate children.

That was false, according to the draft report. It made clear that from the policy's earliest days in a five-month test along the border in Texas, Justice Department officials understood — and encouraged — the separation of children as an expected part of the desire to prosecute all illegal border crossers.

"It is the hope that this separation will act as a deterrent to parents bringing their children into the harsh circumstances that are present when trying to enter the United States illegally," a Border Patrol official wrote on Oct. 28, 2017, to the U.S. attorney in New Mexico, according to the draft report.

After the pilot program in Texas ended, the report asserted, Mr. Sessions, Mr. Hamilton and Mr. Rosenstein pushed aggressively to expand the practice across the entire southwestern border, with help from prosecutors.

In a briefing two days after Christmas in 2017, top Justice Department officials asked Mr. Bash for statistics from the pilot program, conducted by his predecessor, that could be used to develop "nationwide prosecution guidelines." Mr. Bash, a former White House adviser, did not receive a follow-up request for the information. Thinking that the idea had been abandoned, he did not provide it.

By April 2018, Mr. Sessions nevertheless moved to enact the zero-tolerance policy across the entire border with Mexico. Mr. Rosenstein told the inspector general that Mr. Sessions "understood what the consequences were."

"The A.G.'s goal," he said, "was to create a more effective deterrent so that everybody would believe that they had a risk of being prosecuted."

But the Justice Department still needed to persuade Ms. Nielsen to refer all families for prosecution, which she had been resisting. The draft report says a pressure campaign culminated in a May 3 meeting in which Mr. Sessions insisted that Customs and Border Protection begin referring all of those cases to prosecutors.

A note from Mr. Hamilton to Mr. Sessions before the meeting indicated: "You should lead this discussion."

"We must vigorously enforce our criminal immigration laws to ensure that there are consequences for illegal actions and to deter future illegal immigration," Mr. Sessions planned to say, according to the draft report. "That means that an illegal alien should not get a free pass just because he or she crosses the border illegally with a child."

When the group voted by a show of hands to proceed, Ms. Nielsen was the only one who kept her hand down, according to two people familiar with the vote, which was reported earlier by NBC News. The next day, Ms. Nielsen backed down, signing a memo referring all adults for prosecution and clearing the way for the children to be separated.

The decision roiled the prosecutors along the border. In Arizona, Elizabeth Strange, the acting U.S. attorney, led a minor rebellion, temporarily declining six cases, citing concern about the children. That prompted a rebuke from top Justice Department officials, who demanded to know "why would they be declining these cases?"

Justice Department officials have repeatedly claimed that they thought the adults would be prosecuted and reunited with their children within hours of being separated. But the inspector general found a memo informing top officials that sentences for adults ranged from three to 14 days, making it all but certain that children would be sent to the custody of officials at the Health and Human Services Department for long periods of time.

"We found no evidence, before or after receipt of the memorandum, that D.O.J. leaders sought to expedite the process for completing sentencing in order to facilitate reunification of separated families," the inspector general wrote.

Over all, Mr. Horowitz concluded in the draft, Mr. Sessions and other senior department officials "were aware that full implementation of the zero-tolerance policy would result in criminal referrals by D.H.S. of adults who enter the country illegally with children and that the prosecution of these family-unit adults would result in children being separated from families."