Twitter takes down screenshots of internal tools allegedly behind hacking spree
The social network is dealing with a massive security flaw that's allowed scammers to take over accounts belonging to prominent users.
Well, this is wild.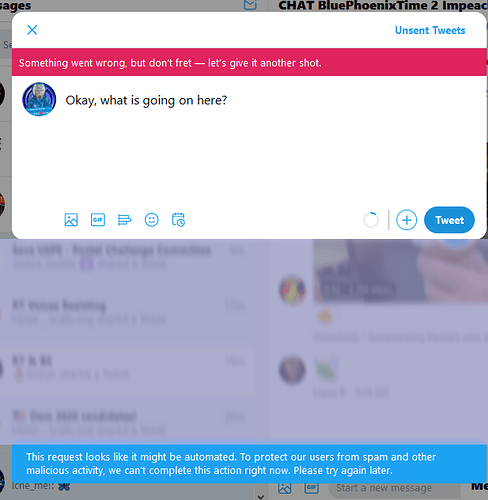 That's me right now.
I can like, re-tweet, DM, but if I try to say anything publicly in a tweet or re-tweet with comment or reply, I suddenly get that.
It's been suggested they're working to fix the back end and blocks of people are getting that now.
EDIT: Fixed now. I can tweet again. Still don't know why I couldn't for a bit. That hasn't happened in a very long time, and there was always some sort of warning before. Weird.
UK says Russia sought to interfere in 2019 election by spreading documents online
British foreign secretary says Russia amplified an illicitly acquired NHS dossier on social media
A post was merged into an existing topic:

Recommended reading for the resistance (books)




Warning, graphic details of sexual violence in the following article
Ex-Fox Anchor Ed Henry Accused of Rape in Lawsuit
Weeks after Fox News fired Ed Henry over a workplace sexual misconduct allegation, a woman has filed a federal lawsuit accusing the former top anchor of having violently raped her years ago.

Jennifer Eckhart, a former associate producer at Fox Business, claims the network knew about the allegation since 2017, only terminating Henry recently to get ahead of Monday's lawsuit.

[…]

Cathy Areu, who appeared as a guest on the network, joined the lawsuit with sexual harassment allegations at Fox's top personalities Sean Hannity, Tucker Carlson and Howard Kurtz.
Misogyny kills, feminism isn't just about voting and working. Misogyny is actually killing us.
Wayfair conspiracy theorists are overwhelming the National Human Trafficking Hotline
Polaris, a non-profit that runs the National Human Trafficking Hotline, said in a press release on Tuesday that "the extreme volume of these contacts has made it more difficult for the Trafficking Hotline to provide support and attention to others who are in need of help."

Polaris said that the reports included no information "beyond what has been widely shared online. Nor have any of these reports been made by someone who has a specific connection to any alleged missing children."

[…]

In the press release, Polaris acknowledged that the hundreds of reports about Wayfair appeared to come from genuine concern, but asked that everyone "learn more about what human trafficking really looks like in most situations, and about how you can help fight trafficking in your own community."
Read the full press release from Polaris

Overwhelming a legit Sex Trafficking victims hotline because of some crazy shit these people read on the internet and decided to believe. This interferes with the real victims who try to call and can't get through.
Every player from the Nationals to the Yankees took a knee tonight before the game.
Wow is right.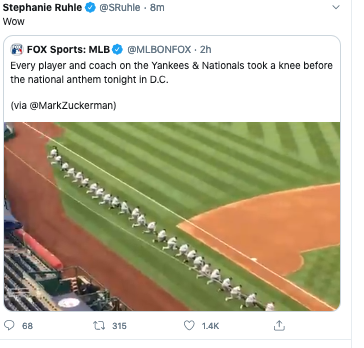 Video

Melania is having another Marie Antoinette moment.
Melania Trump Will Revamp White House Rose Garden
The first lady's renovation of the garden, a signature showcase of power used by presidents for decades, is taking place as her husband enters a crucial stretch of his re-election effort.
There aren't enough roses or renovations in the world to cover up the stench of this regime.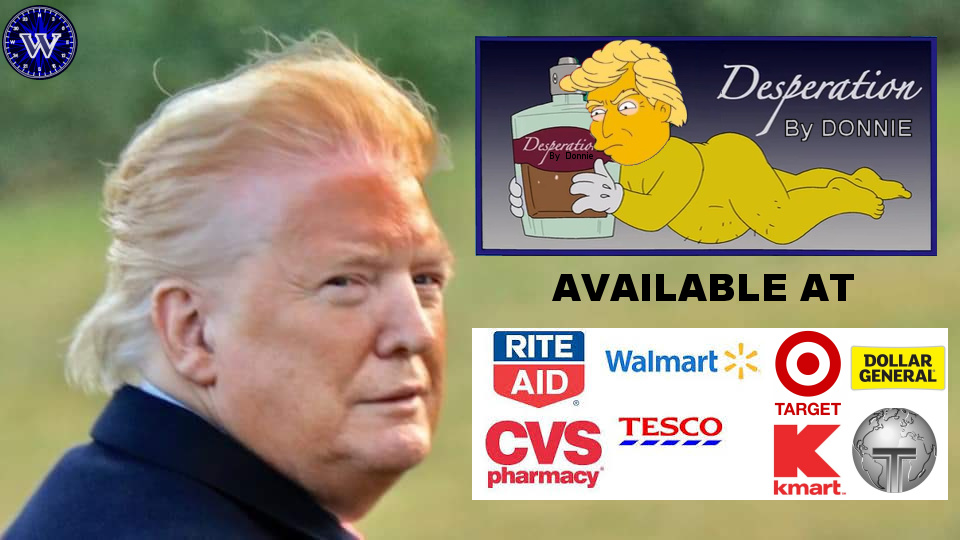 I agree on believing when I see it. And will it cover all types of insulin? And also the test strips? Pretty sure my type 1 son spends as much on the strips as he does on the insulin.
The Kodak inside trading scandal is blowing up.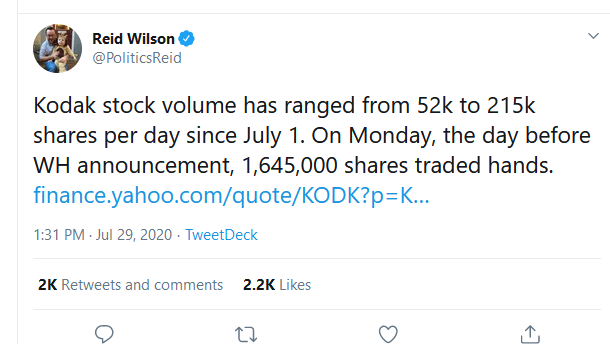 https://finance.yahoo.com/quote/KODK?p=KODK&.tsrc=fin-srch

Personal note: my cousin's sister-in-law belonged to this group, Turning Point USA, they're like super-MAGA, I had to unfollow her on Twitter because her posts were so intentionally triggering. This group is kinda weird. She's one of those popular "citizen journalists" with a decent following now, did a tour on Fox News about a seattle story, I watched her content go from normal catholic school girl to full on MAGA troll. Strange world, when I first met her she seemed like just nice normal teenage girl.

Was researching whether Sen Mitch McConnell's ex-wife was going to write a book on him, and I could not find too much, except that it was written in this Jane Mayer article Trump's Enabler - New Yorker that she was.
I excerpted some passages which highlight the huge power that McConnell has secured and how he is tied through thick and thin with T. He will not go up against T - but in little small ways we might hear him say that he supports masks, as a PR effort.
His daughters do not support him and one is an outspoken progressive.
It talks about what Mitch was ever after…does he have any big thoughts about governing - no he is about power, keeping power, and getting money rewarded and secured.
I am posting @MissJava mention of this article and I have taken the liberty to list it again. Mitch is up for re-election, and it looks like the polls fluxuate with Amy McGrath v. McConnell.

Excerpts
John David Dyche, a lawyer in Louisville and until recently a conservative columnist, enjoyed unmatched access to McConnell and his papers, and published an admiring biography of him in 2009. In March, though, Dyche posted a Twitter thread that caused a lot of talk in the state's political circles. He wrote that McConnell "of course realizes that Trump is a hideous human being & utterly unfit to be president," and that, in standing by Trump anyway, he has shown that he has "no ideology except his own political power." Dyche declined to comment for this article, but, after the coronavirus shut down most of America, he announced that he was contributing to McConnell's opponent, Amy McGrath, and tweeted, "Those who stick with the hideous, incompetent demagogue endanger the country & will be remembered in history as shameful cowards."

McConnell also appears to have lost the political support of his three daughters. The youngest, Porter, is a progressive activist who is the campaign director for Take On Wall Street, a coalition of labor unions and nonprofit groups which advocates against the "predatory economic power" of "banks and billionaires." One of its targets has been Stephen Schwarzman, the chairman and C.E.O. of the Blackstone Group, who, according to the Center for Responsive Politics, has, since 2016, donated nearly thirty million dollars to campaigns and super PAC s aligned with McConnell. Last year, Take On Wall Street condemned Blackstone's "detrimental behavior" and argued that the company's campaign donations "cast a pall on candidates' ethics."

Porter McConnell has also publicly criticized the Senate's confirmation of Justice Kavanaugh, which her father considers one of his greatest achievements. On Twitter, she accused Kavanaugh's supporters of misogyny, and retweeted a post from StandWithBlaseyFord, a Web site supporting Christine Blasey Ford, one of Kavanaugh's accusers. The husband of McConnell's middle daughter, Claire, has also criticized Kavanaugh online, and McConnell's eldest daughter, Eleanor, is a registered Democrat.

All three daughters declined to comment, as did their mother, Sherrill Redmon, whom McConnell divorced in 1980. After the marriage ended, Redmon, who holds a Ph.D. in American history, left Kentucky and took over a women's-history archive at Smith College, in Massachusetts, where she collaborated with Gloria Steinem on the Voices of Feminism Oral History Project. In an e-mail, Steinem told me that Redmon rarely spoke about McConnell, and noted, "Despite Sherrill's devotion to recording all of women's lives, she didn't talk about the earlier part of her own." Steinem's understanding was that McConnell's political views had once been different. "I can only imagine how painful it must be to marry and have children with a democratic Jekyll and see him turn into a corrupt and authoritarian Hyde," she wrote. (Redmon is evidently working on a tell-all memoir.)

…

For months, I searched for the larger principles or sense of purpose that animates McConnell. I travelled twice to Kentucky, observed him at a Trump rally in Lexington, and watched him preside over the impeachment trial in Washington. I interviewed dozens of people, some of whom love him and some of whom despise him. I read his autobiography, his speeches, and what others have written about him. Finally, someone who knows him very well told me, "Give up. You can look and look for something more in him, but it isn't there. I wish I could tell you that there is some secret thing that he really believes in, but he doesn't."

…

McConnell was born in Alabama in 1942, and grew up in the segregated Deep South. He spent much of his childhood in Georgia before moving with his family to Louisville, Kentucky, just before his high-school years. His mother, the daughter of Alabama subsistence farmers, was a secretary in Birmingham when she met McConnell's father, a mid-level corporate manager who had grown up in a more prosperous family but had dropped out of college. McConnell, in his autobiography, describes his mother's wedding dowry as little more than "an apple corer and a can opener." But his parents, he writes, gave him a comfortable middle-class childhood and "instilled me with a deep-seated belief in equal and civil rights, which, given their own upbringing in the Deep South, was quite extraordinary." He quotes a moving letter from his father celebrating the passage of the 1964 Civil Rights Act, and writes that he, too, supported the legislation. That year, McConnell even voted for Lyndon Johnson for President.

McConnell's book does not mention that his father, who worked in the human-resources department at DuPont, was deposed by lawyers for the N.A.A.C.P. Legal Defense and Educational Fund in a historic racial-discrimination case. Kerry Scanlon, one of the lawyers, told me, "The leadership at that plant seemed to define racism. There was a plantation system in which the black employees did the hardest jobs, like working in front of these open fires where they got burned—and they got the worst pay. There was a systemic pattern of racism." After years of litigation, the company settled the case, for fourteen million dollars.

McConnell writes that the formative experience of his early life was contracting polio at the age of two, ten years before Jonas Salk developed his vaccine. McConnell's father was away, having joined the military after the start of the Second World War, and so for the next two years his mother, largely alone, confined him to bed except for a painful daily regimen of exercises. His first memory is of his mother's purchase of a pair of saddle shoes that allowed him to look like other kids once the doctors finally allowed him to walk. He emerged unimpaired, other than having a weak left leg. He credits the experience, and his mother's determination, with giving him the focus and drive that have propelled him throughout his career. Beating polio, he writes, was the first in a lifetime pursuit of hard-fought "wins." In recent weeks, as McConnell has contended with the coronavirus challenge, he has said that it brings back "this eerie feeling" of "fear that every mother had" during a polio epidemic.
An only child, McConnell remained close to his mother, who shared his flinty personality. He also remained devoted to the idea that grit and preparation could beat even the longest odds. He keeps on his office wall a framed copy of a quotation often attributed to Calvin Coolidge, which begins, "Nothing in the world can take the place of Persistence." (Some people who knew of this found it ironic when, in 2017, in the Senate, he criticized Elizabeth Warren for refusing to yield the floor, complaining, "She persisted.")

…

According to Keith Runyon, McConnell was focussed on his political survival from the moment he arrived in Washington. He recalls that, the morning after McConnell was first sworn in to the Senate, McConnell told him that he would be moving to the right from then on, to keep getting reëlected. McConnell has denied saying so, but Runyon told me, "He is a flat-out liar." Another acquaintance who has known McConnell for years said that, "to the extent that he's conversational, he wore his ambition to become Majority Leader on his sleeve."

McConnell envied better-known colleagues who were chased down the corridors by news reporters. He wanted to be like them, he later told Carl Hulse, a Times correspondent, who interviewed McConnell for his book "Confirmation Bias," about fights over Supreme Court nominees. The way McConnell ended up making his name was decidedly unglamorous: blocking campaign-finance reform. Even he derided the subject as rivalling "static cling as an issue most Americans care about." Dull as campaign financing was, it was vitally important to his peers, and to democracy. Few members wanted to risk appearing corrupt, and so they were grateful to McConnell for fighting one reform after the next—while claiming that it was purely about defending the First Amendment. According to MacGillis, behind closed doors McConnell admitted to his Senate colleagues that undoing the reforms was "in the best interest of Republicans." Armed with funding from such billionaire conservatives as the DeVos family, McConnell helped take the quest to kill restraints on spending all the way to the Supreme Court. In 2010, his side won: the Citizens United decision opened the way for corporations, big donors, and secretive nonprofits to pour unlimited and often untraceable cash into elections.

"McConnell loves money, and abhors any controls on it," Fred Wertheimer, the president of Democracy 21, a group that supports campaign-finance reform, said. "Money is the central theme of his career. And, if you want to control Congress, the best way is to control the money."

…

Under McConnell's leadership, as the Washington Post's Paul Kane wrote recently, the chamber that calls itself the world's greatest deliberative body has become, "by almost every measure," the "least deliberative in the modern era." In 2019, it voted on legislation only a hundred and eight times. In 1999, by contrast, the Senate had three hundred and fifty such votes, and helped pass a hundred and seventy new laws. At the end of 2019, more than two hundred and seventy-five bills, passed by the House of Representatives with bipartisan support, were sitting dormant on McConnell's desk. Among them are bills mandating background checks on gun purchasers and lowering the cost of prescription drugs—ideas that are overwhelmingly popular with the public. But McConnell, currently the top recipient of Senate campaign contributions from the pharmaceutical industry, has denounced efforts to lower drug costs as "socialist price controls."

Longtime lawmakers in both parties say that the Senate is broken. In February, seventy former senators signed a bipartisan letter decrying the institution for not "fulfilling its constitutional duties." Dick Durbin, of Illinois, who has been in the Senate for twenty-four years and is now the second-in-command in the Democratic leadership, told me that, under McConnell, "the Senate has deteriorated to the point where there is no debate whatsoever—he's dismantled the Senate brick by brick." McConnell was the Minority Leader from 2006 to 2014. After Barack Obama was elected in 2008, McConnell used the filibuster to block a record number of bills and nominations supported by the Administration. As Majority Leader, he has control over the chamber's schedule, and he keeps bills and nominations he opposes from even coming up for consideration. "He's the traffic cop, and you can't get through the intersection without him," Durbin said.

Norman Ornstein, a political scientist specializing in congressional matters at the conservative-leaning American Enterprise Institute, told me that he has known every Senate Majority Leader in the past fifty years, and that McConnell "will go down in history as one of the most significant people in destroying the fundamentals of our constitutional democracy." He continued, "There isn't anyone remotely close. There's nobody as corrupt, in terms of violating the norms of government."

…

McConnell has pointed to his obstruction of Garland with pride, saying, "The most important decision I've made in my political career was the decision not to do something." Many believe that, in 2016, the open Court seat motivated evangelical voters to overlook their doubts about Trump, providing the crucial bloc that won him the Presidency.

But McConnell's predecessor as Majority Leader, the retired Democratic senator Harry Reid, of Nevada, accuses McConnell of destroying norms that fostered comity and consensus, such as the restrained use of filibusters. Although the two leaders had at first managed to be friendly, bonding over their shared support for Washington's baseball team, the Nationals, they became bitter antagonists during the Obama Administration. "Mitch and the Republicans are doing all they can to make the Senate irrelevant," Reid told me. "We've watched them stand mute no matter what Trump does. They have lost their souls. From a policy perspective, it's awful. It's hurt the Senate and damaged the country."