Here comes another book on Sept 29th from lead prosecutor Andrew Weissmann in the Mueller investigation which will explain and describe in 'meticulous' detail how the investigation went and admissions where it went wrong.
NEW YORK (AP) — A top prosecutor for special counsel Robert Mueller has a book coming out this fall about the two-year investigation into the alleged ties between Russia and the 2016 campaign of President Donald Trump.

Random House announced Monday that Andrew Weissmann's "Where Law Ends: Inside the Mueller Investigation" will be published Sept. 29. Weissmann, often the target of criticism from Trump supporters, is calling the book a meticulous account of the Mueller team's probe and its ongoing battles with the Trump administration.

"I felt it was necessary to record this episode in our history, as seen and experienced by an insider," he said in a statement. "This is the story of our investigation into how our democracy was attacked by Russia and how those who condoned and ignored that assault undermined our ability to uncover the truth. My obligation as a prosecutor was to follow the facts where they led, using all available tools and undeterred by the onslaught of the president's unique powers to undermine our work.

"I am deeply proud of the work we did and of the unprecedented number of people we indicted and convicted — and in record speed. But the hard truth is that we made mistakes. We could have done more. 'Where Law Ends' documents the choices we made, good and bad, for all to see and judge and learn from."

Weissmann, who worked as an FBI general counsel under Mueller, gained prominence as a prosecutor investigating organized crime in New York City and for his leadership of a task force looking into the Enron scandal. He has a reputation for being aggressive and experienced, and skilled in developing cooperating witnesses. Under Mueller, Weissmann led the case against former Trump campaign manager Paul Manafort, who pleaded guilty to conspiracy charges in 2018.
The Mueller Report, released in April 2019, found no criminal conspiracy between the Trump campaign and Russia to tip the outcome of the 2016 presidential election in Trump's favor. But it also did not reach a conclusion on whether the president had obstructed justice. The investigation did lead to more than 30 indictments, including Manafort, former Trump lawyer Michael Cohen and longtime Trump friend Roger Stone, whose sentence for seven felony crimes was commuted last week by the president.
When Mary Trump goes on TV, easy bet that the President will be watching and will probably go ape-shit on Twitter. It's like his whole MO. It seems like he lives for this media attention, attack and slander. Even his own family.
Yes…we will need to buckle up. Super erratic behavior ahead.
Humiliation and non-adoration are gonna be a beastly mix for him.

Standing by…for his belly flop into the outer reaches.

ADDING this video 7.16.20
Full 1 hour video with Mary Trump and George Stephanopoulos (click on ABC look for Mary Trump Exclusive interview)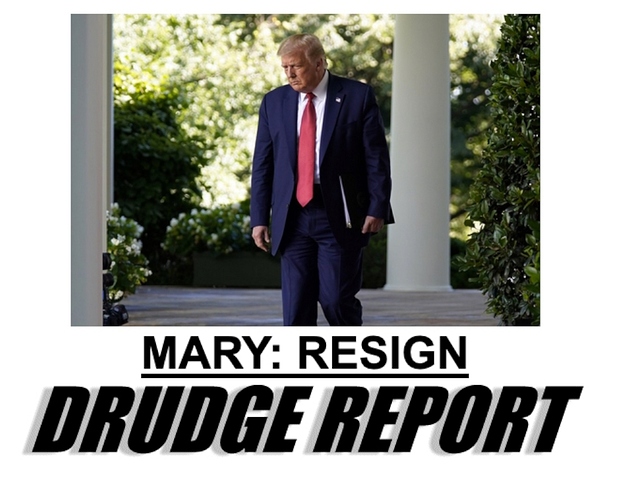 Mary's first cable-news appearance is scheduled for Thursday night, where she will be interviewed by MSNBC's Rachel Maddow likely for the program's full hour.
…
In an extended conversation with NPR on Wednesday, Mary Trump said her grandfather and family patriarch Fred Trump rewarded ruthlessness and dismissed any interests outside of the family real estate business, contributing to what she now views as an unfitness on President Trump's part to hold the office of the White House.

"It's kind of ironic in the sense that the traits my grandfather came to value in Donald were the traits that were a result of my grandfather's maltreatment of Donald," she said. "The bullying, the tendency not to care about other people's feelings, the willingness to cheat, lie to get what he wanted. And eventually … my grandfather started to see a kindred spirit. Somebody who could advance his agenda."

Mary Trump, the president's only niece, describes an abusive and neglectful upbringing suffered by her father and uncles at the hand of Fred Trump, and said she will be supporting her uncle's rival, Joe Biden, in the 2020 election.

A trained psychologist living in New York, she was promoting her highly anticipated new book, Too Much and Never Enough: How My Family Created the World's Most Dangerous Man .

In the book, Mary Trump describes how her grandfather's relentless business ambition was passed down to Donald Trump.

"Honest work was never demanded of him, and no matter how badly he failed, he was rewarded in ways that are almost unfathomable. He continues to be protected from his own disasters in the White House," she writes in the tell-all.

"But now the stakes are far higher than they've ever been before; they are literally life and death. Unlike any previous time in his life, Donald's failings cannot be hidden or ignored because they threaten us all."

The White House has repeatedly dismissed the book as a money grab by the president's niece.

"The president describes the relationship he had with his father as warm and said his father was very good to him," White House spokeswoman Sarah Matthews said earlier this month.

"He said his father was loving and not at all hard on him as a child. Also, the absurd SAT allegation is completely false," Matthews said, referring to a claim in the book that the president cheated on the SAT by paying someone else to take the exam on his behalf.
The book is selling faster than any of these tell - alls.
Now in its 14th printing…and on it's way to breaking more records.
It is powerful…and she skewers Donald.
Mary Trump's book sells 950,000 on first day, sets publisher's record"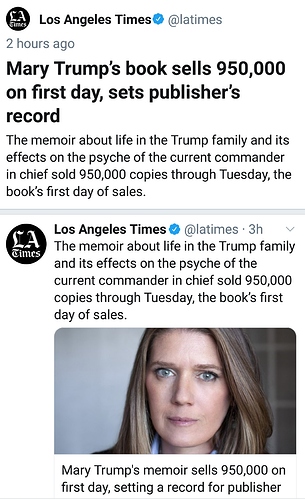 https://twitter.com/i/events/1283807624664952833
Mary Trump's book sets first-day sales record for publisher - Los Angeles Times
Can we move to books please?? @MissJava @Pet_Proletariat
Thx!
The Crash of Flight 3804: A Lost Spy, a Daughter's Quest, and the Deadly Politics of the Great Game for Oil 4.8 out of 5 stars ISBN: 978-1-60358-877-5
Chelsea Green, April 2, 2020 $21.00
Due on Sept 8th…from Peter Strzok, the FBI lawyer who has been targeted and ridiculed by T 'n Co…
Strzok has an impressive background in counter intelligence.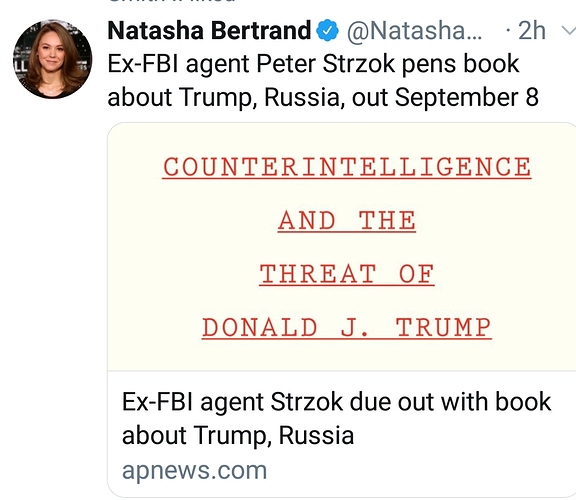 Ex-FBI agent Strzok due out with book about Trump, Russia
Former FBI counterintelligence agent Peter Strzok, who played a key role in the Russia investigation but whose pejorative text messages about Donald Trump during the 2016 campaign made him a target of the president's wrath, is releasing a book on his concerns the president could be compromised.

"Compromised: Counterintelligence and the Threat of Donald J. Trump" is due out Sept. 8, publisher Houghton Mifflin Harcourt Books & Media said in a statement to The Associated Press.

The book will offer an insider's view on some of the most sensational and politically freighted investigations in modern American history, including into whether the 2016 Trump campaign coordinated with Russia to sway the presidential election. Due out two months before the November election, the book adds to the list of first-person accounts from other senior FBI and Justice Department officials during the Trump era.

"Russia has long regarded the United States as its 'Main Enemy,' and I spent decades trying to protect our country from their efforts to weaken and undermine us," Strzok said Tuesday in a statement accompanying the book announcement.
60 Minutes Australia does a 30 min interview with Mary Trump - I am not sure she is doing 60 Minutes in the US, but this one does delve deeply into the personalities…some new pix of them, and a few too many ads…but she's does a great job of describing his failures and his warped personality.
I am watching a lot of her coverage, and she's been on Colbert, Maddow, Mother Jones interview with David Corn, The View, Good Morning America - Stephanopoulis interview, WAPO with Robert Costa and Ashley Parker. And on Wed - 7/29 she will be with Joy Reid, on her new show The Reidout. 4p PST/7p EST.
Book from Jeffrey Toobin of CNN "TRUE CRIMES AND MISDEMEANORS: The Investigation of Donald Trump," due out Aug 4, 2020
Looks into the Mueller investigation and parts are excerpted below saying why Mueller did not go after T's taxes or financial records (leaving this to SDNY) and also because it would have been harder to prove intent or motive behind certain actions T took.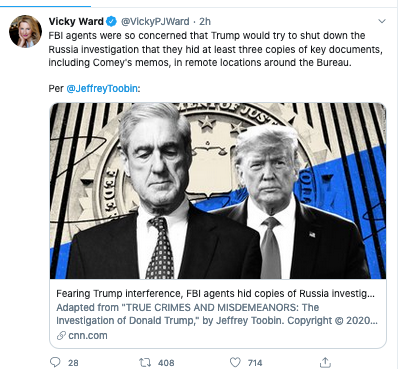 Bob Woodward to publish new book on T to come out Sept 15th, called RAGE.

Bob Woodward's second book on the Trump White House has a title, Rage, and promises to reveal the secrets of "25 personal letters exchanged between [Donald] Trump and North Korean leader Kim Jong-un that have not been public before".

In the letters, according to details from Simon & Schuster published on the book's Amazon page on Wednesday night, "Kim describes the bond between the two leaders as out of a 'fantasy film', as the two leaders engage in an extraordinary diplomatic minuet".

Rage, the sequel to Fear, is due out on 15 September, its cover showing Trump's face in extreme close-up.

Simon & Schuster promised "an unprecedented and intimate tour de force of original reporting on the Trump presidency … with stunning new details about early national security decisions and operations and Trump's moves as he faces a global pandemic, economic disaster and racial unrest".

Woodward, 77 and a veteran Washington Post reporter, made his name with Carl Bernstein in the early 1970s by exposing the Watergate scandal, which brought down Richard Nixon.
This is an excerpt from the book by Michael Cohen, Disloyal.
This tidbit alone says it all.
Trump had colluded with the Russians, but not in the sophisticated ways imagined by his detractors
President Trump's former fixer Michael Cohen on Thursday released the cover and a 3,700-word foreword from his upcoming tell-all book, "Disloyal."

Why it matters: Cohen, who pleaded guilty to lying to Congress on Trump's behalf and is currently carrying out a three-year prison sentence in home confinement, was at the center of Trump's inner circle for over a decade. A judge ruled last month that the Justice Department's efforts to send him back to prison after he was released due to coronavirus concerns was retaliation for his book.

Key excerpts:

"To half of Americans, it seemed like Trump was effectively a Russian-controlled fraud who had lied and cheated his way to the White House; to the other half of Americans, to Trump's supporters, the entire Russian scandal was a witch hunt invented by Democrats still unable to accept the fact that Hillary Clinton had lost fair and square in the most surprising upset in the history of American presidential elections."
""Both sides were wrong. I knew that the reality was much more complicated and dangerous. Trump had colluded with the Russians, but not in the sophisticated ways imagined by his detractors. I also knew that the Mueller investigation was not a witch-hunt. Trump had cheated in the election, with Russian connivance, as you will discover in these pages, because doing anything—and I mean anything —to "win" has always been his business model and way of life."
"There are reasons why there has never been an intimate portrait of Donald Trump, the man. In part, it's because he has a million acquaintances, pals and hangers on, but no real friends. He has no one he trusts to keep his secrets. For ten years, he certainly had me, and I was always there for him, and look what happened to me."
"From golden showers in a sex club in Vegas, to tax fraud, to deals with corrupt officials from the former Soviet Union, to catch and kill conspiracies to silence Trump's clandestine lovers, I wasn't just a witness to the president's rise—I was an active and eager participant."

The bottom line , Cohen writes: "One last thing I can say with great confidence, as you turn the page and meet the real real Donald Trump for the first time: This is a book the President of the United States does not want you to read."
Another new book comes out Tuesday Sept 1 (Disloyal - Michael Cohen is out 9/1/20 as well)
And Kelly is being the stalwart one, not taking an oath of loyalty.
Countless examples of how mismanaged T is.
Here are some revelations from Axios
1 big thing: Trump offered FBI director job to Kelly, asked for loyalty

The day after President Trump fired FBI boss James Comey, the president phoned John Kelly, who was then secretary for the Department of Homeland Security, and offered him Comey's job, the New York Times' Pulitzer Prize-winning reporter Michael Schmidt reports in his forthcoming book, "Donald Trump v. The United States."

Driving the news: "But the president added something else — if he became FBI director, Trump told him, Kelly needed to be loyal to him, and only him."

"Kelly immediately realized the problem with Trump's request for loyalty, and he pushed back on the president's demand," Schmidt writes.
"Kelly said that he would be loyal to the Constitution and the rule of law, but he refused to pledge his loyalty to Trump."

Why it matters: This previously unreported conversation sheds additional light on the president's mindset when he fired Comey. Special counsel Robert Mueller never learned of this information because the president's lawyers limited the scope of his team's two-hour interview with Kelly.

" In addition to illustrating how Trump viewed the role and independence of senior officials who work for him, the president's demand for loyalty tracked with Comey's experience with Trump," Schmidt writes.

Behind the scenes: Schmidt reports that "throughout Kelly's time working directly with Trump, Kelly was repeatedly struck by how Trump failed to understand how those who worked for him — like Kelly and other top former generals — had interest in being loyal not to him, but to the institutions of American democracy."

"Kelly has told others that Trump wanted to behave like an authoritarian and repeatedly had to be restrained and told what he could and could not legally do."
"Aside from questions of the law, Kelly has told others that one of the most difficult tasks he faced with Trump was trying to stop him from pulling out of NATO — a move that Trump has repeatedly threatened but never made good on, which would have been a seismic breach of American alliances and an extraordinary gift to Putin."

Quote of the book: "Kelly has said that having to say no to Trump was like 'French kissing a chainsaw.'"

Another revelation: Schmidt reports that Mueller's prosecutors made near real-time requests to McGahn's lawyer, Bill Burck, to find out what the president was telling the White House counsel in their private conversations.

In a summary of the reporting, Schmidt tells me, "This was a highly invasive tactic. Mueller's team wanted to know whether Trump had a role in the firing of the acting FBI director Andrew McCabe and whether Trump was saying anything about prosecuting Comey."
"Trump was indeed discussing prosecuting Clinton and Comey, and McGahn had written a memo to Trump detailing why he should not be pressing the Justice Department for such a prosecution."

My thought bubble: This kind of activity from Mueller's team was far more invasive, in terms of information-gathering from the president's inner circle, than any investigating that happened on the 2016 campaign.

The White House, Kelly and McGahn did not respond to requests for comment.
ADDING 8.31.20
– INSIDE THE RUSSIAN COLLUSION BRIEFINGS: "The American intelligence community watched these hacks but completely misunderstood them. They perceived them as part of intelligence-gathering operations. All the Russians were doing, the FBI and intelligence community concluded, was looking to learn what was going on behind the scenes. They had no clue that the true intentions were to weaponize the information. By the summer of 2016, the American intelligence community had little to no intelligence that the Russians had launched a disinformation campaign on the United States through fake social media posts and that they planned to deploy the stolen emails. In a classified briefing about Russia, Senate Majority Leader Mitch McConnell fell asleep." Team McConnell denies this.

– MCGAHN STAYED, ANTICIPATING KENNEDY'S RETIREMENT: "Mueller's office was now receiving contemporaneous information about Trump's obstructive acts. Mueller's team wondered, if Trump was doing this with McGahn – someone whom he had encouraged to cooperate – what else was the president doing to interfere with the investigation? Trump continued to complain to aides about McGahn and his refusal to correct the story on the attempt to fire Mueller. But the president largely left McGahn alone, and McGahn avoided Trump, which was a nice respite for McGahn.

"[William] Burck told McGahn that he needed to start putting the pieces in place to resign. McGahn, Burck argued, needed to be out of the White House by the time the report came out, because Trump was not going to like what he saw in it. But McGahn had mixed feelings about leaving. Yes, he was sick of Trump and all the chaos—and while he had a high threshold for pain, he could only take so much. But he had concerns about what Trump would do without him there. Who knew who would follow him as White House counsel? Was it really outside the realm of possibility that Trump could hire someone akin to Michael Cohen to succeed him? No, it was not. Who would be there to say no, to protect Trump from himself and the country from Trump? McGahn trusted [John] Kelly and thought he would serve as a firewall, but he did not want to leave him to do it alone.

"On a deeper level, though, McGahn knew that his chief mission in the White House – stacking the courts – had not been completed. And as someone who closely watched the Supreme Court, McGahn knew there could be a huge reason to stay: another open Supreme Court seat. Justice Anthony M. Kennedy had served on the court for thirty years. McGahn had built a close relationship with him during his time in the White House, with Kennedy often weighing in on possible nominations for judgeships in lower courts. Kennedy had said nothing to McGahn about leaving, but McGahn's sense was that his time was near. So the possibility of Kennedy's open seat gave him a reason to stay."
The Inside Story of the Mueller Probe's Mistakes
In a new book, Andrew Weissmann, one of Special Counsel Robert Mueller's top deputies, lays out the limits and letdowns of the years-long Russia investigation.
Team M also came close to establishing a conspiracy between the Trump campaign and the Russian government. On August 2, 2016, Manafort dined in New York City with Konstantin Kilimnik, a Ukrainian-born business associate with ties to Russian intelligence and oligarchs. Manafort, a lavishly compensated hired gun for some of the oligarchs, had been sharing campaign strategy with Kilimnik, including sensitive polling data. Over dinner, Manafort described Trump's strategy in four battleground states; Kilimnik in turn presented for Trump's approval a Russian "peace plan" that would amount to the annexation of eastern Ukraine. Last month's Senate report, going further than Team M, named Kilimnik as an actual Russian intelligence officer and revealed his likely connection to the 2016 election-interference operations. "This is what collusion looks like," the committee's Democratic members wrote in an appendix.

In the absence of a discoverable deal between the Trump campaign and Russian assets, the number and flagrancy of contacts and the readiness of Trump and his advisers to lie about them have been too easily minimized. As Weissmann observes in Where Law Ends : "The hope of uncovering something even greater distorted the perception of what was actually brought to light." Weissmann and his colleagues were thwarted by chance—Manafort's No. 2, Rick Gates, arrived late for the dinner with Kilimnik and was subsequently unable to tell investigators all that was discussed. They were hamstrung by Mueller's decision not to look into Trump's financial dealings with Russia, which might have established a source of Russian leverage over Trump, but which the president had declared a red line not to be crossed. And they were frustrated by perjury—for Manafort never stopped lying to Team M. His lies were encouraged by the president, who made sympathetic noises about Manafort with the suggestion that stonewalling might earn him a pardon. Trump's pardon power was an obstacle that the prosecutors didn't anticipate and could never overcome. It kept them from being able to push uncooperative targets as hard as in an ordinary criminal case.

The Special Counsel's Office also worked under the constant threat that Trump would fire Mueller, as Richard Nixon had fired Archibald Cox, the first Watergate special prosecutor, in the Saturday Night Massacre. Trump tried several times to get rid of Mueller, but he was stopped by his underlings, who knew that it would lead to legal and political disaster. Still, the threat never went away, and in the end, it served the president's interests well: "The specter of our being shut down exerted a kind of destabilizing pull on our decision-making process." Where Law Ends describes numerous instances, large and small, when Mueller declined to pursue an aggressive course for fear of the reaction at the White House. For example, the special counsel shied away from subpoenaing Don Trump Jr. to testify about his notorious June 2016 meeting in Trump Tower with a Russian lawyer offering dirt on Hillary Clinton. Ivanka Trump, who didn't attend the meeting but talked with participants afterward in the lobby, and later discussed with her father how to conceal details from the press, was never even asked to speak with Mueller's investigators: They "feared that hauling her in for an interview would play badly to the already antagonistic right-wing press— Look how they're roughing up the president's daughter —and risk enraging Trump, provoking him to shut down the Special Counsel's Office once and for all."
'White House, Inc.' Author: Trump's Businesses Offer 'A Million Potential Conflicts'
Alexander's new book, White House, Inc.: How Donald Trump Turned the Presidency into a Business, examines Trump's sprawling business interests — including resorts, office buildings, licensing ventures and more. He says Trump owns more than 100 different business entities, which create "a million potential conflicts" for the president.