Colorado to strip its police force of qualified immunity: Countless officers discussing resigning.
Eric Trump refers to racial justice protesters as 'animals' in rally speech
MAGAs are pushing fake outrage over people wanting to take down the statue of Teddy Roosevelt in front of the Museum of National History in Manhattan.
THIS would be the reason why, rather than anything specific about Teddy himself:

In fact, they have a whole exhibit ABOUT the controversial and problematic nature of the statue: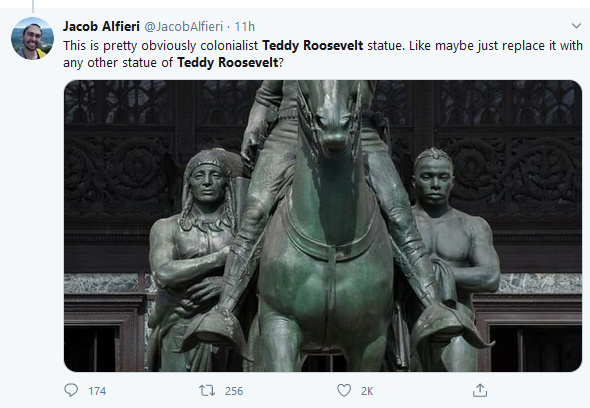 Roosevelt Statue to Be Removed From Museum of Natural History
The equestrian memorial to Theodore Roosevelt has long prompted objections as a symbol of colonialism and racism.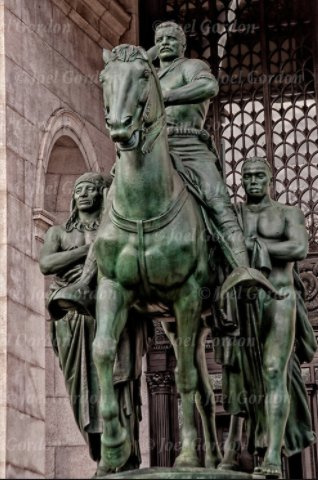 The statue, by the by, was originally made to symbolize racial unity and equality, but nobody looking at it now would see or feel that. It's time is definitely past.''
Someone hung the photos of 6 Black victims of violence by nooses from a tree in Milwaukee
The photos included Breonna Taylor, Eric Garner, Botham Jean, Ahmaud Arbery, Michael Brown and Trayvon Martin.
Protesters are trying to tear down the statue of Andrew Jackson in DC.




https://www.ajc.com/news/state--regional-govt--politics/today-the-finest-georgia-legislature-approves-hate-crimes-bill/qgyUSzdZ33F9mdCRD9umVK/
For the US Crisis thread, which is currently overloaded so I can't post more there (have been adding to the last post I made):
'State-sanctioned violence': US police fail to meet basic human rights standards
Report finds not one police department in the 20 largest American cities are compliant with international rights laws
Video in second post: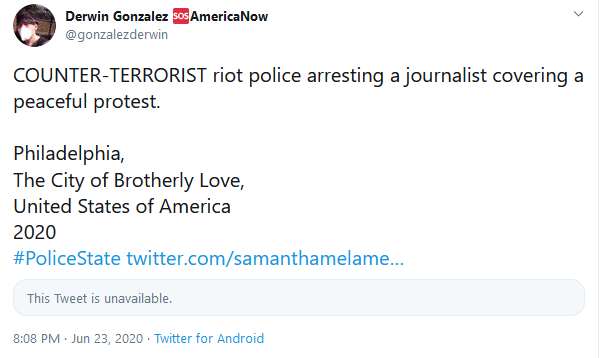 Crowds gathered in Charleston, South Carolina, to celebrate the removal of a statue of slavery advocate and former Vice President John C. Calhoun from the city's Marion Square
Crews Begin Removal Of John C. Calhoun Statue In South Carolina
Take that…a Black Lives Matter street painted sign due to be created outside Trump Tower courtesy of Mayor de Blasio
New York City appears set to receive a "Black Lives Matter" street mural outside Trump Tower in midtown Manhattan, according to a statement from Mayor Bill de Blasio's (D) office.

"The president is a disgrace to the values we cherish in New York City. He can't run or deny the reality we are facing, and any time he wants to set foot in the place he claims is his hometown, he should be reminded Black Lives Matter," Julia Arredondo, the mayor's spokeswoman, said Wednesday, the New York Daily News reported.

The statement will be painted along Fifth Avenue between 56th and 57th streets in front of President Trump's notable Manhattan building sometime before July 4.
A NZ connection to this story "The Chicks" were a very popular duo here in the 60's. Now the name lives on.

Grammy-winning country group The Dixie Chicks have dropped the word Dixie from their name, now going by The Chicks.

The band's social media accounts and website were changed on Thursday to the refer to the new name for the band, which is made up of Martie Maguire, Natalie Maines and Emily Strayer. The band also recognised that the name was already in use by a band in New Zealand.

"A sincere and heartfelt thank you goes out to 'The Chicks' of NZ for their gracious gesture in allowing us to share their name. We are honoured to co-exist together in the world with these exceptionally talented sisters," the band said in a statement.
https://www.nzherald.co.nz/entertainment/news/article.cfm?c_id=1501119&objectid=12343176
OMFG! MISSISSIPPI IS CHANGING ITS RACIST FLAG!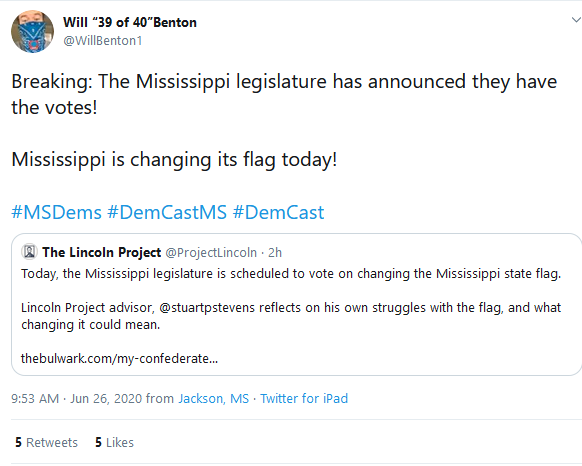 Mississippi appears to have enough votes to change state flag, senior lawmaker says
A senior Mississippi state lawmaker said enough votes appear to be in place to remove the flag's Confederate emblem, with a vote possible on Friday.
Powerful Op-Ed
You Want a Confederate Monument? My Body Is a Confederate Monument
You cannot dismiss me as someone who doesn't understand. You cannot say it wasn't my family members who fought and died. My blackness does not put me on the other side of anything. It puts me squarely at the heart of the debate. I don't just come from the South. I come from Confederates. I've got rebel-gray blue blood coursing my veins. My great-grandfather Will was raised with the knowledge that Edmund Pettus was his father. Pettus, the storied Confederate general, the grand dragon of the Ku Klux Klan, the man for whom Selma's Bloody Sunday Bridge is named. So I am not an outsider who makes these demands. I am a great-great-granddaughter.
—
I think about this often.
My mother's side of the family came in through the north.
My father's came in through the south.
I don't know all of the branches, though I know many, and going far back.
I know that on my father's side, my direct ancestors, from whom I have my surname, owned other human beings.
I know the names of these ancestors. I know where they did it. I know the plantation they owned still stands as a museum, having been taken from them after the Civil War (and I am glad it was taken).
I know there are African-Americans who share my surname.
I know my surname is so rare that it is almost certain we are related either by blood or because my ancestors owned theirs. Or both.
I am friends with some of them on Facebook, because my father reached out to people with our last name before his sudden death in 2013.
I know that I spend every day striving to ensure that my ancestors, who enslaved others, are rolling over in their damn graves because I eschew everything they stood for. Everything they embraced and perpetuated.
And still it haunts me. Because I am descended from people who owned other people. And I can't change that, as much as I wish I could.
It hurts, to know I am related to people who hurt other people so deeply their scars are still felt generations later.
And that's still a fraction of the pain black Americans feel living in a society that continues to ostracize and oppress them.
We need to do better. We need to be better. For people whose wounds we've never allowed to heal.
Note the part where Barr is doubling down on his accusation of foreign interference without evidence. He is also putting ANTIFA in the same boat as the boogaloos, even though only the latter have been linked to serious violence. This stinks of scapegoating.
AG Barr creates task force focused on 'countering anti-government extremists'
The move comes amid civil unrest demanding racial justice.
Attorney General Bill Barr has directed the creation of a new law enforcement task force that will be focused on "countering anti-government extremists."

In a memo sent around the department Friday, Barr mentions both the antifa movement and the right-wing boogaloo movement as among the groups that the department has sought to disrupt from carrying out coordinated acts of violence around the country this past month.

"The ultimate goal of the task force will be not only to enable prosecutions of extremists who engage in violence, but to understand these groups well enough that we can stop such violence before it occurs and ultimately eliminate it as a threat to public safety and the rule of law," Barr says in the memo.

Barr has assigned U.S. Attorney for New Jersey Craig Carpenito and U.S. Attorney for the Northern District of Texas Erin Nealy Cox with leading the task force, which will also include members from the FBI and other U.S. attorneys offices around the country.

The announcement comes amid civil unrest demanding racial justice in the country, sparked by the killing of George Floyd in May.

Barr said earlier this month that the federal government has evidence that the radical left-wing antifa movement as well as other extremist groups have "hijacked" legitimate protests around the country to incite violence and said certain "foreign actors" are seizing on the unrest to sow discord in the U.S.

In a news conference at the Justice Department alongside other department heads, Barr and FBI Director Chris Wray had both singled out the antifa movement – which President Donald Trump has also blamed for violence – in their opening remarks, though the DOJ has not provided direct evidence of widespread involvement of antifa followers in the violence seen thus far across the country.

The day before, however, the DOJ announced the arrest of three men connected to the far-right boogaloo movement who were allegedly plotting to incite violence at protests in Las Vegas.

Barr has taken a hard line against protesters in the past. He came under fire for the order to push back a protest in front of the White House to make way for President Trump's photo op at St. John's Episcopal Church, though he said law enforcement officers were already moving to push back protesters from a park in front of the White House when he arrived there and he says he did not give a command to disperse the crowd, but he supported the decision.

Barr said that officials on the ground had identified "instigators" who were throwing projectiles and otherwise making the perimeter an unsafe area.

In a wide-ranging podcast interview with Republican Sen. Ted Cruz posted this week, Barr addressed the department's investigations of acts of violence in recent weeks surrounding the protests of the Floyd's death. Barr said the department has "about 500 investigations underway," and still only singled out the antifa movement by name – -- even though no federal indictment has publicly tied the movement to a charged individual.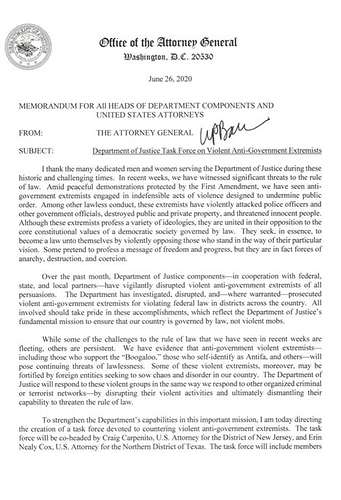 The Flag is coming down…!
Hell.
https://twitter.com/SJPeace/status/1277082346634776577?s=20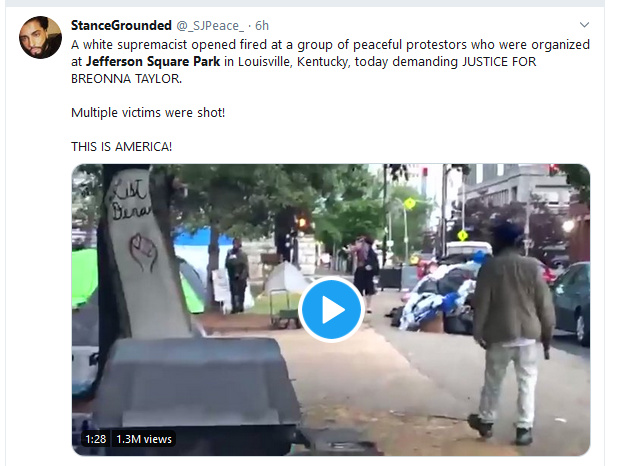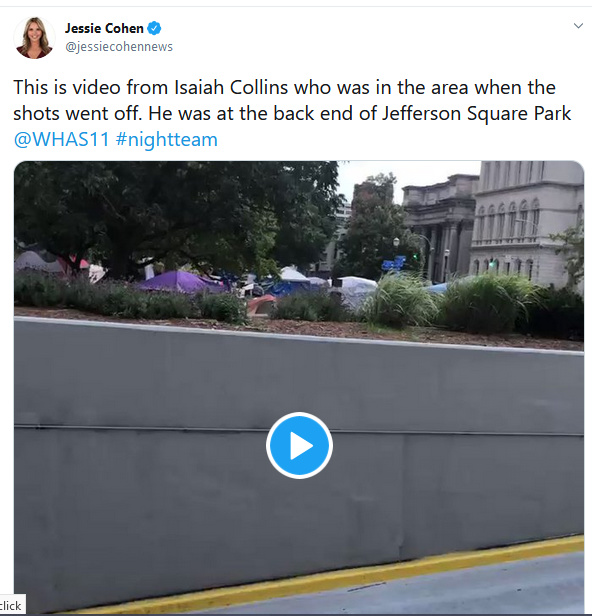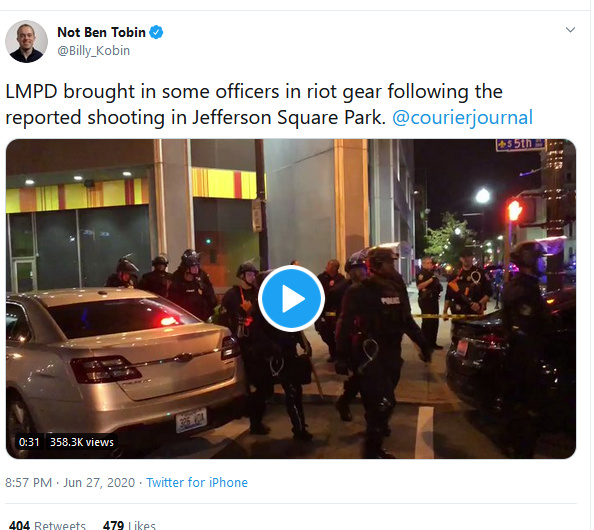 Trump tweets pics of protesters to his base urging them to find and arrest these people.
This won't end well.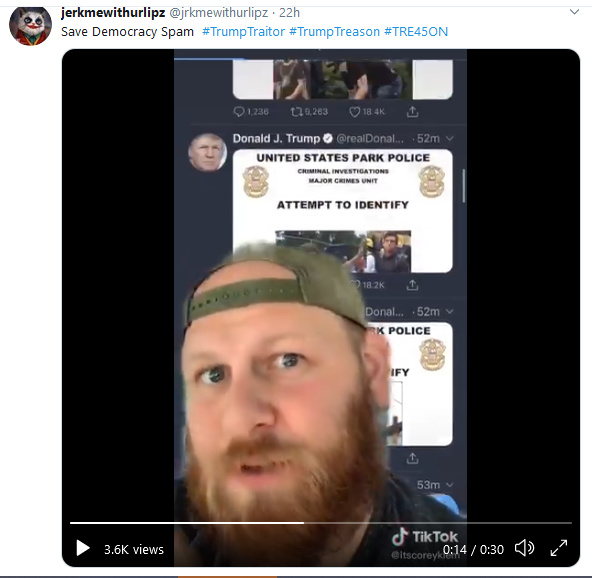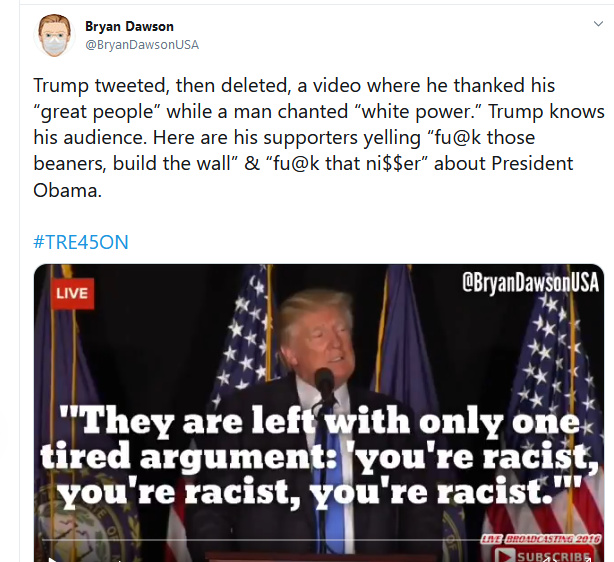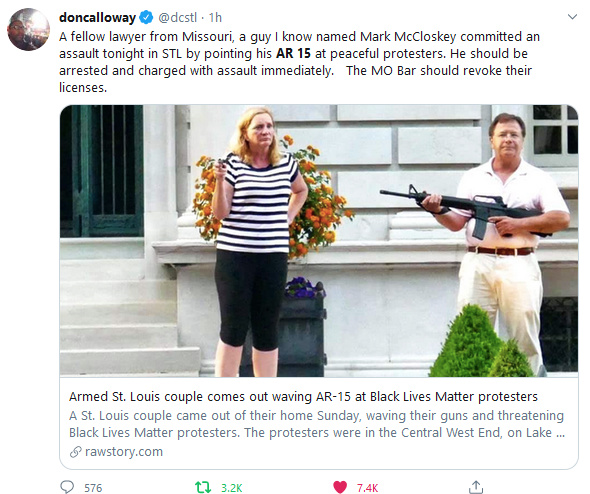 This is very moving piece from the descendants of Frederick Douglass - to mark Fourth of July.
Update on the Seattle protesters who were struck by a car; one has died.
Seattle protest: Two women seriously injured by car
Footage posted on Twitter showed a white car speeding along the highway, before swerving to avoid two stationary vehicles positioned as a roadblock, then hitting the two people.

https://www.youtube.com/watch?v=0jtXAP06qzA

1 Killed, 1 Injured After Vehicle Careens Into Protesters In Seattle
Trump Supporters Who Painted Over 'BLM' Mural Charged with Hate Crime
No one had to march on the mayor's office or home, he and his family was with them.
Protesters in OR are being taken into unmarked vehicles for the past few nights. Sounds like a stealthy plan…and how is it legal?
Federal Law Enforcement Use Unmarked Vehicles To Grab Protesters Off Portland Streets . News | OPB
It had been a calm night compared to most protesting downtown. By 2 a.m. law enforcement hadn't used any tear gas and, with only a few exceptions, both the Portland Police Bureau and federal law enforcement officers had stayed out of sight.

A block west of Chapman Square, Pettibone and O'Shea bumped into a group of people who warned them that people in camouflage were driving around the area in unmarked minivans grabbing people off the street.

"So that was terrifying to hear," Pettibone said.

They had barely made it half a block when an unmarked minivan pulled up in front of them.

"I see guys in camo," O'Shea said. "Four or five of them pop out, open the door and it was just like, 'Oh shit. I don't know who you are or what you want with us.'"

Federal law enforcement officers have been using unmarked vehicles to drive around downtown Portland and detain protesters since at least July 14. Personal accounts and multiple videos posted online show the officers driving up to people, detaining individuals with no explanation of why they are being arrested, and driving off.

The tactic appears to be another escalation in federal force deployed on Portland city streets, as federal officials and President Donald Trump have said they plan to "quell" nightly protests outside the federal courthouse and Multnomah County Justice Center that have lasted for more than six weeks.