One dead, one in critical condition in early morning shooting at Capitol Hill protest zone known as CHOP
https://www.seattletimes.com/seattle-news/crime/one-dead-one-critical-in-early-morning-shooting-at-capitol-hill-protest-zone/
Seattle police homicide and assault detectives are investigating an early morning shooting in the Capitol Hill protest zone known as CHOP that left one person dead and another in critical condition.

Seattle police said a 19-year-old man was pronounced dead at Harborview Medical Center. A second man suffered life-threatening injuries. Police have not identified the victims.

Sgt. Lauren Truscott, the department's public information officer, said no suspects were in custody and the department urged anyone with information to call its tip line, 206-233-5000. Truscott said the department is reviewing public-source video and body-camera video for clues.
Footage from on the ground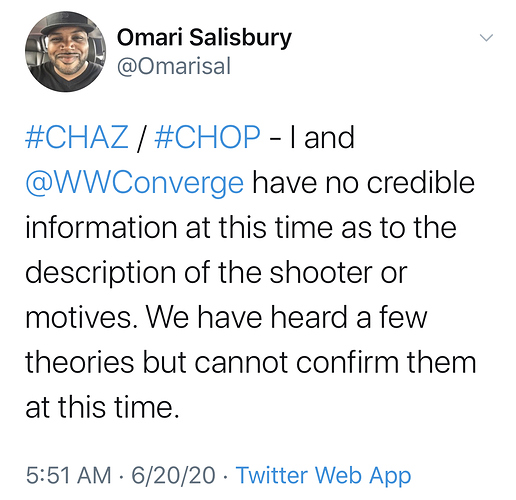 https://twitter.com/omarisal/status/1274323904106913794?s=21