She was alive and they just let her die. Breonna Taylor deserves justice. Her life mattered.
Horrid responses is what we've come to expect from the Federal Government…putting this under the "US in Crises" heading…but it falls into Immigration issues, and very questionable motives from the US Government. "Acting Deputy DHS head, Ken Cuccinelli describes what he sees as a national problem…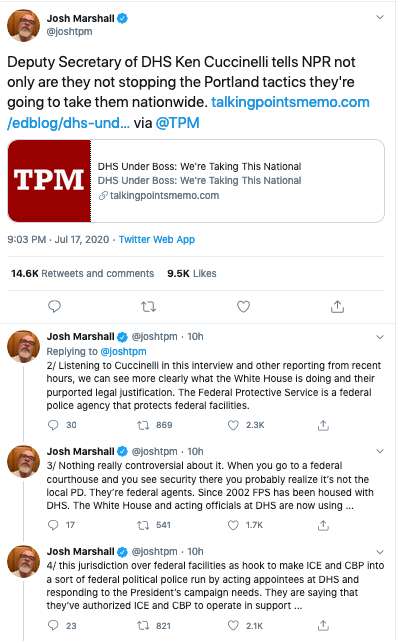 MCCAMMON: Are you saying this has only happened once?

CUCCINELLI: The offenses there are federal.

MCCAMMON: Are you saying this has only happened once?

CUCCINELLI: I'm not speaking to the number of times it has happened. I'm telling you what they're doing in terms of a process. And I fully expect that as long as people continue to be violent and to destroy property that we will attempt to identify those folks. We will pick them up in front of the courthouse. If we spot them elsewhere, we will pick them up elsewhere. And if we have a question about somebody's identity - like the first example I noted to you - after questioning determine it isn't someone of interest, then they get released. And that's standard law enforcement procedure, and it's going to continue as long as the violence continues.

MCCAMMON: Portland police records indicate that many types of incidences are - of offenses are down compared to past years. How does this justify that response?

CUCCINELLI: Well, we're 49 straight days into violence and destruction in Portland. So it justifies the response because violence and destruction continue, including directed at federal law enforcement, at federal property. And as long as that continues, we're going to continue to attempt to enforce the law.

MCCAMMON: Are local law enforcement…

CUCCINELLI: It's not made any easier when you have somebody like Mayor Wheeler, who holds back, to a certain extent, his own law enforcement. For instance, they don't allow them to utilize certain nonlethal tactics and so forth. So it makes everybody's job harder.

MCCAMMON: What is the legal justification, though, for federal agents - not local officers - making arrests away from federal property?

CUCCINELLI: The legal justification is that they are people suspected of damaging or attacking federal personnel or property. That's the justification. That's the basis for jurisdiction.
Trump threatens to deploy federal agents to Chicago and other U.S. cities led by Democrats
Homeland Security officials said Monday they are making preparations to deploy federal agents to Chicago, while President Trump threatened to send U.S. law enforcement personnel to other Democratic-led cities experiencing spates of crime.

Trump made the pronouncement as he defended his administration's use of force in Portland, Ore., where agents have clashed nightly with protesters and made arrests from unmarked cars. Calling the unrest there "worse than Afghanistan," Trump's rhetoric escalated tensions with Democratic mayors and governors who have criticized the presence of federal agents on U.S. streets, telling reporters at the White House that he would send forces into jurisdictions with or without the cooperation of their elected leaders.

"We're looking at Chicago, too. We're looking at New York," he said. "All run by very liberal Democrats. All run, really, by the radical left."

"This is worse than anything anyone's ever seen," Trump continued. "And you know what? If Biden got in, that would be true for the country. The whole country would go to hell."

With his poll numbers sinking amid widespread frustration at his response to the coronavirus pandemic, Trump has cast himself as a law-and-order strongman who will pacify U.S. communities roiled in recent months by spreading disease, the economic crisis and large street protests for racial justice. Trump has wielded images of violent demonstrations, though the vast majority of racial justice protests have been peaceful.

Three Department of Homeland Security officials said Monday that the agency has been making preparations to deploy agents from U.S. Immigration and Customs Enforcement (ICE) to Chicago, but the officials said operational details are not yet finalized.

The officials, who spoke on the condition of anonymity to describe the plans, said the agents, who are part of ICE's Homeland Security Investigations division, would not engage in immigration enforcement operations and would likely assist with intelligence-gathering and targeting of the drug trafficking groups and gangs driving the violence.

Trump has mentioned New York and Philadelphia as two other cities where his administration is looking to send federal agents, but two DHS officials said Chicago is the only city where their preparations have advanced.

The Chicago Tribune first reported on the plans Monday, saying up to 150 agents would be involved, but the DHS officials said the size of the HSI contingent remains in flux.

DHS officials involved in the preparations also said the federal agents would be directed by the Department of Justice, and their assignment in Chicago would be very different from the standoff between federal forces and protesters in Portland, despite the president's attempts to link the two.

On Sunday, Trump lashed out at the Democratic officials in Oregon who have asked his administration to withdraw from Portland, saying the heavy-handed tactics of DHS agents was exacerbating the confrontation outside the federal courthouse where violent clashes have played out over the past several weeks.

Border Patrol swat teams from the agency's BORTAC tactical unit have squared off against militant protesters including anarchists wielding fireworks, laser pointers and slingshots, among other improvised weapons.

"The Radical Left Democrats, who totally control Biden, will destroy our Country as we know it," the president wrote Sunday in a tweet. "Unimaginably bad things would happen to America. Look at Portland, where the pols are just fine with 50 days of anarchy. We sent in help. Look at New York, Chicago, Philadelphia. NO!"

To date, however, Portland and Seattle are the only cities that have seen sustained battles between militant protesters and authorities. Homeland Security officials sent BORTAC agents as well as ICE tactical officers to both cities in anticipation of clashes on the Fourth of July holiday, but the federal forces have mostly been withdrawn from Seattle.

In Portland, they remain to defend the Mark O. Hatfield courthouse and other nearby federal buildings that protesters have treated as a proxy for the Trump administration.

The tactical teams are trained in riot control and mass demonstrations, but their field experience has mostly occurred along the border — where the Border Patrol has repelled migrant "caravans" with tear gas — and immigration jails where detainees sometimes riot.

They are trained to confront powerful drug cartels, said Ron Vitiello, the former Border Patrol chief and acting director of ICE until 2019.

"These guys go up against the worst of the worst along the southwest border, and their teams were built to have capability to do crowd controls and riots — that's part of their basic certification," he said.

On the streets of Portland, the tactical teams have been flummoxed by protesters and anarchist groups using black bloc tactics to disguise their identities and work in coordination to confuse agents, DHS officials said. One official said protesters over the weekend had arrived to the clashes armed with leaf blowers, using them to disperse tear gas and direct irritants back at federal agents.

DHS has expanded its intelligence-gathering authorities to include collecting information on protesters who threaten to damage or destroy public monuments, memorials and statues, regardless of whether they are on federal property, according to new guidance from the department's intelligence and analysis unit.

That marks a dramatic expansion of authorities historically used to protect well-known American symbols such as the Statue of Liberty and the Gateway Arch in St. Louis, experts said. The memo was first reported by the blog Lawfare.

Chicago's gun violence has long been a focus of Trump's ire, and he has repeatedly criticized law enforcement and city officials — sometimes by name — when invoking it. During the 2016 presidential campaign, he said police in the city needed to be "much tougher." Shortly after taking office, Trump said the violence was "very easily fixable" and that officials there were "not doing the job."

Trump tweeted early in his tenure that he would "send in the Feds!" even though there were already a number of federal officials in Chicago working with task forces that included the city's police. City officials, in turn, had said they welcomed more federal help prosecuting gun crimes. Trump's focus on Chicago continued even as bloodshed there has declined. Gun violence in Chicago surged in 2016 — with the city having its deadliest year in two decades — and homicides have declined in the years since

But this year has seen a dangerous reversal of those trends, with shootings and killings both rising. As of Monday morning, there had been 414 homicides, more than 1,600 shootings and more than 2,000 shooting victims this year, according to Chicago police data — all numbers significantly ahead of where they were at the same point last year. Some other major American cities were also seeing increases in homicides over last year, while reports of some other crimes had declined.

Last month, Trump released a letter assailing state and city officials for the violence, describing them as having a "lack of leadership on this important issue."

Trump also cited Philadelphia on Monday, days after again taking aim at Larry Krasner, the city's district attorney. Krasner is one of the most high-profile progressive prosecutors elected in recent years who have pledged to decline lower-level charges and institute other criminal justice reforms.

Trump repeatedly criticized Krasner, and last week referred to places "appointing left-wing social justice prosecutors, like you have in Philadelphia."

In a statement on Monday responding to Trump's suggestion that he could send more federal forces to Philadelphia, Krasner invoked his father and uncles who "served in World War II to fight fascism … so we would not have an American president brutalizing and kidnapping Americans for exercising their constitutional rights."

Krasner also bluntly warned that federal officials could face prosecution.

"Anyone, including federal law enforcement, who unlawfully assaults and kidnaps people will face criminal charges from my office," Krasner said. "At trial, they will face a Philadelphia jury. It's the least we can do to honor those who fought fascism, including those who are fighting it even now."
Trump's Secret Police Have Never Been a Secret to Brown People
The Department of Homeland Security, now menacing Portland, has been terrorizing Muslims, immigrants, and other vulnerable populations since its inception.
As I see white mothers and mayors being teargassed on the streets of Portland, Ore., one word keeps bubbling up from my bleeding heart: "Welcome." Welcome to the world of secret police and nighttime raids. The world where you can be snatched by an unidentified officer in an unmarked van. The world where you get to see an attorney, maybe, after the government is done beating you. Welcome to the world as experienced by brown people with foreign-sounding names in this country since 9/11.

Welcome, and let us now join together to battle the enemy we all clearly have in common: the Department of Homeland Security. Because, while Donald Trump is currently responsible for deploying this army disguised as an agency against peaceful white protesters, the DHS has been deployed against peaceful immigrants regardless of status, peaceful citizens who look like recent immigrants, and peaceful worshipers who pray while Muslim—or, simply, brown—since its inception.

White moms (and dads, and now vets) are being assaulted by the government, but we should have dismantled their attackers a long time ago. The people of Portland are merely the latest victims of a department that has been terrorizing innocent victims since it was formed.

The Department of Homeland Security has been a disaster from the very start. It was created by the 2002 Homeland Security Act, a post-9/11 bill that is basically what a spooked herd of antelopes would write while running away from a lion. The department was given a broad mandate: "Prevent terrorist attacks within the United States," which is Congress-speak for "apple pie good, everybody else bad." Because "terrorism" isn't really a defined term, we end up with the situation in which we find ourselves today—with Trump people deploying DHS agents to defend statues in Portland while the department ignores white supremacists in Charlottesville.

To fulfill its mandate, the DHS absorbed a hodgepodge of other agencies, but (as this Washington Post article from way back in 2005 explains) the process of determining which agencies to place under the DHS umbrella was haphazard, resulting in an incoherent collection of powers. This was predictable. The DHS was, after all, George W. Bush's idea, and the department's organization reflects his administration's general incompetence. There are examples of this chaos and inefficiency throughout the DHS, but I always come back to the Federal Emergency Management Agency (FEMA). Part of the DHS mandate is to "assist in the recovery from terrorist attacks that occur in the United States," and so the DHS took over FEMA. That doesn't make a lot of sense when you consider that terror attacks are relatively rare, while an angry planet is consistently buffeting our country with storms and fire. From 1979 to 2003, FEMA was a wholly independent agency, and if you don't think that matters, I'd like to introduce you to some people in Puerto Rico who received thoughts, prayers, and a roll of Bounty, "The Quicker Picker Upper," thanks to DHS-led recovery efforts after Hurricane Maria.

The DHS's broad mandate is the reason Trump can turn whole sections of the department into his personal storm troopers. It would be illegal, say, for commandos operating under a directive from the Central Intelligence Agency to be deployed under Trump's "Operation Legend" to protect statues; the CIA is not allowed to operate on domestic soil. It would be a violation of the Posse Comitatus Act for Trump to deploy the Army, because the armed forces cannot be used for domestic police actions. And it would be illegal to deploy FBI agents on the streets to "keep the peace" against citizens who are not charged with nor suspected of committing federal crimes.

But with the DHS, Trump doesn't have to worry about any of this. The DHS isn't hamstrung by any of the laws that normally prevent the government from using troops on domestic soil, because "preventing terrorist attacks" can mean pretty much whatever the president says it means, including teargassing protesters to protect federal buildings from meanies.

Still, the reason the DHS has teeth doesn't actually have much to do with terrorism. For much of its existence, the department has been used to continue this country's war on drugs. Homeland Security was given control over Customs and Border Protection and Immigration and Customs Enforcement to, get this, "monitor connections between illegal drug trafficking and terrorism," and that is why this Frankenstein's monster of an organization has troops to deploy against citizens far from the border. The "Wall of Moms" are, in many ways, just the latest victims of this country's drug war against its own people.

An organization that can deploy troops on the ground in your town at the sole discretion of the president, without consent from state or local officials or oversight from Congress, is too dangerous for any president to have control over—not just this one. Some weapons cannot be used for good, even when they're wielded by those with the best of intentions. J.R.R. Tolkien wrote three books you could consult for a more thorough examination of this point.

The DHS has been a Trojan Horse for state-sponsored violence since the day it was written into existence. It's just that, up until now, brown people have borne the brunt of the violence. It is Muslims who have been snatched out of line at the airport and questioned without an attorney. It is Mexicans whose homes and places of business have been raided. It is brown children who were denied toothbrushes in those cages at the direction of (wait for it) former director of Homeland Security Kirstjen Nielsen.

The brutality and terror being visited upon Portland is just a taste of what some communities of color have been experiencing for going on 20 years. And moms in Portland know it. These moms are out there putting their bodies on the line to protect protesters. They know what the government is capable of doing.

Still, some pundits are more interested in saving the DHS from Trump than saving us from the DHS. Writing in The Atlantic , former DHS official and author of Security Mom Juliette Kayyem came to this conclusion about the future of the agency: "If progressives respond by demanding the abolition of Homeland Security, much as many demanded an end to ICE, they will give Trump the fight he wants. To blame the bureaucracy is to lose sight of the real problem: Trump himself."

Frankly, I expect this view to hold sway with the next Democratic administration. Instead of removing the power Trump has abused, moderate Democrats promise only to use the power more appropriately. "Don't give unaccountable power to that guy. Give it to me, because I'll use it only against the people who deserve it. Promise."

For politicians who aren't likely to be rounded up and sent back to "where they came from," I'm sure Trump's use of the DHS seems like an aberration. But of all the aberrant things Trump does, his use of the DHS is not one of them. The aberration is the people he's using it against.

When Trump is gone, I hope our elected officials remember that. I hope they remember that tear gas stings regardless of the color of your eyes. I hope they remember that people who use leaf blowers for their livelihoods are just as deserving of rights and respect as dads who now use leaf blowers to thwart tear gas. I hope they remember to remove the structure Trump used against us, as opposed to just removing Trump from atop the structure.

Now that the leopards are eating white faces, I hope Congress stops writing legislation calling for face-eating leopards.
Police: 'Umbrella Man' was a white supremacist trying to incite George Floyd rioting
Police say the suspect has been identified, but no charges had been filed as of Tuesday afternoon.
Reports coming in from Portland state that feds are using a new gas that causes vomiting and nausea. Actual chemical warfare.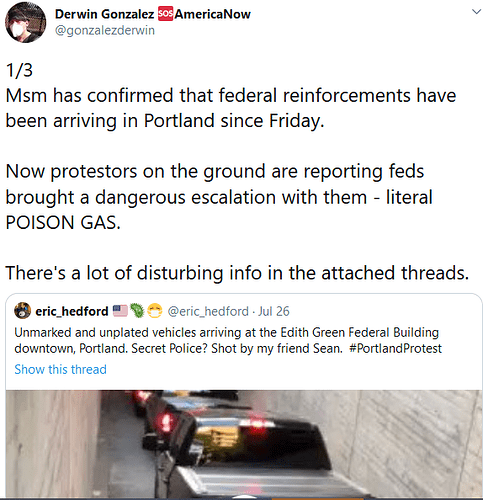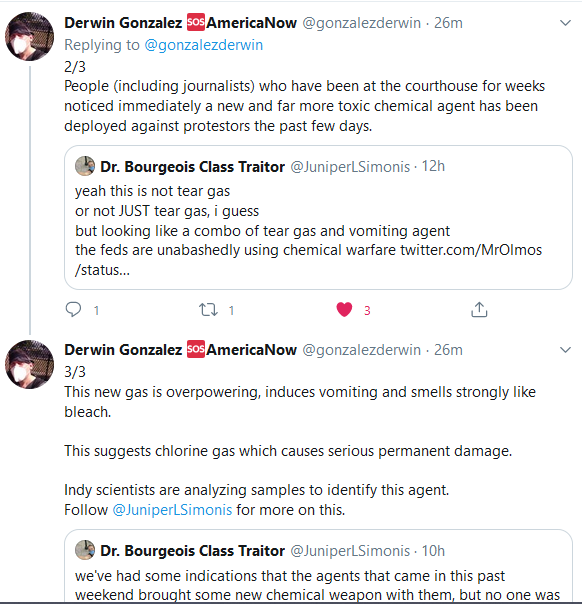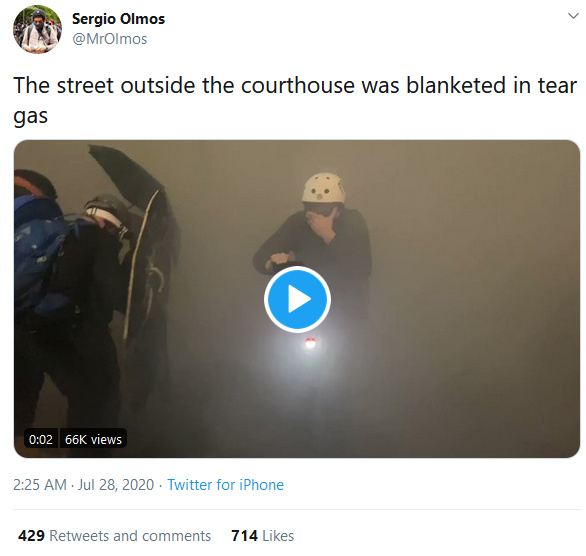 Portland—Courts may ask the ACLU who gets identified as press. This is wild, read to the end.
Military dogs attacked a handler in a Kaepernick jersey for museum event, sparking Navy probe
A demonstration of military working dogs attacking a man wearing a Colin Kaepernick jersey during a demonstration has prompted an investigation by the Naval Special Warfare Command, officials said Sunday.

Video of the event last year surfaced on social media over the weekend, with one version receiving 2.6 million views. The event was held by the National Navy SEAL Museum, a nonprofit organization that is not overseen by the Navy.

The incident is under investigation, but the Navy thinks the dog handlers seen in the video were museum employees and contractors, not active-duty sailors, a senior Navy official said.

"The inherent message of this video is completely inconsistent with the values and ethos of Naval Special Warfare and the U.S. Navy," the Navy said in a statement.

Kaepernick, 32, who was a quarterback for the San Francisco 49ers, has been criticized by President Trump and other conservatives for kneeling during the national anthem before NFL games to protest police brutality.

The Navy described the handler attacked by the dogs as a "target" for a demonstration on the use of military working dogs to surprise and subdue enemy troops on the battlefield.

In two videos posted to Instagram in January 2019, the dogs launch on the target and bring him to the ground to the delight of a crowd watching nearby. Leading the pack was Raven, a Belgian Malinois who belongs to the museum, the group said.

The museum did not immediately return a request for comment. Raven was trained by Baden K-9, a company based in the United States and Canada. The company did not immediately return a request for comment.

It was not immediately clear who filmed the event. The video caption on Instagram said the stand-in for Kaepernick was attacked "for not standing during the national anthem."

Criticism of Kaepernick has often converged with attitudes about the military as conservatives claim his protests are disrespectful to service members and veterans.

Trump and others have leveraged the image of Pat Tillman, a former NFL star who became an Army Ranger, to throw barbs at Kaepernick. Tillman was killed in a friendly-fire incident in Afghanistan in 2004.

Robert O'Neill, a former SEAL who said he killed Osama bin Laden, a founder of al-Qaeda, in Pakistan in 2011, has also criticized Kaepernick and his movement.
Last Week Tonight John Oliver teaches many Americans about Black History - how it is taught in the schools, and all the gaps in all our knowledge.
https://www.youtube.com/watch?v=hsxukOPEdgg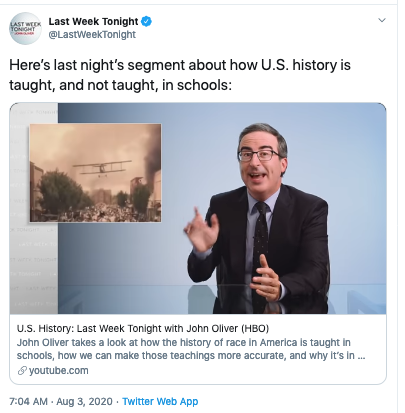 Video Shows LAPD Shot Peaceful Protester in the Head as He Held His Arms in the Air
Newly released police bodycam footage reveals Los Angeles police shot a protester in the head with a "less lethal round" while the man had his arms in the air during a protest on May 30. The protester, CJ Montano, is a 24-year-old former marine who was protesting the killing of George Floyd. Montano was hospitalized for four days and is still recovering. Montano's attorney condemned the police department's use of force, saying, "He is isolated in that intersection. His arms are up in the air. There's no good argument that he was hit accidentally." The Los Angeles Police Department has described the incident as an "unintentional head strike."
Protester had hands up when LAPD officer shot him in head with projectile, video shows
Footage from a Los Angeles police officer's body camera shows a man with his hands up being shot in the head with a tactical round as officers advanced on a crowd of fleeing protesters on May 30.

The man, CJ Montano, was standing in the middle of a street in the Wilshire area after taking several steps backward as officers on skirmish lines in front of him screamed "Less lethal!" and "Leave the area!" As the officers began firing at protesters as they fled, Montano can be seen dropping to the ground, then being rushed away from the scene by other protesters.

The footage is the first from officers' body cameras to be made public from a large protest in the Fairfax district that has spurred debate over police tactics, lawsuits, calls for reforms and internal investigations. It offers new insights into how the LAPD handled an intense flashpoint of the protests and unrest.

The video shows officers firing projectile rounds to push protesters east along Beverly Boulevard near CBS Television City after several earlier clashes.

After being shot, Montano, a 24-year-old music student and former U.S. Marine, was hospitalized for four days, two of them in the intensive care unit with serious bleeding in his brain, he said Friday. He is still recovering from a range of symptoms.

His shooting is under investigation by the LAPD's Force Investigation Division.

In a video produced and released Friday by the LAPD that includes the body-camera footage, Capt. Gisselle Espinoza, an LAPD spokeswoman, said "the circumstances of how Montano was struck, and which officer fired the less-lethal projectile that struck Montano, is still under investigation" as an "unintentional head strike."

The department would not comment as to why the shooting had already been deemed "unintentional," citing the ongoing nature of the investigation. However, a source familiar with the investigation said the classification of the shooting as "unintentional" was based on interviews with the two officers whom the department identified as having fired their weapons at the time.

Police said they have tried to interview Montano, without success.

Montano, who has filed notice with the city of his intention to sue unless he is compensated for having been injured so grievously, said he told the police that they should contact his attorneys. He said the video — which his attorneys had previously requested but were never given — corroborates what he has said all along about the circumstances surrounding his shooting: that he had presented no threat to the police.

"I just want everyone to see how oppressive the police force is as a whole in the United States, and what they are doing to people who literally, as you can see in the video, are backing up with their hands up," he said. "It's just sickening."

"He is isolated in that intersection. His arms are up in the air. There's no good argument that he was hit accidentally," said Timothy A. Loranger, one of Montano's attorneys. "He was specifically targeted, and he was hit. This was not an accident."

Montano served in the Marines from 2014 to 2018 and was unable to attend demonstrations while on active duty, he said. That day in May, he had decided it was finally time for him to stand up with others and "show that I was sick of seeing the injustices occurring, specifically against Black people."

He had been near the skirmish lines in part to help others who sustained injuries from police, he said. He said that he at no point presented a threat to police and had even told others in the crowd not to throw things at officers.

By policy, the LAPD releases footage from incidents in which officers cause "serious bodily injury" after 45 days, though the department has the discretion to share video sooner. The Times filed a public records request last month for footage from all such incidents during the protests.

Monique Alarcon, another of Montano's attorneys, said they also filed a public records request for footage of Montano's shooting and were surprised Friday when they learned the LAPD had "decided to first put together a PR video and release it to the public."

A Times investigation has found LAPD officers likely violated protocols for the use of batons and tactical weapons during the protests that day in the Fairfax district. Many protesters were injured, including by the sponge and foam bullets and beanbag rounds that officers fired.

The LAPD is investigating 125 separate complaints from the protests, including 54 involving officers using force, police said. A total of 10 officers have been removed from field duties pending investigations.

The clashes began after a planned protest at Pan Pacific Park. While many protesters say police in riot gear targeted a peaceful demonstration, escalated tensions and instigated the clashes, police allege that protesters or other agitators among them had turned violent and created a dangerous situation for themselves and others, including officers.

After several police cars were lit on fire, and outnumbered officers reported being targeted with rocks and bottles, LAPD Chief Michel Moore declared the gathering unlawful, and police began using batons and tactical guns to disperse the crowd.

Asst. Chief Robert Arcos, who oversees LAPD operations, has previously said that officers that day were firing at specific targets and not simply to disperse or push back crowds. Department policy requires such weapons be used only on individuals who are targeted for presenting a clear and immediate threat. It requires that officers aim for the person's navel or belt line, then their arms and legs, and never their head or neck.

Officers are not supposed to fire the weapons at people who are fleeing an area.

Josh Rubenstein, another police spokesman, said the department has not made any determination yet as to whether policy was followed in Montano's shooting. Any such finding would come after the conclusion of the ongoing investigation, he said.

Montano, who that day had carried a sign reading, "We can't be silent when cops are violent," said he believes he was targeted, brutally and in clear violation of department policies, and he believes that is clear in the video.

"It just feels like it was all intentional, and it makes me feel sick," he said.

Today, Montano uses a cane because of vertigo. He used to work out often but can't do so anymore. His doctors have told him not to lift anything larger than a gallon, so he needs help to carry groceries inside, he said.

Pedram Esfandiary, another of his attorneys, said Montano remains at risk for seizures, has trouble following some social cues, regularly experiences dizziness and has trouble listening to music — a serious issue for a music student.

"My quality of life essentially has kind of 180'd," Montano said. "It's just unending in terms of the recovery."

Apart from Montano's pending case, the department is facing several lawsuits over its tactics, including a major class-action lawsuit filed by Black Lives Matter-L.A. and other activist groups. Like Montano, the plaintiffs in that case want to see an end to the LAPD's use of projectiles on protesters.

Melina Abdullah, one of the co-founders of Black Lives Matter-L.A., said the new video adds to an array of evidence showing that police approached the Fairfax protest "with an eye toward harming protesters" and helps make clear the true danger of such weapons.

"We had many, many folks who were seriously injured at that protest," she said. "Just because they use the term 'less lethal' does not mean that it's not lethal. It does not mean that it's not harmful."
Portland Medics Arrested and Injured in Protests Say They Were Specifically Targeted by Police and Federal Agents
Chris Wise didn't plan on showing up to Black Lives Matter protests as a medic when he first started attending Portland's demonstrations in the wake of George Floyd's death. That changed when he kept seeing people getting hurt — in particular, a young woman who was hit in the face with a piece of shrapnel. Seeing her wounds, he realized that he needed to start coming out with medical supplies. "When you can help somebody, I feel like you kind of have a moral obligation to help somebody. You can't see stuff and just ignore it," he says.

Street medics in Portland and around the country—many of whom are activists themselves—have been injured by law enforcement and arrested amid the chaos as they perform their duties.

Wise and several other volunteer street medics in Portland, with the help of the ACLU, sued the U.S. Department of Homeland Security (DHS), U.S. Marshals Service and the City of Portland last month for "targeting and attacking them at Portland protests against police brutality." Two medics who are plaintiffs in the ACLU lawsuit shared their experience with TIME in a July 25 interview. Shane Grannum, a Perkins Coie attorney representing plaintiffs, said in a statement that federal officers and Portland police "violated the constitutional rights of our clients to protest and lend medical services, supplies and treatment to protesters." Portland protesters say that police brutality from local law enforcement was a problem long before the feds came and continues to be one, especially at protests.

Rights groups have said law enforcement is targeting street medics at protests nationwide. Human Rights Watch highlights police shoving medics and destroying their supplies in North Carolina, police firing "so-called less lethal weapons" at medics in Texas and a police officer pinning down a medic with his knee before arresting and detaining him in a crowded cell in New York.

Wise, who is biracial (his mom is African American; his father is Norwegian and German), works as a receptionist for his day-job and previously went to school to be an EMT. The protests have left him bruised and battered. Last month, he was struck with a tear gas canister in his head, leaving him with a concussion and a "fairly sizeable hematoma on the side of (his) head." But he is still determined to continue showing because the "significant risk" to his community "outweighs the risk to his personal safety," he says.

"You can hit me in the head with as many tear gas canisters as you want, I'm still going to show up and try and help in whatever capacity is safe for me to do so," Wise says.

Wise was also shot in the leg months ago and the wound got infected, he's been hit by pepper bullets and in the foot with flash bang grenades, shoved to the ground and sprained his shoulder.

He takes every Sunday off for his mental health and says he needs to compartmentalize a lot of what he sees and experiences. "I'm the type of person where it's easier for me to have my head on a swivel and have my brain on high alert during the protests," Wise says. "I just really can't afford to think about it too hard during the rest of the day otherwise I'd just be upset all the time."

Michael Martinez was arrested in Portland on June 13 "while packing up the OHSU medic tent after protesters were gassed and beaten." "I was arrested doing one of the safest vanilla jobs as a medic, which was running a table that handed out supplies," he says. Since his arrest, he does not wear medical insignia because he feels like medics are intentionally targeted.

Like Wise, Martinez also started out attending protests only as an activist and not a medic. "A lot of the characterization of the protest has been that we're these violent anarchists when the only destruction is (targeted at) a racist power system; that's what we're out there to destroy," Martinez says. "This country does not treat people like they are all created equal. It does not give liberty and justice to all and (…) I think it's our duty to stand up against that."

Martinez says being on the ground elicits a mix of emotions — "amazing moments of community" where you're eating free ribs with fellow activists, chanting and speaking out against injustice but that these are "bookended by moments of fear" and "terror." "All of a sudden, people are screaming for a medic, people are bleeding and there's only chaos and you never know when you're going to be arrested and injured."

The Department of Homeland Security did not respond to TIME's request to comment. Spokespeople for the Portland mayor's office and and U.S. Marshals Service said they do not comment on pending litigation.

The Trump Administration signaled about a week ago, per Oregon Gov. Kate Brown, that it would start withdrawing federal officers from Portland. However, the DHS said in a statement on Aug. 4 that "there has been no reduction in federal presence" and "federal law enforcement remain in Portland at augmented levels." Protests and the ensuing response from law enforcement appear to have calmed down recently but became tense again as police declared an unlawful assembly outside a precinct Thursday night, according to the Associated Press.

It's not just medical expertise that Wise uses on the ground; he also relies on bad humor to ease the collective mental health of protesters and add some levity amid the chaos. (Martinez confirms that his jokes are indeed, bad. "Every time he gets injured, he comes up with another bad dad joke," he says.)

Wise says that as an African American there have been several instances in his life where law enforcement has treated him unfairly. "When you explain that to people (…) everyone wants to make sure that you rule out every single thing that may not have happened before they can finally say yeah, that was probably racist," Wise says. "I'm not necessarily mad at the racism itself so much as everyone's willingness to try and ignore it."
Love her so much!!!



Minneapolis Residents Do Burnouts And Donuts For Crowds Outside of Police Department
After the bars closed in downtown Minneapolis, drivers were doing burnouts and donuts for large crowds.
"Don't be a dumbass." -Dolly Parton
Wiser words were never spoken.
The Proud Boys physically attacked non-violent counter-protesters in Kalamazoo, Michigan.
No sign of Trump's troops to keep order THERE. Funny, that.
Rally turns violent as Proud Boys met by counter-protesters in downtown Kalamazoo
A rally by the far-right group Proud Boys turned violent in downtown Kalamazoo the afternoon of Saturday, Aug. 15.

First Congregational Church hosted a vigil of anti-racism counter protesters within Arcadia Creek Festival Place. The group formed a perimeter around the area, according to MLive reporter Samuel J. Robinson who was on the scene.

"The Proud Boys, they not only have hatred for Jewish people and Muslim people, but they're also very hateful of anybody who doesn't look like them or act like them," said The Rev. Nathan Dannison, the church's pastor.

Addressing the gathered crowd, Dannison urged those present to commit themselves to non-violence and non-aggression.

"Let's work together to remain peaceful and manifest positive energy with each other, to take care of each other, to take care of our own selves and our own safety, and to defend one another," Dannison told the crowd.

Shortly thereafter, chanting, mostly mask-less Proud Boys marched toward the park's entrance, waving American, Trump, and Gadsden flags and other symbols. Violence broke out soon after, with Proud Boys attacking counter-protesters with fists, kicks, and shoves.

Proud Boys also pepper-sprayed numerous people, including Robinson.

As of 1:49 p.m., there were no police present, Robinson tweeted. Kalamazoo Public Safety officers and Portage police officers, many wearing riot gear, showed up shortly thereafter at a parking structure where the protest had advanced to.

Robinson, who was recording a Facebook Live video for MLive, was detained by police despite announcing being a reporter covering the protest. The video ended abruptly with Robinson being seemingly taken to the ground by police as he repeatedly stated he was being arrested.
Another clash occurred in Stone Mountain, GA, between heavily-armed right-wing militias coming from as far as Arkansas and counterprotesters who vastly outnumbered them.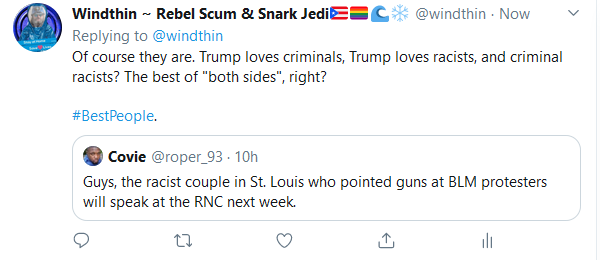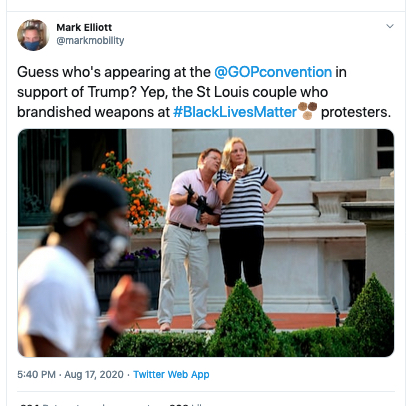 Saw that too.