US Customs and Border Protection closed road and pedestrian bridges on Sunday at the San Ysidro port of entry, one of the largest land border crossings between San Diego and Tijuana, Mexico.

Groups of Central American migrants have been converging on the Mexican border city for days in their quest to gain entry to the United States. Their presence has drawn Mexican troops, protesters and fiery rhetoric from President Donald Trump.
This is trending on the ever-informative currentstatus.io

but I'm posting it here, too, in case you missed it. This is a huge, huge deal. If corroborated, it is a true "smoking gun" for obstruction of justice by Trump.
Yesterday, we learned that Michael Cohen lied to Congress about when the Trump Tower Moscow negotiations ended. Cohen testified to Congress that the talks ended in January, 2016, before the Iowa caucuses, but he has now admitted they extended into June.
Did Cohen lie to Congress on his own or did he coordinate the lies with Trump? This breaking news today points to the latter – and, if substantiated, is a clear act of obstruction of justice by the President.
On some forums I've been following, Trump supporters are dismissing Cohen's claims and any involvement by the President, calling it all lies, smoke, and mirrors. But here's the thing – this will be relatively easy to clear up. Trump's lawyers can simply be subpoenaed (along with their written records) and asked under oath if they helped coordinate Cohen's lies to Congress along with Trump. Attorney-client privilege does not apply when a lawyer and client conspire together to commit a crime (in this case, obstruction of justice).
There is no way that Trump's lawyers will commit perjury and risk going to prison to protect Trump – they just work for him, they are not his buddies and they owe him nothing. They will take a page from John Dean, Nixon's White House Counsel, who committed obstruction of justice with him and flipped on him in a heart beat for a reduced sentence.
In fact, the Watergate parallels here are almost uncanny. Don McGahn is today's John Dean. McGahn was Trump's White House Counsel during the time Cohen testified before Congress so all eyes will now be on him. There's a chance he won't even need to be subpoenaed on this matter because he may have already flipped – he has had extensive discussions with Mueller's team.
And here's the strongest reason to believe that Trump really did obstruct justice along with Cohen: look at what happened to Manafort when he lied to Mueller – bang! – Mueller threw the book at him. Now consider what Cohen is doing. In his filing asking for leniency from the court, he is claiming that he coordinated with Trump and his lawyers to obstruct justice – there's no way he would risk lying about this in a court filing, knowing that Mueller probably already gathered independent evidence on the matter – and having seen what happened to Manafort.
Side question: If McGahn did commit crimes with Trump, could that impact Brett Kavanaugh's confirmation to the Supreme Court? It was McGahn who personally recommended that Kavanaugh be nominated and he coordinated the White House campaign for the confirmation. On the surface, obstruction of justice in the Trump/Russia matter would not appear to be related to a Supreme Court nomination, but these days, with this Administration, anything seems possible.
President Donald Trump's former personal lawyer Michael Cohen said Friday he was in "close and regular contact" with Trump's White House staff and legal team when he prepared a statement for Congress that he now says falsely downplayed Trump's effort to land a Trump Tower Moscow deal during the 2016 presidential campaign.

In a filing seeking a lenient sentence, Cohen's attorneys say his false statement to Congress — which Cohen pleaded guilty to on Thursday — was based on Trump and his team's efforts to "portray contact with Russian representatives" by Trump, his campaign or his company "as having effectively terminated before the Iowa caucuses of February 1, 2016."

"Seeking to stay in line with this message, Michael told Congress that his communications and efforts to finalize a building project in Moscow on behalf of the Trump Organization, which he began pursuing in 2015, had come to an end in January 2016, when a general inquiry he made to the Kremlin went unanswered," Cohen's lawyers Guy Petrillo and Amy Lester write.

But "Michael had a lengthy substantive conversation with the personal assistant to a Kremlin official following his outreach in January 2016, engaged in additional communications concerning the project as late as June 2016, and kept [Trump] apprised of these communications," they wrote. "He and [Trump] also discussed possible travel to Russia in the summer of 2016, and Michael took steps to clear dates for such travel."

They also say Cohen kept Trump "apprised" of his contacts with Russia during the campaign.
Let the countdown begin!
The Republican-controlled House is scheduled to meet for only 8 more days! Hallelujah! We'll see how much more damage they can inflict in that time, but it certainly is sweet, on this quite Sunday, to contemplate the calendar below (House/Senate dates are in yellow, Senate only in blue):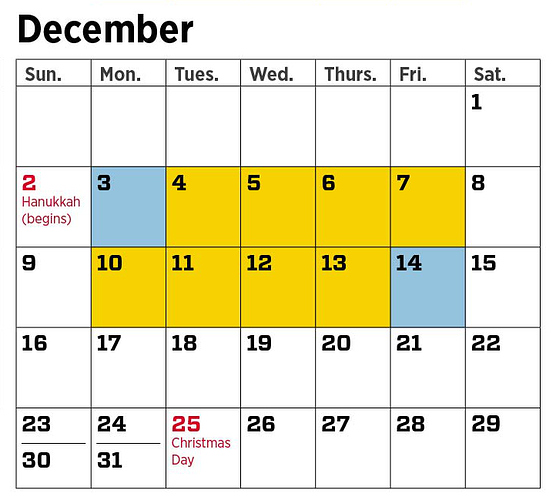 As a follow-on to the above post regarding the short time remaining for the Republican-controlled House, here's another piece of legislation that they may have bungled by their procrastination.
Good grief – the Republicans have had two whole years during which they have controlled all three branches of government needed to pass laws. Yet here we are with only 8 days left of that monopoly on power and we find they have utterly failed to provide a permanent tax break to the middle class or to institute broad, desperately needed tax reform. They did, however, find plenty of time to reward their wealthy donors and the President himself with a windfall, permanent tax break.
Broidy is back, baby!
A guilty plea entered by a defendant in a massive Malaysian embezzlement scandal has implicated Eliott Broidy in laundering millions of dollars into the U.S.
In case you're not familiar with Broidy's criminal "résumé," here's a summary:
2009, Dec. - Broidy pleads guilty to felony bribery of New York State officials, but somehow avoids jail time. Distributed $1 million in bribes to earn $250 million in business.
2016, May - Trump hires Broidy as fund raising vice chairman for his campaign. Evidently, Broidy's criminal financial background qualified him for the position.

2016, Nov. - Broidy is appointed vice chairman of Trump's Inaugural Committee. This is the organization that paid $26 million to Melania's "party planner" friend – a full accounting of where all the money landed has never been released.
2017, April - The Republican National Committee appoints Broidy as national deputy finance chairman.
2018, March - Hacked emails expose that Broidy tried to earn $75 million for quashing the DOJ's investigation into a massive Malaysian embezzlement scandal. This is the scandal that has brought Broidy back into the spotlight because one of his co-conspirators just revealed that Broidy accepted millions in laundered payments – see this weekend's NYT article below.
2018, March - The Prosecutor General of Ukraine launches an investigation into Broidy's links to a corrupt lobbying scheme. According to a leaked contract, Broidy would receive payments totaling $2.5 million laundered through a shell company in the British Virgin Islands associated with Russia's VTB bank.
2018, April - The Wall Street Journal uncovers that Broidy paid Trump's lawyer, Michael Cohen, $1.6 million to hush up an extra-marital affair – a service Cohen had previously rendered for Trump. Broidy resigns from his finance post at the RNC.
2018, May - The Associated Press reveals that Broidy has met with Trump on multiple occasions, lobbying on behalf of Crown Prince Mohammed bin Zayed of UAE and Crown Prince Mohammed bin Salman of Saudi Arabia (recently accused of ordering the kidnapping, torture, and dismemberment of Jamal Khashoggi). The UAE rewarded Broidy's company with a $600 million intelligence contract. He received an initial payment of $36 million before the scheme fell apart when his partner, George Nader, was picked up by Mueller's team for questioning. (BTW, Nader set up the Seychelles meeting between Erik Prince and Crown Prince Zayed that is in Mueller's cross hairs.) Broidy and Nader were not registered under the Foreign Agents Registration Act.
2018, July - The NYT reports that Broidy paid Rick Gates $125,000 for "advice" and "insight" into the Trump administration (aka "pay-to-play"

).
And that brings us to this weekend:
2018, Dec. - The NYT reports that recently filed court documents appear to confirm that Broidy was partially paid for his part in a scheme to quash a DOJ investigation into a $700 million Malaysian embezzlement scandal (see 2018, March, above). The payments of $6 million were laundered to disguise that they were from one of the embezzlers.
Considering the many financial crimes to which Broidy has been linked, several of them involving money laundering, I'm thinking that Mueller must be closely scrutinizing Broidy's roles as: 1) a fund raising vice chairman in Trump's campaign, 2) a vice chairman of Trump's Inaugural Committee, and 3) a deputy finance chairman of the Republican National Committee. Could Broidy have helped launder funds in or out of any of these committees? I hope we'll find out. Go Mueller!


Omfg!

President Trump's National Security Council asked the Pentagon to provide the White House with military options to strike Iran last year, generating concern at the Pentagon and State Department, current and former U.S. officials said.

The request, which hasn't been previously reported, came after militants fired three mortars into Baghdad's sprawling diplomatic quarter, home to the U.S. Embassy, on a warm night in early September. The shells—launched by a group aligned with Iran—landed in an open lot and harmed no one.

But they triggered unusual alarm in Washington, where Mr. Trump's national security team led by John Bolton conducted a series of meetings to discuss a forceful American response, including what many saw as the unusual request for options to strike Iran.

"It definitely rattled people," a former senior U.S. administration official said of the request. "People were shocked. It was mind-boggling how cavalier they were about hitting Iran."

The Pentagon complied with the National Security Council's request to develop options for striking Iran, the officials said. But it isn't clear if the proposals were provided to the White House, whether Mr. Trump knew of the request or whether serious plans for a U.S. strike against Iran took shape at that time.

—

In one meeting, Ms. Ricardel described the attacks in Iraq as "an act of war" and said the U.S. had to respond decisively, according to one person familiar with the meeting.

—

As the administration discussed the U.S. response last fall, the White House issued a two-paragraph statement on Sept. 11 that seemed to warn of a possible military strike.

"The United States will hold the regime in Tehran accountable for any attack that results in injury to our personnel or damage to United States government facilities," the White House said.

Two weeks later, Mr. Pompeo made it clear the U.S. was willing to target Iran for the actions of its allies in Iraq.

"Iran will be held accountable for those incidents," he said in a Sept. 21 CNN interview.

"Even militarily?" asked CNN's Elise Labott.

"They're going to be held accountable," Mr. Pompeo replied. "If they're responsible for the arming and training of these militias, we're going to go to the source."
T is making assertions that the upcoming Michael Cohen testimony will be false, and that Congress should look into Michael's father-in-law. Witness tampering and the Democratic Oversight committee is all over it.
Washington D.C. (Jan. 13, 2019)—Today, Rep. Elijah E. Cummings, Rep. Adam Schiff, and Rep. Jerrold Nadler, the Chairmen of the House Committees on Oversight and Reform, Intelligence, and the Judiciary, issued the following statement in response to President Donald Trump's comments last night on Fox News regarding Michael Cohen's testimony before Congress:

Wow! Thanks for putting the spotlight on this. I had no idea Trump had tossed out these statements directed at Cohen during his interview with Pirro. I didn't listen to it because my ear doctor has cautioned me that Pirro's voice could cause irreparable damage to my hearing.

For anyone else who likewise steered clear of the interview, here's an account of Trump's veiled intimidation of Cohen. Basically, he was telegraphing a threatening message to Cohen: "You spill dirt on me and I'll make sure my allies in the media go after your family." I'm not a lawyer, but it sure sounds like Trump is applying pressure on a witness in an investigation against him.
… "In order to get his sentence reduced, [Cohen] says, 'I have an idea, I'll give you some information on the president.' Well, there is no information," Trump said during his 20-plus-minute phone interview, in which he often rambled on, with Fox News' Jeanine Pirro on Saturday night. "He should give information maybe on his father-in-law, because that's the one that people want to look at." [Trump added (but it isn't quoted in this article): "Because where does that money? [sic] That's the money in the family."] …

When Pirro asked the name of Cohen's father-in-law, Trump came up empty-handed.

"I don't know, but you'll find out, and you'll look into it because nobody knows what's going on over there," he said, an unusual statement by a president regarding a private citizen.

Cohen's father-in-law, Fima Shusterman, reportedly loaned millions to a Chicago cab company owner, who was mentioned in the FBI warrants used to raid Cohen's home and office. In the interview, Trump described the raid as a break-in.

"I was a client. He has a law firm. They broke into his law firm sometime early in the morning," Trump said of Cohen. …

"He's in trouble on some loans and fraud and taxi cabs and stuff that I know nothing about," Trump said of Cohen in the interview. [But, by all means, Mr. President, feel free to weigh in on something you know nothing about as you so often do.]
The full interview is here (relevant exchange starts at 14 min), but listen at your own risk – Pirro may shave a couple months off your auditory health.
Side note: During this exchange, Trump blithely quips: "I'm a very honest person, frankly."

LOL…
Listening to Pirro's tough-as-nails delivery, as well as listening to T's insufferable "there is no collusion…Witch Hunt, and just you wait." and this T propaganda platform is excruciating to hear.

Note: I will read the transcripts only from now on…or watch a SNL slam of it.
Good research above…
I predict Trump will start a war with Iran prior to the 2020 election. This will help divert attention away from the results of the Russia investigation and set the tone for the 2020 election for many as the message will be "don't undermine our troops" at war.
Yes, unfortunately something big and bad is going to be necessary to get his poll numbers up. A real life "Wag The Dog "scenario.
I wish that it will NOT be " the next two years are going to be nonstop political war"
The last few days have offered plenty of foreshadowing. The newly empowered Democrats summoned the president's longtime personal lawyer to testify after he implicated Mr. Trump in an illegal scheme to arrange hush payments before the 2016 election for women who claimed to have had affairs with him. Legal papers disclosed that Mr. Trump's onetime campaign chairman shared polling data with an associate tied by prosecutors to Russian intelligence.

New reports over the weekend added to the sense of siege at the White House. The New York Times reported that after Mr. Trump fired the F.B.I. director, James B. Comey, in 2017, the bureau opened an investigation into whether the president was working for the Russians. And The Washington Post reported that Mr. Trump has gone out of his way as president to hide the details of his discussions with President Vladimir V. Putin of Russia even from members of his own administration.

What all this adds up to remains unclear. Whether it will lead to a full-blown impeachment inquiry in the House has yet to be decided. But it underscores the chance that with candidates already lining up to take him on in 2020, Washington will spend the months to come debating the future of Mr. Trump's presidency and the direction of the country.

"The reality," said Andy Surabian, a Republican strategist and former special assistant to Mr. Trump, is "that the next two years are going to be nonstop political war."

The White House has begun recruiting soldiers. The new White House counsel, Pat Cipollone, has hired 17 new lawyers, according to The Post, as he prepares for a barrage of subpoenas from House Democratic committee chairmen.
Here is another one about the same…concocting a false Iran war.
Bill Barr will begin his Congressional review on Tuesday, Jan 15th, where he will be pummeled with questions on where he stands on Mueller's autonomy and continuing pursuit of answering questions of who was involved with the Russian Investigation. Perhaps most important will be questions over whether Barr will give T a pass, and help T protect himself via Executive Privilege or whether will protect Mueller's final report, change it in any way or release it.
This article examines some of Barr's previous testimony regarding whose final opinion would count…See tweet # 2…"he would accept and support a superior's (AG or POTUS) judgement & not resign even if he disagreed."
RE: T's speech…DOA
He'll continue to insist that any bill to reopen the government include billions of dollars for a physical barrier on the US-Mexico border — a "wall" — but is now open to such a bill including other immigration provisions as well.

Most notably, he's open to extending existing protections for the 700,000 or so immigrants currently protected by the Deferred Action for Childhood Arrivals (DACA) program and the hundreds of thousands of immigrants who currently have legal status under Temporary Protected Status. The Trump administration has moved to sunset DACA, and to end protections for most of the immigrants covered under TPS. Both of those plans are currently held up in litigation.

Democrats aren't particularly interested in what Trump's proposing. "Democrats were not consulted on this and have rejected similar overtures previously," a Democratic aide told Vox. "It's clearly a non-serious product of negotiations amongst White House staff to try to clean up messes the president created in the first place. POTUS is holding more people hostage for his wall."
From the Department of Pants on Fire:
Rudolph W. Giuliani, President Trump's personal lawyer, said on Sunday that discussions about building a Trump Tower in Moscow lasted through the November 2016 election, months longer than previously confirmed.

Mr. Giuliani said in an interview with The New York Times that Mr. Trump "recalls a series of conversations" with his former lawyer and fixer, Michael D. Cohen, about the project during the campaign.

"He can't tell you the date" that it ended, Mr. Giuliani said. "There are no entries or phone logs" that indicated specifics, he added.

"The best he could do is, 'We talked about it, I knew he was running with it, I honestly didn't pay much attention to it,'" Mr. Giuliani said, characterizing Mr. Trump's memory. He added that Mr. Trump recalled, "'It was all going from the day I announced to the day I won.'"

The comments further extended an already growing timeline for the discussions. Mr. Cohen had told Congress that the negotiations ended in January 2016, before the first presidential primaries, but later in a plea agreement, he said they continued as late as June 2016, after Mr. Trump was the presumptive Republican presidential nominee. Mr. Giuliani had then indicated in an interview with ABC News last month that the talks had lasted possibly until Election Day, although he was less specific than he was on Sunday.

Trump officials had initially described the project as the province of Mr. Cohen and simply in the discussion phase. But Mr. Trump had signed a nonbinding letter of intent on the project.
Continuation of Pants on Fire @Keaton_James
So many versions of what Cohen/Trump might have coordinated…
Rudy is another mix-it-up part of the equation…"There is no such thing as a (Moscow) Deal."
"The President gave the accurate version of the story." RG
"If Trump did have discussions with him (Cohen), he gave him (Cohen) the version of the truth of what happened in T Tower Deal" RG @ 4:40 point
And the tried-and-true "I believe Cohen is a serial liar." - RG 4:54
"You just acknowledged that it might be possible T must have talked with Cohen about his testimony…" Jake Tapper to RG.
"Which would be perfectly normal" "I don't know if it happened or didn't happen-but it is privileged info. I can not speak about it." RG 5:20 (Note: John Dowd was the lawyer in charge then)
"Michael Cohen was driving the story…and MC knew what happened.T was running for president (in joint defense agreement)" RG 7:16
"In Written testimony - Trump acknowledged that he had conversations w/ Michael Cohen, but MC was driving the conversation." - RG 8:08
And a mention of Meet the PRess
In an interview that aired Sunday morning on NBC's "Meet the Press," Giuliani was asked about the report and said he was "certain" Trump would never have asked Cohen not to tell the truth to Congress.
"Categorically, I can tell you his counsel to Michael Cohen throughout that entire period was, 'Tell the truth,'" Giuliani said. "We thought he was telling the truth. I still believe he may have been telling the truth when he testified before Congress."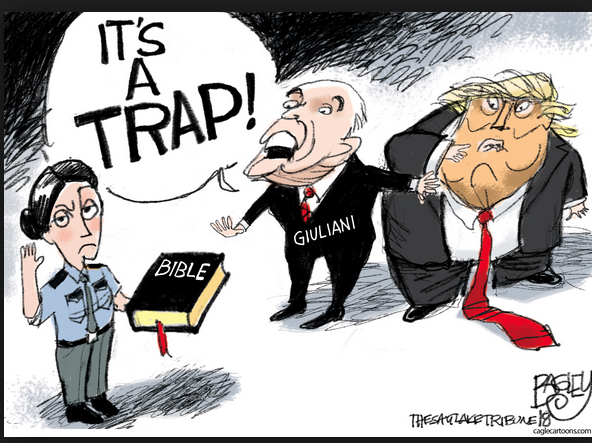 What Giuliani does…best. Look scary.
Note: Just wanted to fill this space…I had duplicated the previous entry.