@dragonfly Great article!
Adding William Happer to the Climate Change panel is bonkers. He is a denier…

Despite evidence from its own intelligence community and the Pentagon that climate change poses a threat to national security, the White House has created a panel to examine that very question, and is set to put a climate change skeptic at its helm.

According to a document obtained by The Washington Post, the Trump administration intends to use an executive order to create a panel tasked with assessing the potential harm of climate change.

Citing a memo dated February 14, The New York Times reported the committee, called the the Presidential Committee on Climate Security, will consist of 12 individuals, including William Happer, who is slated to head the team. Appointed to the National Security Council as the senior director for emerging technologies, the Princeton physicist is a known climate change denier, who once compared the "demonization of carbon dioxide" to the "demonization of poor Jews under Hitler."

In 2015, Happer made news after undercover members of the environmental campaign group Greenpeace posed as oil company representatives and persuaded him to write a scientific paper, The New York Times reported. He assured them it would be an unpaid "labor of love."

Happer told the Greenpeace members, whom he believed were from an unnamed oil company: "More CO2 will benefit the world. The only way to limit CO2 would be to stop using fossil fuels, which I think would be a profoundly immoral and irrational policy."
Surprise! Surprise! /sarc
What would have been a surprise would be if he picked someone who actually takes Climate Change seriously, and not just their past academic pride.
The world can go to hell in a hand basket for all DT cares. So long as his pockets are full, he is happy.
Bloomberg - February 22, 2019
by Lily Katz, David Kocieniewski, and Caleb Melby
Due to the ongoing blizzard of scandals swirling around this administration, it looks like the President's son-in-law has a shot at sneaking through an approval for this massive (and massively corrupt) government loan.
Kushner Cos., the real estate firm owned by the family of President Donald Trump's son-in-law Jared Kushner, has sought financing from federally-owned lenders for its biggest purchase in a decade.

The company has been in talks with Fannie Mae and Freddie Mac about a loan for a $1.15 billion purchase of apartments in Maryland and Virginia, according to two people familiar with the discussions…

Peter Mirijanian, a spokesperson for Jared Kushner's attorney Abbe Lowell, said that Kushner has no involvement in the company's management. "As part of an ethics agreement he has and has followed, Mr. Kushner has had no role in the Kushner Companies or its activities since joining the government over two years ago," Mirijanian said.
Who is monitoring this "ethics agreement"? How do we know it's being enforced? Can Kushner simply pick up the phone and talk to Kushner Co. executives with no one outside the company being any the wiser? The only assurance we have that Kushner is following the agreement comes from Kushner himself (via a spokesperson for his lawyer). Of course Kushner is going to say "I'm following the agreement – I've investigated myself and found that I'm not doing anything wrong." /sarc
The only true assurance that Kushner is not privy to Kushner Co. business and profiting from it would be if he took these two steps (which he should have done before entering his father-in-law's administration):
Sell his holdings to independent third-parties (right now he has just handed off some of them to close family members, undoubtedly with an understanding that they will hand them back later) AND

Place the proceeds from those sales in a blind trust.
Since he has not taken these steps, Kushner can profit from decisions he makes at the highest levels of our government – a clear and unequivocal conflict of interest. And in this loan, we are watching this corruption play out in plain sight. I'm a little disappointed in Bloomberg's reporting because, although, they describe the basis of the conflict of interest, they don't actually spell it out. Here's the relevant paragraph:
President Trump appointed Joseph Otting to oversee the Federal Housing Finance Agency, which regulates Fannie and Freddie. Otting previously served as CEO of OneWest Bank, founded by now-Treasury Secretary Steven Mnuchin, an ally of Kushner's in the West Wing.
Let's dissect these two sentences which are each evidence of a conflict of interest:
Kushner's father-in-law (Trump) appointed the person (Joseph Otting) who heads the agency that oversees Fannie Mae and Freddie Mac (responsible for approving the loans). This alone is a flagrant conflict of interest. But there's more… as revealed in the next sentence.

That same person (Otting) was also CEO of a bank founded by a powerful White House ally of Kushner (Treasury Secretary Mnuchin).
Therefore, two people at the highest levels of our government (the President and the Treasury Secretary), who are also very close to Kushner, are in a position to apply pressure down the chain of command to the people approving Kushner's loans. They don't even have to actively apply that pressure – the favors they are owed do not need to be spelled out to the person who owes those favors.
[This deal] is the latest sign that Kushner Cos. is returning to its roots as an owner of suburban properties. It sold almost $2 billion of apartments in 2007 to help finance the purchase of 666 Fifth Ave. The company set a record with the $1.8 billion purchase of the 41-story Manhattan office tower, which was then plagued by outsized debt payments for more than a decade.

Kushner Cos. reached a deal to sell a 99-year lease on 666 Fifth to Brookfield Asset Management Inc. last year…
The article doesn't mention that the Qataris hold a significant stake in Brookfield. So what really stinks is that the shady Qatari money that helped bail out Kushner from the disastrous 666 deal put him in a position to make this equally shady new deal.
The Kushner-Brookfield-Qatari connection has been covered in WTFJHT here and here.
And how the Kushner-Qatari bail out is also connected to the administration's secretive efforts to sell nuclear technology to the Middle East has been covered here.
Here's another democratic government being attacked by the Kremlin. When will Trump speak up?

This is a long article that reads like a spy novel.

The accusations of how the dirty campaign money would be laundered from Russia to Italy are surprisingly detailed and gave me a feeling of déjà vu in the way these events parallel our U.S. experience being targeted by the Russians. And the Kremlin's end goals in Italy are similar to what they are here: 1) Sow division, fear, and doubt; divide and conquer; in this case, they're trying to tear apart the European Union and 2) Install politicians who will lift European sanctions on Russia.
Here are a few excerpts, but I'll leave the detailed narrative to your perusal – a good Sunday read?
ROME — Italy's interior minister and vice premier, Matteo Salvini, went off the grid for 12 hours during an official state visit to Moscow last October. Tales of Russian prostitutes seemed to explain the time lapse for the single statesman. But a new exposé by the Italian newsmagazine L'Espresso suggests that his time may have been spent doing something far more sinister: he may have been making backroom deals with Russian operatives ahead of European Parliamentary elections.

The investigation, which the magazine says was conducted over several months, comes to the conclusion that Russian president Vladimir Putin is selling 3 million tons of diesel fuel via a Russian company to an Italian state company, Eni, that Salvini as interior minister can help manage…

The Russian profits, according to L'Espresso, would then be funneled back to Italy to fund Salvini's Lega [League] party to help it engage in the dark art of manipulative online persuasion ahead of European elections in May.

The elections are key for Salvini… His hope is that if he and other like-minded political parties across Europe can infiltrate the European Union structure and control it from the inside, they can do any number of things, including lifting Russian sanctions…

The main event [during Salvini's trip to Moscow] was a 5:00 p.m. conference organized at the Lotte Hotel. Savoini [Salvini's close associate] was sitting front row center. After the conference, Salvini and Savoini apparently disappeared through a side door and were not heard from until the next morning. The Italian press traveling with him were baffled until it was leaked that the single Salvini had plans of an intimate nature.

But L'Espresso says those rumors came from the Salvini camp, and instead the interior minister was meeting "in secret with a prominent character of the Kremlin: Deputy Premier Dmitry Kozak, delegate for energy affairs, a man in the close circle of Putin."

The next morning, Salvini was back and Savoini was photographed by L'Espresso reporters at a meeting with Russian oil executives at Moscow's posh Metropol Hotel where he was overheard promising Salvini's commitment to the diesel deal. "The new Europe must be close to Russia. We no longer have to depend on enlightened decisions in Brussels or the U.S.," L'Espresso says Savoini told the Russians through a translator.

"We want to change Europe together with our allies like Heinz-Christian Strache in Austria, Alternative für Deutschland in Germany, Mrs. Le Pen in France, Orbán in Hungary, Sverigedemokraterna in Sweden."

All of these leaders happen to be part of Steve Bannon's new 'Movement' coalition of right-wing leaders hoping to take Europe by storm in elections in May.

At the hotel meeting, L'Espresso journalists, who snapped and published photos of the meeting, say the four talked about the Russian oil company Rosneft…

"The Russians propose three million tons of diesel to be delivered in six months or a year," Savoini allegedly told the group, according to L'Espresso. "The Italian lawyer says that there is no problem: he ensures that Eni has the ability to buy even more if necessary."

Savoini reportedly then told the Russians, "The plan made by our political guys is simple. Given the four percent discount, they pay €250,000 a month, for a year. So they can support a campaign," he says…

L'Espresso reports that the rest of the meeting dealt with the type of diesel order, whether it could also include airplane fuel, where and how it would be delivered. "The Russians suggested Banca Intesa Russia and the Italians reassured them it was a good choice because in the board of directors there is already 'one of our men, Mascetti,'" referring to Andrea Mascetti, a League member who sits on that bank's board…
This statement by Senator Sasse, who has been a relentless crusader seeking justice for Jeffrey Epstein's victims, contains a real bombshell at the very end.

…On page 26 of the opinion, the court notes that it has previously held that "the [Crime Victims' Rights Act] authorizes the rescission or 'reopening' of a prosecutorial agreement, including a non-prosecution agreement, reached in violation of a prosecutor's conferral obligations under the statute," citing previous case law.
In other words, since Alex Acosta, who headed the Epstein prosecution team and is now Secretary of Labor, did not fulfill his "conferral obligations" vis-à-vis the victims (as evidenced by a recent court ruling), the DOJ or the courts can re-open the case! This would not only justly expose Epstein to further legal jeopardy, it would also mean that his long list of sex crimes against minors would come back under investigation – and Acosta's role in hushing the whole thing up would also come under scrutiny.
And this isn't just Sasse's opinion, I've heard it mentioned in several panel discussions, the best example being Friday's Morning Joe where MSNBC legal analyst Danny Cevallos drew the same conclusion. He also adds that it's possible Epstein could be charged in other jurisdictions such as in the U.S. Virgin Islands where Epstein owns an island.
This panel does a great job of explaining many of the issues surrounding the Epstein case and Acosta's involvement, but if you want to skip to the part about re-opening the non-prosecution agreement, go to 4:40.
https://www.youtube.com/watch?time_continue=386&v=t6AvhnX-EiE
BTW, the first panelist is the Miami Herald's Julie K. Brown. In recognition for her tireless and incisive reporting on this case, she was recently presented with a prestigious George Polk Award in Journalism.

Here's the in-depth report for which she was recognized:
https://www.miamiherald.com/news/local/article220097825.html
Yang wasn't just running rub and tug massage parlors and trading in human trafficking, she was also selling access to the White House.
Yang, who goes by Cindy, and her husband, Zubin Gong, started GY US Investments LLC in 2017. The company describes itself on its website, which is mostly in Chinese, as an "international business consulting firm that provides public relations services to assist businesses in America to establish and expand their brand image in the modern Chinese marketplace." But the firm notes that its services also address clients looking to make high-level connections in the United States. On a page displaying a photo of Mar-a-Lago, Yang's company says its "activities for clients" have included providing them "the opportunity to interact with the president, the [American] Minister of Commerce and other political figures." The company boasts it has "arranged taking photos with the President" and suggests it can set up a "White House and Capitol Hill Dinner." (The same day the Herald story about Yang broke, the website stopped functioning.)

The short bio of Yang on the website, identifying her as the founder and CEO of GY US Investments, shows her in a photo with Trump bearing his signature. It says she has been "settled in the United States for more than 20 years" and is a member of the "Presidential Fundraising Committee." According to the Herald , Yang is a registered Republican, and since 2017 she and her relatives have donated more than $42,000 to a Trump political action committee and more than $16,000 to Trump's campaign. Her Facebook page, which was taken offline on Friday, was loaded with photos of her posing with GOP notables: Donald Trump Jr., Rep. Matt Gaetz or Florida, Republican National Committee Chair Ronna McDaniel, Transportation Secretary Elaine Chao, Florida Gov. Ron DeSantis, and former Alaska Gov. Sarah Palin, among others.
The parallels between what happened to Yulia Tymoshenko and Hilary Clinton continue…
American Oversight has uncovered the signed directive from former Attorney General Jeff Sessions instructing a federal prosecutor to carry out President Trump's authoritarian demand to investigate Hillary Clinton.

The document, obtained through Freedom of Information Act (FOIA) litigation by American Oversight, is a formal, November 2017 letter from Sessions to U.S. Attorney for Utah John Huber and has never before been released to the public. In a sworn declaration filed in November 2018 in response to American Oversight's lawsuit, the Justice Department had insisted that no written directive existed and that all guidance to Huber had been delivered verbally.

(…)

On November 13, 2017, Assistant Attorney General Stephen Boyd wrote to former House Judiciary Committee Chair Robert Goodlatte informing him that Sessions had directed "senior federal prosecutors" to evaluate issues the congressman had raised in previous letters. Goodlatte had written to Sessions calling for the appointment of a second special counsel to investigate Clinton, the Uranium One sale, and the Federal Bureau of Investigation's handling of the inquiry into Clinton's use of a private email server.

(…)

"It strains credulity to believe that the Justice Department didn't know about this letter when they swore under penalty of perjury that it didn't exist — you don't exactly forget about a formal directive to investigate Hillary Clinton signed by Jeff Sessions," said Evers. "The fact that they only 'found' it the same week Matthew Whitaker was heading for the exit makes it hard to see DOJ's previous denial as anything but a deliberate attempt to conceal the extent to which President Trump's authoritarian demands were being put into action."
Happy Saturday, #fakemelania is trending on Twitter. I have thoughts. Anyone else?
oh that gaslighting continues, there is no fuckin way that's her.


That lady is too short and confident, also there's no "filler" in her smile lines.
The US is so full of "fake news" and "online outrage culture", that the Russian Hackers no longer feel the need to create it themselves. They are just amplifying it.
https://www.bloomberg.com/news/articles/2019-03-09/russian-trolls-shift-strategy-to-disrupt-u-s-election-in-2020
The Kremlin-linked Internet Research Agency may be among those trying to circumvent protections put in place by companies including Facebook Inc.and Twitter Inc. to find and remove fake content that hackers created to sow division among the American electorate in the 2016 presidential campaign.

"Instead of creating content themselves, we see them amplifying content," said John Hultquist, the director of intelligence analysis at FireEye Inc."Then it's not necessarily inauthentic, and that creates an opportunity for them to hide behind somebody else."

Other hackers are breaking into computing devices and using them to open large numbers of social media accounts, according to Candid Wueest, a senior threat researcher at Symantec Corp. The hacked devices are used to create many legitimate-looking users as well as believable followers and likes for those fake users.

While covert efforts to amplify divisive content originated by others isn't a new technique, hackers and trolls seem to be embracing it heavily in advance of the next U.S. presidential election.

Wueest said he observed a decrease in the creation of new content by fake accounts from 2017 to 2018 and a shift toward building massive followings that could be used as platforms for divisive messages in 2020.
Update: I want to point out that this isn't new for the Russians, in fact Americans know this marketing technique all to well. It's called "astroturfing". It's a tactic used all over the world to make a cultural movement look "grass roots", hence the name "astroturfing". John Oliver does a really good job explaining it in the segment below. FYI, they curse in this video.
I've herald of "quid pro quo" but not "quid pro bono".
KEY POINTS

Recent court filings are shedding new light on a mysterious $125,000 payment to lawyers for Paul Manafort, paid by a firm that has not been identified until now.
The firm is called Multi Media Services Corporation, and its silent owner is Tony Fabrizio, a longtime Manafort associate and the chief pollster on Trump's 2016 presidential campaign.
The route this money traveled, from its origin as a donation made to a pro-Trump political group, to its final destination in the bank account of Manafort's attorney, offers a window into relationships Manafort built over decades.
Wow! – Hats off to CNBC for this bombshell investigative report.


My favorite paragraph that speaks volumes on Manafort's character:
Manafort's lawyers deny that he lied. They told the court that he was merely confused or misremembered during each of the three interviews where he told the government three different stories about where the money came from.

Looks like "misremembered" has now become the Trumpian four-syllable version of "lied."
Reading between the lines of CNBC's remarkably detailed and thorough reporting, it sounds like this secret payment (laundered from a Trump super PAC to Manafort's lawyer) may well have been just one of many such illegal payments made to various private bank accounts in the Trump swamp. It's time for an audit of the other $24 million of dark money that was in this PAC (and all Trump's other PACs for that matter).
It's not surprising that the person who headed the PAC and is at the center of this money laundering scheme, Laurence Gay, was also on Trump's Inaugural Committee. He managed the donations made by Trump supporters to receive tickets – one of the many financial functions of the committee that has come under scrutiny for possible influence peddling, misappropriation of funds, etc. (Bloomberg)
https://www-m.cnn.com/2019/03/16/politics/steele-information-dossier/index.html?r=https%3A%2F%2Fwww.google.com%2F
A newly released snippet of a deposition with the ex-British spy behind the Trump-Russia dossier describes some of the steps he took to verify information he collected for it in 2016, including pulling from a user-generated citizen journalism initiative by CNN, iReport, which no longer operates.

Christopher Steele admitted during a lawsuit deposition that he used internet searches and unverified information to support details he had gathered about a web company mentioned in the dossier, according to select pages of his deposition transcript that a federal court unsealed this week.

But Steele limited his answers about how he verified information about the web companies who claimed they were defamed. He would not explain, for instance, what else he did or sources he used to verify information in the dossier about Webzilla, its parent company XBT and their Russian founder Aleksej Gubarev, who were named in the dossier. He did not have to describe during the deposition all the steps he took to collect or check the information because of terms set by the court.
But
The dossier's intent was to gather research for private clients, and not to validate the information at the same level of scrutiny as journalists, Steele said in his deposition.

The deposition took place in London over the summer after a legal fight over whether Steele would have to answer questions. The questions attorneys were allowed to ask and that Steele would have to answer, ultimately, were very limited.

Steele answered questions for hours in a somewhat tortured process, with three sets of lawyers wrangling over American and British laws.

The most salacious claims in the dossier are still unverified. But many of the allegations that form the bulk of the memos have held up over time. Those include the claim that Russia interfered in the 2016 election and the claim that there were contacts between Trump's team and Russia.

This notably includes Steele's claim that Russian President Vladimir Putin oversaw an effort to interfere in the 2016 election. It also includes allegations of secret contacts between Trump's team and the Russians during the campaign.

Steele gathered this stunning information months before US intelligence agencies and Robert Mueller's office of special counsel publicly described the Russian meddling in the election.
Thanks for posting this and for including the second half of the article which again reported that much of what is in the dossier has now been verified, even though it was at first widely doubted.
The article also makes clear that, although Steele began his research on this particular part of the dossier with ordinary web searches (which any good investigator would do), he then followed up those searches with additional investigations that he is not allowed to reveal at this time.
And finally, just like the so many other parts of the dossier, this part is also being borne out by independent investigations.
So I don't really see a bombshell here at all despite what the headline implies. Unfortunately Fox and Breitbart will promote just the headline and omit the additional background that @Pet_Proletariat shared.
Post Script: Today Trump tweeted (in his usual apoplectic voice) that he was indignant that it was John McCain who apparently facilitated the public release of the dossier. First, I don't see how McCain, respected as he is on both the right and the left, could ever be vilified as a bad source of information. Second, and most importantly, if someone flags down a police car, yelling that the bank is being robbed, what the heck difference does it make who is raising the alarm? – the important thing to focus on is that the bank is being robbed.
All of this reminds me of the meme below – it's a repost, but so timely I can't resist including it again.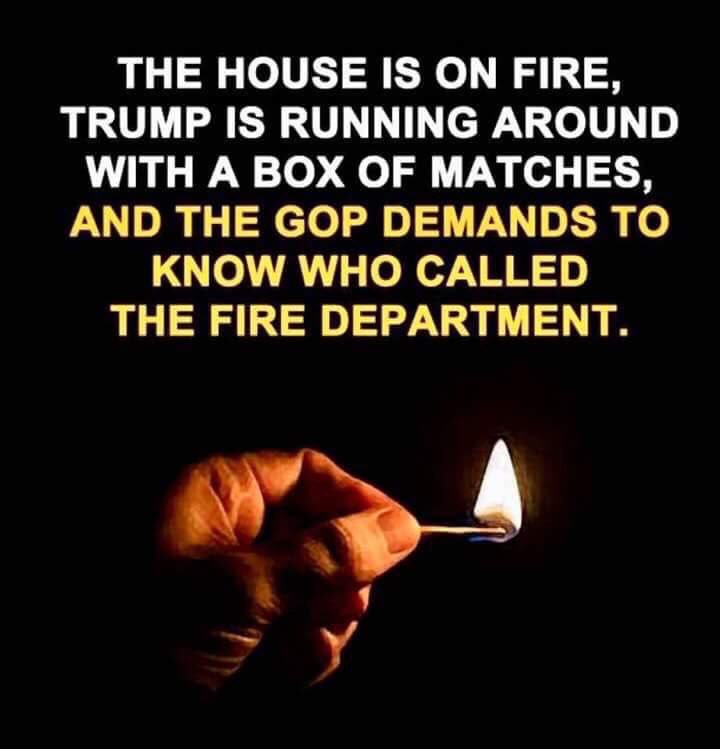 Here's an engaging portrait of New Zealand's Prime Minister and how she is setting an example to the world of the way a true leader responds to a national tragedy.
The calm and compassion shown by New Zealand Prime Minister Jacinda Ardern in response to the killing of 50 Muslims by a suspected white supremacist has burnished the credentials of a leader whose youth and celebrity had given critics' doubts.

In the hours after the carnage in Christchurch on Friday left New Zealanders reeling, the 38-year-old Ardern struck all the right notes.

She promptly labeled the worst peacetime mass killing in New Zealand as terrorism, and set about reassuring a nation that has been largely unscathed by the violence and fears that have afflicted other countries in the past two decades.

A day after the attack, Ardern led a multi-party group to visit grieving families and Muslim community members.

Wearing a black head scarf, she hugged relatives and let them set the pace and agenda as she listened and offered comfort. …
Yup. Fox News broke this story Saturday and like clockwork, Sarah Huckabee Sanders is on twitter promoting it without any background or nuance. She riled up the Chief and his base over this total nothing-burger of a story. Sanders is not competent at her job. This made her boss look so bad. Imagine Jennifer Palmieri or Dan Pfeiffer tweeting shit like this? You can't can you? Why because they were real communication professionals.
The President's comments this morning were so deplorable. Trump's comments are always his special brand of delusion, narcissism and bigotry but this weekend Sanders started that twitter fire. Hands down she has to be the weakest link of the whole administration and that's saying really something.
Sorry this turned into a mini rant… it's been one hell of a week.
He is…Sanders is, and the whole Fox connected lot of them are…
Unreal that McCain would be someone to defile…
The heat is getting turned on at the WH and they have to do some fancy tweeting to denounce the Steele Dossier, McCain, Mueller and FBI.
Unconscionable behavior…

and a LOT of people are noticing…George Conway
Thank you for the kind thoughts and the link @Keaton_James. We all are very proud of our PM, and yes she has taken a very supportive and empathetic role in this, and indeed right across in the board, on issues here, and she has a sound approval rating.
Here is a tweet from the world wide Muslim community.

Apart from around 250,000 firearm owners, we all here in NZ are hoping for a quick amendment to the fire arm regulations banning the possession in civilian hands of semi-automatic firearms. The current regulations which require a person to first hold a firearm licence under which they may then acquire numerous firearms is obviously not sufficient. And it has been known that that is the case for a number of years now. Recommendations were made to the previous government regarding strengthening the regulations - but only the 7 easiest options were adopted.
It is imperative that the previous recommendation of banning semi-automatics - as was adopted in Australia after their Port Arthur mass shooting in which 38 people were slain - is quickly adopted. The gun lobby - as you see practised in your country by the NRA time and time again - wants to give thoughts and prayers, and then "consideration" ie delaying tactics so that the obvious need for change will recede. Redemption is not only the process of being sorry, it also involves taking steps to ensure such wrong never happens again.
By the way - in NZ owning a firearm (of any description) is not a right of citizenship.