These individuals tend to post a lot about the Trump Administration with a large focus on the following topics below. I tried to limit each category to ~5 favorite people.
Footnotes at the bottom of this post will track updates and new additions: ¹,²
A. — Special Counsel Mueller's Investigation on Trump & Russia:
B. — Law (Immigration, DACA, Sanctuary Cities, Travel Ban, etc.):
C. — Ethics Violations (Trump Org & family financial conflicts of interest, lack of White House transparency, etc.):
Richard Painter @RWPUSA - Law professor at University of Minnesota, Vice Chairman of Citizens for Responsibility and Ethics in Washington (CREW), and Former White House counsel for George W. Bush.
Norman Eisen @NormEisen - Also a chairman CREW, CNN commentator, Brookings Senior Fellow, former U.S. Ambassador to Prague, and former White House Ethics Czar under Obama.
¹ Walter Shaub @waltshaub - Former Director of U.S. Office of Government Ethics (OGE) who resigned in July due to Trump's conflicts of interest and disregard for ethics oversight.
D. — Health Care:
E. — Activists:
¹ Shannon Watts @shannonrwatts - Founder of Moms Demand Action, a grassroots group advocating gun control solutions to end gun violence.
¹ Shannon Coulter @shannoncoulter - Co-founder of Grab Your Wallet, an organized movement to boycott companies that do business with the Trump family.
¹ Sleeping Giants @slpng_giants - A group of online activists with the goal of stopping racism and sexism in the media. They inform advertisers to block "ad buys" from specific websites to prevent their brands from displaying next to offensive and inflammatory content. Over 2000 companies have since blocked sites like Breitbart (Steve Bannon's media "platform for the alt-right").
F. — Foreign Policy - North Korea, Japan, & Asia-Pacific Region (APAC)
G. — Foreign Policy - Middle East
H. — Voting Rights Issues (gerrymandering, election tampering, voter ID laws, etc.):
---
Updates:
¹ Edited September 19, 2017. Sections: C.) Ethics, E.) Activists, F.) Foreign Policy–Asia.
² Edited September 20, 2017. Sections: G.) Foreign Policy—MidEast, H.) Voting Rights.
I have a Twitter list (that's public) that I call "news smarts" – over time, I've carefully complied people I've found to be the best for breaking news or good analysis. 9 out of 10 times any breaking news, etc I come across in this list before it even makes it to the "trending" section (which I always use to rely on to get updates – but now, that's my second stop!).
Anyone can subcribe here to the list here: https://twitter.com/mouseam/lists/news-smarts1
Also, a good follow for Trump/Russia breaking news is Benjamin Wittes - in particular look for the "BOOM!" Baby Cannon tweets, those are articles with significance to Trump/Russia.
Oh, and @matt - the WTFJHT twitter handle is on the list!

Vann Newkirk @fivefifths: writes for the Atlantic on health care and civil rights, makes fun of Mike Pence's hems
Stacy-Marie Ishmael @s_m_i: analyzes relationships between tech, social media, and traditional media and is fucking done with your fake viral posts
I'm sure many of you have heard about the mysterious Comey twitter account.
Well, this morning it was confirmed that Reinhold Niebuhr (@FormerBu) is, in fact, James Comey.
Should be an interesting twitter follow, to say the least…

I forgot how incredible this list is.
Found this last night via @alt_uscis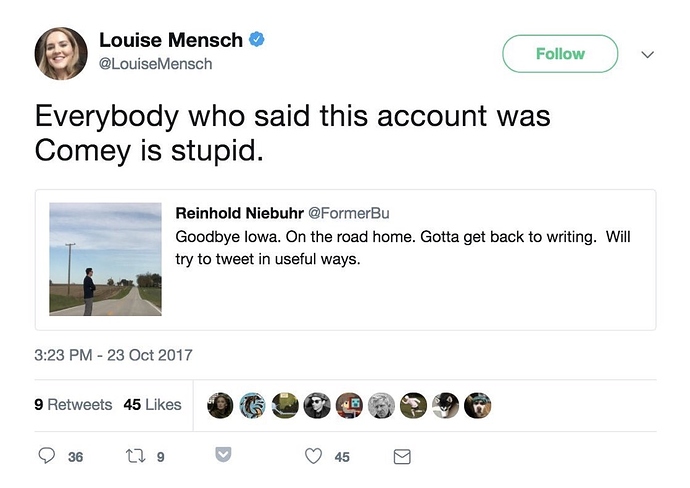 I refuse to give her an actual link (this link above is to Alt-Immigration's tweet, which was also just a screenshot) for traffic or retweets, but every so often she gives me a good, if usually bitter, laugh.
Guess I should add the @alt_uscis account to the list for regular following, too.
HA HA HA. She's the fucking worst. I regret falling for her shtick when I was emotional and vulnerable after the election. What an assclown.
LOL. I found out yesterday I'm blocked by her

I've had her on mute for months, also I never respond to anything she's mentioned in and don't even use her full name…so I found it quite amusing.
Hell yeah–you on…THE LIST muahaha! I read she uses block apps, or whatever it is that can apparently block the ppl simply following ppl she's blocked, but who the fuck knows.
And srsly she is good at what she does, fooled countless ppl before the double-agency crazy started showing thru. I was fucking confused for a while too ffs, and I still see some who I think should know better wrapped around her finger.
Bruce Bartlett - especially now with the tax agenda in process… I had no idea that he regularly tears Trump a new one on twitter…
LOL. Welp, @FormerBu is now @Comey and verified (blue check mark and all)!
LM is wrong…again.
Seth is great! His threads just kill me…he once had +200 tweets in a single thread (yes that's two zeros, not a typo). I feel like his average is like 50 per thread.

It's like at some point just write an article on medium and post it with maybe a few tweets of the highlights.
I wish Seth would actually cite all his sources. It's a lot of quasi-reporting and inference, which really unfortunate.
Add SEth abramson to the legal list