Just for the visual effect…
And Wilson
Shine was the fifth communications director in Trump's White House, a role the president has struggled to fill during his more than two turbulent years in office. The others were Sean Spicer, Mike Dubke, Anthony Scaramucci and Hope Hicks.
6th time's the charm?
Notice there's always a spike in departures when things start to go badly off the rails? Does anybody know precisely why Scott Gottlieb took off? That one seemed to shock a LOT of people.
Slight Edit: I just noticed that Scott Gottlieb, head of the FDA, is not listed above. So, uh, now he is.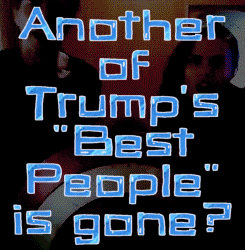 Thanks, I've been sick this week.
FDA chief Scott Gottlieb is leaving in about a month.
Just last week, Gottlieb said the FDA was working on new regulations for CBD-infused food and drink.
While the federal government legalized hemp-derived CBD, the FDA's rules still prohibit adding it to food or drinks.
The top communications official at the Department of Veterans Affairs, John Ullyot, announced his resignation Thursday, according to an internal email obtained by CNN and a statement from Secretary Robert Wilkie.

Ullyot will officially leave his post as the assistant secretary for public and intergovernmental affairs in early April and will be "announcing an exciting new position shortly," according to the email.

A White House appointee, Ullyot was widely considered to be a staunch loyalist of President Donald Trump during his two years at the VA and praised the President's leadership in an note to colleagues announcing his decision to leave the department. …

Ullyot came under fire in December after emails surfaced showing he discouraged the department's former chief diversity officer from posting a more forceful condemnation of white supremacists and neo-Nazis who participated in the deadly August 2017 "Unite the Right" rally in Charlottesville, Virginia.

Last March, USA Today and The Washington Post reported that Ullyot tried to facilitate the ouster of then-secretary David Shulkin by trying to get a top House Veterans' Affairs Committee staffer to encourage members to demand his resignation.
Lance Leggitt, deputy director of the White House Domestic Policy Council and a veteran of two presidents, plans to resign soon, the White House announced on Friday.

A former chief of staff at the Health and Human Services Department, Leggitt served as deputy of the Domestic Policy Council in the Trump White House for little more than a year, working on lowering the price of prescription drugs and assisting U.S. veterans.
Omfg, VEEP had to talk Coats down from resigning over pulling out of Syria. Also Trump calls Coats, Mr. Rogers.

The country's intelligence chief was on the verge of resigning at the end of last year over his frustrations with President Donald Trump but was talked out of it by his closest ally in the administration, Vice President Mike Pence, according to current and former senior administration officials.

Among the tensions the officials said have marred the relationship between the president and Director of National Intelligence Dan Coats: Trump pushed Coats to find evidence that former President Barack Obama wiretapped him; he demanded Coats publicly criticize the U.S. intelligence community as biased; and he accused Coats of being behind leaks of classified information. More recently Trump also fumed to aides after Coats publicly defended the importance of the North Atlantic Treaty Organization in countering Russia's aggression, officials said.

But the tipping point for Coats came in December with Trump's abrupt decision to withdraw all U.S. troops from Syria, and the contentious departure of former Defense Secretary James Mattis after protesting the policy, according to the current and former officials. The vice president, who has repeatedly played the role of envoy between Trump and Coats, convinced his longtime Indiana friend to stay until at least this summer, the officials said.
Linda McMahon is stepping down as head of Small Business Administration to chair the pro-Trump super PAC America First Action, according to three people familiar with the move.

Trump allies have spent weeks searching for someone to chair the super PAC, which officials view as a key plank in the president's reelection campaign. The president's top aides believe they will need to raise around $1 billion, and say the super PAC will be a major part of the effort. Brian Walsh, America First Action's president, declined to comment.
Mystery of mysteries…
In a new profile, The Atlantic claims Rod Rosenstein will NOT be leaving the Justice Department as previsously reported, he will stay on indefinitely, role unknown.
Rosenstein was slated to leave the Justice Department in March, but will now stay on indefinitely, according to NBC. The hearings for his replacement, Jeffrey Rosen, are scheduled for later this month.
Treasury Secretary Steven Mnuchin is about to lose two of his most trusted aides, just as House Democrats ramp up pressure on his department to release President Donald Trump's tax returns.
Eli Miller, chief of staff at Treasury and a former Trump campaign official, will leave the department next week, according to a staffwide email sent Friday afternoon. Close Treasury observers say Miller is expected to join the private sector.
[…]
Assistant Secretary of the Treasury for Public Affairs Tony Sayegh has also planned for months to leave by the end of May and is interviewing candidates for his replacement as the agency's top communications official.
Department of Homeland Security Secretary Kirstjen Nielsen is expected to offer her resignation at a meeting at the White House on Sunday, U.S. officials familiar with the matter say. Nielsen was set to meet with President Trump at 5 p.m., the officials said.

Nielsen's expected departure is a part of a massive DHS overhaul engineered and directed by top Trump adviser Stephen Miller, according to a senior U.S. official. It's unclear whether Nielsen is deciding to resign voluntarily, or whether she has been pressured to resign. Nielsen has served as DHS secretary since December 2017, and questions about how much longer she might last have swirled for months, as the president continues to voice his frustrations over illegal immigration levels.
NY Times confirms
And Trump confirms
Effective April 7, 2018? How long was this sitting in her notes app?



San Francisco — Speaker Nancy Pelosi released the following statement on the resignation of Secretary of Homeland Security, Kirstjen Nielsen:

"It is deeply alarming that the Trump Administration official who put children in cages is reportedly resigning because she is not extreme enough for the White House's liking.

"The President's dangerous and cruel anti-immigrant policies have only worsened the humanitarian suffering at the border and inflicted vast suffering on the families who have been torn apart.

"The Trump Administration's increasingly toxic anti-immigrant policies were resoundingly rejected by the American people in the midterm election. America needs a Homeland Security Secretary who will respect the sanctity of families, honor our proud heritage as a nation of immigrants, and restore sanity to this Administration's policies."
WTF WTF WTF
Serving the white population only…setting up horrendous 'immigration' entries to this country and never legally, only via executive mandates none by legislation.
It is a shameful time in our history…
United States Secret Service director Randolph "Tex" Alles is being removed from his position, multiple administration officials tell CNN.

President Donald Trump instructed his acting chief of staff, Mick Mulvaney, to fire Alles. Alles remains in his position as of now but has been asked to leave.

The Secret Service director reports directly to the Secretary of Homeland Security, Kirstjen Nielsen, who resigned on Sunday amid growing pressure from the President. The director oversees the Secret Service's work on both protection and investigations.
Government officials said three more top department leaders were expected to leave soon: L. Francis Cissna, the head of U.S. Citizenship and Immigration Services; Randolph D. Alles, the Secret Service director; and John Mitnik, the agency's general counsel.

The White House confirmed the departure of Mr. Alles in a statement but made no immediate comment on the other pending moves. The White House statement said that the president has selected James M. Murray, a career Secret Service official, to take over as director in May.
Claire Grady, acting deputy secretary at the Department of Homeland Security (DHS), offered President Trumpher resignation Tuesday as the agency finds its upper ranks thinned after a string of departures.

Her exit comes after DHS Secretary Kirstjen Nielsenannounced Sunday she was leaving her post. Trump subsequently withdrew his nominee to lead Immigration and Customs Enforcement (ICE) and the White House announced that Secret Service Director Randolph "Tex" Alles would be departing the agency.
The acting director of U.S. Immigration and Customs Enforcement (ICE), Ron Vitiello, has resigned amid an agency-wide restructuring of the Department of Homeland Security (DHS).

Vitiello had originally been nominated to take over the post permanently, but his nomination was abruptly pulled last week by [President Trump](https://thehill.com/people/donald-trump), who said he wanted to go in a "tougher" direction.

Outgoing Homeland Security Secretary Kirstjen Nielsenannounced the news of Vitiello's departure on Wednesday, praising his "knowledge and expertise as a seasoned law enforcement professional."

Nielsen said in a statement that Vitiello "has left a legacy of excellence as our Department has expanded and refined our efforts to curb illegal immigration and secure our borders."
NBC confirms
Rick Perry may be on his way out – not yet confirmed, but watch this space.