Trump campaign runs ads with marking once used by Nazis to designate political prisoners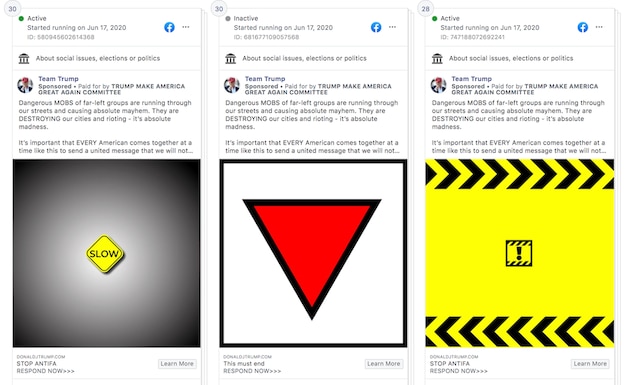 Some of the ads featuring the inverted red triangle, which began running on Wednesday, were still active on Trump's page on Thursday morning. They had gained as many as 950,000 impressions from the president's Facebook account alone. Identical ads on Pence's account, which were also still active, had gained as many as 500,000 impressions.

Trump has made antifa — a label associated with anti-fascist protesters who infamously sparred with far-right figures after his election in 2016 — a centerpiece of his response to recent demonstrations in the aftermath of the killing of George Floyd in police custody in Minneapolis. The effort to rally his supporters using the specter of a marauding horde resembles the emphasis he placed on the threat of a migrant caravan heading to the U.S. border in the lead-up to the midterm election in 2018.

As protests spread to small-town America, militia groups respond with armed intimidation and online threats

So far, however, the alleged menace has been mostly nonexistent — a focal point of online alarm not reflected in scenes of mostly peaceful protest nationwide. Despite warnings of antifa incursions in scores of cities, there is no evidence linking outbursts of violence to an organized left-wing effort.