Even if it's just a joke, that's a hell of a joke to make right now
Read: The Republican National 2020 Platform
https://prod-cdn-static.gop.com/media/documents/RESOLUTION_REGARDING_THE_REPUBLICAN_PARTY_PLATFORM.pdf?_ga=2.109560193.504857691.1598219603-2087748323.1598219603
RESOLUTION REGARDING THE REPUBLICAN PARTY PLATFORM
WHEREAS, The Republican National Committee (RNC) has significantly scaled back the size and scope of the 2020 Republican National Convention in Charlotte due to strict restrictions on gatherings and meetings, and out of concern for the safety of convention attendees and our hosts;
WHEREAS, The RNC has unanimously voted to forego the Convention Committee on Platform, in appreciation of the fact that it did not want a small contingent of delegates formulating a new platform without the breadth of perspectives within the ever-growing Republican movement;
WHEREAS, All platforms are snapshots of the historical contexts in which they are born, and parties abide by their policy priorities, rather than their political rhetoric;
WHEREAS, The RNC, had the Platform Committee been able to convene in 2020, would have undoubtedly unanimously agreed to reassert the Party's strong support for President Donald Trump and his Administration;
WHEREAS, The media has outrageously misrepresented the implications of the RNC not adopting a new platform in 2020 and continues to engage in misleading advocacy for the failed policies of the Obama-Biden Administration, rather than providing the public with unbiased reporting of facts; and
WHEREAS, The RNC enthusiastically supports President Trump and continues to reject the policy positions of the Obama-Biden Administration, as well as those espoused by the Democratic National Committee today; therefore, be it
RESOLVED, That the Republican Party has and will continue to enthusiastically support the President's America-first agenda;
RESOVLVED, That the 2020 Republican National Convention will adjourn without adopting a new platform until the 2024 Republican National Convention;
RESOLVED, That the 2020 Republican National Convention calls on the media to engage in accurate and unbiased reporting, especially as it relates to the strong support of the RNC for President Trump and his Administration; and
RESOLVED, That any motion to amend the 2016 Platform or to adopt a new platform, including any motion to suspend the procedures that will allow doing so, will be ruled out of order.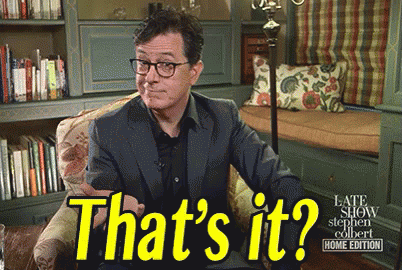 They don't have new platform? Just the 2016 platform? What about the economy or the 170,000 Americans who have died? What are we going to do to stop the spread of COVID-19? The fuck guys?!
https://prod-cdn-static.gop.com/media/documents/DRAFT_12_FINAL[1]-ben_1468872234.pdf
This is such an autocratic move.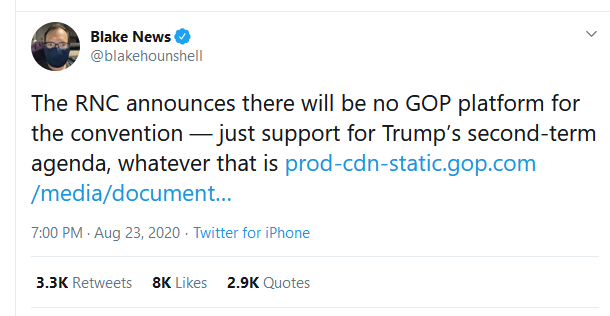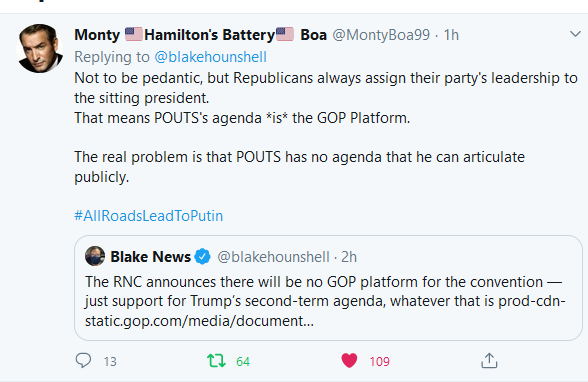 Press Release: TRUMP CAMPAIGN ANNOUNCES PRESIDENT TRUMP'S 2ND TERM AGENDA: FIGHTING FOR YOU!
Building on the incredible achievements of President Donald J. Trump's first term in office, the President's re-election campaign today released a set of core priorities for a second term under the banner of "Fighting for You!" President Trump's boundless optimism and certainty in America's greatness is reflected in his second-term goals and stands in stark contrast to the gloomy vision of America projected by Joe Biden and Democrats.

President Trump will further illuminate these plans during his acceptance speech Thursday at the Republican National Convention. Over the coming weeks, the President will be sharing additional details about his plans through policy-focused speeches on the campaign trail.

President Trump: Fighting for You!

JOBS

Create 10 Million New Jobs in 10 Months
Create 1 Million New Small Businesses
Cut Taxes to Boost Take-Home Pay and Keep Jobs in America
Enact Fair Trade Deals that Protect American Jobs
"Made in America" Tax Credits
Expand Opportunity Zones
Continue Deregulatory Agenda for Energy Independence

ERADICATE COVID-19

Develop a Vaccine by The End Of 2020
Return to Normal in 2021
Make All Critical Medicines and Supplies for Healthcare Workers in The United States
Refill Stockpiles and Prepare for Future Pandemics

END OUR RELIANCE ON CHINA

Bring Back 1 Million Manufacturing Jobs from China
Tax Credits for Companies that Bring Back Jobs from China
Allow 100% Expensing Deductions for Essential Industries like Pharmaceuticals and Robotics who Bring Back their Manufacturing to the United States
No Federal Contracts for Companies who Outsource to China
Hold China Fully Accountable for Allowing the Virus to Spread around the World

HEALTHCARE

Cut Prescription Drug Prices
Put Patients and Doctors Back in Charge of our Healthcare System
Lower Healthcare Insurance Premiums
End Surprise Billing
Cover All Pre-Existing Conditions
Protect Social Security and Medicare
Protect Our Veterans and Provide World-Class Healthcare and Services

EDUCATION

Provide School Choice to Every Child in America
Teach American Exceptionalism

DRAIN THE SWAMP

Pass Congressional Term Limits
End Bureaucratic Government Bullying of U.S. Citizens and Small Businesses
Expose Washington's Money Trail and Delegate Powers Back to People and States
Drain the Globalist Swamp by Taking on International Organizations That Hurt American Citizens

DEFEND OUR POLICE

Fully Fund and Hire More Police and Law Enforcement Officers
Increase Criminal Penalties for Assaults on Law Enforcement Officers
Prosecute Drive-By Shootings as Acts of Domestic Terrorism
Bring Violent Extremist Groups Like ANTIFA to Justice
End Cashless Bail and Keep Dangerous Criminals Locked Up until Trial

END ILLEGAL IMMIGRATION AND PROTECT AMERICAN WORKERS

Block Illegal Immigrants from Becoming Eligible for Taxpayer-Funded Welfare, Healthcare, and Free College Tuition
Mandatory Deportation for Non-Citizen Gang Members
Dismantle Human Trafficking Networks
End Sanctuary Cities to Restore our Neighborhoods and Protect our Families
Prohibit American Companies from Replacing United States Citizens with Lower-Cost Foreign Workers
Require New Immigrants to Be Able to Support Themselves Financially

INNOVATE FOR THE FUTURE

Launch Space Force, Establish Permanent Manned Presence on The Moon and Send the First Manned Mission to Mars
Build the World's Greatest Infrastructure SystemWin the Race to 5G and Establish a National High-Speed Wireless Internet Network
Continue to Lead the World in Access to the Cleanest Drinking Water and Cleanest Air
Partner with Other Nations to Clean Up our Planet's Oceans

AMERICA FIRST FOREIGN POLICY

Stop Endless Wars and Bring Our Troops Home
Get Allies to Pay their Fair Share
Maintain and Expand America's Unrivaled Military Strength
Wipe Out Global Terrorists Who Threaten to Harm Americans
Build a Great Cybersecurity Defense System and Missile Defense System
"teach american exceptionalism" jfc
Like Jesus Christ, I am just about the farthest thing from being Christian but these people say they are yours and you are responsible for them, please come and get your fucking kids so they quit making a mess here, and if they do it again they won't be allowed back
And here is Trump turning hundreds of people into criminals by having them violate the Hatch Act, while he once again is above the law.
Like usual.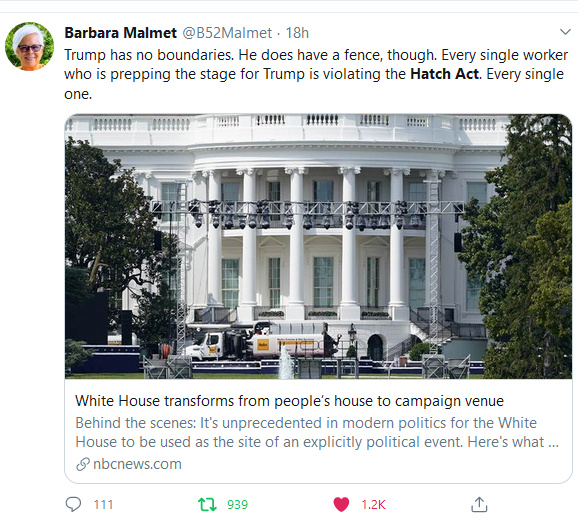 White House transforms from people's house to campaign venue
Behind the scenes: It's unprecedented in modern politics for the White House to be used as the site of an explicitly political event. Here's what the transformation has looked like.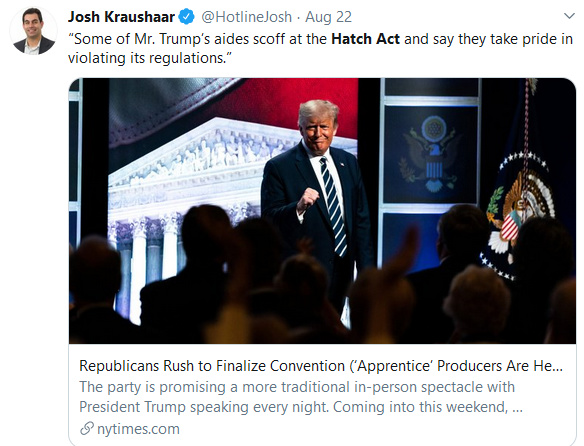 Republicans Rush to Finalize Convention ('Apprentice' Producers Are Helping)
The party is promising a more traditional in-person spectacle with President Trump speaking every night. Coming into this weekend, major TV networks had only a foggy idea of what to expect.
FFS. What happened to Ryan Knight?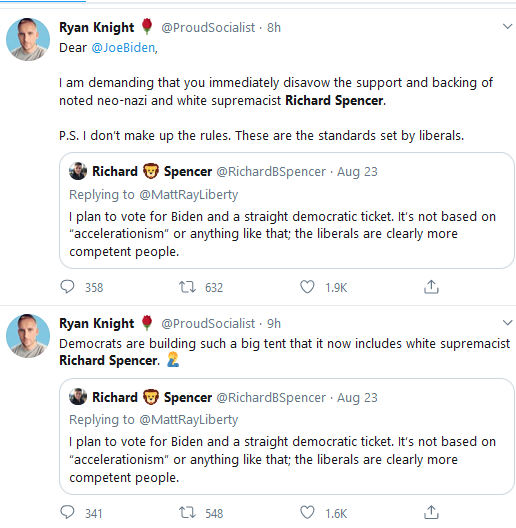 So Richard Spencer came out for Biden, an act many have called out as gaslighting: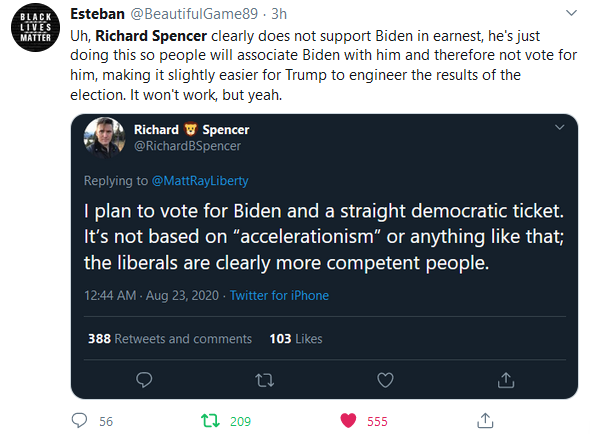 Biden's team responded immediately.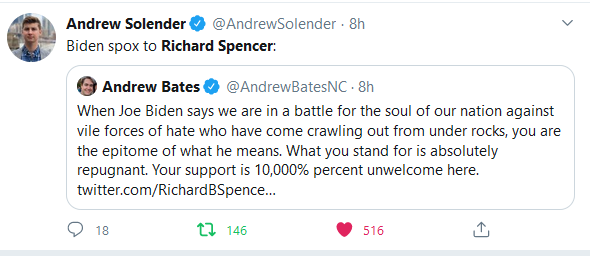 PS RE Nazi-Punching: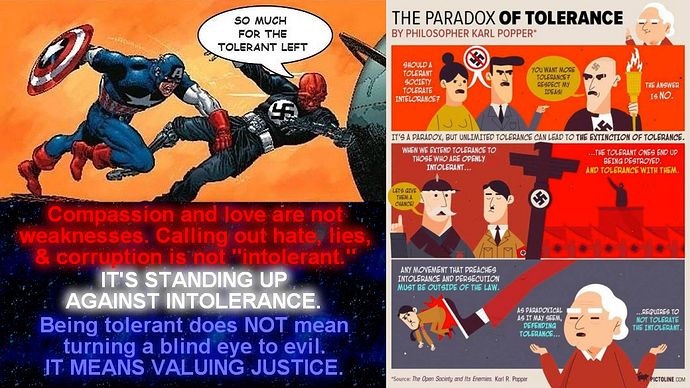 Tolerance is not a moral precept, it is a social contract. People who advocate systematic disenfranchising of entire demographics have broken that contract and there is no reason to entertain them.
Watch: 2020 Republican National Convention, Day 1
(I mean…if you want to

)
https://youtu.be/GyqHUPoDpoM?list=PLU12uITxBEPF_hZYOFSij6UvfenJ63HsE
New game!
Every time they mispronounce Kamala, everybody drink

Are you trying to kill us?
Watching with sound on/sound off - and looking at who is there.
T is trying to promote his hands-on aspect of handling Coronavirus issue and particularly the Operation Warp Speed progress…and he's being up front nice with some postal workers, some nurses, Covid-19 survivors…all very canned. IMO
Note: When Rep Matt Gaetz (R-FL) and CNN/Fox did not cover him…good for them.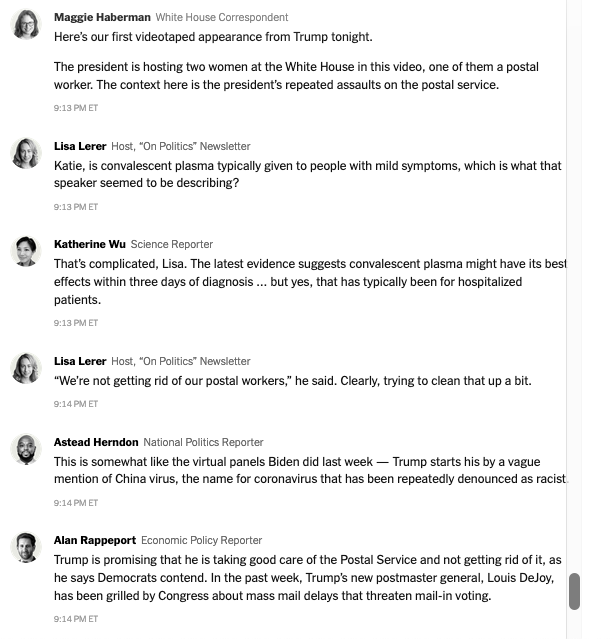 Adding - Yes, that Kimberly Guilfoyle was so outside voice LOUD…vehement in her support for Trump, who does pay her a royal sum monthly to be on the campaign, like $30k/monthly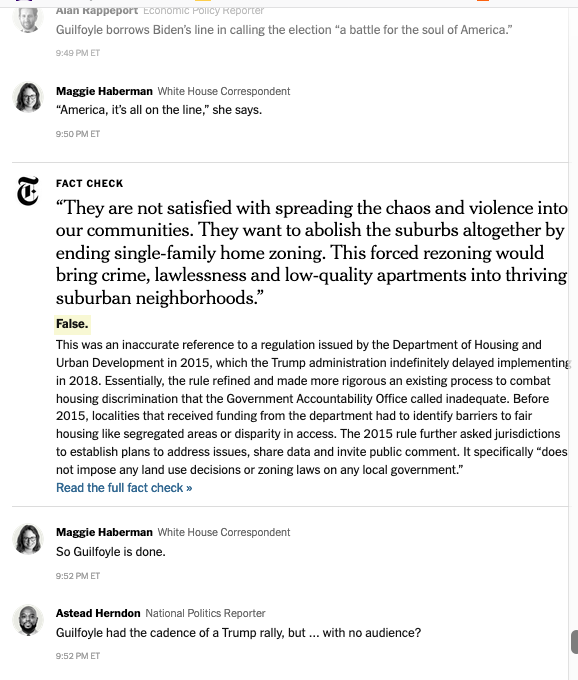 Adding -Daniel Dale - factchecker extraordinaire says so far in the 1st 2 hours of RNC coverage, the R's have lled more than the entire 4 nights of DNC.
Adding
And now a moment from the McKloskeys - aggrieved in St. Louis because BLM protesters walked by their house.
Adding funny video…imitating Junior
Video

Trump at the RNC claims Democrats are the ones who want to get rid of postal workers
Funny response to RNC convention…crooked media Jon Lovett.
"…Kim Guilfoyle yelling from the palace balcony in her mind…"

Sad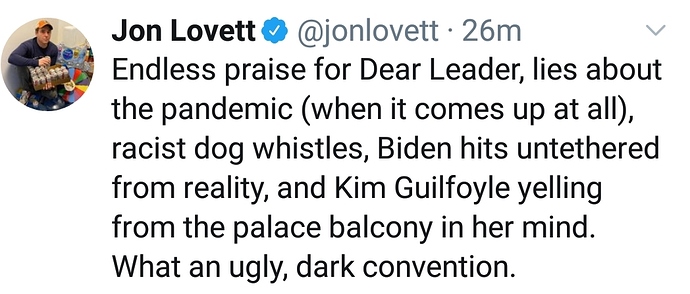 Looks like Miles Taylor, who just resigned from DHS is building a coalition of current and former (mostly Republican) workers within the State Dept, DHS etc to defeat T. They're going to drop a 'bombshell' next Tuesday and also hope to create videos, ads and information pieces about what working for Trump has been like. The name they are calling themselves is REPAIR short for Republican Political Alliance for Integrity and Reform.
They hope to anonymously divulge details…and it makes me think, well, this is where ANONYMOUS is coming from. Mikes Taylor has denied he is the NYT Anonymous writer.
Looking forward to this.

President Donald Trump speaks during a press conference. | Pete Marovich/Getty Images
08/24/2020 08:47 PM EDT
Miles Taylor, the former chief of staff at the Department of Homeland Security in the Trump administration who endorsed Joe Biden last week, has started a group of current and former administration officials and other Republican leaders who want to see President Donald Trump defeated in November.

Taylor and Elizabeth Neumann, another former senior DHS official who served in the administration, have started the Republican Political Alliance for Integrity and Reform (REPAIR), which will include people who work or have worked for Trump but want to elect Biden and reform the Republican Party.

So far, two current senior administration officials have anonymously signed on to the effort and one of them has preliminary plans to reveal their identity closer to the election and expects to get fired as a result, according to a person familiar with the project who declined to share the names of those two officials. The person also said the group is preparing another "bombshell" to be revealed as soon as Tuesday but didn't get into any more detail when pressed.

The group is working to get between 20 and 40 former Republican officials, including people who have served in the administration, to sign on to become part of the group. Taylor stepped down last year.

"The President has demonstrated he's unfit for office. And those of us who witnessed the chaos of his Administration firsthand from the inside are coming together to ensure that Trump is not re-elected," Taylor said in a statement to POLITICO.

"More importantly, this organization will be planning for a post-Trump Republican Party and working with other groups to repair the GOP and repair our republic. In the coming weeks, we'll be announcing a range of Republican talent that will be helping drive the effort, as well as new initiates to bring the GOP back to its roots, away from the corruption of Trumpism, and toward a more forward-looking agenda."

Republican Voters Against Trump, a group founded by former Weekly Standard Editor Bill Kristol, is providing initial funding for REPAIR until it can become its own standalone group. REPAIR also is likely to create ads featuring former Trump officials speaking out about what they saw in the administration but those ads would be run out of other groups.

Last week, Taylor, in a series of videos for Kristol's group, endorsed Biden and slammed Trump's presidency as "terrifying" and "actively doing damage to our security." His initial Biden endorsement video garnered over 6 million views on Twitter, and Taylor, who's on leave from Google, also hit the TV news circuit, doing interviews with ABC News, CNN and MSNBC, among others. A shorter version of Taylor's ad is now appearing on TV, including nationally on Fox News.
…
REPAIR's first big project is called "Publius Reawakened," a series of anonymous pieces on why the current and former Republican officials believe that Trumpism has damaged the party and the nation, focusing on different topics like foreign policy, and how to repair it and get the party on the right track. Publius harkens back to the pseudonym the founders used in the Federalist Papers to persuade Americans to support the new U.S. Constitution.