Some comic relief
Suppose there was a Horse loose in the Hospital - a play on what it feels like with T as president.
https://www.youtube.com/watch?v=JhkZMxgPxXU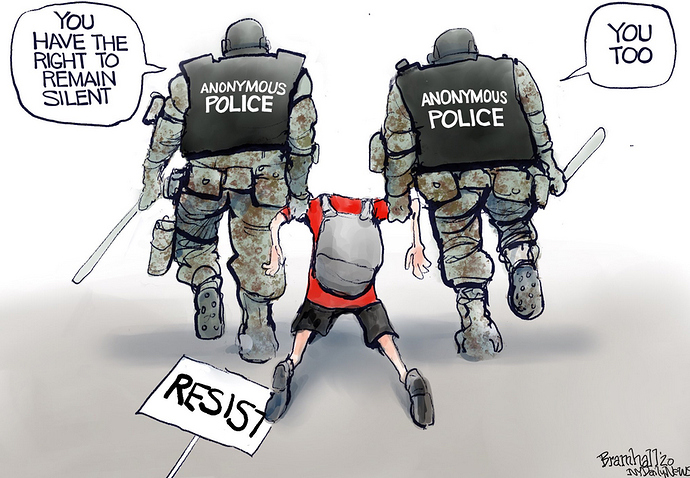 Feel like the world is going mad right now? Need a brief break from it all?
Watch this for a little while.
You're welcome.


Utterly apolitical.
I took an IQ test at the age of 10. They did that same thing. And they DO warn you to remember them for later, and do tell you "hey, remember those words I told you?"
What a buffoon.
More Karen(s) from Stephen Colbert.
"Oh god, oh hell, what is this thing?"
S A R A H. C O O O P E R strikes again!!

Watch "How to person woman man camera tv" on YouTube
Did she have a Keyser Söze moment there?
Ever since I filled out a survey to skew their numbers, I get occasional e-mails from the Trump campaign trying to get me to give them money. I don't mind; it lets me see what idiocy they're up to.
For instance, check out this spammy scammy piece: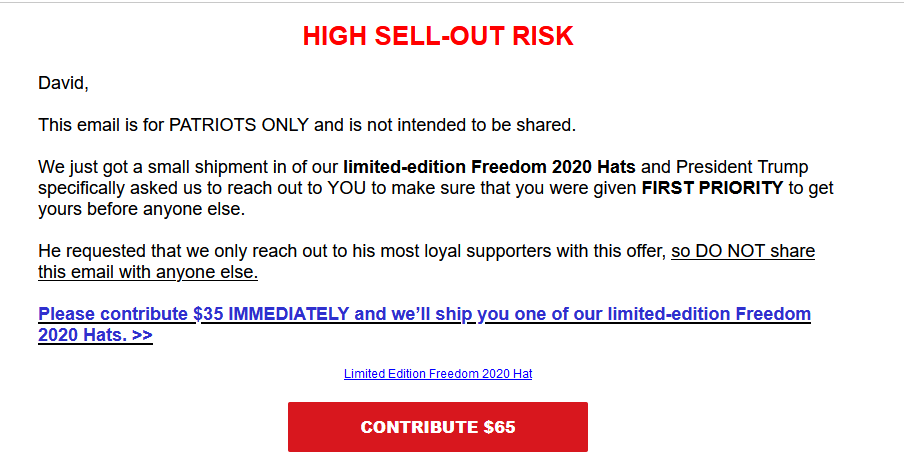 And then there's this: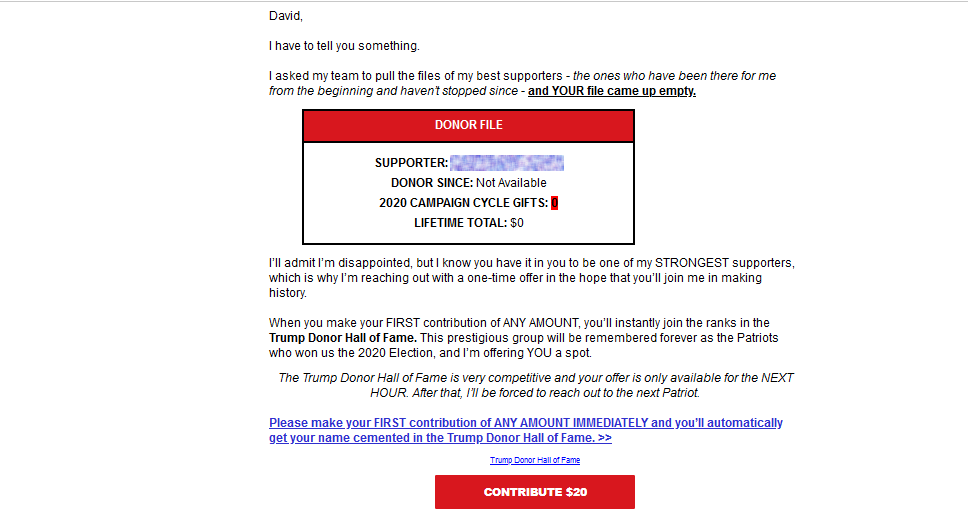 Seriously, they read like… well, like something I'd expect from a sleazy televangelist, honestly.
Trump to Throw Out First Amendment at Yankee Stadium | The New Yorker

WASHINGTON (The Borowitz Report)—In an event that he described as "historic," Donald J. Trump announced that he will throw out the First Amendment at Yankee Stadium next month.

"It's going to be an amazing and fantastic thing I'll be doing," Trump said. "I've asked a lot of history experts, and they all say that no President has thrown out an amendment before."

"Obama was President for eight years and never threw out an amendment," he said. "What a loser."

Trump said that he had considered throwing out the First Amendment "many, many times before" but had ultimately decided to preserve freedom of the press for his friends at Fox News.
"But, thanks to that beauty Chris Wallace, now I know that Fox is just as nasty and fake as the rest," he said. "The only real journalist left is that nice lady at OAN."

When asked how he is preparing for his Yankee Stadium appearance, Trump said that he is consulting with other world leaders who are experienced in throwing out laws.

"I had a terrific conversation with Vladimir Putin," Trump said. "They don't have a First Amendment in Russia, but he said that, if they did, he would definitely throw it out. So that made me feel good."

Trump grew misty-eyed as he contemplated his upcoming visit to Yankee Stadium.

"I can't believe I'll be throwing out the First Amendment," he said. "Every little boy dreams of this."