I heard!! I haven't watched yet tho!
I can't find this video outside of social media but it's brilliant!! Alex Jones tries to talk to the people of Seattle and all he gets is coffee in his face!
I literally can not tell if this is satire…

The source of the remark is Breitbart, so probably not.
Well that's absurd; if anything, Gorka is part of the Imperial Dark Side, not the Rebel Alliance! Gah, that assertion is his most egregious offense yet!

Not to mention the alt-right and white supremacists consider Star Wars' themes to be "anti-white social engineering"

Rebellions are built on hope!

I know right?! They've got to be kidding, lol! The Alt-Right think they are the actually the rebels in this odd ball Star Wars fantasy reference? Weird because the Empire is a mostly human and mostly white male supremacy group that literally called it's soldiers stormtroopers. You'd think it'd pretty clear which side this story the Alt-Right is actually on.



Because Trump's lawyer just got a lawyer… No, not Cohen. Trump's other lawyer, McGahn.

And in case you missed Kushner's Harvard Admissions essay published last week




I just stumbled upon this Twitter account today: @TheGoodGodAbove and I'm dying.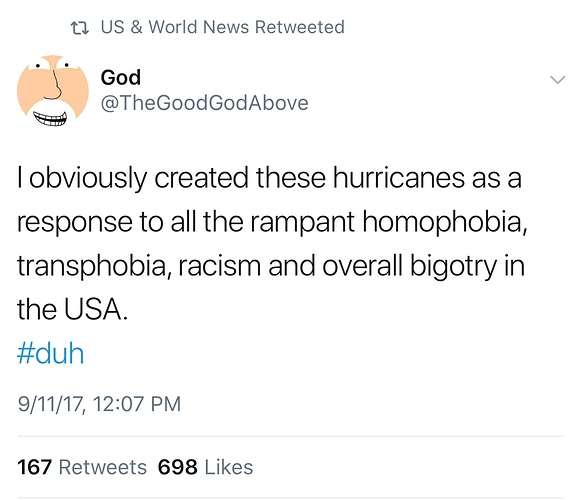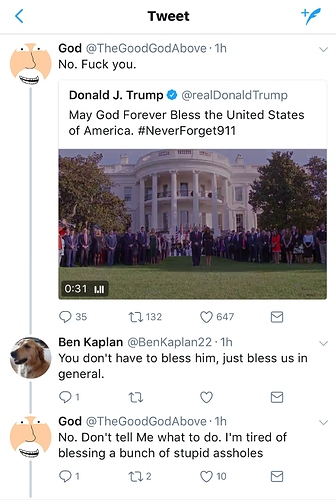 If you need a good laugh, check out Ted Cruz's likes on Twitter right now. I'd post a screenshot, but it's NSFW.



lmao just followed good ole Chuck on twitter right now, this was hilarious.
Well this twitter feed is pretty amusing, I was convinced it was a parody account (I mean, no way would the mooch have an actual relatable sense of humor or statement-follow Colin kaepernick??) until I saw some articles–linking this one bc it's the first one @scaramuccipost posted.
lol the title

OMG…The Scaramucci Post has been popping in my Twitter feed over the past week. I can't help but laugh, but like…what. is it.?! haha.
The best was from Orrin Hatch's Comms Director –
If you're tired of all those pumpkin spice lattes (or now reflexively just gag when you see the color orange), Starbucks has a new fall line-up of drinks, including ones like "N.R.A. Shots in the Dark", "Flat White Privilege", and the Trump special, "Nuclear-Annihilation Almond Latte"

Maybe not split your sides laughing, but this made me happy
I knew Manafort reminded me of someone, but I could never figure out who!!