Experts at the St. Louis Zoo are trying to figure out how a 62-year-old ball python laid seven eggs despite not being near a male python for at least two decades.
Need a laugh? A friend's child, so used to asking for charges for her devices wants to call the pencil sharpener a pencil charger…
It's called parthenogenesis…snakes are awesome! A couple of mine have pulled that over the years, but none of them were 62 years old, lol.
It could also be that it stored sperm from a long time ago, but if so that's a LONG time to store functioning sperm!
In the case of 2 current snakes, if they ever mated it would have been 10-11 years ago, when they were about a year & a half old & belonged to someone who could no longer keep them, so even if it's retained sperm it's pretty impressive. An older rosy boa I was given years ago to "retire" from a museum would have needed to store sperm for about 15 years, so IMO it was more than likely a partho birth, especially since the only neonate had obvious defects & only lived for 8 months.
Incidentally, when I gave her a mate the following year to preclude any more such sad offspring, she went on to produce only vigorous healthy offspring, nearly 50 in 5 years before I finally got her talked into retirement, & she lived for years beyond that. Amazing little desert boa…
Anything that can reproduce that way is cool. Do you happen to know if there any species that can reproduce via parthenogenesis and have fully viable offspring for multiple generations?
I really think the world "gets" trump better than many of our own misguided citizens that appear to be proud of their ignorance and are determined to maintain it in it's original condition.
Just plain neat:
Life on Venus? Astronomers See a Signal in Its Clouds
The detection of a gas in the planet's atmosphere could turn scientists' gaze to a planet long overlooked in the search for extraterrestrial life.
I remember a long time ago, maybe when I was a kid, hearing people kick around the idea that if any other planet in this system could have housed life it would have been Venus, and lol maybe it did and they just runaway-greenhouse-effected themselves out of existence like that could ever happen
…anytime we get a tweet like this, my mind goes to the same 'how's THIS message gonna play in my movie/tv show?'
WTF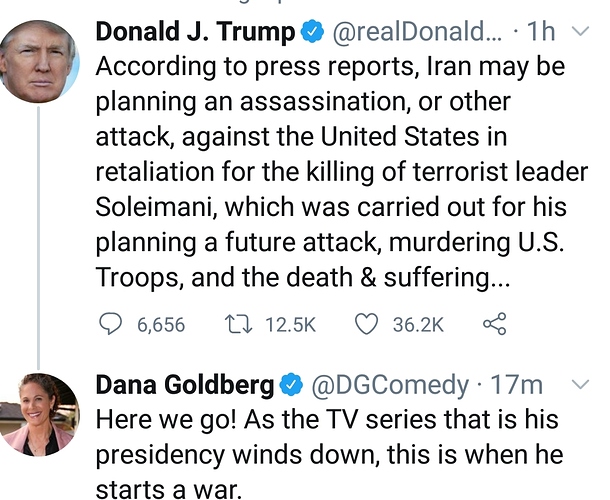 Meidas Touch is pulling no punches…
OMG!