A curated thread for economic news related to the Trump Administration.
Welcome to the new recession, today it's official, read below.
Determination of the February 2020 Peak in US Economic Activity
Cambridge, June 8, 2020 - The Business Cycle Dating Committee of the National Bureau of Economic Research maintains a chronology of the peaks and troughs of U.S. business cycles. The committee has determined that a peak in monthly economic activity occurred in the U.S. economy in February 2020. The peak marks the end of the expansion that began in June 2009 and the beginning of a recession. The expansion lasted 128 months, the longest in the history of U.S. business cycles dating back to 1854. The previous record was held by the business expansion that lasted for 120 months from March 1991 to March 2001.
Another for this collection:
It's official: The U.S. entered a recession in February
"The unprecedented magnitude of the decline in employment and production, and its broad reach across the entire economy, warrants the designation of this episode as a recession," said the National Bureau of Economic Research.
The Federal Reserve offered a grim outlook for the economy in 2020.
The Federal Reserve left interest rates unchanged and near zero on Wednesday as the central bank projected a slow economic recovery from the pandemic-induced recession.

In their first economic projections this year, Fed officials indicated that they expected the unemployment rate to end 2020 at 9.3 percent and remain elevated for years, coming in at 5.5 percent in 2022. Output is expected to be 6.5 percent lower at the end of this year than it was in the final quarter of 2019.

The new forecasts predict a much slower path back to economic strength than the Trump administration — and perhaps the stock market — seems to expect as the economy climbs out of a virus-spurred downturn. The Fed skipped its quarterly economic summary in March as the pandemic gripped the United States, sowing uncertainty as business activity came to a near standstill.

"The ongoing public health crisis will weigh heavily on economic activity, employment, and inflation in the near term, and poses considerable risks to the economic outlook over the medium term," the Fed said in the post-meeting statement that accompanied the data outlook.

The Fed said that it would continue buying government-backed debt "at least at the current pace" to sustain smooth market functioning, and that it "will closely monitor developments and is prepared to adjust its plans as appropriate."

The Fed chair, Jerome H. Powell, will hold a news conference at 2:30 p.m., where he is expected to discuss the economy's trajectory and the Fed's plans to support the recovery.
Cross-posting

This topic was automatically closed 15 days after the last reply. New replies are no longer allowed.
Markets swell as the economy shrinks
The economy is sputtering, but the markets are thriving — a highly unusual event that shows how the coronavirus has thrown all bets off.

Why it matters: The disconnect adds to the wealth gap. The richest 10% of households — who own 84% of stocks — are getting richer, while millions of out-of-work Americans cross their fingers that pandemic unemployment benefits will be extended.

Driving the news: The equities markets closed Tuesday with their best quarterly performance since 1998 — the type of upswing that usually doesn't happen when the economy is in as precarious shape as it is now.

While the jobs numbers releasedThursday seemed like good news — 4.8 million jobs were created in June, and the unemployment rate fell to 11.1% — many of the newly employed were people returning to work at their pre-pandemic jobs.
And, as Axios' Felix Salmon points out, the number of "permanent job losers" actually rose 25% in just one month.

Where it stands: After plummeting in March when the World Health Organization declared the coronavirus outbreak a pandemic, the stock markets have been rising — somewhat unexpectedly — for a variety of reasons.

The Federal Reserve stepped forwardwith aggressive actions to flood the markets with as much cash as possible.
Congress passed extensive relief programs.
Investors remain flush with cash and need somewhere to park it (and the bond markets offer meager returns).
Expectations are that a COVID-19 vaccine will emerge, bringing things back to a new normal.

Yes, but: It's (still) the economy that matters most.

U.S. GDP plunged 5% in the first quarter, according to the Commerce Department, personal income decreased 4.2% in May, and consumer confidence — while higher in June than in March, April or May — is still well below pre-crisis levels.
According to a YouGov/Economist survey, only 10% of Americans think the stock market is the best gauge of the nation's economic health, while 37% say it's the jobs report (which — in a welcome dash of very good news — came in far more positive than expected on Thursday).
Roughly half of Americans own any stocks at all, whether directly or through 401(k)s or other vehicles.

President Trump has taken credit for the exuberant stock market and for what he describes as a burgeoning economy — despite the signs of economic shakiness.

"Today's announcement proves that our economy is roaring back," Trump said on Friday after the June jobs numbers were released.
"WOW. Record Growth in 2nd Quarter! Under Corrupt Joe Biden and his MASSIVE Tax and Regulation increases, Markets, and your 401k's, will PLUNGE! Expect a Record 2021!" he tweeted on Wednesday.

Many people in the business world fear a Democratic victory would usher in policies that could dampen the market: wealth taxes, a rollback of corporate tax cuts, climate change mandates for utilities and energy companies.

"The Democratic Party has a platform that is pretty much anti-growth, but those platforms can change," Rich Sega, global chief investment strategist at the asset management firm Conning, tells Axios.
"The stock market is looking toward the future. By next January, I think we could recover virtually everything that we've lost this year."

Between the lines: While many experts say that we seem to be past the worst of the pandemic's impact on the economy, rising case numbers throw everything into question.

"The economy's fate is inextricably linked to the path of the virus," John C. Williams, head of the New York Federal Reserve, said in a speech this week. "A strong economic recovery depends on effective and sustained containment of COVID-19."
Heading into second-quarter earnings season, "Nearly 200 companies in the S&P 500 have withdrawn their customary forecasts for the year, according to FactSet, and half as many companies as usual are providing quarterly earnings guidance," per the New York Times.

Thought bubble from Axios' Felix Salmon: The S&P 500 and other big indices comprise the world's biggest companies with massive balance sheets and easy access to all the liquidity they need. The virus has effectively wiped out their small-business competition, so the giants now have the field to themselves and get to carve it up among them.

What they're saying: The disconnect between the economy and the stock markets is "extreme," Vikram Mansharamani, a Harvard lecturer who specializes in financial bubbles and business disruption, tells Axios. "It really does remind me in many ways of 1999."

" Markets are not supposed to become inefficient," Mansharamani says. "This is not supposed to exist, according to some academics."

Portfolio managers are taking the long term view, staying put with their money while they wait for a vaccine. "Everyone knows second-quarter earnings are going to be horrific," Sam Hendel, president of Levin Easterly Partners, tells Axios. "I'm looking toward 2021 earnings already."
U.S. Initial Unemployment Claims Edge Lower in Latest Week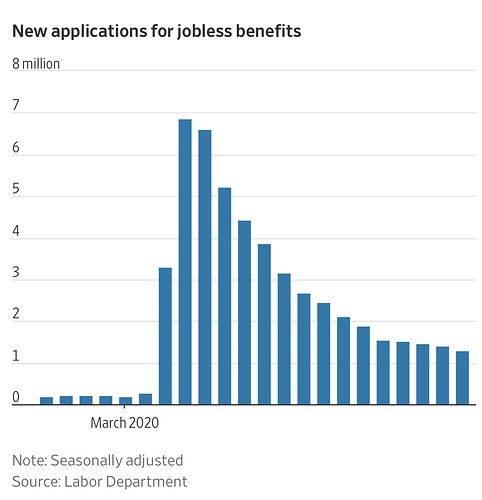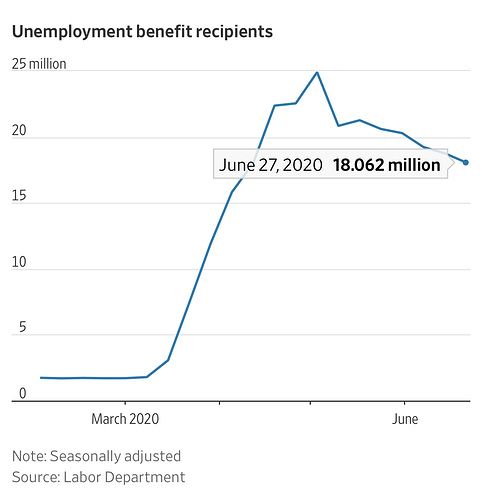 Employers added a combined 7.5 million jobs in May and June after shedding 21 million jobs in March and April, separate Labor Department data showed.

Claims fell in most states last week, including California and Florida, on a non-seasonally-adjusted basis, the Labor Department said. Claims did rise by 20,000 in Texas, 18,700 in New Jersey and by nearly 10,000 in Louisiana.
Ivanka Trump's latest economic plan displays a new level of chutzpah.
Suggesting people simply find new jobs during an unprecedented economic crisis is a new level of chutzpah.
Are you one of the millions of Americans who've lost their job during this unprecedented public health and economic crisis?

Maybe you're one of the 5.4 million people who no longer has health insurance because you lost employer-provided health care.

Perhaps you're getting by on expanded unemployment insurance benefits, but stressed because the payments are scheduled to end this month ― and Congress shows little appetite to re-up. Or maybe you're weighing the health risks of returning to work. Or you're worried that when the eviction moratorium runs out this month, you might be homeless.

Maybe you're one of the millions of families struggling to afford food for yourself and for your children?

Well: Have you considered becoming a wind turbine technician?

This is one of several career suggestions from the White House, along with aerospace engineering and operations technician, broadcast and sound engineering technician, computer support specialist, and contact tracer. At a moment of unprecedented economic crisis, with an unemployment rate of 11.1% because of a once-in-a-century pandemic, their latest idea is: Learn a new skill.

On Tuesday, Ivanka Trump ― the 38-year-old daughter of a wealthy man who has never once had to worry about finding the money to pay a bill ― proudly announced an ad campaign called "Find Something New," which encourages people to get new jobs by learning new skills.

If you visit FindSomethingNew.org, the website created for this effort, you will find a very short list of jobs that are actually growing right now, according to the Labor Department.

One such job is contact tracer, to deal with the worsening spread of the virus that has basically set our economy on fire. Other jobs, like registered nurse, require a serious investment in education ― hard to pull off in a pandemic when schools are shuttered and you might not have the resources to pay tuition. Or when you need work to keep your health insurance and can't simply go back to school.

Trump cooked up this plan through her role as co-chair of the White House's American Workforce Policy Advisory Board, created by President Donald Trump in 2018. The board's other co-chair is Commerce Secretary Wilbur Ross, a multimillionaire who had his own "let them eat cake" moment during the federal shutdown last year, when he expressed confusion over why workers who weren't getting paid would need to use food pantries.

A bunch of CEOs are on the advisory board, including Tim Cook of Apple and Doug McMillon of Walmart.

Even for this White House, this is a new level of chutzpah. Certainly it's further evidence that Ivanka Trump profoundly does not understand women's economic issues ― despite her Lady Boss rhetoric.

It's also maybe the most extreme example of a certain conservative line of economic thinking, which views all economic crises as problems to be solved at the individual level, rather than through policy. Just pull up those bootstraps, folks!

That's never really worked out before. These people were arguing about "re-skilling" during the slow recovery from the Great Recession, too, said Heidi Shierholz, director of policy at the progressive Economic Policy Institute and a former chief economist for the U.S. Department of Labor.

In the end, she said, the unemployment rate fell to a historic low without a big "learn to code" revolution. (Some Democrats also go to the well on upskilling, though their rhetoric is usually paired with social programs.)

"Those claims were wrong back then," Shierholz said. "It's more blatantly wrong now."

The argument is even more absurd in this moment because we are not seeing record unemployment due to a skills crisis. We're in a public health emergency.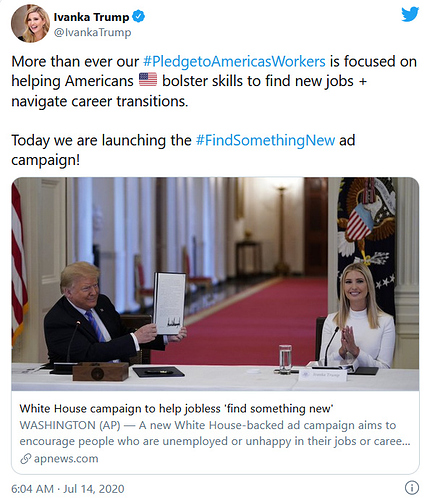 Put simply, the reason people don't have jobs is that businesses shut their doors to help stop the spread of a virus. Then some reopened. Then, the virus got worse and businesses shuttered again. Other businesses are firing people because they're not selling enough stuff, since it's a pandemic and Americans are wary of doing a lot of things outside the home.

Other people are out of work ― particularly women ― because their children are home all the time and they need to care for them. They can't train to work in elevator installation and repair right now (one of the jobs on Ivanka's list), because they can't send their kids to day care or summer camp, and soon enough they'll be home-schooling them.

Millions of others are sick, and cannot work.

What's most disheartening is that the campaign is coming from the White House, which actually has the power to help unemployed people on a widespread scale.

"This is just terrible economics. It's absolutely offensive," Shierholz said. "You have actual power to influence policy that could really make a difference in working people's lives. To come up with this, which will not, is just a slap in the face."

"It just shows such a lack of understanding about running a government," she added.

The advisory board that Ivanka Trump sits on was created in 2018, when unemployment was low and a push to help people learn new skills made some sense. The Find Something New campaign was created by the Ad Council, a nonprofit that works on marketing campaigns for social issues.

Here's the core problem with trying to solve a huge macroeconomic problem on a person-by-person basis: At an individual level, it makes sense to try and learn a new skill to get work. For example, a reporter who loses their job at a newspaper could find work in, say, digital content production. Others could go back to school and become lawyers or nurses. Someone who lost their job at a bar or restaurant can get work at an Amazon warehouse or grocery store, sure.

But on a national scale, the strategy is flawed because it doesn't do anything about the actual number of jobs available. If everyone goes out and learns new skills at the urging of Ross and Trump, you'll simply have a bunch of unemployed workers with new skills.

All the new openings at Instacart and Uber Eats won't employ all the out-of-work service workers in the U.S.

And though the jobs on the list are growing, there certainly won't be enough growth to absorb all the displaced workers out there. Take wind turbine technicians. That occupation is expected to see 57% growth, according to data from the U.S. Bureau of Labor Statistics. But that only means an additional 3,800 new jobs between 2018 and 2028.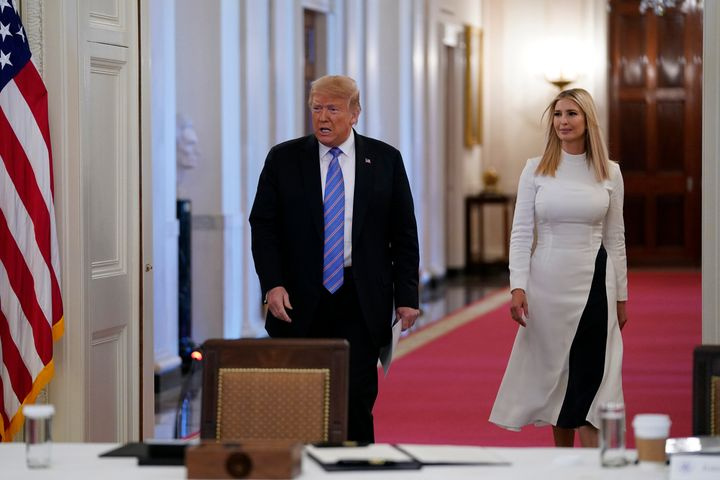 There aren't enough jobs for the people who need them. Period. Re-skilling is sort of like playing musical chairs: People are racing to grab a job and sit down, and not everyone will get a seat.

What the government should be doing is encouraging demand ― making sure people have money, so they can spend it on stuff. The more stuff they buy, the more businesses will benefit, and thus jobs are created.

Right now, the government can encourage demand by making sure people keep getting unemployment insurance ― and by giving financial help to badly ailing state and local governments, which need the money because there is a huge public health emergency and they need to do things like safely reopen schools.

The answer doesn't lie in giving people information about community college programs.

There is a kernel of reality somewhere in this Find Something New effort, however. If the pandemic goes on much longer, without any kind of real treatment or vaccine, it's quite possible the U.S. economy will be very different for the long term.

The jobs in this new COVID economy might be different than before. Workers will need to adapt. There simply won't be as many openings for bartenders, service workers, or retail workers who work in places most at risk for spreading the disease.

Instead, we would need an army of contact tracers, and a huge influx of child care workers and teachers to handle a greatly revamped education system, retooled for a pandemic.

But the way to create those jobs is not going to come from the private sector, Shierholz points out. You could imagine a huge federal push to hire for this kind of work.

"This approach," she said, "is not it."
Cross posting

and also YIKES!

FYI, guys the CARES act benefits end July 31st. What happens to all these people?
Trump's Hot-Button Fed Pick Faces Senate Committee Vote This Week
Judy Shelton, a nominee for the powerful Federal Reserve Board who has unorthodox economic views, could advance to the full Senate.
WASHINGTON — Judy Shelton, an unorthodox economist who was an adviser to President Trump's 2016 campaign, could move one step closer to a seat on the Federal Reserve's Board of Governors this week.

While her fate is far from guaranteed, the Senate Banking Committee is expected to approve Ms. Shelton's nomination on Tuesday, putting her one simple-majority vote in the full Senate away from confirmation at a moment when the central bank is employing vast powers that she has a track record of questioning.

Opponents of Ms. Shelton's nomination say confirming her would place the Fed at risk of politicization while it tried to rescue the pandemic-hit economy. Democrats on the committee have called for a second confirmation hearing in light of the crisis so that they can get her views on the current response.

While her nomination seemed shaky in the wake of her mid-February Banking Committee hearing, Republican opposition has slowly crumbled. Senators Patrick J. Toomey of Pennsylvania, Richard C. Shelby of Alabama and John Kennedy of Louisiana were initially skeptical. Mr. Toomey has since said she allayed his concerns, and Mr. Shelby has said he will go along with his Republican colleagues. While Mr. Kennedy has not publicly made up his mind, many analysts saw the scheduling of the vote as a sign of his likely support.

Ms. Shelton's bid can advance to the full Senate without any support from the 12 Democrats on the committee so long as all 13 Republicans back her. Her nomination will come to a vote alongside Christopher Waller's. Mr. Waller, the research director at the Federal Reserve Bank of St. Louis, was also nominated by Mr. Trump to the seven-seat Fed board. Mr. Waller, a more traditional nominee, is expected to clear the committee easily.

Ms. Shelton has become the focus of criticism in part because she flip-flopped on key policy positions after Mr. Trump was elected, moving quickly from supporting higher interest rates to favoring lower ones, in line with the president's view. She has also questioned the basis of central bank independence.

While nominees with close political ties have landed on the Fed board before, Ms. Shelton faces enhanced scrutiny given widespread speculation that Mr. Trump may try to promote her to Fed chair when Jerome H. Powell's term expires in early 2022.

Ms. Shelton also has a long record of supporting a return to the gold standard, which mainstream economists see as a nonstarter because it would be so economically harmful. She recently backed partly away from that position.

Sarah Bloom Raskin, a former Fed governor and top Treasury official, said in an email: "The economic moment right now is too precarious to be rolling the dice on a person who has not wrestled with the current challenges of managing an economy that has been shocked by a pandemic, and whose views have not been fully articulated or reconciled with prior views."

Ms. Shelton has at times questioned the Fed's basic functions.

In an opinion piece written for The Wall Street Journal in the middle of the 2008 financial crisis, she criticized the practice of allowing interest rates "to be fixed by a central committee in accordance with government objectives."

"We might as well resurrect Gosplan, the old Soviet State Planning Committee, and ask them to draw up the next five-year plan," she continued. Months later, in early 2009, she led a column with the sentence: "Let's go back to the gold standard."

At her Senate committee hearing in February, Ms. Shelton said that she "would not advocate" going back to a "prior historical monetary arrangement." She said that she had looked at historical monetary systems for valuable insights, but that "money only ever moves forward."

She said, however, that having a "stable, level, international monetary playing field" would support free trade.

Ms. Shelton was previously confirmed as the United States director of the European Bank for Reconstruction and Development, though she regularly missed the overseas meetings for the international body. She said during her February hearing that she had done so because she had been in Washington for other meetings.

Ms. Shelton's supporters say she would add intellectual diversity to the Fed, with some implying that she might lean against growth in the central bank's balance sheet — which has expanded as the Fed buys securities and rolls out credit programs to keep markets calm. While she has kept a low profile since the February hearing, Ms. Shelton has occasionally posted comments on Twitter, including on the importance of price stability and on issues related to cryptocurrency.

One question that analysts are pondering is what version of Ms. Shelton will show up for work at the Fed if she gets the job: A gold standard proponent, or not? A supporter of low rates, as she has been during Mr. Trump's administration, or an inflation hawk?

"It leaves open the question of what exactly she'd be like on the Fed," said Sarah Binder, a Brookings Institution senior fellow who has written a book on the politics of the central bank. She pointed out that Ms. Shelton's out-of-the-mainstream ideas were likely to find little purchase among her colleagues, and that individual governors couldn't make much of an impact on their own.

"You can really imagine her tilting at windmills," Ms. Binder said.

The question of whether Ms. Shelton would become Fed chair-in-waiting seems to be key. Mr. Trump spent 2018 and 2019 publicly criticizing Mr. Powell, though those critiques have tapered off during the current crisis. Should Mr. Trump win re-election, Ms. Shelton could be a potential replacement for Mr. Powell, since governors are often promoted to the leading position.

"She could do real damage all on her own as chair," said David Wilcox, a former research director at the Fed.

He also said he worried that she might get in the way of the coronavirus crisis response. "In the moment of crisis, there simply isn't time to revisit ideas that have been consigned to the dustbin of history," Mr. Wilcox said.

Ms. Shelton would fill a seat that formerly belonged to Janet L. Yellen; the unexpired term would be up for renewal in 2024. Mr. Waller would fill a seat formerly held by Ms. Bloom Raskin, with a term expiring in 2026.

While neither nominee would exert much influence as an independent governor, their confirmations would give Mr. Trump his handpicked choices for six of the board's seven spots. Lael Brainard was appointed governor by President Barack Obama, and although Mr. Powell was named to the board by Mr. Obama, Mr. Trump elevated him to the chair.

That stocking of the Fed could also have significant implications for bank regulation, which tends to break more along party lines than does monetary policy. The Powell Fed has been tweaking the rules for the biggest banks around the edges to make them more industry friendly.

Ms. Shelton has a long history of pushing for limited regulation. In one 2009 interview, she blamed government intervention in mortgage markets, rather than bad behavior by banks, for the 2008 financial crisis.

Mr. Trump previously toyed with nominating Stephen Moore, one of his outside economic advisers, and Herman Cain, a former presidential candidate, to the Fed board, but decided not to after their past comments on and actions toward women came to light.

He had earlier nominated a former Fed official, Nellie Liang, to the job, but she faced opposition from the banking industry and eventually withdrew her name. Another nominee, Marvin Goodfriend, also failed to secure the votes necessary for confirmation.
" On Tuesday, Ivanka Trump ― the 38-year-old daughter of a wealthy man who has never once had to worry about finding the money to pay a bill ― proudly announced an ad campaign called "Find Something New," which encourages people to get new jobs by learning new skills.
If you visit FindSomethingNew.org, the website created for this effort, you will find a very short list of jobs that are actually growing right now, according to the Labor Department.
One such job is contact tracer, to deal with the worsening spread of the virus that has basically set our economy on fire."
This is ironic, isn't it? The United States' response to the Coronavirus/COVID-19 pandemic has been among the worst in the world, Ivanka "Barbie Doll" Trump says being a Contact Tracer would be a great career opportunity, and meanwhile, what's her father say?
Sorry, I'm venting a little. Some pandemic days go better than others, but today was worse than usual. At least I finally found my house & car keys.
Economic fallout from pandemic will hit women hardest
IMF says 30 years of gains for women could be erased as recession deepens
Welcome to Mitch's graveyard, we all just live here now.
Fed's Powell: Recovery Depends On Stopping Virus, Government Relief
The resurgence in coronavirus cases in recent weeks is weighing on US economic activity, and a recovery will depend on both checking the virus and governmental aid, Federal Reserve Chair Jerome Powell said Wednesday.

Halting the spread of COVID-19 is key as American consumers will not start spending again until they feel it is safe to do so, Powell said, but in the meantime some additional support will be needed to make it through the worst crisis in recent memory.

With the United States' case count on the rise and recent indicators showing the tentative rebound from the downturn may be stalling, the policy-setting Federal Open Market Committee (FOMC) held the benchmark lending rate at zero as expected.

The committee stressed the "tremendous human and economic hardship" caused by the pandemic, and the uncertainty about the coming months.

Powell told reporters the outlook "will depend in large part on our success in keeping the virus in check."

"The path forward will also depend on policy actions taken at all levels of government to provide relief and to support the recovery for as long as needed," he said.

The comments came as Republicans and Democrats in Congress are locked in debate over their dramatically different views on the next emergency spending package.

As expanded unemployment payments and a moratorium on evictions are set to expire, Senate Republicans this week unveiled a $1 trillion proposal that slashes additional weekly jobless benefits to $200 a week from $600, but also would offer a second round of $1,200 payments to individuals and give funding to schools, provided they reopen.

But Democrats are pushing for a $3 trillion plan that retains the higher unemployment payments.

Powell has been careful to avoid treading into the dangerous area of advising legislators, but he again made clear that more spending would be appropriate.

"The current economic downturn is the most severe in our lifetimes… and it will take continued support from both monetary and fiscal policy" to achieve a recovery, he said.

Economists expect GDP in the second quarter to have contracted more than 35 percent, but the Fed chief said the initial rounds of support from Congress "made a critical difference to families, businesses and communities across the country."

But he warned, "we have seen some signs in recent weeks that the increase in virus cases and the renewed measures to control it are starting to weigh on economic activity."

Authorities in states like California, Texas and Arizona have had to reimpose restrictions and close businesses, and data show the rebound in employment has slowed.

Powell said the economy in May and June recovered about a third of the more than 20 million jobs lost in the early weeks of the pandemic shutdown, but those gains are now at risk.

The FOMC repeated its intention to hold rates near zero "until it is confident that the economy has weathered recent events and is on track to achieve its maximum employment and price stability goals."

But it refrained from making a more explicit commitment to allowing inflation to rise beyond the Fed's longstanding 2.0 percent target before tapping the brakes on the stimulus it is providing to the economy.

Many economists are expecting a change in this "forward guidance" but few thought it might happen before September given the growing uncertainty around the economic outlook.

Powell said central bankers discussed "possible enhancements to our statement on longer-run goals and monetary policy strategy," but declined to go into detail until the review is complete.

"In short, this is a holding operation, pending developments with both the virus itself and fiscal policy," said Ian Shepherdson of Pantheon Macroeconomics.

The Fed also extended a facility to provide US dollars to nine foreign central banks through March 2021 to "ease strains in global dollar funding markets" caused by COVID-19.
Almost 30 Million in U.S. Didn't Have Enough to Eat Last Week
https://www.bloomberg.com/amp/news/articles/2020-07-29/almost-30-million-in-u-s-didn-t-have-enough-to-eat-last-week?sref=VvJhl47t&__twitter_impression=true
Food insecurity for U.S. households last week reached its highest reported level since the Census Bureau started tracking the data in May, with almost 30 million Americans reporting that they'd not had enough to eat at some point in the seven days through July 21.

In the bureau's weekly Household Pulse Survey, roughly 23.9 million of 249 million respondents indicated they had "sometimes not enough to eat" for the week ended July 21, while about 5.42 million indicated they had "often not enough to eat." The survey, which began with the week ended May 5, was published Wednesday.

The number of respondents who sometimes had insufficient food was at its highest point in the survey's 12 weeks. The number who often experienced food insufficiency was at its highest since the week ended May 26.
Food insecurity will continue to rise as the pandemic, the largest humanitarian crisis in living memory, further impacts the US economy.
U.S. Economy Contracted at Record Rate Last Quarter; Jobless Claims Rise to 1.43 Million
The U.S. economy contracted at a record rate last quarter and weekly jobless claims rose for the second straight week, amid signs of a slowing recovery as the country continues to struggle with the coronavirus pandemic.

The Commerce Department said U.S. gross domestic product—the value of all goods and services produced across the economy—fell at a 32.9% annual rate in the second quarter, or a 9.5% drop compared with the same quarter a year ago. Both figures were the steepest in records dating to 1947.
Did a third of the economy really vanish in just three months?
That 32.9 percent represents the loss of a third of the economy. Let that sink in. Now let it wriggle back out again — it is not exactly true. Why? The Commerce Department reports quarterly GDP at an annual rate to allow easy comparisons to other time periods. Remove the annualization, and we see the economy contracted a still-abysmal 9.5 percent.

In other words, 32.9 percent is how much the economy would shrink if the business closures and spending cuts of the second quarter increased at a compounding 9.5 percent for an entire year, after adjusting for seasonality.

Think of what an apocalypse that would be. Annualization assumes the businesses closed this quarter would remain closed and that just as many more would close for the first time in the third quarter. And we'd expand the closures again in the fourth quarter and again in the first quarter of next year.

In other words, take the devastation you saw in the past three months and multiply it by four. That is essentially what annualizing does, though compounding means the actual mathis a bit more complicated.