So many parallels to Watergate. Infuriated and off-the-rails President, threats to press and his staff…explosive allegations. And the start of many indictments…with one last big suspect to get. Feels ominous, and too close for comfort.
Trump Administration Discussed Coup Plans With Rebel Venezuelan Officers
The Trump administration held secret meetings with rebellious military officers from Venezuela over the last year to discuss their plans to overthrow President Nicolás Maduro, according to American officials and a former Venezuelan military commander who participated in the talks.

Establishing a clandestine channel with coup plotters in Venezuela was a big gamble for Washington, given its long history of covert intervention across Latin America. Many in the region still deeply resent the United States for backing previous rebellions, coups and plots in countries like Cuba, Nicaragua, Brazil and Chile, and for turning a blind eye to the abuses military regimes committed during the Cold War.

The White House, which declined to answer detailed questions about the talks, said in a statement that it was important to engage in "dialogue with all Venezuelans who demonstrate a desire for democracy" in order to "bring positive change to a country that has suffered so much under Maduro."

But one of the Venezuelan military commanders involved in the secret talks was hardly an ideal figure to help restore democracy: He is on the American government's own sanctions list of corrupt officials in Venezuela.
This is not a good idea.
Yes, it looks like the FBI may have erred in making this one claim – and it is important to keep the record straight. At the same time, we should remember that this was not a key part of the FBI's case against Maria Butina. There remains a preponderance of evidence that she has been acting as an agent for Russian Intelligence.
For example, here's a screen shot from the CNN video showing a note that investigators found when they searched the apartment where Butina was living with Paul Erickson. See the "to do" item: "How to respond to FSB offer of employment?" (The FSB being the current incarnation of the KGB.) The note is in Erickson's handwriting and appears to be a list of things related to Butina, e.g.: "Process for green card/work visa?"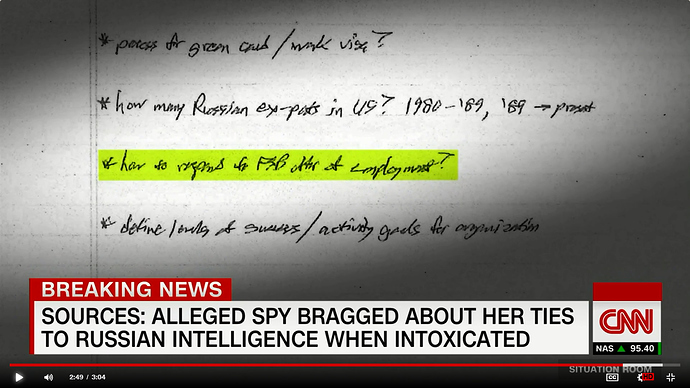 Footnote: Considering the thousands upon thousands of pieces of evidence our intelligence services have been gathering in the various investigations that have been underway for many months, their track record is holding at %99.999 which is pretty darn amazing, IMHO.
So Mr. Trump, like a little kid who closes his eyes and believes that makes him invisible, is hoping that this whole Stormy Daniels thing will just go away. Not so fast, says Mr. Avenatti.
President Donald Trump does not believe porn actress Stormy Daniels' hush-money deal, which his former personal lawyer said was done to influence the 2016 presidential election, is valid and will not carry out threats to sue her for breaking the agreement by discussing details of their alleged affair, Trump's attorney [Charles Harder] said in a court filing Saturday.

Hours earlier an attorney for [Michael Cohen's] company set up to handle the deal offered to rescind Daniels' nondisclosure agreement. The company, Essential Consultants, also scrapped a threatened $20 million lawsuit against Daniels. . . .

Both Trump and Cohen have asked Daniels to now drop her lawsuit. . . .

[Stormy Daniels' attorney, Michael Avenatti,] told The Associated Press that he did not have to accept the offer and would not settle the case without deposing Trump and Cohen. He said he was still reviewing his options but wasn't worried about the developments.

Avenatti said he thought Harder's court filing was "worthless," had "numerous problems" and "means nothing."

"We are tired of the constant delays and games being played," he said. "We want these depositions as soon as possible."

Regardless of how a court views the offer by Trump and Cohen's company to drop efforts to enforce the agreement, Avenatti has other possible legal routes to pursue the president. Daniels is also suing Trump and Cohen for defamation.
For Stormy Daniels litigation junkies, here's the actual court filing:

Two dates to mark on your calendar:
A hearing on this matter is set for Sept. 24 in Los Angeles before U.S. District Judge James Otero.

But first, on Sept. 12 (this Wednesday), Daniels and Avenatti will make an appearance on "The View." They are teasing a big reveal, but even if that turns out to be hype, I'm sure they will both have something to say about these latest developments and what their legal options are for holding Trump accountable.
Here's an intriguing mystery for a Sunday afternoon – what's this all about? Sam Patten, the lobbyist and Manafort associate who has pleaded guilty to secretly working in the U.S. for pro-Russian interests and to secretly funneling foreign money into a Trump/GOP-controlled organization, has threatened the former head of the Georgian Republic. Why?
You'll find clues in Active Measures, the explosive new documentary that exposes how boldly and successfully Russia has been attacking democracies by assaulting their electoral systems:
2010 - Ukraine – Victory for Russia with the defeat of pro-Western Yulia Tymoshenko and the election of pro-Russian Viktor Yanukovych. Time

2012 - Georgia – Victory for Russia with the defeat of pro-Western Mikheil Saakashvili and the election of pro-Russian Bidzina Ivanishvili. (In the TPM article above, Saakashvili is the person that Patten is threatening – so that's your first clue.) Poltico

2016 - United States – Victory for Russia with the defeat of pro-European Hillary Clinton and the election of pro-Russian Donald Trump.
I'm painting with broad brush strokes here, but it's plain to see that, just as Manafort aided "Russia's man in the Ukraine" (and later the pro-Russian candidate in the U.S.), so did Patten aid "Russia's man in Georgia." They both helped install pro-Russian oligarchs as the heads of those countries. They may have been acting knowingly on Russia's behalf or simply been serving their own self-interests, but regardless, the subversive tactics and end results were the same.
In fact, the parallels between the Russian interference with those two elections and with the U.S. election are truly chilling. Consider this: Manafort and Patten are associates and they both also partnered with the known Russian Intelligence operative, Konstantin Kilimnik – who Manafort continued to communicate with while he was Trump's campaign manager.
So now the fact that Patten would threaten the former President of Georgia makes perfect sense. He's trying to silence the pro-Western Saakashvili who he helped defeat in the Georgian elections of 2012 because Saakashvili undoubtedly has information that could lead to additional charges against him. In fact, just as Kilimnik and Manafort attempted to tamper with witnesses in Manafort's trial, Patten is trying to suppress evidence against himself. From the TPM article:
Patten's Sunday messages . . . were first noted by [George Washington University Law School] professor Jonathan Turley, who followed Saakashvili as a guest on CNN that day and was taken aback by the messages he read on-air. . . .

"Manafort was a certifiable moron to reach out to potential witnesses while on house arrest — and most certainly under surveillance by the FBI," Turley wrote. "If the allegations are true, Patten would rival the level of recklessness in the alleged text to the chief of state of Saakashvili."
Further reading/viewing:
A more detailed explanation from Jonathan Turley:
The CNN interview with Saakashvili where he talks about being blackmailed by Patten:
https://www.youtube.com/watch?v=EBMnFd0KWQ8
Footnote: Active Measures is highly recommended. You must watch this film and get your friends to see it as well – rent on iTunes for $3.99 – don't wait!
Always a sad memory for all Americans coming up.

@BeschlossDC

Photograph taken by Canadian tourist 17 years ago tomorrow, on September 10, 2001: #Kuz
@jimsciutto

Jim Sciutto Retweeted Michael Beschloss

It's like seeing a picture of a lost relative.
Irony of all ironies…or in-your-face-democracy at work.
Not sure what will come of this…but there is a movement to check into the perjury issues facing Brett Kavanaugh.
He'd better be careful – it's tough to deny you lied when it's in writing.
A lot of interviews with George Papadopoulis this weekend. He now wavers on what kinds of reactions he got from T 'n Co. He is willing to push Sessions under the bus, but he is more sympathetic to T. Looks like he is still holding out for a pardon.
Background reading:

Mr. Papadopoulos was sentenced to 14 days in prison, fined $9,500 and ordered to complete 200 hours of community service and one year of probation after his release from custody.

His actions were central to the beginning of the F.B.I. investigation into Russia's attempt to disrupt the 2016 presidential election and whether any of Mr. Trump's associates conspired with the effort.

"I was perhaps the light that created this conflagration," Mr. Papadopoulos told The Times.
MAZZETTI: And you said Sessions seemed quite enthusiastic about the prospect.

PAPADOPOULOS: Yes.

MAZZETTI: And Trump nodded.

PAPADOPOULOS: Nodded — noncommittal, but I mean, of course, to defer to Jeff Sessions and to ask Jeff's opinion. The way I saw it was, at least, he was perhaps open to the idea, but he wanted to defer to what was then a very senior senator in the Congress.
NRA ties are more direct with Putin, with Mariia Butina acting as a go-between. Represents endless funding and active measures.
@kylegriffin1

Correspondence obtained by ABC News reveals Mariia Butina appearing to arrange a meeting for high-ranking members of the NRA with Russian Foreign Minister Sergey Lavrov, and working to develop a TV show highlighting Putin's "love of the outdoors."
Quinnipiac Poll
Quinnipiac Poll on whether Americans believe Trump is honest
yes: 32%

no: 60%

based on the question
"Would you say that Donald Trump - is honest, or not?"
Poll: Trump's ratings on honesty, intelligence decline
President Trump's ratings on character traits such as honesty and intelligence from voters have declined to their lowest since November 2016, according to a new Quinnipiac University poll released Monday.

Trump got "his lowest grade for honesty since he was elected," and also received the lowest rating since November 2016 on a question about the president's intelligence, according to the poll.
Breaking: New CNN/SSRS Poll:
Trump approval: 36%
Trump unfavorable: 61%
Trump "honest & trustworthy": 32%
"Proud" of Trump as POTUS: 32%
"Cares about people like you": 36%
Trump will unite country: 30%
Respects rule of law: 37%
Preet Bharara responds to Giuliani's message today that T was not involved w/ any collusion.
See #CleanUpOnAisle4
@PreetBharara

Preet Bharara Retweeted Rudy Giuliani

So truth isn't truth but anonymous sources which Trump says should never be believed can nonetheless exonerate him. Ok.

@RudyGiuliani

According to sources close to Manafort defense: "The coooeration agree does not involve the Trump campaign…There was no collusion with Russia." Another road travelled by Mueller. Same conclusion: no evidence of collusion President did nothing wrong.
8:16 AM - 15 Sep 2018
My personal interpretation is that K. T. McFarland lied to the FBI, the press, and to congress, but so far, has managed to wiggle out of it (unlike Flynn who will do time for it).
Here's the part where McFarland lied to the FBI:
A former top White House official has revised her statement to investigators about a key event in the probe of Russian interference in the 2016 election, after her initial claim was contradicted by the guilty plea of former national security adviser Michael Flynn, according to people familiar with the matter.

K.T. McFarland, who briefly served as Flynn's deputy, has now said that he may have been referring to sanctions when they spoke in late December 2016 after Flynn's calls with Russia's ambassador to the United States, these people said.

When FBI agents first visited her at her Long Island home in the summer of 2017, McFarland denied ever talking to Flynn about any discussion of sanctions between him and the ambassador, Sergey Kislyak, in December 2016 during the presidential transition.
Here's the part where McFarland lied to the press (lying to the media is not actually illegal, but shame on you, K.T.):
Early on the morning of Jan. 13, 2017, McFarland phoned one of the authors of this article to rebut a column in The Washington Post, which said Flynn and Kislyak had spoken "several times" on Dec. 29, the day the Obama administration announced it was expelling 35 Russian officials and taking other punitive measures. . . .

McFarland insisted in an on-the-record conversation that Flynn and Kislyak had never discussed sanctions and that they had actually spoken prior to the administration's announcement on Dec. 29.
Here's the part where McFarland lied to congress:
In July 2017, Sen. Cory Booker (D-N.J.), a member of the Senate Foreign Relations Committee, asked McFarland in writing whether she had spoken to Flynn about his contacts with the Russian ambassador during the transition.

"I am not aware of any of the issues or events as described above," McFarland replied.
And, finally, here's the part where we, the general public, are still in the dark, but Mueller must have all the answers, based on Flynn's cooperation:
McFarland's account does not answer the question of what the president knew or didn't know about Flynn's interactions with the ambassador. . .
In light of McFarland's recent admission, it's telling to revisit WaPo's reporting on McFarland's leaked emails back in December, 2017. Those emails openly discussed the fact that Flynn would be talking with Russian ambassador, Kislyak, regarding sanctions.
The emails were shared among top members of Trump's inner circle. Trump had won the election, but was not yet President – these people would later occupy key positions in his administration. And that's the crux of the problem here – Obama was still President, but these non-governmental citizens were acting as if they were the government and were usurping Obama's position as President.
In addition to K.T. McFarland (Flynn's future Deputy NSA), the people privy to her emails included: Flynn (future NSA), Reince Priebus (future Chief of Staff); Steve Bannon (future Chief Strategist), Sean Spicer (future Press Secretary), and Tom Bossert (future Homeland Security Advisor).
(Side note: All of those people have either resigned or been fired – just a reminder of the volatility of this administration. Or perhaps a sign that the administration felt the need to establish a distance from potential witnesses?)
It's inconceivable to me that none of these close advisors would have shared with Trump the fact that Flynn would be talking with Kislyak about sanctions. At least one of them must have mentioned this crucial upcoming parley – the Russian sanctions were all over the news at the time as was Trump's infatuation with Putin.
When President Trump fired his national security adviser, Michael T. Flynn, in February, White House officials portrayed him as a renegade who had acted independently in his discussions with a Russian official during the presidential transition and then lied to his colleagues about the interactions.

But emails among top transition officials, provided or described to The New York Times, suggest that Mr. Flynn was far from a rogue actor. In fact, the emails, coupled with interviews and court documents filed on Friday, showed that Mr. Flynn was in close touch with other senior members of the Trump transition team both before and after he spoke with the Russian ambassador, Sergey I. Kislyak, about American sanctions against Russia.

. . . It is evident from the emails — which were obtained from someone who had access to transition team communications — that after learning that President Barack Obama would expel 35 Russian diplomats, the Trump team quickly strategized about how to reassure Russia. . . .

As part of the outreach, Ms. McFarland wrote, Mr. Flynn would be speaking with the Russian ambassador, Mr. Kislyak, hours after Mr. Obama's sanctions were announced.

"Key will be Russia's response over the next few days," Ms. McFarland wrote in an email to another transition official, Thomas P. Bossert, now the president's homeland security adviser. . .

"If there is a tit-for-tat escalation Trump will have difficulty improving relations with Russia, which has just thrown U.S.A. election to him," she wrote.

Mr. Bossert replied by urging all the top advisers to "defend election legitimacy now."