A long history of voter suppression from Florida GOP. Ari Berman (Mother Jones, author "Give Us the Ballot.")
@macro, @Pet_Proletariat, @dragonfly9 – I'm experiencing the same feelings – I've never in my life been ashamed of our President, but, yes, I've been ashamed of this one since day one. I knew my worst fears had been fulfilled when, shortly after taking office, he insulted the Prime Minister of Australia – one of our staunchest allies who has always stood with us through war and peace. And, of course, it just went downhill from there.
My father served in the Navy in WWII and was fortunate to come away unscathed, but my Mom's Dad was not so lucky. He made it through the worst and then, just after the Armistice, he was carrying an unexeploded mustard gas bomb when it leaked, horribly scarring his lungs. Despite his disability, he managed to raise a family, but died from complications when my Mom was a teenager. He was a remarkable man – I wish I'd had a chance to know him. I'm angry at our President for disrespecting him – and I'm sad for our country that so many people supported him into office and continue to enable him every day.

P.S. @macro – Deepest apologies for our leader's boorish behavior, while at the same time, so glad that New Zealand has continued to be a friend of the U.S. Thank you for your patience – we promise to get back on course as soon as we can.


This shows how much power is in the hands of the people who design the layout of ballots. Look at this glaring anomaly in Broward country: A far lower percentage of voters in that county voted in the Senate race when compared to the Governor's race.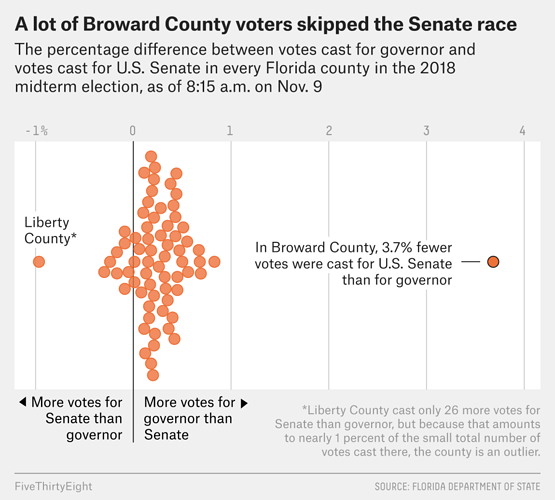 There seems to be only two possible explanations for this – it may reveal machine counting errors or it may demonstrate that the layout of the ballot caused many voters to overlook the Senate race. It's tucked down in the lower-left corner under a long column of instructions – which, of course, nobody ever reads (including me

).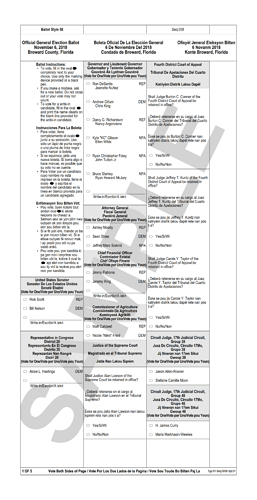 (There's a clearer picture of the ballot in the article.)
This is one of the many reasons that we need national election reform and nationally established election standards. I feel it's OK to let states and localities regulate their own elections, but any election that includes candidates or measures at the national level should be expected to meet national standards. This includes standards for election security as well.
We often talk about "voter suppression," but this could be even more outrageous: vote recount suppression!
If these recounts are not allowed to be completed, it will mean the outright theft of crucial Florida elections. According to this article, if the deadline is not met, the original counts will stand. This in not democracy.
In my previous post (regarding Broward county), I talked about the need for national election standards – and here's another reason for them that hadn't even occurred to me before. Why should the fact that Palm Beach county won't spend the money it takes to buy decent vote counting machines impact the entire country? All municipalities that are counting votes in a national election should be required to maintain the proper equipment to conduct efficient recounts. Also, states and counties must allow sufficient time for the recounts. And there are surely many other crucial standards that must be established at the national level to ensure the integrity, accuracy, and fairness of our elections. We must make this Congress's highest priority. Why didn't we learn our lesson after the "hanging chad" debacle in 2000?

@Keaton_James

Thank you for your comments - I am sure that these travails you all are bearing will pass as sense and sensibility once again prevail - in the meantime it does us good to smile.
http://eveningharold.com/2018/11/11/light-rain-plays-havoc-with-my-bone-spur-insists-trump/
Kellyanne Conway openly admits Trump lied when he said he didn't know Matt Whitaker.
They think we're so numbed by the constant deluge of Trump's lies that we'll just start accepting them. No. We. Won't.
After reading this you might want to check out Rachel Maddow's montage of the lie – he repeated it adamantly four times.
This article makes an excellent point. Why haven't we seen Matthew Whitaker's financial disclosure forms? They are of particular interest since, up until February, 2017, he was on the advisory board of World Patent Marketing, a company that was shut down and fined by the FTC for scamming its customers out of millions – and the company is now under criminal investigation by the FBI.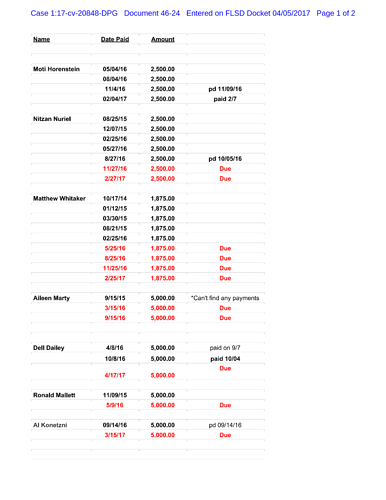 Did Whitaker disclose these payments? If so, that proves the White House knew Whitaker was on the payroll of a company shut down for fraud. If not, then the Attorney General is authorized to pursue a fine against Whitaker for up to $50,000 and cause him to be imprisoned for up to five years. Oh wait, Whitaker
is
the Attorney General (or at least acting as one) so
does he fine and imprison himself?
Failure To File or Filing False Disclosure Statements
The financial disclosure provisions of the Ethics in Government Act have been incorporated by reference as a rule of the House of Representatives, over which the Standards Committee has jurisdiction. In addition to any Committee action, EIGA authorizes the Attorney General of the United States to seek a civil penalty of up to $50,000 against an individual who knowingly and willfully falsifies or fails to file or to report any required information. Moreover, under federal criminal law, anyone who knowingly and willfully falsifies or conceals any material fact in a statement to the government may be fined up to $50,000, imprisoned for up to five years, or both.
Source for WPM payments to Whitaker: Courthouse News.
Source for penalties for failing to file or falsifying financial disclosure forms: House Ethics Committee.
After posting the article above which points out that we have not seen Matthew Whitaker's financial disclosure forms, it occurred to me that we also don't know the status of Whitaker's security clearance – a search has turned up nothing.
In August, for strictly political reasons, Trump threatened to revoke the security clearance of his former Acting Attorney General, Sally Yates. Now I'm wondering if there may be genuine grounds for revoking the security clearance of his current Acting Attorney General.
No surprise here, but now it's officially part of the public record. Trump fired an Attorney General who would not/could not quash the Mueller investigation and replaced him with someone he'd seen on TV criticizing the investigation and now he's going to go ahead and let that person shut it down. Obstruction of justice in plain site. The Republican controlled Senate and House could halt this maneuver in a heart beat, yet they sit on their hands. It will be up to the newly Democratic controlled house to move swiftly on Jan. 3 to protect Mueller.
In the mean time, I'm hoping that DOJ staffers close to Whitaker are reminding him that Attorney General John Mitchell went to prison for 19 months for conspiring to obstruct justice with President Nixon.
Listen to #876: Patent Deception from Planet Money in Podcasts. https://itunes.apple.com/us/podcast/planet-money/id290783428?mt=2&i=1000423880346
For more information on our Acting AG, listen to this podcast about a company offering patent research and registration services. He's mentioned in the latter portion of the audio through his association with World Patent Marketing including a recorded advertisement he did for one of their clients. Jezzz and he's our acting AG.
Yes, I watched the 13 minute interview with Chris Wallace this morning on Fox News. See below in Rolling Stone article.
T keeps blurting out how there is no collusion, and there's no need for this investigation, witch-hunt etc. And as you saw too, T allows that Whitaker could well do what he wanted to do, it's his call, and none of T's business. (perfect out…nominate your guy, then stay out of the way of what's going to happen)
And yes, he's doing the obstruction right there.
Note that he's refused to answer any of Mueller's questions on Obstruction, using instead executive privilege I suppose.
The content of Mueller's questions was not immediately clear, but the administration has previously said Trump would not answer any questions relating to obstruction of justice. Trump also told reporters Saturday that a sit-down interview with investigators hadn't been discussed.
All of it is infuriating.
A couple of Democratic concession, in the face of recounts. Both voter suppression and rolls were suspiciously handled. #DemocracyTested
Democratic Senate Judiciary members Blumenthal, Whitehouse and Hirono are filing a lawsuit to block the appointment of Acting AG Whitaker.
Wait, the 2nd in command, under Sec Of Interior Ryan Zinke is worse?
The man behind the curtain': Interior's No. 2 helps drive Trump's agenda
David Bernhardt, deputy secretary of the Department of Interior, had just left McDonald's on his way to work last year when he started choking on his breakfast burrito.
…
Bernhardt's relentless work ethic helps explain how he's managed to advance Trump's pro-industry agenda over the nation's public lands. Having worked for years as a lobbyist representing many of the very businesses he now regulates, he walked into the No. 2 job at Interior with so many potential conflicts of interest he has to carry a small card listing them all.

"This is the deep state," said Jim Lyons, who served as deputy assistant secretary for land and minerals management under Barack Obama. "He is the guy behind the curtain who's manipulating everything, which he can do with his wealth of knowledge and experience."

In recent weeks his boss, Ryan Zinke, has come under increased scrutiny for a Montana land deal. If Trump reshuffles his Cabinet and Zinke steps down, it will likely be Bernhardt who steps up.
A sweet Thanksgiving surprise! Looks like another domino is about to fall. Could Roger Stone be next?
Conservative writer and conspiracy theorist Jerome Corsi is in plea negotiations with special counsel Robert S. Mueller III, according to Corsi and another person with knowledge of the talks.

The talks with Corsi — an associate of both President Trump and GOP operative Roger Stone — could bring Mueller's team closer to determining whether Trump or his advisers were linked to WikiLeaks' release of hacked Democratic emails in 2016, a key part of his long-running inquiry.
More good news for the holiday!
A New York judge on Friday denied a request from President Donald Trump and his family members to dismiss a lawsuit against them and the Trump Foundation alleging that the charitable foundation violated state and federal laws for "more than a decade."

In her ruling, Justice Saliann Scarpulla of the New York state Supreme Court shot down an argument from the Trump family's attorneys that the case should be dismissed because the Supremacy Clause of the U.S. Constitution suggests "a sitting president may not be sued."…
Scarpulla noted that the defendants "have failed to cite a single case in which any court has dismissed a civil action against a sitting president on Supremacy Clause grounds, where, as here, the action is based on the president's unofficial acts."

"I find that I have jurisdiction over Mr. Trump and deny Respondents' motion to dismiss the petition against him on jurisdictional grounds," she wrote.
Interpreting these developments is a little like reading tea leaves, but CNN seems to believe that the removal of Ecuador's ambassador from its London embassy is paving the way for Assange's extradition.
The Ecuadorian government has removed its ambassador to the UK, sparking speculation over Julian Assange's future at the diplomatic mission there.

The 47-year-old founder of WikiLeaks moved into the Ecuadorian Embassy in central London in 2012 while wanted for questioning over sexual assault allegations in Sweden. Assange maintained his innocence and claimed the charges were nothing more than an attempt to extradite him to the United States.

Ambassador Carlos Abad Ortiz was forced to leave his post, according to an executive decree signed by Ecuadorian President Lenin Moreno and published Wednesday. The envoy had been in charge of the diplomatic mission since 2015 and had been an influential figure regarding Assange's future.

After the announcement, WikiLeaks said Thursday on Twitter, "All diplomats known to Assange have now been terminated to transferred away from the embassy."…
The WikiLeaks lawyer also insisted the situation inside the embassy has continued to sour. "There is a hostile relationship between Assange and the embassy staff in the last few weeks," Poveda said…
… the decision to oust Abad has fueled speculation that Ecuador is looking to push Assange out the door.

Fidel Narvaez, the former consul at the embassy, told CNN that Abad's removal should be seen as a bad omen for the WikiLeaks founder and his asylum.


US Customs and Border Protection closed road and pedestrian bridges on Sunday at the San Ysidro port of entry, one of the largest land border crossings between San Diego and Tijuana, Mexico.

Groups of Central American migrants have been converging on the Mexican border city for days in their quest to gain entry to the United States. Their presence has drawn Mexican troops, protesters and fiery rhetoric from President Donald Trump.
This is trending on the ever-informative currentstatus.io

but I'm posting it here, too, in case you missed it. This is a huge, huge deal. If corroborated, it is a true "smoking gun" for obstruction of justice by Trump.
Yesterday, we learned that Michael Cohen lied to Congress about when the Trump Tower Moscow negotiations ended. Cohen testified to Congress that the talks ended in January, 2016, before the Iowa caucuses, but he has now admitted they extended into June.
Did Cohen lie to Congress on his own or did he coordinate the lies with Trump? This breaking news today points to the latter – and, if substantiated, is a clear act of obstruction of justice by the President.
On some forums I've been following, Trump supporters are dismissing Cohen's claims and any involvement by the President, calling it all lies, smoke, and mirrors. But here's the thing – this will be relatively easy to clear up. Trump's lawyers can simply be subpoenaed (along with their written records) and asked under oath if they helped coordinate Cohen's lies to Congress along with Trump. Attorney-client privilege does not apply when a lawyer and client conspire together to commit a crime (in this case, obstruction of justice).
There is no way that Trump's lawyers will commit perjury and risk going to prison to protect Trump – they just work for him, they are not his buddies and they owe him nothing. They will take a page from John Dean, Nixon's White House Counsel, who committed obstruction of justice with him and flipped on him in a heart beat for a reduced sentence.
In fact, the Watergate parallels here are almost uncanny. Don McGahn is today's John Dean. McGahn was Trump's White House Counsel during the time Cohen testified before Congress so all eyes will now be on him. There's a chance he won't even need to be subpoenaed on this matter because he may have already flipped – he has had extensive discussions with Mueller's team.
And here's the strongest reason to believe that Trump really did obstruct justice along with Cohen: look at what happened to Manafort when he lied to Mueller – bang! – Mueller threw the book at him. Now consider what Cohen is doing. In his filing asking for leniency from the court, he is claiming that he coordinated with Trump and his lawyers to obstruct justice – there's no way he would risk lying about this in a court filing, knowing that Mueller probably already gathered independent evidence on the matter – and having seen what happened to Manafort.
Side question: If McGahn did commit crimes with Trump, could that impact Brett Kavanaugh's confirmation to the Supreme Court? It was McGahn who personally recommended that Kavanaugh be nominated and he coordinated the White House campaign for the confirmation. On the surface, obstruction of justice in the Trump/Russia matter would not appear to be related to a Supreme Court nomination, but these days, with this Administration, anything seems possible.
President Donald Trump's former personal lawyer Michael Cohen said Friday he was in "close and regular contact" with Trump's White House staff and legal team when he prepared a statement for Congress that he now says falsely downplayed Trump's effort to land a Trump Tower Moscow deal during the 2016 presidential campaign.

In a filing seeking a lenient sentence, Cohen's attorneys say his false statement to Congress — which Cohen pleaded guilty to on Thursday — was based on Trump and his team's efforts to "portray contact with Russian representatives" by Trump, his campaign or his company "as having effectively terminated before the Iowa caucuses of February 1, 2016."

"Seeking to stay in line with this message, Michael told Congress that his communications and efforts to finalize a building project in Moscow on behalf of the Trump Organization, which he began pursuing in 2015, had come to an end in January 2016, when a general inquiry he made to the Kremlin went unanswered," Cohen's lawyers Guy Petrillo and Amy Lester write.

But "Michael had a lengthy substantive conversation with the personal assistant to a Kremlin official following his outreach in January 2016, engaged in additional communications concerning the project as late as June 2016, and kept [Trump] apprised of these communications," they wrote. "He and [Trump] also discussed possible travel to Russia in the summer of 2016, and Michael took steps to clear dates for such travel."

They also say Cohen kept Trump "apprised" of his contacts with Russia during the campaign.