https://www.washingtonpost.com/politics/2019/04/21/trump-tweets-then-deletes-grossly-overstated-death-toll-sri-lanka-church-explosions/?utm_term=.5ce114f6efc1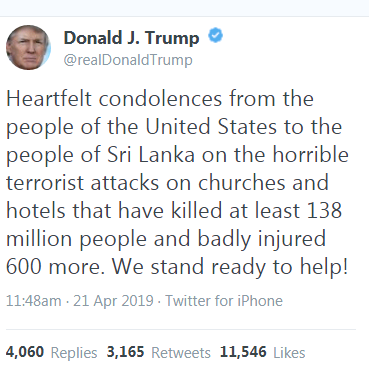 How could this be a typo? Typing the word "million" when it should not be there does not qualify as a typo. Did Trump really believe 138 million were killed and then take a nap? 32 minutes later this astounding false claim from the President of the United States was finally corrected. Errors like this should not be taken lightly – they could start a global conflict. At the very least, they have made our nation a laughing stock on the world stage.
Trump is allegedly in control of our country and he's definitely in control of the nuclear codes, but is he in control of his own mental faculties?
To me, this is perhaps Trump's most disturbing tweet yet because I believe it demonstrates he truly is unhinged.
BTW, here's a searchable archive of all Trump's tweets including the ones he has deleted.