Does this mean Monday? (3 days after Thursday)
Monday or Tuesday, depends on if they count Thursday as day one. Given that they did interview him for 5 hrs, my best guess is Tuesday.

Tomorrow!
Trump's 'loyal lieutenant' to testify on 2013 Russia visit (Politico)
Former body man Keith Schiller, who used to satisfy the president's fast-food cravings, will head to the Hill to answer questions about Trump's visit to the Miss Universe pageant.
No hearings are currently listed on the House Intelligence Committee's website, so assuming this will be a closed hearing.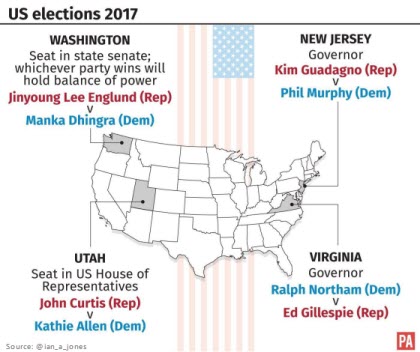 Today is Election Day!
Here's a few handy guides for following today's elections:
Live Election Results via NYT: VA Governor | Other VA | New Jersey | New York | Utah's 3rd District - Special | Maine Medicaid
The results are starting to come in…! The AP has called the following:

VA Governor - Ralph Northam (!!!)


NJ Governor - Phil Murphy


Danica Roem becomes the first transgender person elected to a state legislature nationwide! (VA - House of Delegates)


Democrats have won the majority in WA state senate! Democrats now control every state legislative body and governorship on the West Coast!


Republicans keep control of UT-03 (Jason Chaffetz's seat)


Maine passes the Medicaid expansion
This could be huge: as of right now, Democrats are on track to win the majority in the House of Delegates!
---

The Day After - Election Day Recap
I haven't said "what the actual fuck" in a positive way in fucking forever!! What a night!
I know, @MissJava! I was literally in tears last night!

Tomorrow at 10am EST!
Sessions will be testifying in a general oversight hearing, however Democrats have already stated that they plan to ask about his inconsistent / contradictory statements about the Trump campaign's relationship with Russia and are interested in more details regarding George Papadopoulos.

Watch the hearing on CSPAN tomorrow!
Note: this has been changed from a closed hearing (reported by Reuters) to a open hearing.
---
Senate Foreign Relations Committee to hold a hearing Tuesday on the president's ability to authorize nuclear weapons, something lawmakers on both sides of the aisle have debated since President's Donald Trump threatened North Korea with "fire and fury" in August. (PBS)

Watch the hearing on CSPAN or PBS tomorrow!
---

Also, the main calendars post has been updated with upcoming events!

Tomorrow at 2pm EST!
Senate Foreign Relations Committee to hold a hearing regarding the sonic attacks of US Diplomats in Cuba. (Details)

Watch the hearing on CSPAN tomorrow!
It appears Glenn Simpson has testified - the leaks are starting…

Here are some of the notable articles that have emerged so far:
Congress's Thanksgiving Recess

starts today - see if your MoC is holding a townhall (or if they are MIA)!
You beat me to it today!

I had it bookmarked to add to the calendar!
Today!
I missed this hearing until today - could be an interesting one. The video is up on the committee's website for those interested.
Tomorrow!
In preparation of Erik Prince's hearing, there is a good Mother Jones article from today: Will the House Intelligence Committee Get the Truth From Erik Prince?

Be on the lookout early next week for the transcript of tomorrow's hearing with Erik Prince.
Not many details here - will update, if so!
---

Also, the main calendars post has been updated with upcoming events!
Tomorrow
One of the major cases that the SCOTUS will hear this session begins tomorrow. The outcome could drastically change anti-discrimination law.
---
Critical Deadline this week!
While the GOP is hoping to avoid a Government shutdown, they will need Democratic votes to do so. Some MoCs have already pledged to vote NO, if protections for DACA recipients are not included/voted on.
More Details: G.O.P. Pushes to Avoid Government Shutdown, but the Path Is Tricky
Update 12/7/17: The House passed a two-week stopgap spending bill

Tomorrow!
Tomorrow is the AL Senate Special Election!
---

Tomorrow is the deadline on for the House/Senate to take legislative action on the Iran Nuclear Deal. Thus far, Congress has not acted to do so.
Tomorrow at 10am EST!
This is general oversight hearing (not a "regularly" schedule though), however questions regarding Mueller, Trump/Russia investigation are likely to come up, as well as Hillary Clinton's impeachment (

sarcasm, of course – but their performance at last week's hearing surely will give you that impression!).

Watch the hearing on CSPAN3 or listen on CSPAN Radio tomorrow!
---

Also, the main calendars post has been updated with upcoming events!