Morons.
Michigan Supreme Court Rules Against Governor's Emergency Powers
Trump making crazy claims again, and being debunked.

Trump echoed his earlier false claims that Covid-19 was comparable in lethality to the flu on Tuesday, which experts say is much less deadly than coronavirus.
Restaurant staffers in quarantine after working Trump fundraiser - CBS News
Thirteen workers at a Minneapolis steakhouse were quarantining after the restaurant catered a private fundraiser attended by President Donald Trump during his visit to Minnesota last week, the restaurant said Monday.
He's such a recalcitrant…why would he play into Nancy Pelosi's hand as he is perceiving i?
Reactions to T not moving ahead with another CARES package

addding

Top White House aide Stephen Miller tests positive for Covid-19
Stephen Miller tests positive for COVID-19
Stephen Miller tests positive for COVID-19
I know some cages he can quarantine in.
What is postponing the stimulus package until after the election supposed to do? I honestly do not understand this. This makes no sense. None. This is his chance to say he's seen the light on his own terms and go "You want $2T? How about $3T? Democrats WHERE IS YOUR GOD NOW" and make the rest of the GOP look like assholes if they don't comply. This is his chance to be the hero.
Trump loves to showboat, he could have used this stimulus package to win hearts and minds all across the country right before election day, as even the people who hate him would have to give him credit for his generosity on this. He may even have been able to win the election on this alone. When Trump says he won't look at one till after election day, and Biden says as soon as he's in office he'll sign one, Trump loses the upper hand because everyone knows that while Trump's would have been faster, Biden's will be better.
He just threw a winning narrative out the window in favor of doubling down to own some libs, and it was such an obvious power play just as the election is ramping up. Like I don't… these people… arghhhh… just… some internal consistency would be nice.
Maybe he's really high? I'm serious.
Have we hit bottom yet?
I don't think there is a bottom, not until he is out of office or dies. Maybe not even then.
We'll have the discovery phase.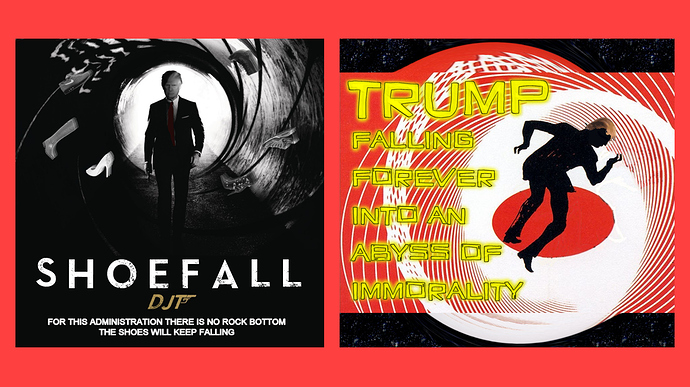 He's a contrarian…and what has been quoted from some people today…he wants to enact revenge, or burn down "the house" to an extent.
It fits no one's logic…and difficult to even use that as a consideration, he's off the charts…roid rage people are calling it…who knows?
It is very Shakespearean if you think about it. Makes no sense, but he is guided by his emotions and he does not want to do anyone any favors, particularly Pelosi.
It's all so ironic, she's offering him a huge stimulus less than 30 days from Election Day, which would make him look good on economics but he's just throws it back in her face.
You're right, it has to be Shakespearean or a Greek Tragedy.
Could this have anything to do with it? He is losing by a huuuuge gap. He does not like any bit of it.
[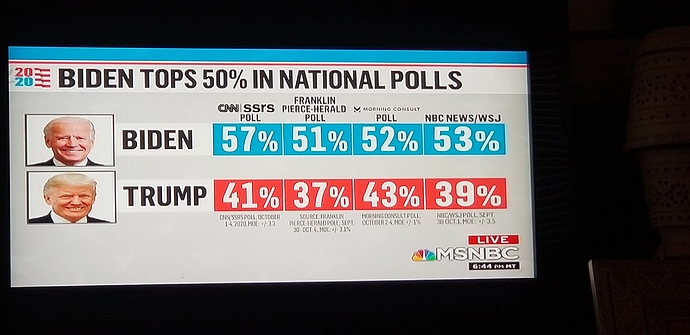 Sure but how does doing this make that better? People like getting money and paying rent. Give them those things and at this point they will fall all over you because we need this so badly. It's just so stupid.
It's not that he's doing some crazy cruel thing at random, that happens all the time. It's that not doing this particular thing is like looking at some gold you've just been handed and throwing it away because someone you don't like wants you to have it.
I agree…
People need the stimulus checks
People want for their businesses to stay afloat
People deserve better leadership.
People want the truth
We are experiencing T at his very worst, unhinged far beyond what he's been doing…it is unchecked power, thoughtless and callous.
Because he is a Covid patient, elderly, AND on steroids…he is even more impetuous, OFF HIS ROCKER.
See how quick he got back to tweeting and offering the stimulus checks tonight…see what he is doing? He's acting like a puppeteer…and he dictates what he thinks will bring him votes right now, because he tanked the stock market, and it looks bad.
If I keep my needs out of the equation, it makes sense that he's even more power mad.
It does not make sense for us as Americans, or people who need some relief.
Everyone in the White House cluster who has reportedly tested positive for the coronavirus
These are the White House officials, lawmakers, and others who reportedly have the coronavirus.
Trump, battling Covid-19, says he's 'looking forward to' the next presidential debate
Centers for Disease Control and Prevention guidelines say people should isolate for 10 days from the point of showing systems, and in severe cases, 20 days.
Facebook, Twitter block Trump post that falsely claims coronavirus is less deadly than flu
Here's a Theory: Maybe Trump Wasn't Getting Tested for COVID at All
What if they won't say when his last negative result was because there wasn't one?
What is the White House hiding? That's where reporters need to push
How recently did Trump actually test negative? And why isn't the White House contact-tracing the Barrett event?
These last two articles above raises a big question; the White House has consistently dodged telling reporters when he last tested negative to such a degree that it very much feels like they have something to hide.
D.C. reports most new COVID cases since June amid White House outbreak